Have forgotten to post the lats few Hellfire Video Club's on here…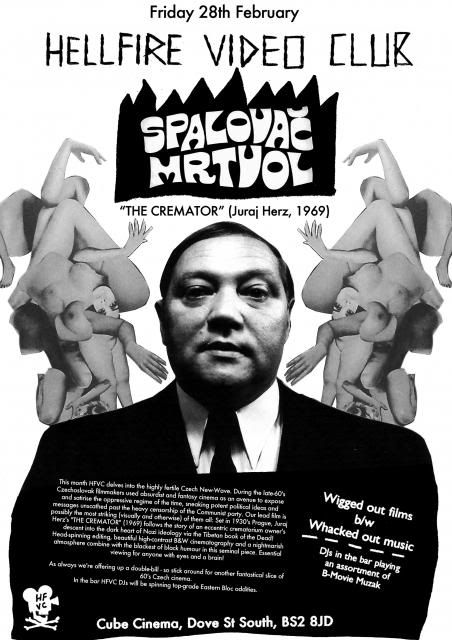 Juraj Herz/ 1969/ Czechoslovakia/ 95 mins/ Cert: 15/ subtitled
This month HFVC delves into the highly fertile Czech New-Wave. During the late 60s, Czechoslovak filmmakers used absurdist and fantasy cinema as an avenue to expose and satirise the oppressive regime of the time, sneaking potent political ideas and messages unscathed past the heavy censorship of the Communist party.
Our lead film is possibly the most striking (visually and otherwise) of them all: Set in 1930's Prague, Juraj Herz's The Cremator (1969) follows the story of an eccentric crematorium owner's descent into the dark heart of Nazi ideology via the Tibetan Book of the Dead! Head-spinning editing, beautiful high-contrast B&W cinematography and a nightmarish atmosphere combine with the blackest of black humour in this seminal piece. Essential viewing for anyone with eyes and a brain!
As always we're offering up a double-bill - so stick around for another fantastical slice of 60's Czech cinema.
In the bar HFVC DJs will be spinning top-grade Eastern Bloc oddities.
https://www.facebook.com/hellfirevideoclub