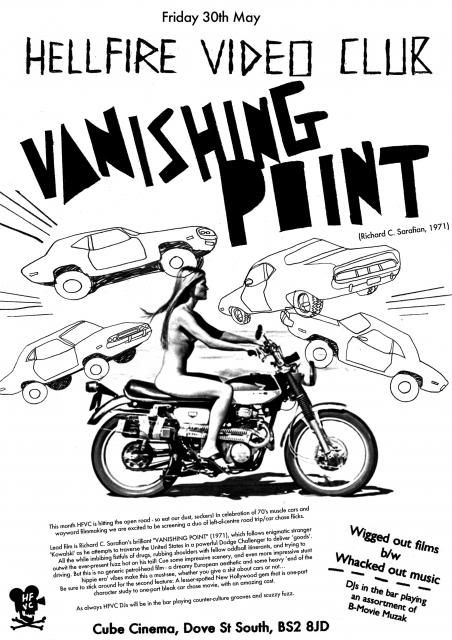 Fri 30th/ 8pm/ £5/4
Richard C. Sarafian/ USA/ 1971/ 99 mins/ Cert: 18
This month HFVC is hitting the open road - so eat our dust, suckers! In celebration of 70's muscle cars and wayward filmmaking we are excited to be screening a duo of left-of-centre road trip/car chase flicks.
Lead film is Richard C. Sarafian's brilliant "VANISHING POINT" (1971), which follows enigmatic stranger 'Kowalski' as he attempts to traverse the United States in a powerful Dodge Challenger to deliver 'goods'. All the while imbibing fistfuls of drugs, rubbing shoulders with fellow oddball itinerants, and trying to outwit the ever-present fuzz hot on his tail! Cue some impressive scenery, and even more impressive stunt driving. But this is no generic petrol-head film - a dreamy European aesthetic and some heavy 'end of the hippie era' vibes make this a must-see, whether you give a shit about cars or not…
Be sure to stick around for the second feature: A lesser-spotted New Hollywood gem that is one-part character study to one-part bleak car chase movie, with an amazing cast.
As always HFVC DJs will be in the bar playing counter-culture grooves and scuzzy fuzz.
https://www.facebook.com/hellfirevideoclub