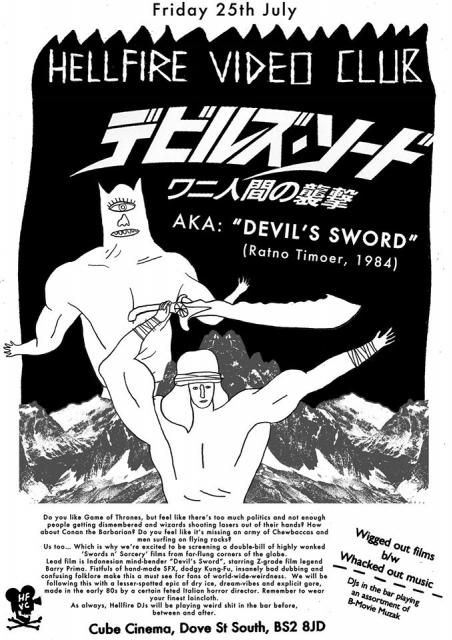 Hellfire Video Club present
THE DEVIL'S SWORD
and other Conquests
Ratno Timoer/ 1984/ Indonesia/ 101 mins/ Over 18s only
Fri 25th Jul | 8 p.m.
Do you like Game of Thrones, but feel like there's too much politics and not enough people getting dismembered and wizards shooting lasers out of their hands?
How about Conan the Barbarian? Do you feel like it's missing an army of Chewbaccas and men surfing on flying rocks?
Us too… Which is why we're excited to be screening a double-bill of highly wonked 'Swords n' Sorcery' films from far-flung corners of the globe.
Lead film is Indonesian mind-bender "Devil's Sword", starring Z-grade film legend Barry Prima. Fistfuls of hand-made SFX, dodgy Kung-Fu, insanely bad dubbing and confusing folklore make this a must see for fans of world-wide-weirdness. We will be following this with a lesser-spotted epic of dry ice, dream-vibes and explicit gore, made in the early 80s by a certain feted Italian horror director. Remember to wear your finest loincloth.
As always, Hellfire DJs will be playing weird shit in the bar, before between and after.