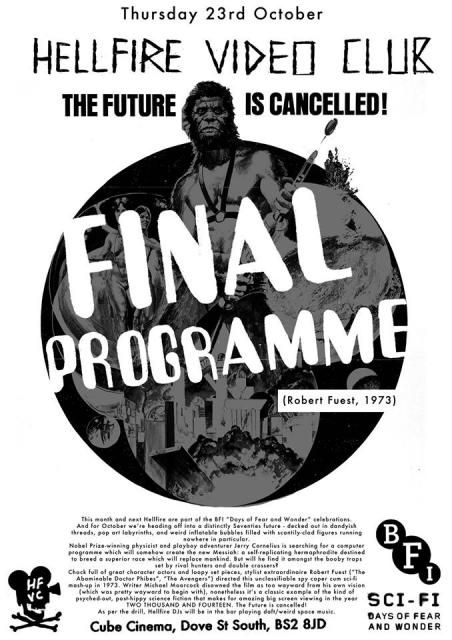 This month and next Hellfire are donning on our Sci-fi hats as part of the BFI "Days of Fear and Wonder" celebrations. And for October we're heading off into a distinctly Seventies future, decked out in dandyish threads, pop art labyrinths, and weird inflatable bubbles filled with scantily-clad figures running nowhere in particular.
Nobel Prize-winning physicist and playboy adventurer Jerry Cornelius is searching for a computer programme which will somehow create the new Messiah: a self-replicating hermaphrodite destined to breed a superior race which will replace mankind. But will he find it amongst the booby traps set by rival hunters and double crossers?
Chock full of great character actors and loopy set pieces, stylist extraordinaire Robert Fuest ("The Abominable Doctor Phibes", "The Avengers") directed this unclassifiable spy caper cum sci-fi mash-up in 1973. Writer Michael Moorcock disowned the film as too wayward from his own vision (which was pretty wayward to begin with), nonetheless it's a classic example of the kind of psyched-out, post-hippy science fiction that makes for amazing big screen viewing in the year TWO THOUSAND AND FOURTEEN. The Future is cancelled!
As per the drill, Hellfire DJs will be in the bar playing daft/weird space music.
+1