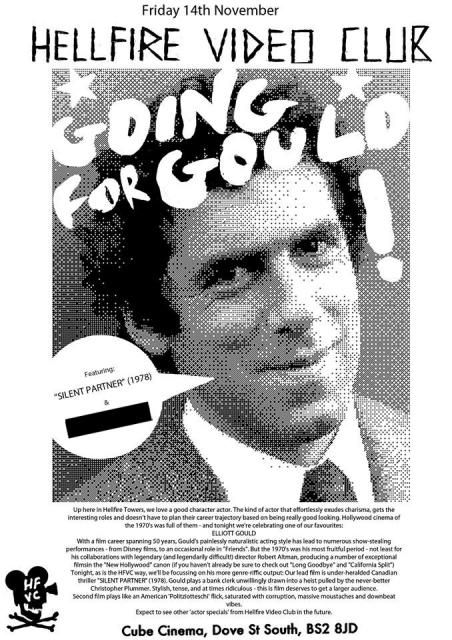 Up here in Hellfire Towers, we love a good character actor. The kind of actor that effortlessly exudes charisma, gets the interesting roles and doesn't have to plan their career trajectory based on being really good looking. Hollywood cinema of the 1970's was full of them - and tonight we're celebrating one of our favourites: ELLIOTT GOULD
With a film career spanning 50 years, Gould's painlessly naturalistic acting style has lead to numerous show-stealing performances - from Disney films, to an occasional role in "Friends". But the 1970's was his most fruitful period - not least for his collaborations with legendary (and legendarily difficult!) director Robert Altman, producing a number of exceptional films in the "New Hollywood" canon (if you haven't already be sure to check out "Long Goodbye" and "California Split")
Tonight, as is the HFVC way, we'll be focussing on his more genre-riffic output: Our lead film is under-heralded Canadian thriller "SILENT PARTNER" (1978). Gould plays a bank clerk unwillingly drawn into a heist pulled by the never-better Christopher Plummer. Stylish, tense, and at times ridiculous - this is film deserves to get a larger audience.
Second film plays like an American 'Politziotteschi' flick, saturated with corruption, massive moustaches and downbeat vibes.
Expect to see other 'actor specials' from Hellfire Video Club in the future.