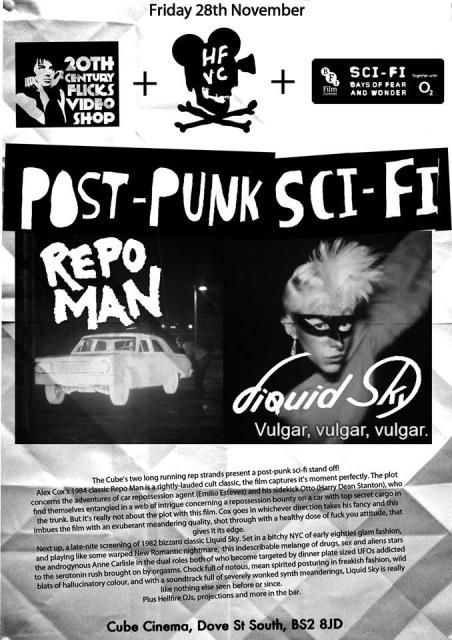 BFI Sci-Fi season:
20TH CENTURY FLICKS VS HELLFIRE VIDEO CLUB - POST PUNK SCI-FI DOUBLE
with "Repo Man" & "Liquid Sky"
Fri 28th Nov | 8 p.m.
Tickets: £5 / £4
The Cube's two long running rep strands present a post-punk SF stand off!
No real need to introduce Alex Cox's 1984 classic Repo Man. A rightly lauded cult classic, the film captures its moment perfectly. The plot concerns the adventures of car repossession agent (Emilio Estevez) and his sidekick Otto (Harry Dean Stanton), who find themselves entangled in a web of intrigue concerning a repossession bounty on a car with top secret cargo in the trunk. But it's really not about the plot with this film. Cox goes in whichever direction takes his fancy and this imbues the film with an exuberant meandering quality, shot through with a healthy dose of fuck you attitude, that gives it its edge.
Next up, a late-nite screening of 1982 bizzaro classic Liquid Sky. To date the only movie about aliens that plays as though it might have actually been made by aliens. Set in a bitchy NYC milieu of early eighties glam fashion, and playing like some warped New Romantic nightmare, this indescribable melange of drugs, sex and aliens stars the androgynous Anne Carlisle in the dual roles of Margaret and Jimmy, rivals who become targeted by dinner plate sized UFOs addicted to the serotonin rush brought on by orgasms. Chock full of riotous, mean spirited posturing in freakish fashion, wild blats of hallucinatory colour, and with a soundtrack full of severely wonked synth meanderings, Liquid Sky is really like nothing else seen before or since.
Plus Hellfire DJs, projections and more in the bar.