Please join me on dublab.com, Wednesday 25th February @ 2pm US PST (10pm UK time), for the next installment of the Divine Chord Gospel Show pt. 44.
Announcing possibly the World's first Gospel Soul & Funk DJ Soundclash featuring Greg Belson and this months very special guest DJ Eli 'Paperboy' Reed.
http://dublab.com/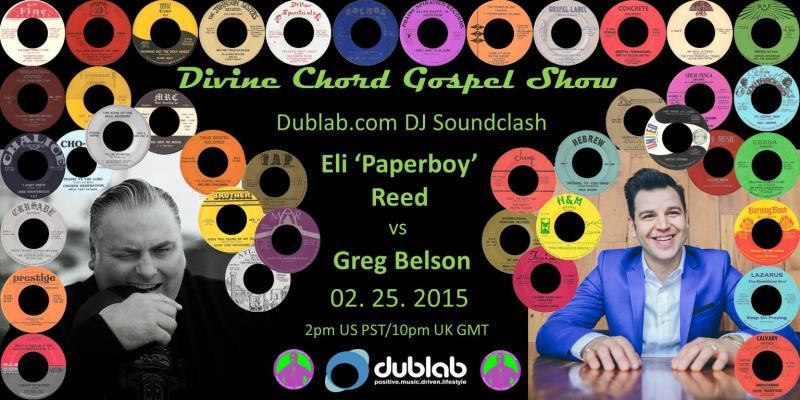 We're honored to have as our first ever guest on The Divine Chord Gospel Show, a very special recording artist, DJ/Collector and musical archivist, Mr. Eli 'Paperboy' Reed!
Eli's trademark soaring vocals and distinctive r&b sound have led him to perform all over the globe, including various key TV shows like 'Later with Jools Holland' and 'Live at Daryl's House'. He released his 4th LP last year, and it's clear that his career is going from strength to strength.
Here's a youtube link to one of those performances;
https://www.youtube.com/watch?v=Vy6q9HfsJmo
His knowledge of gospel is incredible and rooted in his first hand choir experience, where he fine tunes his stellar vocal techniques. Eli will be armed with a box of gospel 45's that will shake the roof, no doubt at all.....he's a native of Boston so a lot of his discoveries will be straight out of the East Coast......
.....making this not just a clash of collectors, but it's East vs West Coast too in true old school tradition!
Join us for a 2 hour extended special for a whole lotta fire and brimstone, all on original 45 rpm recordings.
If you missed the last show, here's the archived mixcloud link;
https://www.mixcloud.com/gregbelson/...-best-of-2014/
Also, please feel free to explore and subscribe to our youtube channel featuring some of the choicest 45's to be played on the show. We've just surpassed our 200th video, so please check it out and subscribe here;
http://www.youtube.com/user/DivineCh...ow=grid&view=0
Thanks everyone and see you there!