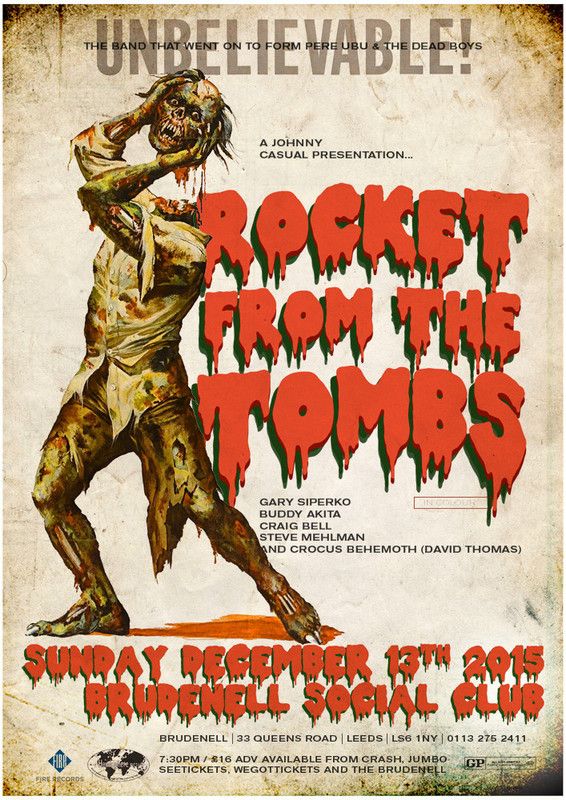 I'm putting this on, only one of two UK dates!
Forming in 1974 Rocket From The Tombs split the following summer after an apocalyptic soundcheck that shook headliners Television at the time. From the break-up two acclaimed bands emerged – avant-garage rock group Pere Ubu and punk pioneers, The Dead Boys.
Following their break up, Rocket From The Tombs found themselves at the centre of a worldwide bootleg frenzy that kept their music alive regardless of the fact that they never recorded an album. In 2003 a reunion came off the back of their first official release "The Day The Earth Met The Rocket From The Tombs", the album consisted of live and rehearsal tapes, and their first debut 'Barfly' arrived 37 years later.
The band's core - David Thomas, Cheetah Chrome and Craig Bell - remained from the early days. They were later joined by Television's Richard Lloyd, who replaced Peter Laughner and Pere Ubu's drummer Steve Mehlman was brought in.
Nowadays Rocket From The Tombs is: Crocus Behemoth AKA David Thomas (vox, musette, duotron), Gary Siperko (guitar, vox), Buddy Akita (guitar), Craig Bell (bass, vox), Steve Mehlman (drums, vox).
Tickets:
http://www.wegottickets.com/event/332665