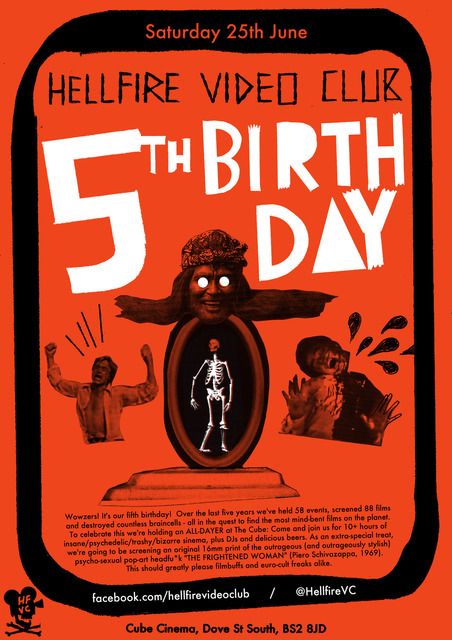 Very excited about this!!
Wowzers! It's our fifth birthday! Over the last five years we've held 58 events, screened 88 films and destroyed countless braincells - all in the quest to find the most mind-bent films on the planet. To celebrate this we're holding an ALL-DAYER at The Cube: Come and join us for 10+ hours of insane/psychedelic/trashy/bizarre sinema, plus DJs and delicious beers, including a bespoke brew with
Wiper & True
: A soured black IPA fittingly named "All the Colours of the Dark"!
Our first confirmed feature is "The Frightened Woman" (Piero Schivazappa, 1969) An outrageous (and outrageously stylish) psycho-sexual pop-art headfu*k that should greatly please film-buffs and euro-cult freaks alike. Screening from a super rare 16mm print!
Elsewhere, we promise a healthy dose of wonked martial arts, psychedelic witchery and warped power struggles. As well as a VHS 'unlucky dip', and other surprises. More details to be announced shortly!