45 REVIEWS:
BILL CODAY
I'm Back To Collect/Jury Of Love (Cra Jon)
I'm Back To Collect has a chugging rhythm and rough vocals by Coday to make for a funky mix. Jury Of Love is a nice, slow bluesy number.
INEZ & CHARLIE FOXX
(1-2-3-4-5-6-7) Count The Days/A Stranger I Don't Know (Wish It Was You) (Dynamo)
Count The Days is a really catchy, mid-tempo Soul tune with Inez's brother Charlie counting down the numbers during the chorus, while sister Inez gets some call and response by the girl back-ups during the versus. The flip is more of a pop tune with Charlie singing, and it's not half as interesting.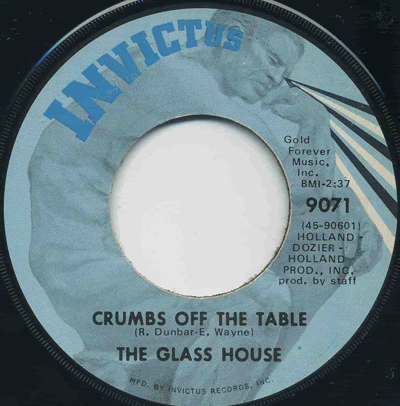 GLASS HOUSE
Bad Bill Of Goods/Crumbs Off The Table (Invictus 69)
Glass House were four ladies, including Freda Payne's sister Scherrie, who were signed to Holland-Dozier-Holland's Invictus label. This 45 actually became the first big hit on the fledgling label. Crumbs Off The Table was the chart buster with a guitar intro, later joined by the horns, that leads into a funky Soul tune. The song is good, but I think Laura Lee did a better job with it later on. Bad Bill Of Goods has a more pensive feel to it.
INTRUDERS
Cowboys To Girls/Turn The Hands Of Time (Gamble 68)
I recently busted out with a Greatest Hits album of the Intruders and realized that my copy of this 45 was trashed. Luckily I found a minty OG one at a local store. Everyone probably knows the tune Cowboys To Girls as it was a huge hit and can still be heard on oldies stations to this day. The song is a perfect example of the early Gamble and Huff Soul sound with some slick strings and sing-along chorus. Turn The Hands Of Time has a strong Motown influence with its Pop-Soul sound.
INTRUDERS
Together/Up And Down The Ladder (Gamble)
Together is an uplifting Soul number pushed along by the horns and the Intruders' group vocals. Up And Down The Ladder is more upbeat and more of a dance tune with a strong hint of Motown in it, but still a good listen.
SYL JOHNSON
I Only Have Love/Come On Home (Hi 75)
I Only Have Love is from Syl Johnson's Total Explosion album, while Come On Home is a 45 only release. That first song is a nice upbeat tune with a bluesy kind of tone to it. Come On Home on the other hand, is a slow and gut wrenching ballad. Both have that distinctive Hi sound that Willie Mitchell created in his studio.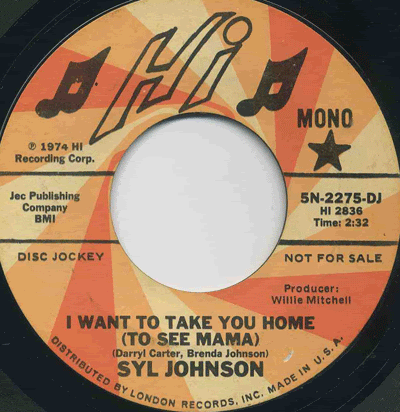 SYL JOHNSON
I Want To Take You Home (To See My Mama) (Hi 74)
This 45 comes from Syl Johnson's Diamond In The Rough LP. The song is upbeat Soul, but a little too light and poppy for my tastes.
TECHNIQUES
My Girl/Love Is Not A Gamble (Treasure Isle)
The Techniques were one of Jamaica's great vocal groups that got their start during the Rock Steady era and continued on into the Reggae period. On this 45 they were backed up by studio musicians extraordinaire Tommy McCook and the Supersonics. First up is My Girl that features the group's strong group vocals over a Rock Steady beat led by the high notes of the organ. Love Is Not A Gamble is more of the same with the Techniques' sweet vocal harmonizing.
JEAN WELLS
Have A Little Mercy/With My Love And What You've Got (Calla)
Have A Little Mercy is the star of this 45. It starts off with a solo guitar before Ms. Wells' pleading vocals join in to make this a real power Soul number. It gets even better when the horns join in and the drummer starts pounding on his snare. That first side is nothing to take away from the flip, which is an upbeat and catchy dance number.
O.V. WRIGHT
A Nickel And A Nail/Pledging My Love (Back Beat)
A Nickel And A Nail is a great southern Soul tune with a pleading, soul wrenching mood to it, similar to the Hi sound, all accentuated by O.V. Wright's singing. Pledging My Love is a slow RnB love song.
LP REVIEWS:
HONEY CONE
Soulful Tapestry (Hot Wax 72)
Soulful Tapestry is the third album by Honey Cone that I picked up. They get off to a hot start with some upbeat Soul tunes such as Don't Count Your Chickens (Before They Hatch) and Stick-Ups. Probably for sales reasons, they also included their big hit Want Ads that came out the year before on both 45 and another album, but I can't hate because I love the tune. After that they tone it down for some pleading love songs like Who's It Gonna Be and How Does It Feel. If I had to choose between their records, I'd pick their two 1971 albums because they have more heat than Soulful Tapestry.
HONEY CONE
Sweet Replies (Hot Wax 71)
The three ladies known as Honey Cone released a trio of albums in a very short period of time at the beginning of the 1970s. Sweet Replies was the most successful because it included their biggest hit, Want Ads. It happens to be the opening number, and what a great way to start off a record. Musically, the song is upbeat and damn catchy. Lyrically, the chorus seems assertive of the singers' womanhood as they proclaim that they will look for a new man, while the versus are about heartbreak and being cheated on. Also worth a listen are the hard hitting Are You man Enough, Are You Strong Enough with some percussion in the background, When Will It End with a driving drum beat, Feeling's Gone with its Gospel feel, the funky Sunday Morning People, the hard hitting Deaf, Blind, Paralyzed, plus Heart Won't Let Me with its Motown inspired rhythm. Wants Ads alone would be reason enough to pick up this LP, but the rest is pretty solid as well.
OUTLAW BLUES BAND
Outlaw Blues Band (Blues Way 69)
Tobacco Road starts things off with a nice rhythm tack, some strong guitar work, and a little breakdown where the band gets a little loose and frisky. Next is a Blues tune with the great satirical title of Tried To Be A Good Boy (But I'm Worse Than A Nazi), followed by the fast paced How Bad Love Can Be and I've Got To Have Peace On My Mind where they get a little Psychedelic. The rest of the album isn't that hot, but the first side is very listenable from beginning to end.
WOJCIECH SKOWRONSKI
Blues & Rock (Muza)
Like a lot of music, O-Dub originally turned me onto this record. Wojciech Skowronski was a Polish keyboardist who recorded for the famous Muza label. Blues & Rock starts off with the title track that has a Jazz base with a little Latin influenced percussion in the background and Skowronski's skat singing over the top. Half way through the song devolves into a series of percussion heavy breakdowns that add a little funky element. The rest of the record is a little bit of a mixed bag and not half as interesting as that one tune.
DUSTY SPRINGFIELD
See Al Her Faces (Philips 72)
I heard about this LP through a CD swap via the Vinyl Vulture site. The reason why I hunted down a copy for myself is a great cover of Crumbs Off The Table with some searing Rock guitar in the background and some screeching horns. It really does justice to the song. The rest of the record is a bit of a mixed bag with some Bossa pieces like Come For A Dream and laid back numbers such as Let Me Down Easy. However there are the lush Soul of Girls Can't Do What The Guys Do and Willie & Laura Mae Jones that has a down home Southern feel to it.
SUPREMES
Supremes Produced And Arranged By Jimmy Webb (Motown 72)
This was one of the Supremes' post-Diana Ross releases. As the title implies, they were under the direction of producer Jimmy Webb for this album. That addition didn't seem to make up for the loss here. Most of the music is overproduced and orchestrated Soul tunes that sound like they could come from a musical or cabaret rather than the Motown studios. The Supremes were capable of some good music during this period in their career, this just doesn't happen to be one of them.
TEMPTATIONS
Live! (Gordy 67)
The Temptations' Live! album captures them at their best, belting out their hits in front of an audience at the Upper Deck Club. First there's a fast-paced medley consisting of Girl (Why You Wanna Make Me Blue), The Girl's Alright With Me, I'll Be In Trouble and I Want A Love I Can See. That's followed by My Girl, Beauty Is Only Skin Deep, and Ain't To Proud To Beg. The second side is even better after a slow start with a cover of Old Man River, they take off again with Get Ready, the laid back Fading Away, My Baby with a little breakdown in the middle, the Doo Wop flavored You'll Lose A Precious Love, all finished off with an extended version of Don't Look Back with plenty of screaming ladies in the crowd.
IKE & TINA TURNER
Live In Paris (United Artists 71)
Live In Paris was recorded in that city's Olympia Theater at the beginning of 1971. Although the group plays nothing but covers, it was the performance that counted when it came to Ike & Tina. They always seemed to deliver. After a short intro the group gets down to business with 3 songs featuring the Ikettes. First is a slowed down and funky version of You Got Me Hummin. That's followed by Everyday People and Shake A Tail Feather that kicks into overdrive half way through. Miss Turner joins the fray with a medley of Gimme Some Loving/Sweet Soul Music with all the energy she and the band can muster. You can just visualize her and the Ikettes doing their dance moves during the blaring horn section at the end. Things take a temporary break with Son Of A Preacher Man. Of course, there's Proud Mary with Tina's trademark rough and easy intro. That pattern of toning it down and then ratcheting it back up continues with A Love Like Yours Don't Come Knocking Everyday, Respect, Honky Tonk Women, I've Been Loving You Too Long, and I Want To Take You Higher. Overall, this is an excellent live performance caught on vinyl.
UPSETTERS FEATURING JIMMY WESS
We Remember Otis (ABC 69)
The Upsetters were a group out of Baltimore that dedicated this album to the late great Otis Redding as the title implies. They get right down to business with a medley featuring Sweet Soul Music, Respect, Satisfaction and Shake, which sets the groove perfectly for the record. That's followed by other Otis' hits such as I Can't Turn You Loose, (Sittin On The) Dock Of The Bay, and the lesser-known Don't Mess With Cupid. Not all of the songs are ones by Redding however. There's the slow jam Always In The Wrong Place, the instrumental The Memphis Sound that's a take off of the Mar-Keys, and a cover of the Bar-Kays' Grab This Thing to finish things off.
OLD RECORDS OUT THE CRATES:
IMPRESSIONS
Young Mods' Forgotten Story (Curtom 69)
Yong Mods' Forgotten Story is one of the Impressions' best albums. It has the great uplifting Soul of the title cut and Seven Years with its piano bridge, the social commentary of Choice of Colors, the subtle The Girl I Find, Love's Miracle, Jealous Man, and Soulful Love. They finish off strong with one of their best songs as well, the powerful Mighty Mighty (Spade & Whitey). On this album, the group really could do no wrong.
JIRO INAGAKI & CHUCK RAINEY RHYTHM SECTION
Blockbuster (Eastworld 78)
I'm always interested in Japanese jazz records from the 70s. Some of them like Teruo Nakamura and Ryo Kawasaki made some really nice, funky Fusion records. Those two came to the U.S. to make a name for themselves. On this record, Jiro Inagaki brought Americans to Japan to record. This record combines Jiro Inagaki and his Japanese horn and vocal group with Chuck Rainey and his American rhythm section. Most of the songs are Jazz Fusion but there are some real standouts here. First off is Theme From "Starsky & Hutch", a good song already, but this version features a twangy guitar solo, followed by a bass and conga breakdown, topped off by a long drum and conga break. Blockbuster is also a fast-paced Fusion tune with some nice conga and drum work, while Elocution is more of a Soul-Jazz piece with some Fusion elements. Some might also like the slick UFO with another bass and conga breakdown.
LUTHER INGRAM
I've Been Here All The Time (Koko 72)
Luther Ingram is one of my favorite Soul singers. Even though he had a big hit with If Loving You Is Wrong I Don't Want To Be Right, I've always felt that he was a bit over looked. Luther Ingram was originally from Tennessee and when he signed with the Koko label he found his greatest success. His heart wrenching balladic style is heard immediately on Ain't That Loving You (For More Reasons Than One) with its strong horn work. That's followed by another slow jam in You Were Made For Me. Even better is the grooving Missing You, Be Good To Me Baby with its powerful rhythm section, and Pity For The Lonely with its catchy piano line that pushes the song along.
LUTHER INGRAM
(If Loving You Is Wrong) I Don't Want To Be Right (Koko 72)
This was the album that put Luther Ingram on the charts. The title track is one of those great love songs that just make you sing along with Ingram's emotional delivery. After that there's the laidback I'll Be Your Shelter (In Time Of Storm) and Help Me Love, plus the more upbeat I Remember that are also worth a listen, but the real gem is that opening hit tune.
INSTANT FUNK
Instant Funk (Salsoul 79)
Instant Funk had an instant hit on their hands with I Got My Mind Made Up (You Can Get It Girl) that was the feature of their self-titled release on Salsoul. The tune has sing-along lyrics, and great percussive backing that's often featured in breaks that are part of the infectious dance beat. The rest of the songs tend towards Disco tunes like Crying and You Say You Want Me To Stay that have some more breaks, and Don't You Wanna Party, all of which feature some pounding rhythms. There's also Dark Vader with its obvious Star Wars inspired title, but sounds more like a Funkadelic tune from their mothership period.
ISLEY BROTHERS
3 + 3 Featuring: That Lady (T-Neck 73)
The Isley Brothers' 3 + 3 will always be remembered for the opening hit song That Lady with its searing guitar licks and slick group vocals over a fast beat, plus there's that breakdown in the middle with percussion to top things off. It really is a classic. After that great start however, the record seriously falls off with too many mellow tunes. The two exceptions are You Walk Your Way with its a nice melody, as well as Summer Breeze with more guitar work by Ernie Isley.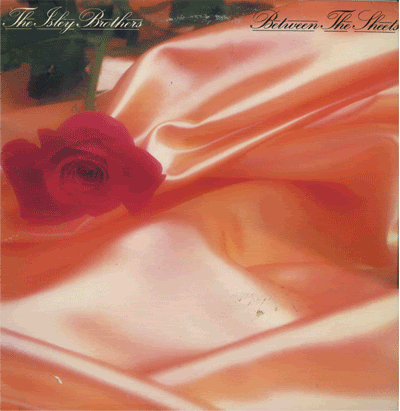 ISLEY BROTHERS
Between The Sheets (T-Neck 83)
Everyone should know about this LP as the title track was a huge hit, and was later sampled several times for some very popular Hip Hop tunes. Everything is great about it from its catchy beat to the light falsetto singing. Unfortunately, after that great song, there are slim pickings consisting mostly of slow jams. The two exceptions are Ballad For The Fallen Soldier with plenty of Rock tinged guitar that was heard on the group's 70s releases, and Slow Down Children, a nice, mid-tempo modern Soul number.