inspired by the amusingly long "what's on your turntable right now thread", here's what's been diverting me from pretending to work today.
1. Kenny Dorham - Matador (UA 1962)
First (and title) track on this album from 62. Great hard bop jazz with a sprinkling of latin inflection.
El Matador
followed by three tribute records (of a sort)
2.
Mtume Umoja Ensemble - Saud (Strata-East 1973)
.
From the Alkebu-Lan album on Strata-East, a tribute to McCoy Tyner. Top quality live deep scary jazzitude, recorded at The East (venue owned by the collective, and the site for Pharoah Sanders live thing too). Featuring Mtume, Carlos Garnett, Leroy Jenkins, Andy Bey, Joe Lee Wilson, Billy Hart, Gary Bartz, Ndugu, Stanley Cowell, Buster Williams, and a bucketload of other worthies. Dig it, baby.
Saud
3. Clifford Jordan Quartet - John Coltrane (Muse).
From the "night of the mark VII" album on muse. the tune was written by spike lee's dad, and also features heavily on clifford's "glass bead games" album. this here's the live one, recorded in paris in 1975. yum.
John Coltrane
making way for
4. Lester Bowie - For Fela (Horo 1978)

There's few people in this world that lester needs to doff the cap to, but here he decides to tip it in the direction of the kuti-master. 21 minutes of deeply avant trumpet, keys and sax rhythm, melody and squelching.
well, Malachi Favors and Arthur Blythe are on here too
along with Amina Myers and Philip Wilson. the album features another stonker in "chili Macdonald". Recorded in 1978 for Horo records out of Italy.
Lester Bowie - For Fela
and finally the gentle men step aside for the ladies to finish
5. Esther Marrow - He Don't Appreciate It (Flying Dutchman)
First track on the "Newport News, Virginia" album. Most turn to "Chains of Love" but over the whole album, Bob Thiele turns out another great set, Esther's great smooth but powerful voice sitting on top of the brass and rhythm.
Esther Marrow - He Don't Appreciate It
6. Mary Lou Williams - Praise The Lord (Mary records)
Nah, not the swinging Grant Green version, the deeeeeeeeeeeeep one from "mary lou's mass". Yeah, so i bang on about spiritual jazz, but it doesn't come deeper or more spiritual than god-botherer mary-lou writing a mass in praise of the great one. And this is storming stuff, truly driven by the gospel.
Praise The Lord
7.
Khaliq Al-Rouf & Salaam - Elephant Trot Dance (Nilva Records 1979)
The Ensemble Al-Salaam
is known to many on the board, either 'cos they're Strata-East lovers, or because a track from "
The Sojourner
" appeared on "Brownswood Digs America Vol.1" a couple of years ago. This album came out after their Strata-East offering, and features 5 of the original members, along with a couple of additional percussionists. Recorded in White Plains, NJ, released on Alvin Queen's own "Nilva" label in Switzerland, here's the title track from the album.
Elephant Trot Dance
.
8.
Victor Feldman All-Stars: Ritual (AVA Records 1962)
Vic Feldman. google-able, wikipediable, famous, was around forever, and was one of the first british jazz guys to get respect in the US. This recording came about after a US State Dept. trip to the USSR in May 1962. Feldman hooked up with some local musicians and composers and held a series of concerts. This track was writen by one of the young Russians, Andre Towmosian, at the age of 19. Players on the track: Vic Feldman (vibes), Nat Adderley, Harold Land, Joe Zawinul, Frank Butler, Bob Whitlock. Classic early 60s swing, could be off a Blue Note record from the same time. Lovely.
DivShare File - Ritual 1.mp3
9. Ray Pizzi: Prayer For Simon (P.Z. Records 1975)
This track is off a privately pressed thing our Ray did in the mid 70s. Lovely eastern modal feel to this one. Ray is a fairly prolific bassoon player. I bet you never thought you'd click on a link because you saw that phrase...
I get the feeling that Ray might be a wearer of humourous socks, given the contents of his
website
. I don't really care, as this tune is lovely. Click to hear modal bassoon work at its finest.
Prayer For Simon
10. Jerome Richardson - No Problem (UA 1962)
One of those session musicians whose names I look out for on 60s jazz records (particularly on Verve),
Jerome Richardson
was a sax and flute player with some mighty fine chops. This album is one of a series that UA released in 1962, the
Kenny Dorham
at the top of this list, and "Three Blind Mice" by
Art Blakey
are among the others. Stonking hard bop jazz with latin influences. The track that' I've burned here is a jazz-dance monster and no mistake. In my view this version is better than the more afro-influenced one on Blakey's "Liaisons Dangereuses" set.
Firing rhythm from
Grady Tate
(on his 1st proper session I think), fine backup form the others, and right at the very end, some fucking TOP piccolo flute action.
Enjoy.
No Problem
11. Heikki Sarmanto: Duke And Trane (Finlandia 1979)
Commissioned by St Peter's Church, Midtown Manhattan, to commemorate the opening of a new site. This church had it's own "j
azz ministry
" (now there's a business card to hand out at parties
), which offered "jazz vespers" every Sunday afternoon. This mass grew out of one of those sessions, dedicated to the twin deities of Ellington and Coltrane.
St Peter's had hosted Ellington's "sacred concerts" a number of times. Sarmanto is Finnish, and formed various groups over the years with his brother Pekka and some other top Scandi-jazzers. Apparently, the recording of this Mass was filmed for broadcast in Finland and across Europe. Now that I'd like to see. Anyway, the music. Swelling, beautiful, uplifting, majestic, stunning. I defy you to remain unmoved by this. Enjoy!
Duke And Trane
12. Michael Garrick Sextet - Rustat's Gravesong (Airborne 1968)
Feels like I'm treading on Folkishienne's manor a bit here, for which I apologise. I dug this thing out the other day and it's barely left the turntable since. Even got a playout at Brillo, fercrissakes!!!! Everyone here knows Garrick's genius, so I won't bang on about it. Suffice to say this track is sublime. Recorded using one microphone, live at St Paul's Cathedral in London in October 1968, full choir, plus Art Themen, Jim Philip, John Marshall, Coleridge Goode, Ian Carr, and Garrick playing the cathedral organ. Released on the "Airborne" label. Seem like he signed each copy as he sold it. Mine's got a scribble on it from 1972. This track was re-recorded by Garrick in 1970, and issued as the final piece on The Heart Is A Lotus. Which version is better? You decide.
Rustat's Gravesong
13. The Pyramids - Nsorama (Pyramid Records)
Idris Ackamoor, family and friends. Deep, hypnotic Afro-centric essential out of the mid-west US. Dashikis have seldom been worn better. I do wonder what they're all looking at out of shot. Maybe waiting for Mike Garrick to appear just above them. Happy to oblige.
Nsorama (edit)
14. Nate Morgan - Mrafu (Nimbus)
What can you say about a sleeve like that? From the Nimbus label, the first of three pieces for your delight and delictation. This is a monstrous piece of jazz by keyboard player Nate Morgan. The album is great (and it's sleeve one of the, errm, most child-like I own). Lovely. This has Dadisi Komolafe on sax as well, some might know him from his "Hassan's Walk" LP. or not. If not, then I'll upload something nice from that next. For now, though here is
Mrafu
15. Dadisi Komolafe - Speak No Evil (Nimbus)
As promised, here's the next one from the Nimbus stable, and it's another beauty. Alto sax and flautist, Komolafe recorded on a bunch of dates for Tom Albach's Nimbus label, this is his only one as lead. The track I've put here is his firing latin-jazz version of Wayne Shorter's Speak No Evil. Anothe great Nimbus sleeve as well
. The rest of the band are: Rickey Kelly (vibes), Eric Tillman (piano), Roberto Miguel Miranda (Bass) and Sunship Theus (drums). A quick googling suggests that this was comped by Luv'n'Haight years ago, so if you like it, you could get the track cheaply that way (or free, from just below here...
)
Speak No Evil
16. Horace Tapscott and The Pan-Afrikan People's Arkestra - Desert Fairy Princess (Nimbus)
Where to start with this one? The 3rd and for now final of the Nimbus tracks for this chart. Tapscott was one of the hubs of Nimbus records, and under the auspices of the Arkestra, and under his own name, put out some fantastic records. This was recorded at the Imanuel United Church of Christ in LA in 1979. A double album, great stretched-out feel to each of the pieces, inevitably suffused with a slightly dreamy spiritual vibe. The track here has also been recorded by Adele Sebastian (for Nimbus) and by the Nostalgia 77 Octet (on Tru Thoughts). I think it's lovely, what do you think?
Desert Fairy Princess
17. Jazztrack and Norma Winstone - Mother Lou (Electrola/ MRC)
From 1978/79. German record. Norma recorded this with the German jazzers "Jazztrack" in Hamburg in November 1978. Released in 1979. Released on an EMI subsidiary via the Musicians Record Company. Fusion in parts, but not this part. Firing jazz with Norma's amazing soaring vocalese twinned with soprano sax for a jazzdancer's dream-ticket to backflip wonderland. You may find yourself in the middle of the circle, not knowing why, but you're dipping, flipping and dropping deep moves all over the floor. You can't help it, just roll with it. And dig it, baby.
Mother Lou
18. Steve Lacy - Morning Joy (Soul Note)

skronk alert. SKRONK ALERT.
SKONK ALERT.
Steve Lacy was one of the lights of the US free jazz movement, live in Europe for years and for a long period confined himself to only playing interpretations of the work of Thelonious Monk. This track finds him in Italy in 1986 with some other avant-jazzers, including Bobby Few, one of his long-term collaborators, on piano. Storming vocal jazz again, and if you want to know what it sounds like without taking the risk of listening, it's similar in flavour to the William Parker thing that I put on my Xmas 2006 Swap CD. Sun Ra sometimes sounds like this too. I faded it just as the violin comes in
This record is very very cheap. price is
not
an indication of its value. enjoy.
Morning Joy
19. Stafford James: Costa Brusciata (Horo)

Continuing the Italian jazz theme, here's another deep scary twisted dancefloor filler/ killer...
Recorded in 1975 for Aldo Sinesio's "Horo" label in Rome, this 10 minute monster is the first track on Stafford James' contribution to the "Jazz a Confronto" series.
Dropping bass all over the place, cymbals sockin' bass drum rocking, etc (definition of a "jazz thing", innit
) This is seriously deep jazz with a driving rhythm.
With the Italian, Enrico Rava on trumpet and free-jazz meisters/ Archie Shepp group members Dave Burrell and (the god-like) Beaver Harris backing him. Stafford James is an alumni of Sun Ra's group, and this approaches the man from Saturn, shakes his musical hand a drags him onto the danceflorr to throw some awkward, angular funky shapes.
Costa Bruciata
Nos. 20 and 21...Haki Madhubuti and the Afrikan Liberation Art Ensemble
After the wee sojourn into Italian stuff, it's time to go back to the spiritual/ consciousness raising black american independent jazz of the 1970s/80s again. To whit, two pieces of music from an interesting bunch of people.
They are by an organisation calling themselves The Afrikan Liberation Art Ensemble. They released two albums that I'm aware of, one in 1976, one in 1983. Think Strata-East, Tribe, Black Jazz, etc and you'll have a feel for the content. They both sound like they were recorded in about 1972. A strong mix of your classic spiritual jazz (long tracks, complex instrumentation, some nice lady wailing over it all about mother Africa, etc) and some very pointed, politically focused poetry/ prose.
The poetry is all written and spoken by Haki R. Madhubuti, and man with an ear for a turn of phrase and a voice to carry it off. He was a lecturer at Howard University, where he inspired some students to set up an independent education program for pre-schoolers, a food coop, a farming complex, adult education etc etc etc. The albums are also recorded and produced by the same former students, in part ot promote their self-help message and to raise funds for their work.
The 1976 album is called "
Rise, Vision, Comin
'"
It has a mix of strident, free-jazz based stuff, and some more thoughtful but nonetheless though-provoking stuff. The track i've included here is called "
Walk the Way of the New World
", and has some nice respect-yourself-type lyrics such as "be what you want your children to be".
Haki Madhubuti - Walk the Way of the New World
The album from 1983 is "
Medasi
".
It carries on where the previous one left off, in terms of content and production. The track I've taken from it is called "
Children
", and, similar to the Edith Hill/ Selah thing, has a great kids chorus through it, along with the poetry/ prose and jazz.
Haki Madhubuti - Children
Enjoy.
No. 22 Roy Haynes - Guadelupe
This is quite long. it is also quite funky. Think of how much you liked The Headhunters being good. Think Herbie Hancock's facemelting "Flood" album, etc and you'll be in about the right headspace to feel this. It's not small, it's not short, and it's nothing if not memorably fucking funky. Roy's well known, so I won't bother with the bio stuff (wiki works for that, should you want). He's a drummer. Quite a good one, who moved with the times. Lovely bop stuff early (to follow, kids!!!!!), filthy funk later. This was recorded by Roy and his Hip Ensemble for Aldo Sinesio's Horo Records in Rome in 1975. The rest of the album is fine, 3 tracks of 70s jazz (a cover of "Well You Needn't" being quite nice), but this is the standout track. It's really quite filthy.
So, in summary, after a break of a month or three, here's a tune with a break or four to make up for it.
Roy Haynes - Guadelupe
No. 23 Pierre Leduc - Cimco
After the funky stuff above, time for a return to the modal. Canadian pianist Pierre Leduc featured on the RCI/CBC "Ready Or Not" comps of a couple of years ago. This is a beautiful, deep piece of modal jazz is from his first recording. Recorded in Feb 1966 in Montreal, it's a live trio album, with Emile Normand on drums and Michele Donato on bass. I've uploaded what I think is the standout track from the album, Cimco. It's deep, it's modal, and it's in 6/8 time (if i'm counting right...).
Pierre Leduc - Cimco
No. 24 Roy Haynes - Modette
After Guadelupe, you can't get much more contrasting a display of Roy Haynes' skills than this, a monster jazz-dance, percussion and flute, giant in 3/4 time with a 6/8 felling. Written by the man you hear on flute, Frank Strozier, it's a swinging, pacy introduction to the CYMBALISM album he recorded in 1963 for New Jazz. Man, I love those deep groove records. Looking battered, playing perfectly. Ronnie Matthews and Larry Ridley form the rest of the quartet. It flips around all over the place like the Nicholas Brothers in their prime. Dig it!
Roy Haynes - Modette
No. 25 Duke Pearson/ Donald Byrd - Sudel
Swinging early 60s jazz. The original release, which came out as "Hush" under Duke Pearson's name in the early 60s, goes for $$$$$$$. This issue, on German Polydor from the early 70s doesn't.
Still lovely music though, and sounding very of-it's-time, like a Blue Note bop session. Pearson re-recorded Sudel on his "Sweet Honey Bee" set on Blue Note later in the 60s, but here's the original take, with Johnny Coles, Donald Byrd, Pearson, Walt Perkins and Bob Cranshaw.
Dig it!
Duke Pearson/ Donald Byrd - Sudel
=======================
Amancio D'Silva.
A name to conjure with, music to wonder at, and records to lust after but never own, probably ever. grails, raers, call 'em what you will, they're kinda hard to find and you might not know the loveliness that exists on them.
Until NOW!
Yup, the next installment of this chart thingy is a tribute to the great Indian guitarist Amancio. Both out of Landsdowne Studios, both produced by Britjazz legend Dennis Preston. and both with mysterious credits you get on records of a certain budget.
No 26 - Wout Steenhuis doing "Hum Dono"
First up is that stalwart of Studio 2 Easy Listening Hawaiian Spy Guitar, Wout Steenhuis. An, erm, interesting version of Amancio's classic "Hum Dono". I was pointed at this record by the lovely Johnny Trunk, a finer gent you couldn't hope to meet. This should be cheap as chips but some naughty folks use the fact that there's a cover of Hum Dono to charge lots of cash. Avoid them and keep digging, they show up.
Wout Steenhuis - Hum Dono
27. Los Dourados doing "Jaipur"
An Amancio D'Silva track re-done as a storming latin jazz dancer? You betcha! This album is a showcase of the rather limited talents of George Dourado. Still, the track is an absolute banger. Big piano sounds, montuno stylings. Stick this on and watch the floor move.
The album also contains a cover of the Yusef Lateef/ Sam Most monster "Jungle Fantasy". If you want that on mp3, PM me and i'll send you the link.
Los Dourados - Jaipur
28. Duke Pearson: "Tired Crying Over You"
Slight change of pace: bittersweet vocal track this time. Duke's lovely and he wrote lots of lovely lovely things. In fact, he's one of my favourite Blue Note artists. Some truly beautiful, poised jazz. He recorded a range of stuff, from small combo things through to big band stuff. Other albums by him to look out for (apart from the Polydor "Angel Eyes" which you need to be very lucky to find) include The Right Touch (especially for "Chilli Pepper"), How Insensitive, The Phantom, Wahoo and It Could Only Happen With You. Also, check Prairie Dog on Atlantic. He spent much of the 60s as an inhouse producer at Blue Note, and didn't record anywhere near as much stuff as I'd like. The music is always lyrical, soulful and full of grace.
Anyway, this albums a bit of a curate's egg. lots of straightforward brasswind and piano led stuff, with one utterly different (but recorded at the same time) vocal track featuring the unmistakable talents of Andy Bey. It's really beautiful, melancholy in just the right way. I hope you enjoy it as much as I do.
and yes, it's cheap (under £15 for a minty one, generally)
Duke Pearson: Tired Crying Over You
29. Tony Bond & The Keating Sound: "Waltz For Debbie"
Easy. Yes it's easy. Lovely too. Seems to work after the Pearson/ Bey thing above. Here's a vocal cover of the Bill Evans classic. I'm a sucker for a jazz waltz, but I have to confess I'm usually not taken by this sort. However, it's beguiling. A word that I don't get to use often enough, but is appropriate here. Smooth vocals over lush orchestral backing. This bloke was really called Tony Burrows. He was in Edison Lighthouse. An uttely random, blind punt for little cash. Hope (some of you, at least) like it. This would be a beautiful way to end a set/ mix. Or relax on a sunday afternoon in the park. With syrup.
Waltz For Debbie
30. Chick Corea: Moon Dance
After that syrupy nonsense and summertime niceness, here's something for the dark cold, recession style frustration and angst. If you're not feeling a bit edgy now, you will by the time you get to the end of the track.
This was recorded in 1970, in New York, but released in Japan on Toshiba/ Far East Records. It bears the unmistakeable sound of Steve Grossman on tenor sax, Corea on keys, Dave Holland and Jack DeJohnnette get very very deeply funky, angluar and mad. Steve Jackson plays all manner of percussion and stuff as well.
Go on, I dare you. click the damn link. it's nuts.
This neither bears nor is any relation to the Van Morrison wedding classic of the same name.
this is
Moon Dance
get more stuff on him here...
http://en.wikipedia.org/wiki/Chick_Corea
I have nothing else to add.
Except the obligatory coverscan...
duly prompted, here's
29. Garrett List: Slow Dance (Horo)
Another one of the rarer Horo titles, this one's got Byard Lancaster on it, and a nice vocal line, courtesy Genie Sherman. Much of the album heads into small group classical form, but there's some interesting stuff on it. I see Messrs Peterson and Scotti have comped one of the other tracks from this album ("Whatever America Wants") for their Horo Sampler (no releasedate yet, but there's a tracklist on Peterson's mySpace page).
Garrett List - Slow Dance
Hypnotic, isn't it.
30. Harold Land Quintet - Kisses Sweeter Than Wine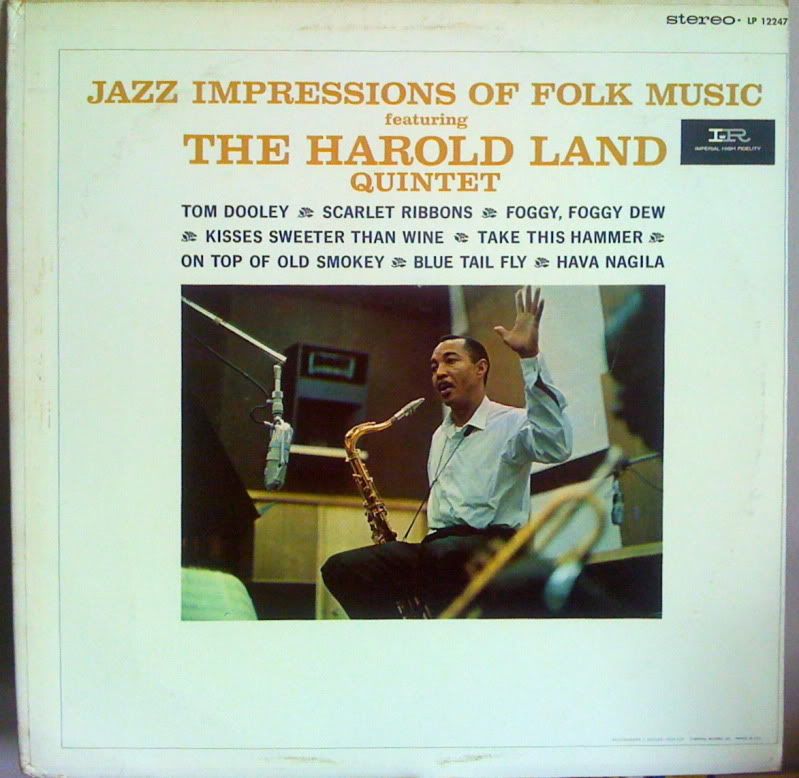 Harold Land: sax player, record a ton of stuff, had a very long recording career from the late 50s through to the mid 90s. Born in San Diego, and recorded for labels including Contemporary, Cadet ("The Peacemaker" LP's a stunner), Blue Note (5 albums with Bobby Hutcherson including the "San Francisco" album, which contains the mighty "Ummh"
) and Mainstream.
This album does exactly what it says on the sleeve. The rest of the album is fairly pedestrian, but I think this version of "Kisses Sweeter..." is timeless and lovely, it swings perfectly, especially the middle section, kicks like a classic Blue Note. What do you think?
Harold Land Quintet - Kisses Sweeter Than Wine