UPDATED Friday 17th Sept 2010
There's direct link mp3's available from each of the following LP's / 45's in blue text under the pics below.
With any luck this chart will be ongoing...
1) Symphony of Amaranths: Neil Ardley - Regal Zonophone 1972. This Lp plays host to numerous British Jazz players. Norma Winstone features on Three tracks, 'Will you walk a little faster' was on the Peterson comp, however 'After Long Silence' and 'She weeps over Rahoon' are both warm and emotive. The tracks fade into one another on the LP, so they have been recorded here as one long track. Both tracks are fairly straight poem renditions (After Long Silence by W.B Yeats) (She Weeps over Rahoon by James Joyce) Nevertheless they seem to work on a night like tonight:
Listen Here
2) Angel Eyes: Duke Pearson - Polydor 1968. Had a good listen to this again tonight, the track 'Say you're mine' is a laid back piano lead modal smooch that for some people is a bit too close to old boys jazz, but for me it stands out for it's warm wind down vibe.
Listen Here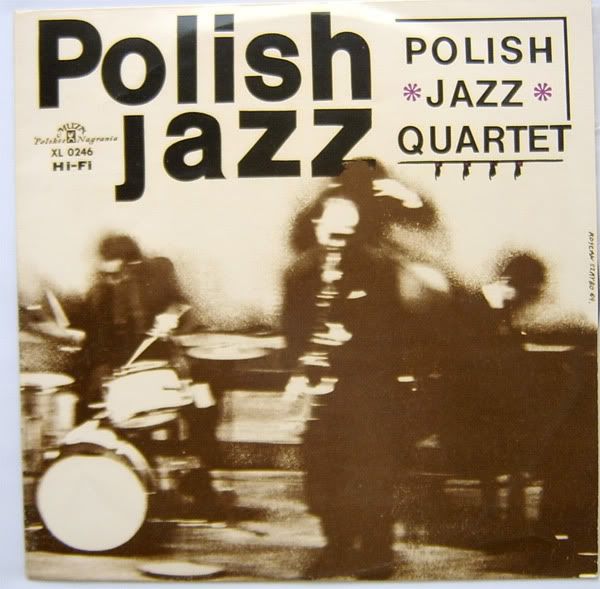 3) Polish Jazz Quartet: S/T: - Muza 1964. I've enjoyed this LP for a long while but tonight, through the headphones, it sounded better than ever. The track "Przechadzka Puustymi Ulicami" (Promanade through the empty streets) is a piano / sax led modal piece with a smokey vibe that grooves bang on point.
Listen Here
4) Graham Collier: Songs for My Father: Song One - Fontana 1970. Following on from Down Another Road, and with a slightly different line up, Collier's compositions on this LP range from the modal to free in a comprehensive and capable outing of British Jazz. The track 'Song One' Is a 9 min + mid tempo assault .
Listen Here
5) Michael Garrick Trio: Cold Mountain - Argo. A very listenable LP featuring Dave Green on bass and Trevor Tompkins on Drums. Thanks Giving Dance started life in 1967 as part of John Smith's four ritual dances.
Listen here
6) Barney Wilen: Moshi - Savarah. Barney likes to get involved in ethnomusicology. This lp features pigmys & African instrumentation that captures for Barney at least his journey from Tangiers to Zanzibar. The sleeve notes on this Lp are mezmerising and well worth a read. The track 'Africa Freakout' (At least I think that is the track name as the labels and cover differ) is an african infused mellow vibe with a bunch of instruments I can't even pronounce.
Listen Here
7) Don Rendell / Ian Carr: Change IS - EMI Columbia 1969. "
The mutual admiration between the five men gives their work an element of communication where there could be a forbidding wall of "integrity". The two horns, especially, make perfect sparing partners ; Carr's increasing honesty in his playing promises even greater things to come while Rendell's control of all situations imparts an aura of satisfying acheivement.
- (Source: Smith: Melody Maker, March 15, 1969) - Perhaps not their hottest outing but I do in part agree with this review in terms of their incredible interplay and the " Promiss of Carr" who would, in a short few months strike out in hisown proggish direction
The track that drew me in tonight from this LP was "Mirage".
Listen Here
8) Ian Carr: Belladonna - Vertigo. Worth checking for the gatefold alone this LP represents Carr's departure from modal jazz and his first steps in the paddling pool of prog / fusion. The track Summer Rain is a soaring yet mellow groove, Sounds great on headphones...
Listen Here
9) Le Dejeuner Sur L'herbe: The New Jazz Orchestra (Neil Ardley) – Verve 1968. The Version Of 'Dusk Fire' (Garrick) contained on this LP is darker and perhaps more free than the original. Barbara Thompson features on Soprano accompanied by Jim Philip and Jon Hiseman on drums. Sadly there's background noise on some of the passages but if you like the original you might like this too…The album as a whole is fairly solid throughout.
Dusk Fire.mp3
10) Troppo: Michael Garrick - Argo 1973. Dedicated to Joe Harriott the track 'Fellow Feeling' features a repetitive horn riff that I cant shake off and vocals from Norma Winston that are IMHO some of the most moving I've heard her deliver.
Fellow Feeling.mp3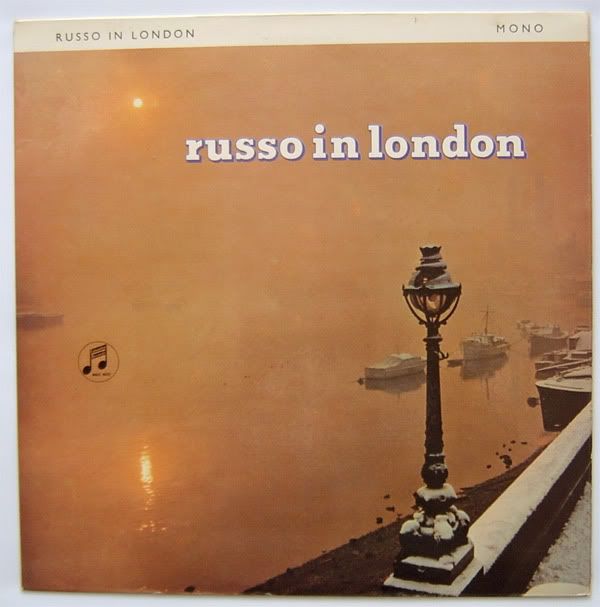 11) Russo In London: William Russo – Columbia 1962. Russo conducts the London Jazz Orchestra in a sublime outing on this LP. The full orchestra and may not be to everyone's tastes but the track 'Portrait of a Count' is a very ethereal piece that shines through for me and kind of reminds me of Kenny Wheeler's later LP Windmill Tilter…? I think the Cinematic Orchestra used the opening soprano sax riff from this track on their LP "Everyday"..?
portrait of a count.mp3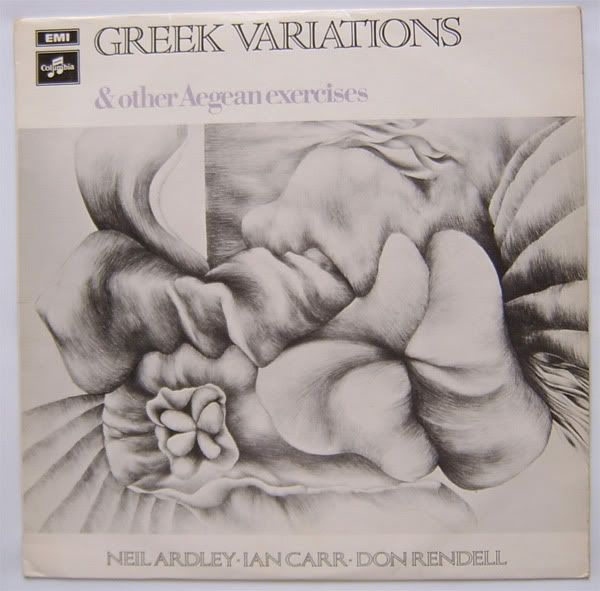 12) Greek Variations: Neil Ardley / Ian Carr / Don Rendell – Columbia 1970. Themed on a series of Greek Folk tunes, this LP is segmented into three sections (More or less one for each artist under the ultimate influence of Ardley) Ian Carr's contribution (Incorporating pretty much the original Nucleus line up) is great. – I really like 'Persephone's Jive', an intense upbeat stomp that's really more Friday night than winters night...By this point in the LP the Greek Folk tune theme gets a little more hectic and abstract ...
Persephone's jive.mp3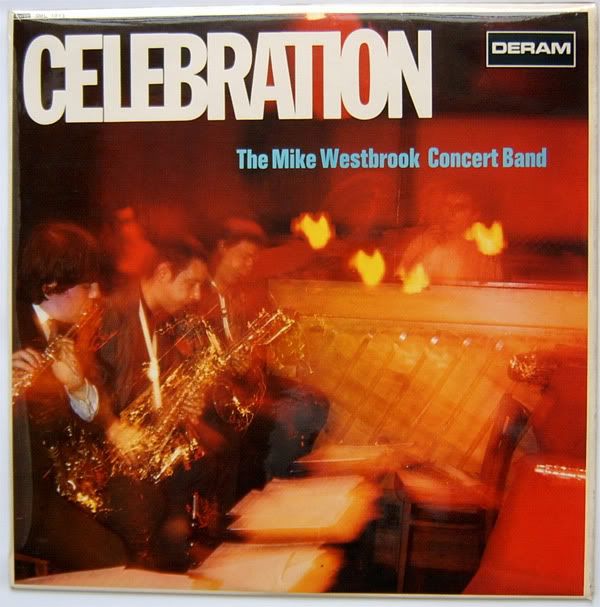 13) Mike Westbrook: Celebration – Deram 1967. A solid Lp IMHO the track featured here is 'A Greeting'; an energetic tempo shifting workout with full brass section.
A Greeting
14) Mike Westbrook: Marching Songs Vol 1 – Deram 1969. Themed around the futility of War the sleeve notes narrate a landscape of conflict.
'The Soldiers march in tightly closed ranks, grimly, the flamboyance of the parade is forgotten…'
The track included here is the strangely titled 'Waltz' featuring Gibbs, Osbourne, Skidmore et al. The track connotes for Westbrook, 'Soldiers drunk with patriotic pride gleaming in the sun'
Waltz
15) Placebo: Ball Of Eyes – CBS 1971. I really love the cut Aria on this Lp. Somehow Moulin's keys and the horn section manage to take me through the full spectrum of emotions.
Aria
16) B.J Ward: Vocal Ease – Catfish. The Title cut is a kind of groovy female jazz number with upfont vocals in a similar vein to Doris et al. I can't shake the chorus and it hasn't left my deck since it came through the door. More than a one trick pony, this Lp features several decent tracks including 'The Loner' (as comped on the folk funk boot) The main downside to this LP is the poor quality catfish pressing...
Vocal Ease.mp3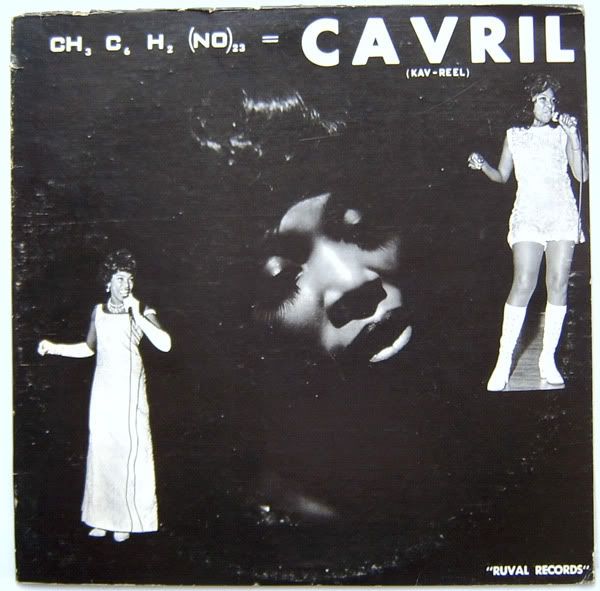 17) Cavril Payne: CH3 C6 H2 (NO)23 = Ruval Records. An up tempo mover, Cavril croons on point in the stand out track 'When I open My Eyes'. Sadly this LP really is a one tracker.
When I open My Eyes.mp3
18) London Jazz Four: An Elizabethan Song Book – CBS. A great late night listen with very proficient musicianship. Their version of Scarborough fair is really one of my favourites.
Scarborough Fair.mp3
19) Don Rendell / Ian Carr: Dusk Fire – Columbia 1966. To be honest I wasn't going to include this one, as I know most Vultures are well aware of this LP. However, I've constantly returned to listen to this album and feel it should get a mention because it is, to my ears, the best British Jazz LP I am familiar with. Solid from A-B I could have recorded any track for inclusion in this chart but as the title of the thread is Jazz on a winters night (and I've already added the Dejeuner Sur L'herbe version of the title cut) I thought this one fits the bill
Prayer
20) John Taylor: Pause and think again – Turtle 19??. Memorable for it's cover (Which makes you pause and think 'Did Wallace design this?') as much as it's contents. This LP can at times be a little too intellectual for my ears (Which are for the best part feral and emotive when it comes to jazz) nevertheless there are several tracks on this album that have really grown on me. The track included here is 'Pause' which was written originally for the B.B.C Jazz club (according to Taylor's sleeve notes) and features Kenny Wheeler.
Pause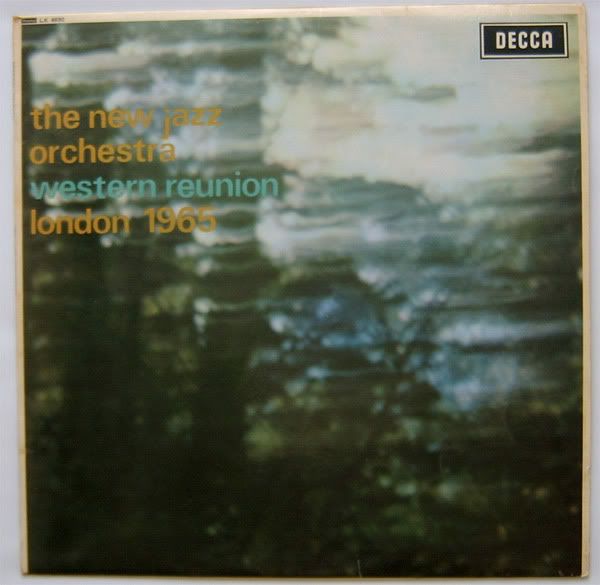 21) The New Jazz Orchestra: Western Reunion – Decca 1965. Patchy would be a kind description of this LP. The inclusion of Ardley's Shades of Blue (Version of the title cut from the LP bellow) is what saves this album for me
Shades Of Blue
22) Don Rendell / Ian Carr: Shades of Blue 1965. The first of the Rendell / Carr quintet series, this LP features Colin Purbrook on keys (Garrick joined the quintet on Dusk fire) Overall a great LP but perhaps not quite as solid as Dusk Fire. Carr describes the aim of the LP in the sleeve notes stating. " What Don and I aimed at was to play the blues - either in form or in feeling." The track that for me achieves this best is Blue Mosque…Sadly the condition of my copy is tragic, several loud clicks & pops. I've tried to remove them with a friend in his studio for this recording so it doesn't sound too bad (Hope it works)
Blue Mosque
23) Yusef Lateef Quintet: Sister Mamie (Part 2) – Impulse. Pretty much a Vulture jazz staple. Here's the flip (Part 2) for those who haven't heard it. Yusef blows for his life on this live recording – I've received more complaints from the neighbors about this track than pretty much any other – This track requires volume
Sister Mamie pt 2.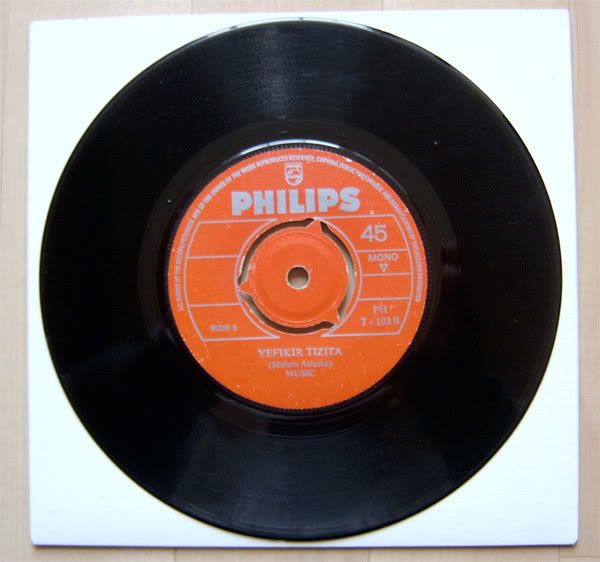 24) Mulatu Astatke: Yefikir Tizita – Philips. A decent hypnotic example of Ethio jazz. This track makes me want to a) Visit Ethiopia. B)Charm Snakes
Yefikir Tizita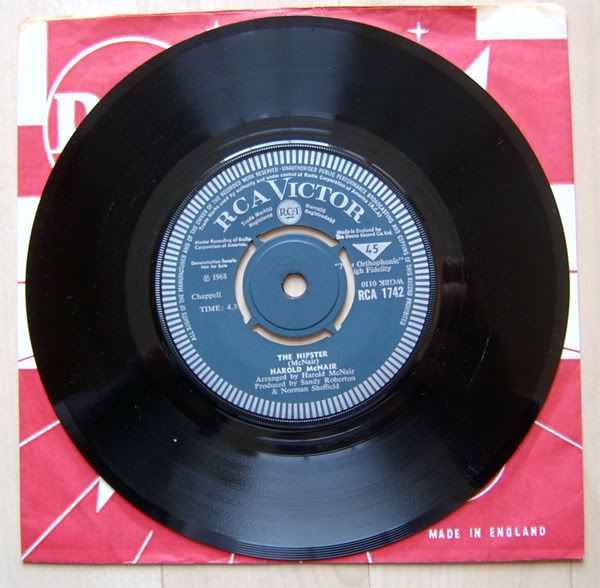 25) Harold McNair: The Hipster – RCA Victor. Classic Mod jazz, comped all over the place this 45 is one of my favorite McNair numbers – Predictable but I couldn't leave it off the chart
The Hipster
26) Michael Garrick: Promises – Argo 1965. A very solid modal LP featuring Joe Harriott, Ian Carr et al. Following a lengthy search for a decent copy, I was fairly alarmed when this one turned up in a used pizza box! Somehow it made it to me without a mark, the vinyl un played the cover smelling lightly of Margarita. Song by the sea is a gentle killer that goes down well with coffee in the morning.Apparently inspired by a poem by Laurie Lee
Song by the sea
27) Don Rendell & Ian Carr Quintet: Live – Columbia March 18th 1968. For a live one take recording this LP showcases the naked talent of the Quintet. The sleeve notes (Written by Carr go to great lengths describing the atmosphere of Lansdowne studios for the Live gig / recording…"A group of lovely girls with big smiles and twinkling legs had already begun to converge on our drummer…" (Ian Carr 1969) For me the twinkling legged girls look best in my mind when I listen to 'Pavanne' a Tompkins / carr modal composition that has a faint trace of an African vibe (Particularly in the opening sequence)
Parvanne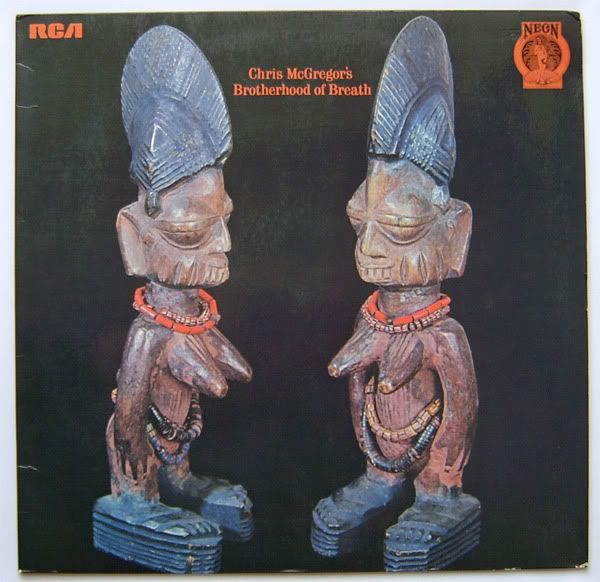 28) Chris McGregor's Brotherhood Of Breath: RCA Neon. SA McGregor had a particularly hard time in the UK with his band of African Jazzers although highly acclaimed his first line up disbanded before McGregor went on to form a new group…The story of what happened to some of the guys playing in his first line up and this 'new' line up is tragic…Nevertheless this LP produced by Joe Boyd does have some fine moments although can be a bit of a wig stretcher, for me at least. The track 'MRA' by Dudu Pukwana' is a solid township groove with a similar (ish) feel to Latief's 'Sister Mamie'
MRA
29) The Lyman Woodard Organization: Saturday Night Special – Strata East 1975 (Recorded in 1973) Comped a plenty for the track creative musicians this LP is well known IMHO for perhaps the wrong reasons…Sure there's sampleable material here but overall it's not a stunning A – B LP. With that said I remain grateful to Soul Fiend for focusing me into 'Joy Road', which is to there ears a gentle almost cinematic gem perfect for a rainy summers morning.
Joy Road
30) Surman / Skidmore / Oxley: Jazz in Britain' 68 –'69 – Decca Eclipse
Featuring the cream of Brit experimentalists this LP highlights some of the creativeness going on in the UK scene towards the end of the 60's. The track included here is 'Shepherd Oak'. Featuring: John Surman, Alan Skidmore, Mike Osbourne, Harry Beckett, John Taylor and others. Surprisingly restrained for these particular players who are / were all partial to a serious wig out, this modal track along with several other tracks on the album don't seem to have received the recognition they deserve IMHO…What do you think?
Sheherd Oak
31) Michael Garrick: Black Marigolds – Argo 1966.
Another one comped by Peterson, Black Marigolds is probably not my favorite Garrick LP as a whole. However, I can't escape my love for 'Ursula' played by Don Rendell on Soprano and tenor Sax with Ian Carr on fluegel horn…
Ursula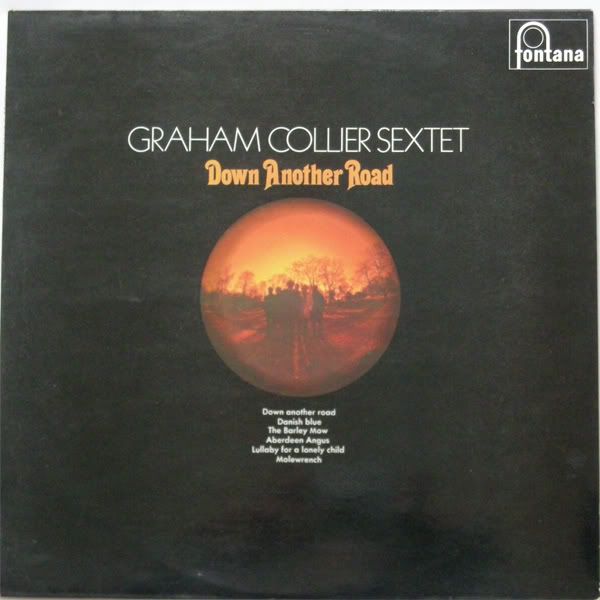 32) Graham Collier Sextet: Down Another Road – Fontana 1969
On the Nucleus tip, combining jazz with beat driven groves, this LP works well. The track included here is the title cut with John Marshall on drums..(Just noticed there are x2 jumps on this - looks like I should've cleaned this one before recording)
Down Another Road
33) James Tatum: Jazz Mass – Jttp . Having converted to Catholicism James attempts here to explore the religious ecstasy of 'Mass' though the medium of Jazz. Weather your into Jesus or not there is a strong argument for the influence Jesus and his Dads book have played in many forms of music throughout the ages.
As you may have gathered from the cover (Which was also released in colour although I'm uncertain of which came first, colour or B/W) James is a fairly fly cat and manages to create some wonderful moments throughout this LP. Apparently Peterson intends to comp a cut from this LP on his next release 'Diggs America 2"….The track selected here is titled Alleluia, a choral piece with a deeply spiritual workout kicking in half way through the cut.
Alleluia
34) Brother Ah: Key To Knowhere – Divine records. 1983. Another spiritual piece with a very nice version of 'Motherless Child' featuring vocals from Nataska Hasan Toussef and swirling harp from Jeff Majors. The sleeve notes by Minerva Gail describe the LP thus: 'The Sound Is spiritual. We hear the blues – the healing blues that remind us of ourselves, let us know here we have been and who we are today. A challenging message for a musicians voice to carry. Brother Ah and the Sounds Of Awareness meet this challenge.
Motherless child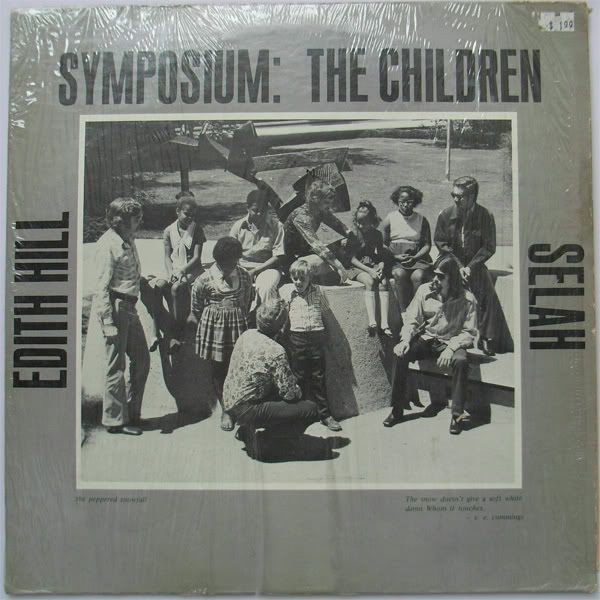 35) Selah, Edith Hill, the Children: Symposium – The Perpetual Snowfall. An interesting gumbo of sounds appear on this Lp. An accomplished singer Edith Hill, hooks up with instrumental group Selah and a bunch of children to get a groove on. It works in several places and is certainly an interesting artifact of the time in which it was made. However it does, at times, feel gimmicky and slightly naïve – perhaps that's it's charm? The track for this chart however, is a nice groove from Selah called The corner.
The Corner
36) Dee Dee Bridgewater: Afro Blue – Trio. 1974. Supported by her brothers Cecil and Ron on this Japanese only issue LP, Dee Dee's vocal skills get a serious workout on the title cut Afro Blue, a driving belter that does to these ears deserve the adulation it has received over the years. With all of that said I've always been drawn to her version of People make the world go round a direct and mellow cut with more than a hint of spirituality.
people make the world go round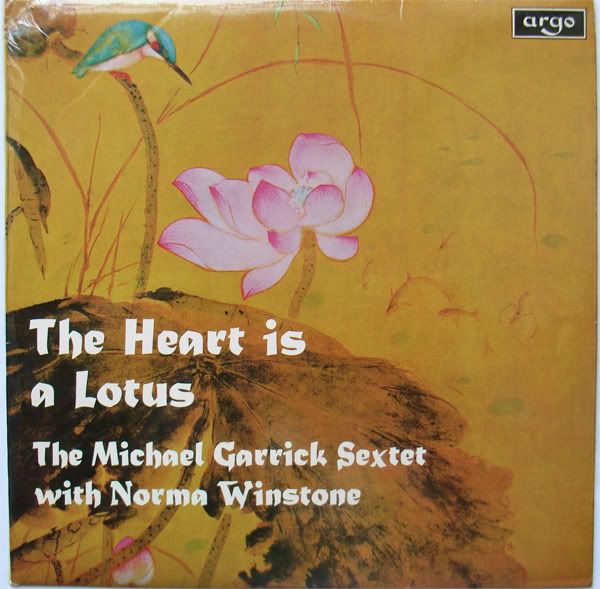 37) Michael Garrick: The Heart Is a Lotus – Argo. 1970. Featuring collaborators Ian Carr, Don Rendell and Norma Winstone. I do really like this LP as a whole but somehow I feel there's more in there that I haven't picked up on…The music seems to promise my expectations something extraordinary but I appear to be unable to click with the true direction of the vibe on this LP. I think however, this is more to do with me than the LP which does have several moments that I really do 'get'. Up for inclusion here is the track 'Blues on blues' which may or may not exemplify the nature of this LP
Bules on Blues
38) Harry Beckett: Flare UP – Philips 1970. Stare into Harry's eyes on the cover shot and you get the sense he wants to do the nasty in your cranium…Harry you see, is hardcore (Even in a cardigan). This is a hard hitting LP with a very British flavour. The track for inclusion here is 'Third Road,' a fast head smash that makes me get speeding tickets when I listen to it in the car. John Webb's drumming on this cut is exceptional even when Harry decides to break loose and the track veers off in a fairly free direction…
Third Road
39) Tubby Hayes: Return Visit! – Fontana. 1963. Recording with US jazzers he'd never met and who only found out they were making the recording the day before. This Tubby outing does, for me at least show (When you know the background to it) quite how able he was to adapt to new sounds with a confidence and intuitiveness that is as rare as it is great. The track included here is a Roland Kirk penned number titled "I See With My Third I." Other than Kirk none of the musicians playing on this recording had ever heard the tune before. Not that unusual in jazz terms but staggering to these ears at least.
I See With My Third I
40) Tubby Hayes: Mexican Green – Fontana. 1968. One of my favorite Tubby LP's Mexican green was mostly scored by Tubby during his convalescence in California following a bout of illness. The track included here is a modal number titled "Dear Johnny B" a tribute to Johnny Butts who worked with Tubby on 100% proof before dying in a car wreck.
Dear Johnny B
41) Tubby Hayes: Down In The Village – Fontana. 1962. The title cut is without doubt one of Tubby's finest moments recorded live at Ronnie Scotts (Where he held residency for two and a half years). Not to every ones taste, this cut swings and shows off Tubby's mastery of the Vibes perfectly.
Down in The Village
42) Don Rendell / Ian Carr: Phase III – Columbia. 1968. Having won the Melody Maker best British Jazz Group poll in 67 the Rendell / Carr Quintet had gathered a reasonable following of fans despite the decline in popularity of jazz amongst music lovers as they continued to opt for other forms of experimental music…With the Summer of love upon them the Quintets response in Phase III is in part slightly disappointing. Ever the intellectual Garrick penned the track Black Marigolds for this LP, which subsequently went on to be the title cut of his Argo release in 1968. More of a raga in it's composition the track was inspired by a 2000 year old Indian story which perhaps shows some insight into the Eastern influences that were proliferating throughout many genres at the time. This LP came with either a laminated or unlaminated sleeve – Not sure which came first…
Black Marigolds
43) Hal Singer / Jef Gilson: Soul of Africa – Le Chant Du Monde. 1974. I've got myself lost in this Lp more than once…Perhaps it's a romantic thing but I do seem to conjure up a sense of sophistication when I listen to French jazz…It seems even the cover has a touch more panache than comparable releases…?
Soul of Africa is a very listenable spiritual outing, which I've come to really dig. There's plenty going on rhythmically to hypnotise the soul, the track included here is Garvey's Strut. This track is one of several that would have been appropriate for inclusion here…
http://www.folkanaught.co.uk/ Garvey's Strut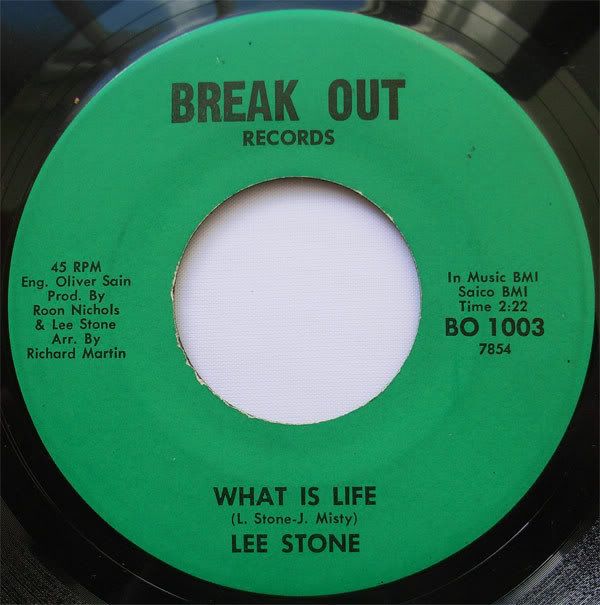 44) Lee Stone: What Is Life – Break Out Records. As Charted by Beaver a while back. The first time I heard this 45 with it's slick vocals and great horns I started to jones. Possibly one of my favourite jazz 45's...Cheers Pete
LeeStone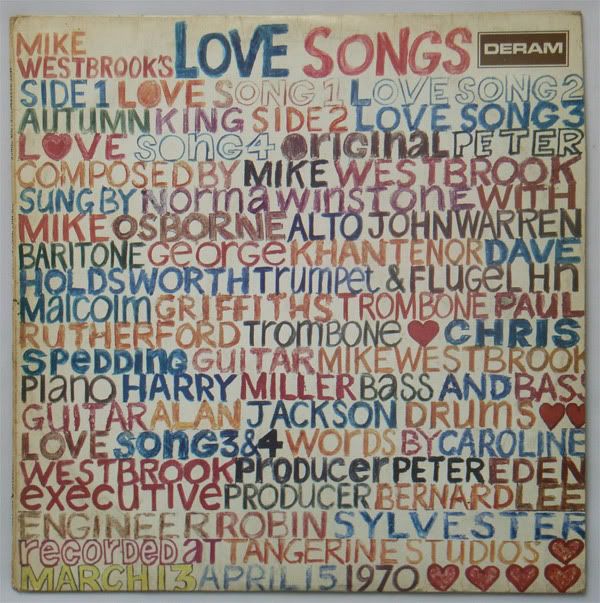 45) Mike Westbrook: Love Songs – Deram. 1970.
A great Westbrook outing IMHO, this LP features several tracks with a really nice groove. Known by many for the cut Original Peter (A track penned in dedication for the best hand balancer in the world) Love songs feels lighter and more playful than many of Westbrook's other works . Norma Winstones vocals on the track Autumn King are beautifully delivered and wonderfully moving. Love Songs No.1 is also a favorite featuring some high class blowing from Osborne, Warren and Holdsworth.
Original Peter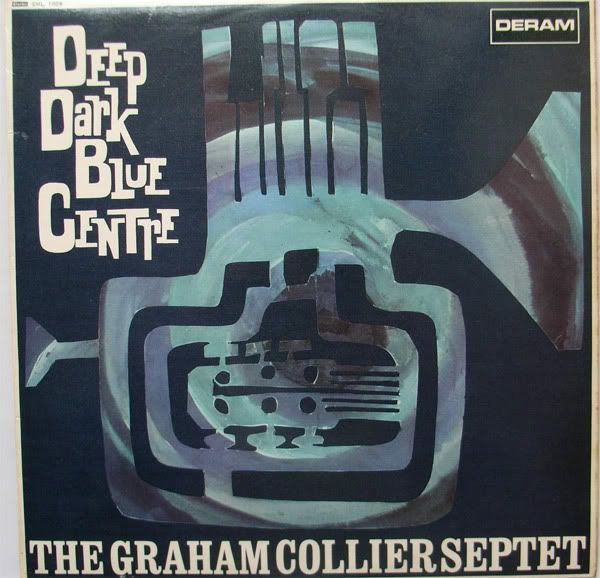 46) Graham Collier: Deep Dark Blue Centre – Deram. 1967. Horns, guitars and bass catch a groove on the cut Crumblin ' Cookie, featured on the Peterson comp and regarded by many as Colliers finest moment, I seriously love this track, it makes me play air sax…
Crumblin Cookie
47) Tina Brooks: True Blue – Blue Note W 63rd. The first Blue Note entry to this chart, this is probably one of my favorite Blue Note LP's. Recorded when Brooks was 28 this is a fine example of post bop jazz featuring great interplay between Brooks, Freddie Hubbard, Duke Jordan, Sam Jones and Art Taylor. Re- issued several times over the years, True Blue is a fine LP throughout, classic cover too, the track featured here is the title cut True Blue (Apologies for the pops at the start)
True Blue
48) Zbigniew Namyslowski: Lola – Decca (UK). 1964. Looking at the cover it's hard to understand how the baby faced Zbigniew managed to come up with this LP (Possibly the first Polish Jazz record recorded and released in the UK? – He was also the oldest in the quartet…) A recent bay purchase, I've been after a copy of this for quite some time. The quality of the pressing is great and the music more so. The track for inclusion here translates to: "Beautiful Lola, Flower of The North". A lovely 4/4 cut with several bossa rhythm changes that create for me at least a very nice track indeed.
Lola.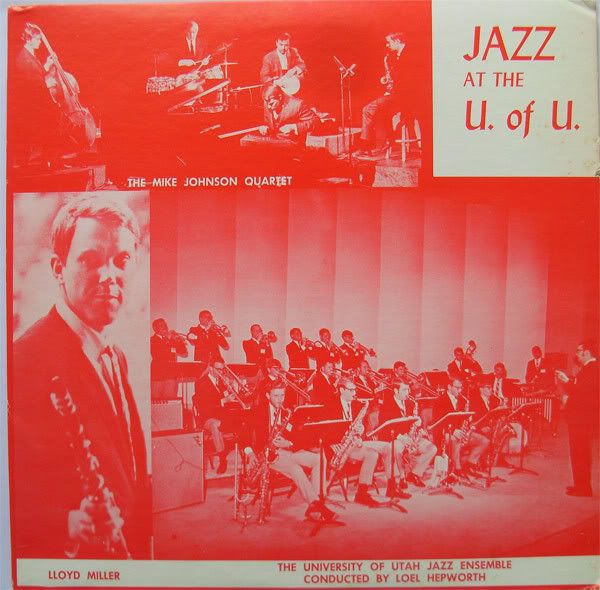 49) Lloyd Miller: Jazz At The U of U – East –West Records. 1969? Unlike the track above, the recording quality of this live private press LP is abysmal. Nevertheless this is a very interesting recording of a seriously innovative and talented musician. While many other Europeans were toying with eastern influences in the late 50's, our man Lloyd was traveling the East in search of sounds and schooling. After living for a year in Iran, Lloyd returned to Europe and began to explore and integrate the sounds he had been infected by with Jef Gilson. Following a five year stint in Europe (Where he played with numerous other jazz luminaries) Lloyd returned to the US to complete a degree in Asian Studies…Lloyd likes to study, according to the sleeve notes he can play " Thirty Eastern instruments and ten Jazz instruments…" The track for inclusion here is "Gol-e Gandon:. A deeply involved and rhythmic post bop number with eastern spices.
Gol-e Gandon
50) Nathan Davis & Carmell Jones : The Hip Walk – MPS (Originally on SABA) Nathan Davis and Carmell Jones grew up together which perhaps explains some of the synergy within their sounds, with that said the track for inclusion here is a Carmell Jones trumpet led piece, devised by Jones and Kenny Clark called "Carmell's black forest waltz". It feels playful and fairly raw with a title that seems to fit perfectly with the sound, to these ears at least.
Carmell's black forest waltz

51) The Dick Morrissey Quartet: Have You Heard? – 77 Records. Produced by Doug Dobell, there is some speculation as to weather this LP and all other releases on 77 records were only available from his shop (Dobells)? Whatever the case, Have You Heard is a great LP featuring Harry South (Piano) Dick Morrissey (Tenor) Phil Bales (Bass) and Jackie Dougan (Drums). Morrissey was the ripe old age of 23 when he made this LP in association with the Ronnie Scott Jazz Club. It seems Ronnie was impressed enough by Morrissey to write… "Speaking as a Tenor Saxophonist on a scene where work is strictly limited I am of the opinion that there is only one thing to do with young instrumentalists of Dick Morrissey's undoubted talent…SHOOT THEM." Sadly my copy of this LP has had a tough paper round, apologies for the crap sound. The track included here is called:
The Celt
52) Lloyd Miller: Oriental Jazz - East West Records. It must be said I'm a sucker for eastern influences. Following on from Dr Millers Previous entry into this chart here is a different version of Gol-E-Gandom. I prefer this track piano led as opposed to sax led (The recording is slightly better) The composition differs from the Jazz at the U of U version and feels far smoother and more etherial.
Gol-E-Gandom - Oriental Jazz Version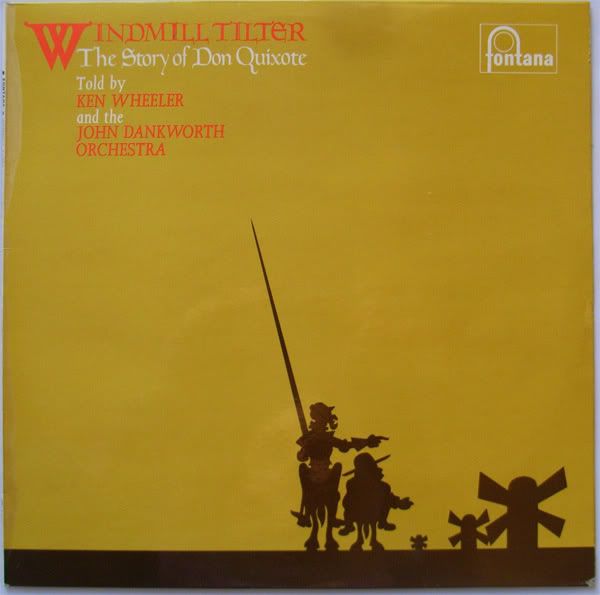 53) Kenny Wheeler: Windmill Tilter – Fontana. Themed on the story of Don Quixote, Wheeler and the Dankworth Orchestra take on the difficult task of interpreting the fantastical world of the shot away knight. For me this is one of those LP's that I don't play often enough - although it's a great listen on a winters night. Not to every ones taste, this big band LP does for me at least, marry up with the images conjured in my mind from reading the book. The track for inclusion here is called:
Sancho
54) Dick Morrissey Quartet: It's Morrissey, Man! – Fontana 1961. I love the Britishness of this LP from cover to content. The image of the Quartet in their Sunday best on the tracks is inspired. The artistic concept is flawless…Apart from having to cart a double bass along the lines which must have been a bad day out for Bassist Malcolm Cecil.
Morrissey's second LP this record was another footstep in the departure for some young jazz musicians away from the old guard. The track included here is Gurney Was Here (A.K.A Blue Waltz) Not to every ones taste, this track at worst reminds me of Benny Hill, at best Morrissey's blowing and bluesy feel get under my skin.
Gurney was here
55) Amancio D'Silva" Integration – Columbia 1969. For me this is a very special record, Featuring: Amancio D'silva, Ian Carr, Don Rendell, Dave Green and Trevor Tomkins. Every track on this album is innovative and perfectly executed, I only wish I had more space on my server to upload the record as a whole. The track featured here is titled Ganges, I have never tired of this cut, it seizes me up and takes me away...
Ganges
56) Tonton Macoute: S/T – Rca Neon. 1971. Not a straight Jazz LP the group draw on their various individual influences in this Jazz/Prog/Blues eastern infused mongrel recording. As a whole the album works well with the Jazzier moments shining through on several numbers. The track included here is the second part to a prog opus called:
Don't Make Me Cry
57)Cosmic Eye: Dream Sequence (Amancio D'Silva) – Regal Zonophone 1972. Produced by Lansdown's Denis Preston the line up on this 500 micron raga led blast off includes: Amancio D'Silva, John Mayer and Alan Branscombe in conjunction with a host of highly accomplished Indian players. No titles, beginning or end, both sides take the raga route extending, developing and guiding the ear deep into a trance. Listening to this just makes me wish my dreams could be so vividly great:
Dream Sequence
58) Kenny Rankin: In the name of love – Columbia. Well known to many plussers, this 45 Columbia version differs significantly from the Scat vocal / acoustic guitar led LP cut. One of my favorite Jazz 45's that recently got crossed off the wants list.
In the Name Of Love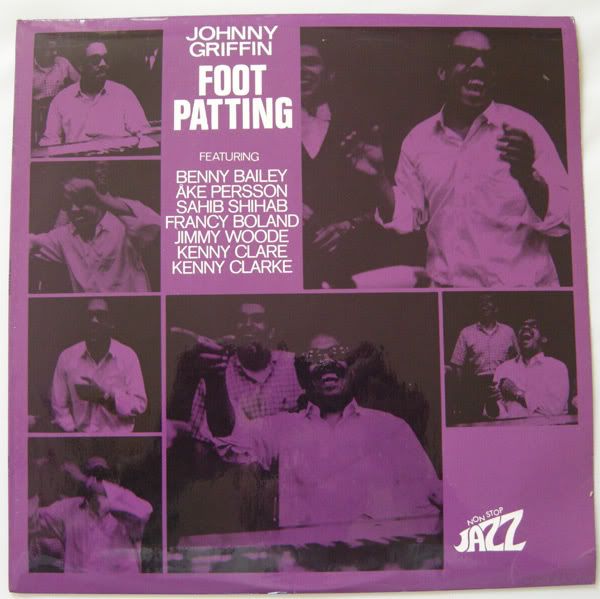 59) Johnny Griffin: Foot Patting – Youngblood 1970. (Originally released in 68 as "Lady Heavy Bottom`s Waltz' on Vogue. A great LP featuring - Johnny Griffin, Benny Bailey, Ake Persson, Sahib Shihab, Francy Boland, Jimmy Woode, Kenny Clare, Kenny Clarke. Highly VG+ friendly with several Mod / Soul Jazz cuts and several boppy numbers. Known widely for the dancefloor track 'Turks Bolero' featuring Johnny blowing grooved fire backed up by an uptempo beat
Turk's Bolero
60) Stan Tracey: Under Milk Wood – Columbia 1965. Comped by Peterson, known by many, inspired by Dylan Thomas - I need to include the track Starless and Bible Black in this chart for the simple reason it is one of the most emotive, and tragically deep British Jazz cuts I'm aware of. Bobby Wellins whispering treatment on tenor sax is simply spellbinding, Tracey's sparse and somber keys frame the cut and qualify it IMHO as a truly great recording. Seeing this cut performed live at the Jazz Britannia gig was an incredible experience and one I am unlikely to forget:
Starless and bible black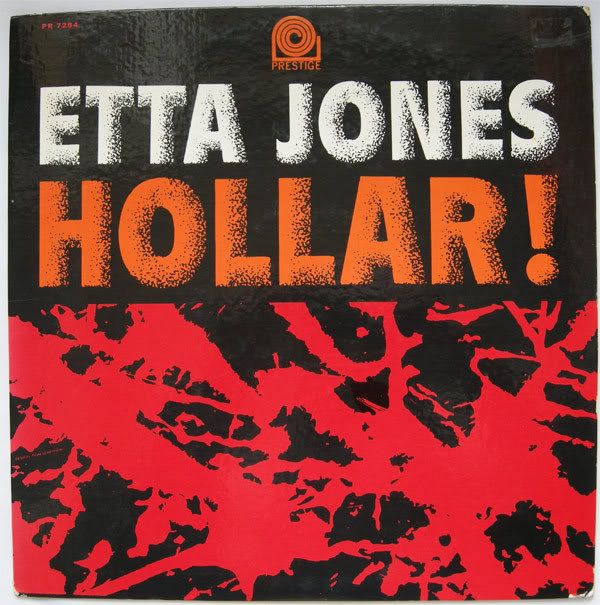 61) Etta Jones: Hollar! – Prestige 1963. Influenced strongly by Billie Holiday Etta Jones's phrasing and overall vocal delivery are highly regarded by many. Hollar as an LP is a nice listen but very straight for the most part. The track that stands out for me is her version of 'Nature Boy'…I'm a sucker for this track anyway so I bought this LP fairly blind in the hope she might do something interesting… Framed within a latinesque setting Jerome Richardson Tennor sets this track apart on the LP which also features Oliver Nelson.
Nature Boy
62) The Alan Skidmore Quintet: TCB – Philips. 1970. Featuring Skidmore, John Taylor, Mike Osbourne and John Surman et al. This LP is made of lunacy… I sold my previous copy of this and regretted not really giving it a fair chance, I'm pleased to have found another copy but I can see why I found difficulty with it. Predominantly the LP consists of fiery freeness that requires a great concentration, for me at least, to click with. Nevertheless and almost as a fuck you to old guard critiques of free jazz the track Lantern Wood displays the players proficient talents individually and serves the LP well as the calm before the storm.
Lantern Wood
63) James Tatum: Live – JTTP. 1980. Another spiritual work out for James, this live LP was recorded at Orchestra Hall & Paradise Theatre, a venue which was apparently due for demolition a few months prior to this recording. The cover notes don't elaborate on quite how the venue swerved the wrecking ball but I quite like the idea that jazz was involved in some way…Venue history aside, this is equally as good as James other album, timeless and very deep in parts I've been enjoying this more with every listen. The track for inclusion here is entitled Zoombah Lu
Listen
64) Jef Gilson: A Gaveau – SFP. 1965. Featuring the Jef Gilson Big Band recorded at the Salle Gaveau concert hall (Hence the title) The track Modalite Pour Mimi is a swinging, piece that features some great blowing over a lovely rhythm. The whole band seem absorbed in this groove which sounds unmistakably French. There is also a vocal version of this on a Decca EP that I'm very keen to track down if anybody can help?
Listen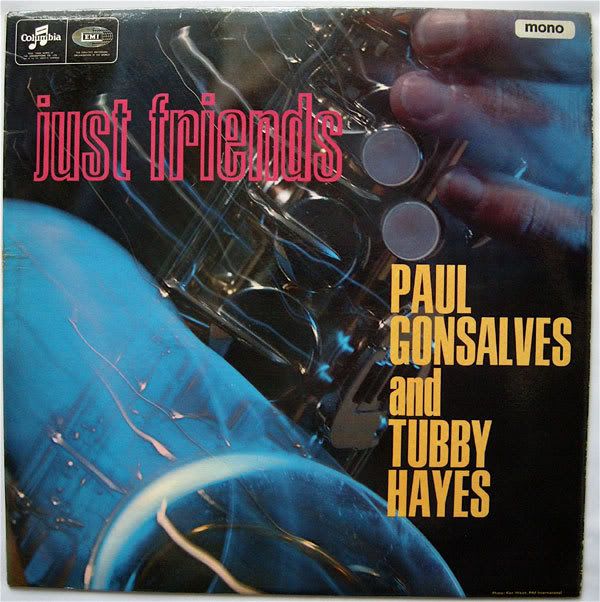 65) Paul Gonsalves & Tubby Hayes: Just Friends – Columbia. 1965. A fairly straight LP featuring many solid UK players. Stan Tracey and Lennie Bush's introduction to Pedro's Walk lights the rhythm fuse for a cut that shifts tempo seamlessly as Gonsalves and Tubby swap sixteen and eight bar phrases…
Pedro's Walk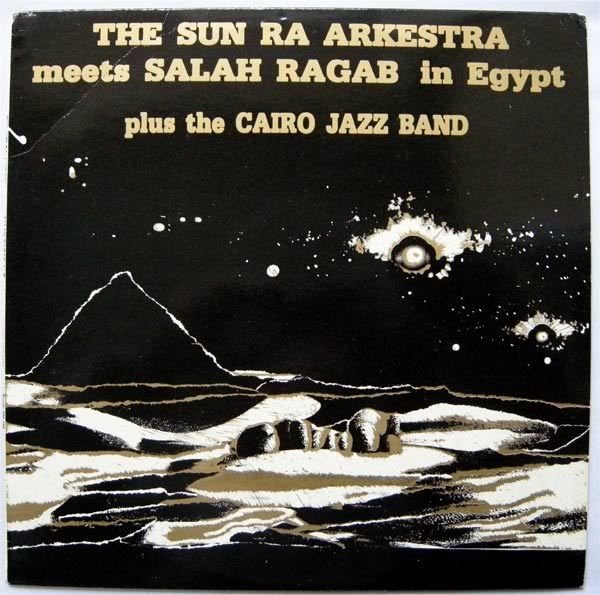 66) Sun Ra & Salah Ragab: The Sun Ra Arkestra meets Salah Ragab in Egypt – Praxis (Greece). 1983. Timeless in sound and recently comped this LP highlights musicians who are on their own trip…Mystical, Etherial, spiritual and experimental. A late night listen that floats and dances like veiled maidens over pyramids and date palms in the back of the mind.
Oriental Mood
67) Dick Morrissey Quartet: Here and now and sounding good – Mercury. 1966. Classic and fairly straight ahead this Morrissey outing brings the drums slightly more to the foreground along with the bass to good effect .On the first few listens the effect of this LP wasn't atomic, but slowly it's crawled inside, like a well oiled jazz panther, it makes me Purrrr… The track for inclusion here is 'Don't Fall off the Bridge featuring Harry South on Keys and Bill Eyden on drums..(Thanks to brother Wayne for bringing this one home…)
Listen Here
68) Collin Bates Trio: Brew – Fontana. 1968. Yep this is possibly British Jazz personified on the cover….Dress like a woodwork teacher, get down with Yoga and drink tea in a field….There's a parasol in attendance in true well equipped British style but clearly the sun isn't about to shine on these unsung jazzers…With that said they reveal within their music a flaming groove capable of tanning the ass of unsuspecting listeners. Jazz trios for the most part leave my ears fatigued fairly quickly. This LP however seems to have an opposite effect. Maybe the cover set me up with expectation but each of the players really do have something to offer. The track for inclusion here is Bus Dance
Listen Here
69) Ronnie Ross: Cleopatra's Needle – Fontana. 1968. The first LP from Ronnie as 'sole leader'. Best known for the title cut this LP holds several gems if your ears are into Baritone sax. The cover shot has always held a special attraction for me as I used to have to walk past the 'needle' on the way to work…The track for inclusion here is a modal waltz penned by Bill Le Sage:
Brewer's Castle.
70) Pete La Roca: Turkish Women At The Bath – Douglas. With elements of Latin, oriental and afro sounds threaded throughout this LP it's not the most straightforward recording to capture with words. Featuring Chick Corea, John Gilmore and Walter Brooker the pedigree is without doubt there but La Roca's treatment of percussive sounds bring out something very special in each of the players. The stand out track for me is simply titled 'Bliss'. While the track does, for me at least, bring forward this emotion there's also some sadness infused that stems from Brookers bass which makes this track a bitter sweet dose of aural opium.
Bliss.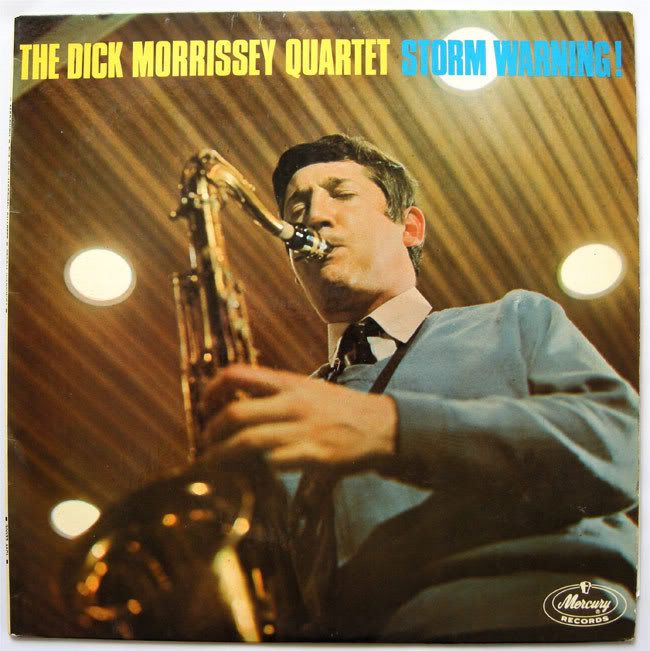 71) Dick Morrissey Quartet: Storm Warning – Mercury 1965. Comprising of DM, Harry South, Phil Bates, and Phil Seamen the quartet are certainly tight having worked together for three years at the point of this release. This is quite possibly my favourite Morrissey LP. The track for inclusion here is the title cut penned by Harry South.
Storm Warning
72) The Trio: S/T – Dawn 1970. So far this chart has barely dipped it's toe into the rapids of 'free' jazz. Possibly due to the intense nature of the music, for me at least, free jazz like 250mic trips really need to be taken in the right scene and setting. Last night I got pummeled by this LP featuring crashing drums and the full thrust, scorching lunacy of John Surman. Headphones are the way to go with this LP but more specifically with the track titled simply 'Drums'…A slow burning number that builds into an intense class A workout. All in all this is certainly not as free as it gets type jazz, far from it, the bass is the driving force with Surman laying down screaming raw emotion.
DRUMS!!!!!!
73) Joki Freund Sextet: Yogi Jazz – L+ R records 1981 repress…According to the original sleeve notes what Joki is attempting with this LP is "Free Improvisation over a "Liberated" rhythm section"….Personally I wouldn't categorize this LP with the word 'free' by today's understanding of the word. I do however rate this LP highly and selecting a track for inclusion has been more difficult than many of the LP's in this chart. Nevertheless the track "The Caribbean Ringo" is included here until I get a chance to add further tracks from this LP and a bunch of others in the chart
The Caribean Ringo
74) John Surman / Westbrook: ??? – John Hassell private press 1965
I found this LP a few years ago and at the time did upload a pic and soundclip to the board in the hope someone might be able to shed some light on it and did a bunch of other attempts to discover more….Since then, attempting to gain further information on the recording ground to a halt….That is until recently when I was digging through a copy of jazz journal ( 25 / 9 Sept 1972) Which made mention of the recording….You can have a read of this snippet of info below:
There are some faults that can instantly be picked in this info: A) in 1956 John Surman was 12 years old (I think it may be a typo…'65 certainly sounds right). B) The cut Blues De Camera is credited to Surman but on the record I have this cut is credited to Westbrook. Both Surman and Westbrook are westcountry lads and both attended the jazz club at Plymouth arts centre where some if not this entire 3 track LP was possibly recorded…I know of no other copy of this LP, and I'd love for it to receive a new lease of life and a nice pressing…I hope this can, at some point happen... for me at least this is some of the best material I've heard from either artist. In the mean time I've recorded a snippet of the Westbrook cut Blues De Camera…Apologies for cutting it short (Hope you understand). In total the LP runs for 46 odd minutes..
Blues Da Camera
75) Harold McNair: Affectionate Fink – Island. 1965. Jamaican Mcnair leads the way with support from Coleman's sidemen on this LP. Fairly straight but with hints of subtle world influences (Including Brazilian and 12 bar blues) this LP does have something to offer outside of it's Island label pedigree. The track for inclusion here is the title cut – apologies for the repeat pops….
Affectionate Fink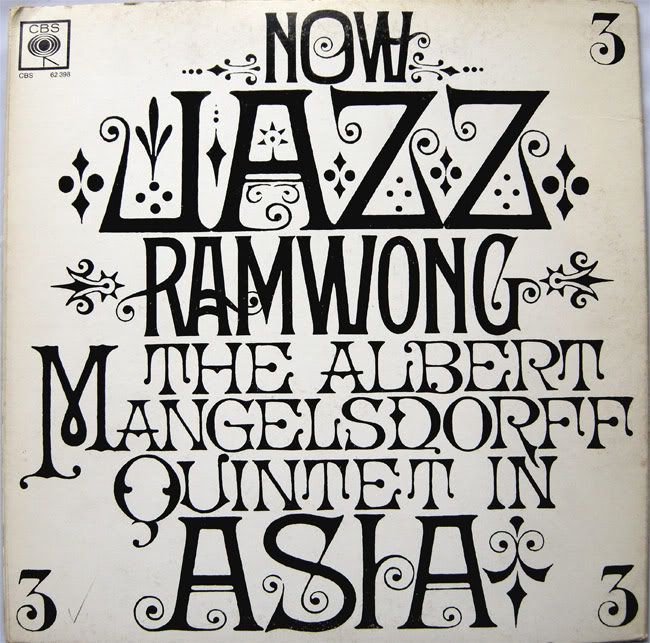 76) Albert Manglesdorff: Now Jazz Ramwong – German CBS. 1964. I love this package from triple fold out sleeve to content, this Asian focused LP is solid from A to B. The track for inclusion here is 'Sakura Waltz' (Derived from the traditional Japanese Cherry Blossom song Sakura Sakura) penned by Manglesdorff, swinging, soulfull, modal; the rhythm is tight and the horns more so – known by many and IMHO outstanding. However there are several cuts on this LP that are a force to be reckoned with so I'll have to have a go at adding them at a later date….
Sakura Waltz
77) Mike Taylor: Trio – Columbia. 1967. The second of his two LP output Taylors troubles seem to spill out on this recording, Melancholic, heavy and beautiful in equal measure the track for inclusion here is a late night sadness of "Abena" . This one may not be to every ones taste, personally I love it Missishienne however, described it as "The Hulks come down music"…
Abena
78) Michael Garrick Band: Home Stretch Blues – Argo. 1972. Featuring a serious British Line up this Garrick outing carries some clout. The track for inclusion here covers many basses and phases – Gentle severe sorrowful beauty with a beat. "Blue Poppies".
Blue Poppies
79) Zoot Sims: Zoot At Ronnie Scott's – Fontana. 1961. This LP features the Harold McNair Quartet and the Jimmy Deuchar Quintet, as well as Stan Tracy and a host of others. Recorded live at Ronnie's this LP (For me at least) captures some of the vibe of early 60's Soho. The track for inclusion here is the Stan Tracy penned number:
The haunted Jazz Club
80) The National Youth Jazz Orchestra: S/T – Philips. 1971. Conducted by: Graham Collier, Mike Gibbs, Harry South and others. There's a number of tracks here that are serious contenders. The track for inclusion in this chart features Stan Sulzman on Alto conducted by John Dankworth…About 4 mins into the track Sulzman cuts loose with a blistering lead backed with an 8 note bass figure, heavy beat and multi layered orchestration that is bang on point.
Clearway
81) Joe Harriott Quartet: Cool Jazz With Joe – Melodisc. In terms of British Alto players Joe Harriott takes some beating. This 4 track EP is very straight and perhaps not to everyone's taste. With that said his treatment of the cut 'Summertime' on this EP has some real depth in it's somber overtones and, to me at least, is 100% distilled cool.
Summertime
82) Sal Davis: Makini – Fly Records. 1969. Pressed in Belgium for export to Kenya. This Afro Mod / Jazz / R&B mongrel features bi-lingual vocals from Tanzanian Sal Davis. The sound is gritty, near on filthy and tough to resist. This 45 has been recently re-issued by counterpoint on a limited run. (Thanks 'A' for bringing this one home.)
Makini
83) Menelik Wossenachew: Belew Bedubaye – Amha. In keeping with the Euro pressings bound for African shores, this Greek pressing for the Ethiopian market arranged by Mulatu grips me good. I get lost in this sound especially when Ethio vocals are laid down over a Mulatu groove. Hand claps get the hypnosis going backed about 2mins in with a horn lead that wails like it's drowning in magic.
Belew Bedubaye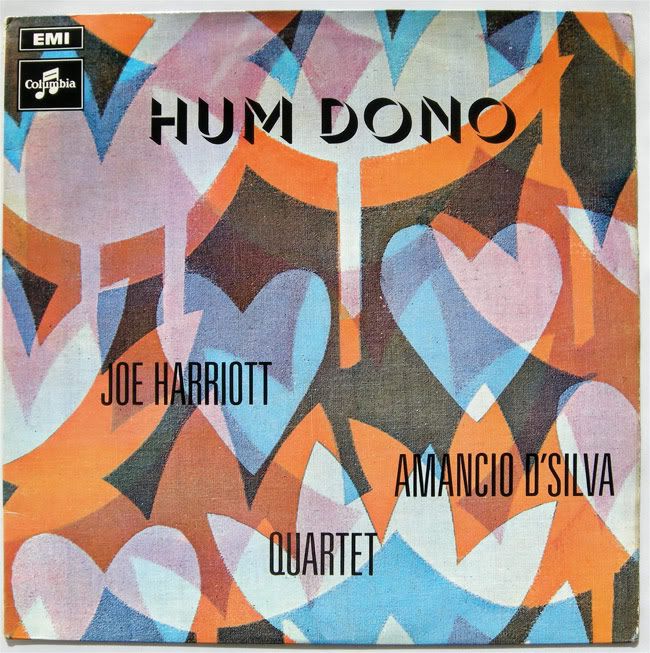 84) Joe Harriott / Amancio D'Silva Quartet: Hum Dono – Columbia. 1969. There are several top tracks on this LP which would do this chart justice, however both the title cut and Jaipur have been comped (Jazz explosion and Peterson respectively) The track for inclusion here is titled Stephano's Dance. Written by D'Silva supposedly as a response to his son's dancing as he practiced his guitar at home. Stephano's dance moves through several modes to incorporate leads by Ian car and Norma Winstone's sublime scat musings. It's a complex piece that sounds utterly effortless yet ever driven by Dave Green's bass.
Stephano's Dance
85) Indiana Highway and Faraway Folk: Good Tidings Of Great Joy – RA. This is a Christmas EP sampler from the RA label featuring a rather out of place cut (We Three Kings by Indiana Highway) There is a crudity in terms of recording and even some timing slips which for me at least only add to the sound which is a bass and horn lead killer. The rhythm rides perfectly with a flute solo in the latter part of the cut being the cherry on the cake. I have the other Indiana Highway EP which is fairly straight Mod / R&B, however on this Christmas sampler, the band seems to have morphed into modal Jazz waltz mode with a hint of R&B that makes for a solid sound. Based in Devon 20 miles from where I live, Indiana highway toured the local clubs and seemingly engaged in session work on some other RA releases. Until recently I had never seen or heard this recording, personally due to the sound, obscurity and local connection I'm buzzing on this one right now.
We Three Kings
86) Manfred Mann: Mann Made – HMV (1965) Possibly the most tenuous branch on this jazz charts tree…Recently I was trying to find a track that sat well with the Indiana Highway cut above for a little mix I was putting together for a friend. A few hours of frustration and mess making followed before I remembered the Indiana boys were effectively Mods doing a Jazz number on 'We Three Kings,' so I started to go through other 60's Pop / R&B outfits that also allowed their Jazzier influences out of the cupboard form time to time - enter Manfred Mann. The track for inclusion here does display strong jazz influences with particularly nice call and response horns. As the cover notes state: "This is their sound take it or leave it…"
Your for me
87) Emcee Five: Let's take Five – Columbia (1961) Part of the Lansdowne Jazz Series this EP showcases Ian Carr on trumpet and flugel horn prior to his departure from Newcastle to join up with Don Rendell in London. Whilst much of the focus on the UK Jazz scene was on London, Newcastle was also busy spawning it's own brand of hard bop hero's with the Emcee Five very much the leaders of the pack. In 1960 after a jam session with the group Count Basie said [the Mc Five were] "The most swinging group in Europe". The track for inclusion here is the first part of side two entitled 'Preludes' written by tenor player Garry Cox.
Preludes
88) Mike Taylor Quartet: Pendulum – Columbia 1966. Another Lansdowne recording and Mike Taylors first release, Pendulum highlights the promise of the then 27 yr old Taylor as an artist capable of modal beauty and freeform improvisation alike. Pendulum sounds very different to Taylors other outing 'Trio' (Above) – The track for inclusion here is called
Leeway
89) Alemayehu Eshete: Kochen Messassate – Amha 1973
Reissued on 'éthiopiques Vol 9 with the title Qotchègn mèssassaté (Which also sounds slightly different) This coloured vinyl Greek pressed Ethio number has been in constant play since it dropped through the mail box. A Late night aural delight the low pressure vibe and raw delivery on this cut make be believe this guy is singing from the soul…Of course I don't speak Ethiopian, he might be singing about any bloody thing but as instruments go his voice glows in the dark.
KOCHEN MESSASSATE
90) Norma Winstone: Let's Make Love – BBC Radioplay. Not an easy LP to find this Winstone outing for BBC Radioplay is aural Marmite. Whilst these enough there to make it a keeper there's several tracks that I genuinely never want to hear again. With that said Bow borne Norma is in a class of her own on one particular ethereal lament. The wistful melancholy of the track 'Too little too late', is a solitary lost gem to these ears at least.
too little too late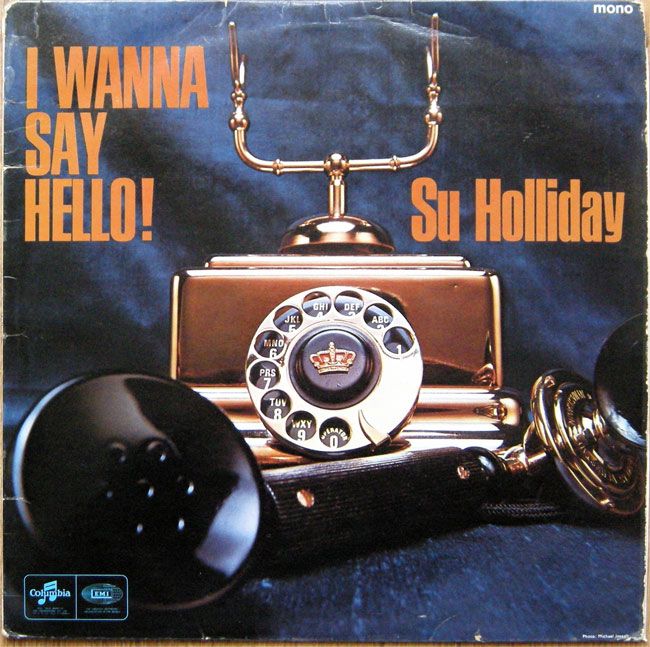 91) Su Holliday: I wanna say hello! – Lansdowne Columbia 1966.
Another female Brit Jazz vocalist, Su's stylings come across fairly well on this recording arranged and conducted by Jerry Allen. The combination of Tony Coe and Leon Calvert in support in many ways pull this LP into shape. The track selected for this cart is titled 'Don't get around much anymore'. A stop start up-tempo groover with decent sax work from Coe about half way through.
Don't get around much anymore
92) Shake Keane: Bossa Negra - Lansdowne Columbia 1963. Well known for his work with Joe Harriott Keane's Flugel horn warms to Bossa Nova on this EP. The track for inclusion here is titled Murmurio "A delicacy by that doyen of Bossa Nova composers. Jobim of Brazil." (I kind of get down with the break down half way through on a summers day)
Murmurio
93) The Shake Keane and Michael Garrick Quartette: A case of Jazz – Airborne. 1964. (EP Not LP as stated in the RC) Garrick and Keane team up on this Airborne rarity to create a playful sound, which at times moves into the latin quarter for inspiration. The track for inclusion here is the Garrick penned number:
Link disabled on request of Senor Trunk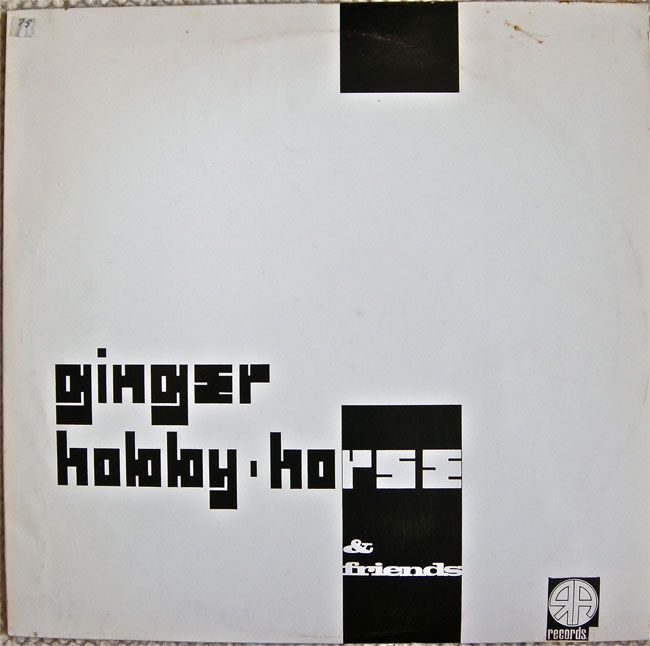 94) Ginger Hobby Horse & Friends: S/T: RA records. 1970. Another local (Devon) release G.H.H were a lounge band with pretentions of Blood Sweat & Tears…Perhaps not the best introduction, so allow me to lay the boot in a little further. The choice of covers on this LP in parts is enough to put a man off music. There is a light within this nadir however, namely in the form of RA stable mates Indiana Highway (They form the 'Friends' component of this LP) in short - thank f*ck. The track for inclusion here is a cover of 'Love is Blue'. I like this track and I particularly like Indiana Highways input
Love Is Blue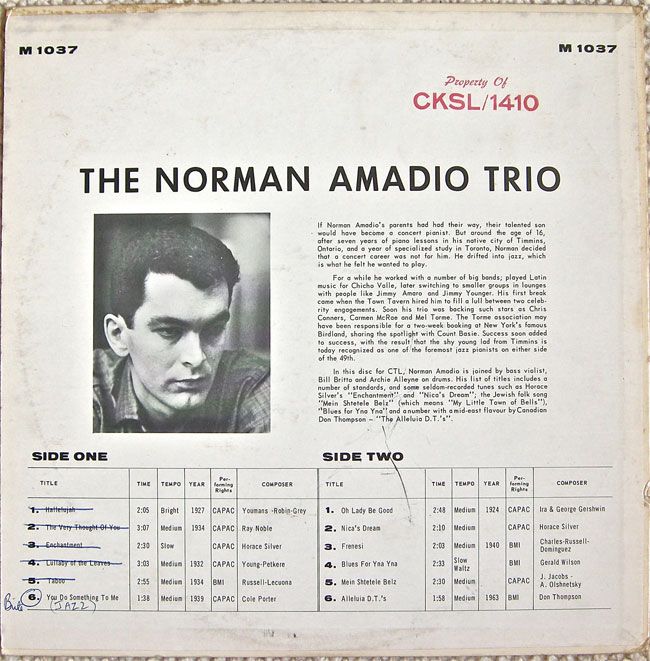 95) The Norman Amadio Trio - S/T : C.T.L (Canadian Talent Library). Firstly a big thank you to Adam for bringing this one home. Having supported Carmen McCrae, Mel Torme and Count Basie. Our man Norm had certainly paid his dues – I'm not normally too keen on Piano led trios but on this occasion the quality outstrips the prejudice. There are several cuts that could easily have been included here but on a late Saturday night "The very thought of you" just seemed to fit:
The Very Thought Of You
96) Michael Garrick – A Jazz Cantata (for Martin Luther King) Erase records. 1969. Recorded live at the Farnham Festival this private release of choral works, poetry and Jazz may not be up everyone's rue but for me this one is a long time want and I'm pleased to have this copy. The line up is nothing short of 'A' list including: Ian Carr, Don Rendell, Garrick, Coleridge Goode, John Smith et al. Keeping things simple what you get here is side 1 and side 2 in terms of titles. The music however is far from simplistic As server space won't allow a full recording of either side I've recorded a snippet of side 2 to offer a taster. All in this recording displays moments of flat out greatness incorporated within a framework of narrative / choral / poetic moments which at times work well and at others offer nothing but interruption:
A taste of side 2
97) Joe Harriott Quintet – Blue Harriott – Lansdowne Columbia: 1959. An interesting EP featuring Hank Shaw, Bob Orr, Harry South and Coleridge Goode with 'Recording Balance by Joe Meek… The track for inclusion here is a version of 'Senor Blues' a Horace Silver number that stays fairly close to the original (View here:
Horace silver live...
)
Joe Harriott- Senor Blues
98) Sahib Shihab – Sahib's Jazz Party – Debut recording (DEB 141) This LP comes over as an amalgam of hard bop and swing, The playing is quite exceptional from the Scandinavian sidemen. The track for inclusion here is
Conversations - Part III