In retrospect, it was perhaps inevitable I'd end up getting into country music.
Growing up as a 60s head in the mid-1980s,
The Byrds
were all-important. In an age of power suits, yuppies, and
The Eurythmics
, they symbolised a kind of abstracted cool, a self-contained closed and perfect universe of extreme and total grooviness. From
The Byrds
, of course, all roads lead out into their many and varied off-shoots and it ain't too long before a man finds himself confronted with
The International Submarine Band
or
Gram Parsons
. If you're a curious voyager, you just keep on a-rollin' down those backroads and you stop off along the way at
George Jones
and
Merle Haggard
,
Linda Rondstadt
and
Emmylou
and so on.
I also grew up listening obsessively to
Dylan
and
The Stones
and, again, once you've got your head round
Tonight I'll Be Staying Here With You
or
Country Honk
, you're primed for other southern thrills.
Bizarrely, acid house seemed to have some kind of galvanizing impact too.
The KLF
taking country music way out into the ambient ether with things like
Elvis On The Radio, Steel Guitar In My Soul
and
Primal Scream
using deep country soul as comedown sounds all registered somewhere deep inside. On top of all of that, by the end of the 1980s,
Neil Young
was enjoying some kind of revival and was back close to his raging best live, whilst his early 90s
Harvest Moon
release was pure unadulterated down-home country music. The crowd I was knocking around with on the fringes of the Camden scene also came to include
The Rockingbirds
and we spent many a happy hour coming down from various substances in their Camden Road squat listening to country music.
So here I am all them years down the line, and my itch is more and more askin' for flavours with a country twang. Much of my recent purchases have been rooted around a very loose definition of country music and this chart is aiming to collate a mixture of finds, long-time finds and other obscurities. It's my chart, and therefore my definition of whatever the hell country may mean.
We're going to run the gamut here, from country-rock to
headneck
/ tripped-out country jams; from hard-edged Bakersfield honky-tonk to country soul – and even soul covers of country songs! I know country is a pretty unloved genre on the site, outside of a few die-hard members of the cognoscenti, but hang around for the trip. You might just find you end up digging more than you expect!
1 Euphoria - World
Let's kick off with a song that has haunted and obsessed me the last few years.
World
contains elements of almost everything that makes life worth living for me: a certain kind of comedown desolation and lonesome ragged downer vibe; minor chords and cymbals shimmering in the twilight; backward guitar snatches and a deep, rootsy ballast that underpins things when the guitar starts to splutter and rage into life; a hushed lead singer and ethereal backing vocals; a spooked outro ("World, I hope we meet again someday") that then unravels and ends up wrapped up in the dawn chorus - and as an added bonus, it all clocks in at 3'11!!
Euphoria
was basically the vision of two cats - Ohio-born Hamilton Wesley Watt Jr (left on album cover) and native Angelino William D. Lincoln (right) and
A Gift From Euphoria
, originally released on capitol in 1969, was the sole offering from the pair.
The album was clearly a high budget operation, being as it is loaded with lush symphonic arrangements and loaded with excellent studio musicianship. The production in places is extreme and extremely psychedelic, with audio collages and sound effects a-plenty. Stylistically, it's all over the shop, ranging from all-out psychedelic stoner rock brain melters to orchestrated ballads to deep-fried southern country on a bender. The LP was recorded in Hollywood, London, and Bradley's Barn, Nashville, which may explain something I suppose.
We may well pass this way once again later on in the trip.
2 The Flatlanders - Bhagavan Decreed
The Flatlanders
were a kind of country super-group featuring of Jimmie Dale Gilmore, Butch Hancock, and one-time Clash opener Joe Ely. The group only ever got around to releasing these 1972 sessions on an 8-track cassette, though they were eventually collected, at the dawn of the alt-country movement, and released on CD in 1990. This is one of the very few country albums I own that features a musical saw - which winds up sounding mighty like a theremin!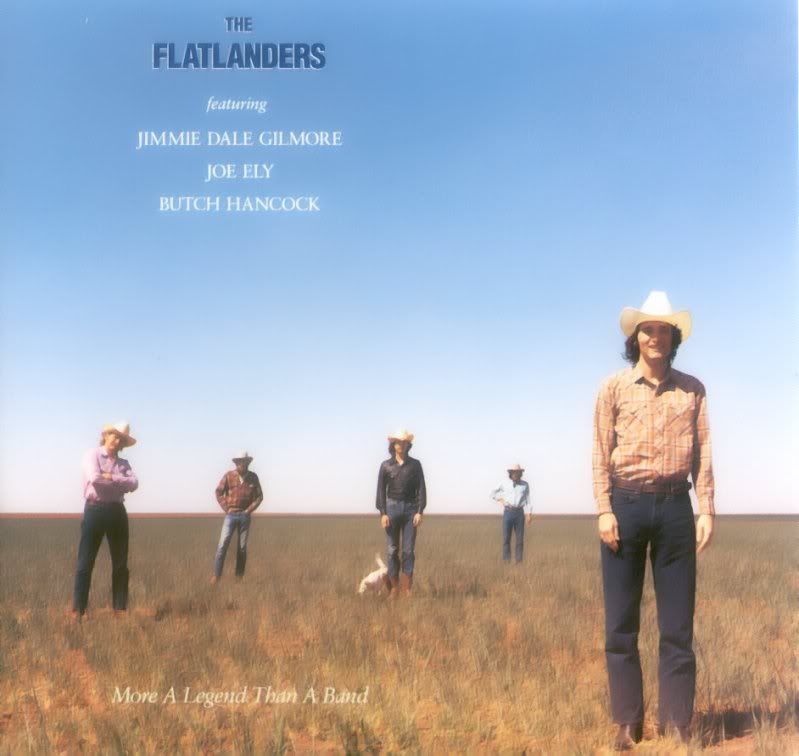 The group manage that incredibly hard feat of mixing up lazy, old-time finger-picking acoustic bluegrass purity with a very early 70s burnt-out post-LSD sensibility. The harmony singing is achingly lovely and the track included here,
Bhagavan Decreed
, seems to be about tripping - and yet also about departures and the ultimate goofy cosmic nothingness which we are all merely passing through, yet is eerily relaxed and front-porch midnight mellow.
"You can burn your brain cells out just trying to get higher / but you'll find my highest place is underground" indeed.
3 Cowboy - Livin' In The Country
And now to the song that gave this chart its title -
Livin' In The Country
by
Cowboy
, who were kind of the house band for the Macon, Georgia-based
Capricorn Records
label. Various members of the group regularly appeared on recordings by
The Allman Brothers Band,
Gregg Allman
,
Alex Taylor
and
Bonnie Bramlett
. This track comes from their debut LP debut
Reach for the Sky
(1971) and features the original line up which lasted through to the end of their second LP,
5'll Getcha'Ten
, which is also great.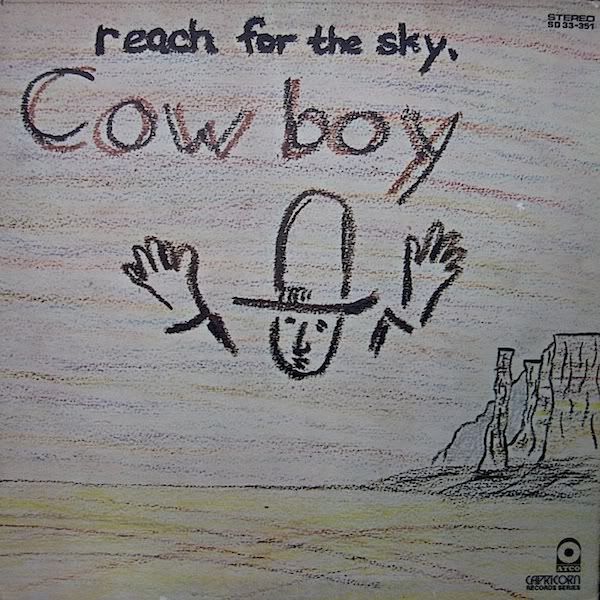 Livin' In The Country
is exactly the kind of sound I've been digging all through the autumn: down-home, warm, post-CSN&Y mellow harmony singing and bourbon-sippin', joint-smokin' country goodness.
Ironic, really, in that I've recently moved house to the middle of the mass mess that is North London and yet find myself chilling down to songs about splitting LA and heading for the rolling golden hills where life is free from the rat race hassle and hustle and a man can truly get his head together, but so it flows, and so it flows.
4 Charley D & Milo - Om Sweet Om
Hailing from Costa Mesa, California,
Charley D and Milo
put out one lovely lysergic-tinged country-rock LP on Epic in 1970 and it closes with
Om Sweet Om
, a title that perfectly encapsulates the weird mix of homely good vibe roots and psychedelic space dust slowly settling all over the Arizona plains. Indeed, the LP cover also captures the moment at which the two worlds collide fairly splendidly as well.
Om Sweet Om
is a kind of cosmic cowboy mantra lullaby writ to soothe the worried mind and light the last miles of the long road homewards.
The strings tug away at the heavy heart and the harmonies spur you off into the deepness of sleep.
Perfection.
Incidentally, apparently,
Milo
(Lon Milo DuQuette) is
still around today
and continues to write, perform and record songs, but is also a writer on spiritual matters, having published many volumes of esoteric lore.
5 George Jones - Cup of Loneliness
One of the things I've never understood is how people can dig soul music but not country music. For me, they are essentially one and the same: poor black folk singing about the trials and tribulations, joys and delights of everyday life . . .and poor white folk doing the same. Good country music IS soul music. It comes straight from the core emotional heart of man - or woman - and speaks in a colloquial vernacular that is both poetic and profound, yet also universal and true.
To my mind, nowhere is this more true than in the best of George Jones.
Born and raised in Texas, Jones was married and divorced for the first time before he was even out of his teens. He served in the Marines during the Korean War, but was lucky and avoided being shipped overseas. Following his discharge, his music career took over and his hell-raising lifestyle came to the fore.
An enthusiastic consumer of alcohol, he woke up for much of his life to a screwdriver and then spent the rest of the day drinking bourbon. One of the best known stories from Jones' drinking days occurred while he was married to Shirley Corley, his second wife. Jones resorted to some desperate measures in obtaining alcohol:
"Once, when I had been drunk for several days, Shirley decided she would make it physically impossible for me to buy liquor. I lived about eight miles from Beaumont and the nearest liquor store. She knew I wouldn't walk that far to get booze, so she hid the keys to every car we owned and left. But she forgot about the lawn mower. I can vaguely remember my anger at not being able to find keys to anything that moved and looking longingly out a window at a light that shone over our property. There, gleaming in the glow, was that ten-horsepower rotary engine under a seat. A key glistening in the ignition.
I imagine the top speed for that old mower was five miles per hour. It might have taken an hour and a half or more for me to get to the liquor store, but get there I did."
Ozzy eat your heart out!
By the 1970s, Jones had been introduced to cocaine by a tour manager before a show in which he was too tired to perform. This accelerated his already unpredictable actions. His self-destructive bent brought him close to death and to the inside of a psychiatric hospital in Alabama at the end of the decade. Although somewhat celebrated by some of his fans as the hard-drinkin', fast-livin' spiritual-son of his idol, Hank Williams, he missed so many booked engagements that he became known as "No-Show Jones." He was often broke and later admitted that friends Waylon Jennings and Johnny Cash came to his aid financially during this period.
Yet out of all this emerged countless songs of shining visionary music that cuts straight to the quick.
Cup of Loneliness
is on his 1964 Mercury LP,
Blue and Lonesome
and manages to combine his familiar themes of the sacred and profane, drinking and religion and redemption and loss and loneliness. George's voice keens and bleeds and the violins and guitars scratch and scrape away at the heart strings.
I've got wooden legs for this kind of sound and could listen to this a hundred times in a row and not have had enough.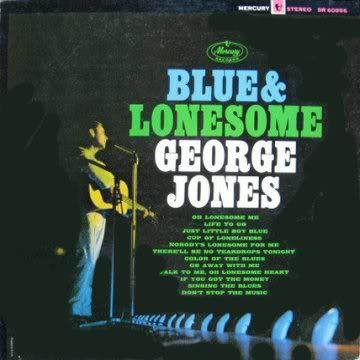 6 The Flamin' Groovies - City Lights
I suspect that to some here
The Flamin' Groovies
are regarded as crust, but I care not one jot. They have long been and will always remain one of my very favourite bands. Formed in San Francisco in the mid-60s, they stayed active right through until the early 1990s, albeit with countless line-up changes, and in many ways were proto-punk forerunners with tracks like the mighty
Slow Death
and
Shake Some Action
.
Their third studio LP,
Teenage Head
, from 1971 on Kama Sutra, is my favourite and really should've propelled them into the spotlight way more than it managed to. The title track of the album, with its ambiguous punning - (Gimme gimme teenage head / I'm a monster with a revved-up teenage head) - is an evil riff-heavy beast oozing menace and sex and kicks and cheap nasty thrills. All in all, it's an incredible snarling messed-up shit-kicking rough-neck rock'n'roll record soaked in blues and R'n'B and garage punk - and, as the second track from Side One makes clear, country music.
City Lights
is a loping shattered drunk falling out of taxis and onto airplanes, the neon lights shimmering behind him as he stumbles off in search of some kind of place to rest a weary head, lay a battered hat and maybe call home for a while. This is proper 2.30am closing time country blues, the bar has emptied, the good girls all gone, the broken promises of the city's allure all too transparent as the bottom of the empty glass stares right on back and the last cigarette smoulders in the ashtray. Heavy, heavy stuff.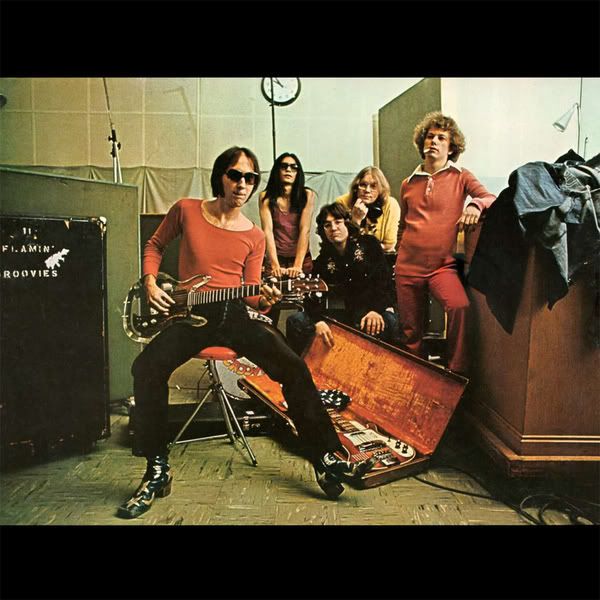 7 Red Rhodes - Lunar Nova
8 Red Rhodes - Jay's Tune
Whichever way you look at it, Red is a great name, though of course I suspect it plays better in Arizona, say, than Walthamstow. It's certainly one hell of a lot cooler than Orville, which is what the great Mr. Rhodes came into the world as in 1930! Along with Sneaky Pete Kleinow, Red Rhodes was THE pedal steel session man of the late 60s / early 70s and a biref glance at records he guested on is testament to his pedigree:
The Ventures
In Space
,
The Millenium
Begin
LP,
Notorious Byrd Brothers
,
Weeds
by
Brewer and Shipley
,
Blue Marble
by
Sagittarius
, the
Willis Alan Ramsey
LP,
Bert Jansch
's
LA Turnaround
and so, though it was as a steady member of
Mike Nesmith
's First National Band that he really found full self-expression and we'll be coming back to some of his stellar work there later on.
Velvet Hammer In A Cowboy Band
is an entirely instrumental LP from 1973 and sounds like little else I've ever encountered.
Rhodes was something of a guitar whizz and had got into making custom pickups in his Hollywood musical electronics repair shop during the 60's and 70's. He called them Velvet Hammers, hence the title. The whole mood of this record is one of other-worldy woozy warmth and a kind of ambient rodeo daze.
Lunar Nova
could almost be a lost library track, all atmospheric groove and spaciness, whilst
Jay's Tune
is some kind of warped take on the soundtrack to
Midnight Cowboy
, with hints of George Harrison shot through the purple night. Incredible - and an LP still utterly unsung for some strange reason.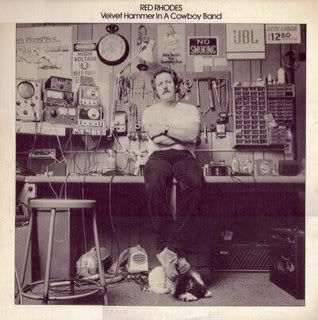 9 Gene Clark - Gypsy Rider
Where do you begin with an artist whose career was as broad, as fertile and as full of such profound and soul-wrenching music as
Gene
Clark
's? I thought in 1986 would be as good a place as any! By the early 80s, the drink and drugs were catching up with the ex-Byrd and he'd hit a bit of a dry spell. Slowly getting back on track whilst staying with friends. he wound up working with Texan Carla Olson, who'd been in a punk band called
The Violators
and was also part of
The Textones
. The resulting LP,
So Rebellious A Lover
, released on Rhino in 1986, was the best thing Gene recorded throughout the whole of the cursed decade. There's a real warm spontaneity and closeness to the recordings and Gene is at his aching, soulful world-weary best.
I think I may have first have encountered
Gypsy Rider
as a flexi free with Bucketful of Brain fanzine, and then picked up the LP a few years later. It's a track that's haunted me down the years and is a close contender for the saddest song I've ever heard in my life award. I guess there's a fair deal of autobiography goin' down in the lyrics about a highway drifter, loser, fuck-up, poet, bum . . . the vocal is plaintive and solemn and rich and wrung-out, the mandolin solo rips my heart pure out and the steel guitar is the loneliest sound imaginable by man.
Tragically, Gene moved on up to the higher state in 1991, aged only 46.
He was buried in Tipton, Missouri under a simple headstone inscribed "Harold Eugene Clark - No Other."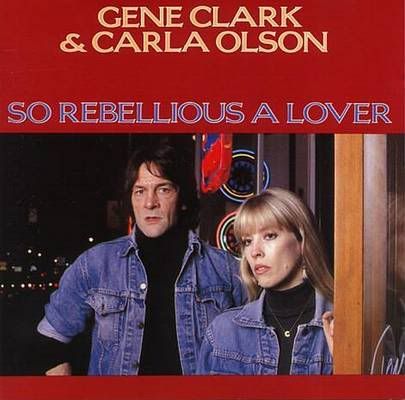 10 Mike Wilhelm - Goin' To Canada
A native of Los Angeles, Mike Wilhelm first came to prominence with the ultimate proto-hippie band, San Francisco's
Charlatans
and was later a key member of
The Flamin' Groovies
in the late 70s. Wilhelm learned his chops from legendary Tennessee bluesman Brownie McGhee and Texas songster Mance Lipscomb and blues and country saturate his playing.
The track here was released in the 80s by New Rose on a LP comprised of - I think - early 70s recordings when he was between groups. The liner notes express the vibe beautifully:
Wilhelm sings like an open fly and the guitar sounds like a three days hangover. Put a pinafore on before you play it. It's not genuine country music, it's not genuine blues. It's not country blues either. It's just another bottle smashed on your face, a corny crack & a splash of muddy poetry that sang lullabies to one another.
Goin' To Canada
is clearly a draft dodger's lament. Wilhelm has an amazingly expressive gravelly voice, the harmonies are moonshine mountain hippie hide-out haven heaven; the song lurches here and there, but mostly onwards and the solo is pure SF-'66. The suddenness of having to up sticks and flee the demented foreign war as it comes on out to get you echoes through the unpolished, jagged, messed-up country-punk here – and it's a track that's been on the decks round here all year.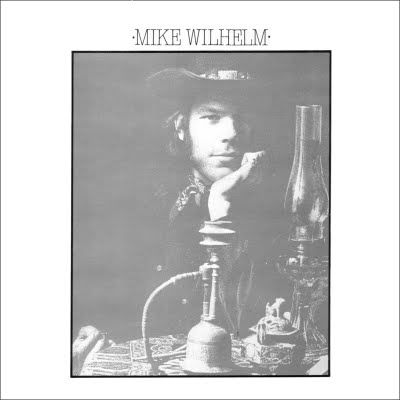 11 Bruce Langhorne - Ridin' Thru' The Rain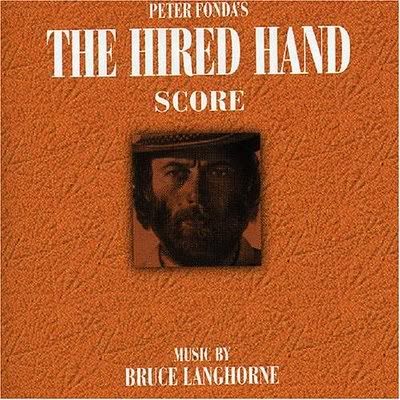 First things first: The Hired Hand is a GREAT movie, part of that weird late 60s / early 70s sub-genre of tripped-out westerns that also includes El Topo, Lonesome Cowboys, Zachariah, Holy Mountain and so on. The Hired Hand came out in '71 and was directed by Peter Fonda, with a screenplay by Alan Sharp. The film stars Fonda, Warren Oates, and Verna Bloom and is basically about a man who returns to his abandoned wife after seven years of drifting from job to job throughout the southwest. The embittered woman will only let him stay if he agrees to move in as a hired hand.
What really sets the film apart, though, is its incredible soundtrack, written by Bruce Langhorne, a Greenwich Village folkie who'd knocked about with and recorded with
Dylan
,
Richard and Mimi Farina
, Richie Havens and the like, but only released officially in 2007. Here's a review that says it much better than I could hope to:
Bruce Langhorne's haunting soundtrack plays off the fact that the movie touches on the Western genre without actually committing to it. Consequently, Langhorne's music dips into the idiom at whim but never descends into the realm of cliché. The atmospheric, disembodied blues of 'Dead Girl' and 'Leaving Del Norte' have an undeniable poetry to them, distilling cinematic atmospherics into just a few brief moments of impeccably judged guitar work. More substantially, the remarkable 'Riding Thru The Rain' is comprised of ghostly banjo arpeggios, liquid lapsteel playing and ringing piano chords heard quietly in the distance. The production of these recordings is incredibly effective, something made all the more remarkable by the fact that Langhorne assembled each piece alongside his girlfriend Natalie Mucyn, who with no prior mixing or editing experience multitracked the recording via some distinctly lo-fi tape dubbing.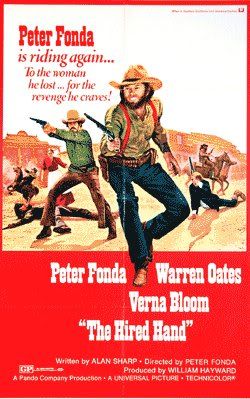 Bizarrely, in 1992, Langhorne founded a hot sauce company known as Brother Bru-Bru's African Hot Sauce.
This hot sauce is apparently unique for containing "African Spices"!!
The things you learn, eh!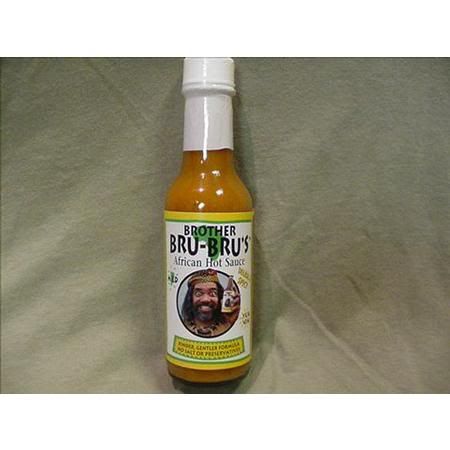 12 The Rockingbirds - Halfway To Comatose
13 The Rockingbirds - In Tall Buildings
Camden circa 1990 was a funny old place. The strange nexus created by enthusiasm for medicinals somehow managed to include The Falcon, and all those who flew with her, council estate ravers
Flowered Up
and a bunch of squatters from Camden Road who went by the name of
The Rockingbirds
, who played quite possibly THEE most unhip sounds you could imagine at the time - country music - and yet who also somehow managed to fit seamlessly into the jigsaw!
Formed They quickly ended up signed to Heavenly, which was then also home to
Saint Etienne
, and cut three great 45s - A Good Day For Me Is A Good Day for You, Gradually Learning and a tribute to Mr. Richman - Jonathan, Jonathan, before unleashing their debut LP in 1992, from where these two tracks derive. To my sick ears, it's a pretty flawless hidden gem with nary a duff track anywhere.
Halfway to Comatose
has those keening mountain harmonies and aching pedal steel, yet lyrically somehow fits into the warm, post-rave comedown mood of afterglow that also saw
Beth Orton
catching a ride on the same label.
In Tall Buildings
is a John Hartford cover (and there'll be plenty more from him as we get going) rendered fairly faithfully, yet still profoundly moving in its amateur under-stated kind of way and in its idiosyncratic arrival at a time and place seemingly so alien to its roots. I mean, who the hell in 1992 was listening to the great man, let alone to his mid-to-late 70s pieces! Well, I was, I guess, even if I didn't realise it at the time! Marvellous.
They disbanded in 1995, but reformed in 2008 for the Heavenly Records 18th Anniversary shows. They began to tour again in spring 2009 and played the 2009 Glastonbury festival. Long may they continue to plough their solitary soulful furrow!
14 Hoyt Axton - On The Natural
15 Hoyt Axton - Sunshine Fields Of Love
Whilst Gram and Gene have long since been canonised by the more fringe elements of the mainstream, the late great Hoyt Axton remains very much overlooked, despite the fact his cosmic cowboy credentials are as strong as anyone's! 1969's
My Griffin Is Gone
was his first LP on Columbia and his first after four years without a deal, following a slew of folk-oriented LPs in the earlier part of the decade. There then followed a small run of records, all of which contain truly astounding moments, which will feature later on. Griffin, though, was an attempt to fuse the oddness of the preceding years, the rampant drug culture ("Snowblind friend"!!), and his folk and country roots, and is a really consistent piece of work. Album opener, On The Natural, is a deep-voiced paean to the Rocky Mountains and the way of life it offered the weary head needing to get his shit together way out where - one of the very first counterculture tracks to glorify the area and the natural highs it offers! He informs us that "up on the mountain you don't need to blow no grass," (though later, in 'Gypsy Will,' he's singing "Out comes the baggie, out comes the Gold, out come the stories that like to be told" so a man with conflicting attitudes to pharmaceuticals, shall we say, as could be seen fro his later anti-drugs stance - and subsequent arrest for marijuana possession!!!) and the way he holds the notes on the word "Colorado" sounds a lot like Tim Buckley, and the song remains a tribute simultaneously to both all that era was and never could be.
The other track featured here,
Sunshine Fields of Love
, is a darkening country drone, dumbstruck and hushed by its own gorgeous baroque orchestration and unfolding lushness. Lovely stuff.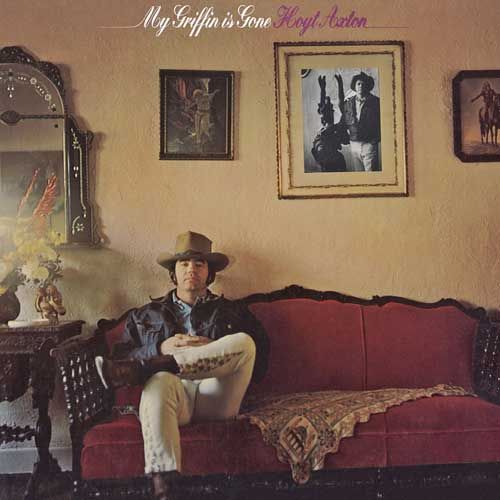 16 Bettye Swann - Just Because You Can't Be Mine
One of the things that's always confused me about music snobbery / genre freaks is that the overlaps between styles are clearly apparent to musicians, even when they're not to more narrow-minded listeners. Musicians listen across the board and hear links where lesser ears maybe don't - and this seems to be particularly true with soul and country. To my mind, the two genres are mutually complementary, being as they are basically poor black and poor white modes of expression, often dealing with the same issues - love, loss, pain, drink, divorce, joy, longing. They both wring poetry out of the everyday and the mundane and they both speak straight to the heart.
Anyway, the crossover and feeding of each other is something we'll come back to a fair bit here, but first up is the 1969 B-side of Little Things Mean A Lot by the peerless
Bettye Swann
. This is a cover of
a Merle Haggard song
that appeared on his LP,
The Legend of Bonnie and Clyde
the previous year. Incidentally, the album also features Merle's
Today I Started Loving You Again
, which Bettye also does a great version of.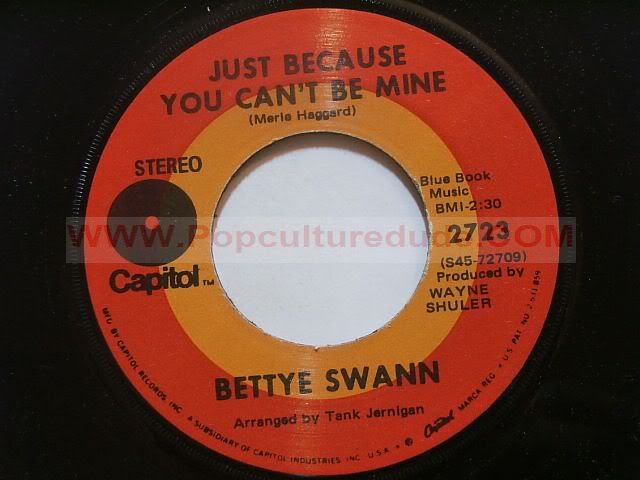 17 Relatively Clean Rivers - Easy Ride
18 Relatively Clean Rivers - Hello Sunshine
Relatively Clean Rivers seem to have been assembled by a cat called Philip Gadahn, previously known as Phil Pearlman, who was the the brains behind such epic psych albums as the utterly demented
Beat of the Earth
and the great
Electronic Hole
(apparently, he converted to Christianity in the early 70s and the
Gadahn
was some kind of
Gideon
tribute). More recently, he's been back in the US public eye due to the fact that his son, Adam Yahiye Gadahn, has become a convert to radical Islam and an Al-Qaeda operative, and has the dubious distinction of being the first US national to be tried for treason for over fifty years.
Relatively Clean Rivers
only put out one album and though the release date was 1975, it sounds utterly LA canyon '68 / '69 to my ears. The whole record is very fully formed has a strange and lovely feel flowing throughout. It's basically a quiet, hushed, fluid rural record that has many strange and unsettling moments. Of the two tracks chosen here,
Easy Ride
is a stoned, Way Out West CSN&Y groove that reeks of good grass and Big Sur trips.
Hello Sunshine
is more transcendental, starting with the sound of sea gulls and waves lapping the shores of your mind, it then goes off into a simple trance-like ambling country-fringed raga-tinged loose jam that oozes Owsley Sunshine.
The best thing I read about this record when Googling around about it was that it apparently "maintains a crystallised trans-ethnic flow which may help to re-define the knitted-brow term 'psychedelic' in the years to come... and as far as my map stretches, this is the real thing. If all records by all bands were this fully realised, music would replace politics and religion as the focal study to the human experience."
Amen to that.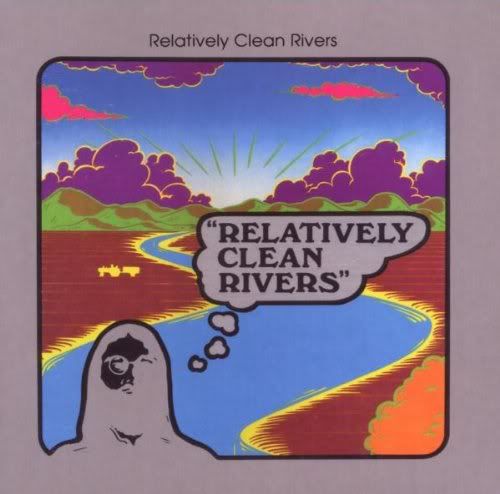 19 Great Speckled Bird - Calgary
20 Great Speckled Bird - Flies In The Bottle
Folk duo
Ian and Sylvia
made their first foray into country waters with their Nashville LP from 1968, which we may return to later on, and then decided to put together a full-on country rockin' band,
Great Speckled Bird
(after
the Roy Acuff song
), which came to feature, among many other fine players, N.D. Smart, who was previously the drummer for the mighty
Remains
). Ian Tyson had been a rodeo rider in his late teens and early twenties and presumably developed an affinity for country sounds as a result.
Their self-titled LP came out on Ampex in 1970 and was, incidentally, the first record to be produced by one Todd Rundgren. It's consistently good throughout, but I've opted for two standouts.
Calgary
is a story song, with Ian's deep, soulful voice telling the tale of a man trying to get his shit together to head up north to where his woman's waiting. The track has the same kind of feel as those winter days where a cold steely silver light breaks through and you can't wait to get inside and warm your bones with a good slug of whisky. Wonderful stuff. Plus, you can't beat a whistling outro, really, can you?
Flies In The Bottle
is a more meditative track, with a slight touch of
The Lovin' Spoonfuls
about it. The twin male-female vocals really tear me up, as does the organ hovering gently in the background. Pure deep southern country soul goodness.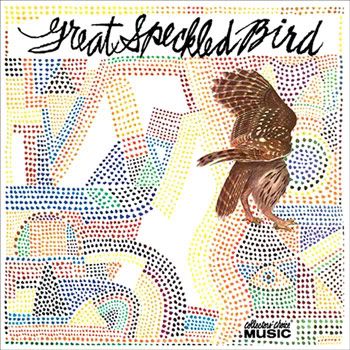 Never let it be said that this chart is predictable, becuase next up we have . . . !
21 The Kings of Leon - Talahina Sky
I've said it before and will no doubt say it again, but the debut 10" by
The Kings of Leon
-
Youth and Young Manhood
- is one of the greatest rock'n'roll records I've ever heard . . . which made their subsequent descent into stadium-filling, ass-kissing, sub-U2 crap even more galling. They looked like
The Wolf People
if they'd been in-bred Tennessee village boys from a Pentacostal background; they played live with a true fervour and they managed to come from a garage / punk starting place without sounding remotely retro or self-conscious; they oozed hormones and teenage kicks and malice and sex and swagger and were doing exactly what I'd hoped we might one day touch on with
The Beatpack
way back before whenever. Dang!
Anyhows, that's not why we're here, is it.
Tucked away at the end of the LP, following several minutes of empty silence, was a hidden track,
Talahina Skies
, which is a raw and ragged country rock track of the highest order, soaked in the melancholy twinge of a kind of dusk and in the bittersweet feel of small town years and the pull of anywhere else but there because everybody knows that this is nowhere.
The Kings are long dead.
Long live The Kings.
22 Emerson's Old-Timey Custard Suckin' Band - Sittin' On Top Of The World
23 Emerson's Old-Timey Custard Suckin' Band - You Don't Miss Your Water
One of the more unlikely records to appear on avant-garde NYC label, ESP-Disk,
Emerson's Old-Timey Custard Suckin' Band
were a three-piece bunch of hairy heads getting back into Mother Nature and her country ways. Banjo player/singer Arnold Sell and mandolin player and fiddler Neil Ricklen were the principal composers in the group, with guitarist/autoharpist Howard Lamden also contributing. As far as I know, they cut just the one LP, a really solid piece of melancholic, rural, down-home, comedown bluegrass country soul.
Sittin' On Top Of The World
is an old standard, dating back to at least the 30s, when I know
Tampa Red
did a version.
Here, deep south rural blues is re-envisaged as mournful tender country pickin' and many shades of mandolin sadness.
The vocals have that keening ache and break to them and this one cuts me straight to the quick.
You Don't Miss Your Water
is a soul song, originally written and recorded by William Bell, and provides further fuel for my country / soul parallel universe theory outlined earlier. Gram parsons recorded several masterful versions in his time, but this perhaps surpasses them. A violin takes up the lead to begin with, scratching away at the heart, before the vocals pick the theme up and waver and rack right on that cusp betwixt soul and country. A really heavy emotional trip, this one.
The whole LP is a really solid listen and well worth nabbing if you come across it.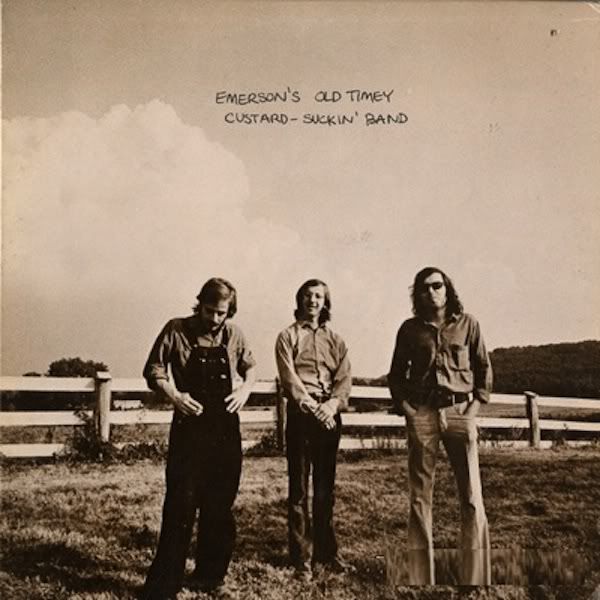 24 Michael Nesmith & The First National Band - Calico Girlfriend
First things first. I love
The Monkees
and I love
Mike Nesmith
. His dry, detached, wry cartoon persona left an indelible stamp on my childhood via all those endless re-runs and recent years have been lit up by a thorough trawl through his back catalogue, much of which moulders in the bargain bins of our fine land, and seems criminally ignored whilst supposedly hipper cats are canonised.
Mike's contribution to twisted cosmic country is vast and we'll be returning later on to other items in his oeuvre, but a good place to start seemed to be his first solo LP proper (I'm discounting the '68 Dot LP,
The Witchita Train Whistle Sings
, here, as that's more large-scale orchestral versions of
Monkees
tracks in the main, though it was the place Mike started to put together what later became
The First National Band
.)
Magnetic South
came out on RCA in 1970 and a 45 culled from the album,
Joanne / One Rose
, reached Number 21 on the Billboard singles charts, making it the biggest hit of his solo career. The track I've chosen here,
Calico Girlfriend
, kicks off Side One of the record and is a great album opener.
I've always loved the very idea of
calico
and the word itself seems so unutterably American. It makes an appearance in
Gram
and
Emmylou
's
Return of the Grievous Angel
, and it exudes images of hippy mamas in plain white cotton dresses, long hair blowing in the desert wind, brown leather sandals over suntanned feet. The very least you'd expect of a cat in a hat like Mike.
The song is blessed with Red Rhodes' playful pedal steel, and a light pulsing groove over which Nesmith's unobtrusive and yet somehow plaintive vocals bounce.
It's short, but then stays stuck in the mind like a vision glimpsed through a shimmering heat haze out near old El Paso.
25 Guy Clark - That Old Time Feeling
26 Guy Clark - Desperados Waiting For A Train
27 John D Loudermilk - Goin' To Hell On A Sled
28 John D Loudermilk - Laura
Born in North Carolina in the 30s, John D Loudermilk grew up in a church family and was steeped in the rites and rituals of country music. His cousins Ira and Charlie Loudermilk were better known as
the Louvin Brothers
, who we'll be coming to by and by, and by the time the 60s rolled around, John was firmly entrenched in Nashville, Tennessee, where he'd become songwriting royalty, penning hits for Chet Atkins, The Everly Brotyhers, Johnny Cash, Eddie Cochran and many many more.
The Lament Of The Cherokee Reservation Indian
(later popularised as simply
Indian Reservation
by
Don Fardon
) and
Tobacoo Road
(done by countless acts, but
The Nashville Teens
had the biggest hit with it) are perhaps the two compositions of his that'll be known to plenty of VG plussers.
By the end of the 60s, even Nashville was feeling the vibrations of the acid, peace and love revolution, and Loudermilk put out a truly singular LP -
The Open Mind Of . . .
which is where our two tracks today come from.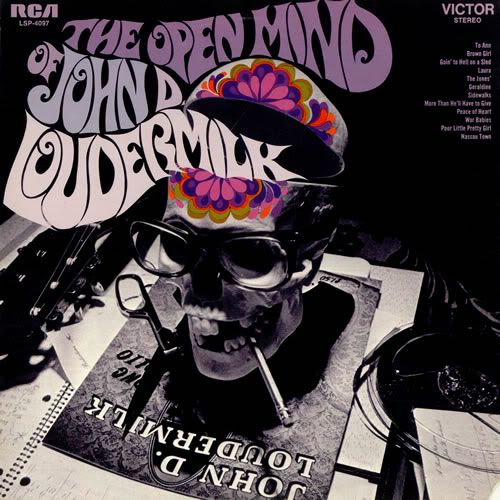 As if the cover didn't provide enough evidence that this is not really your typical Grand Ole Opry Nashville fare, then check out the lyrics, which feature - among other things - apocalyptic apes, wiccanism, black magic, inbred families, libertarianism and heartfelt pleas for racial tolerance and compassion. The opening cut is
Goin' To Hell On A Sled
, which shows Loudermilk was as at home with a sitar as with a banjo and which is some kind of musical equivalent of the opening ten minutes of
Head
, being as it is a deranged deconstruction of the barrage and blur of voices of doom and gloom that accompanied America's descent into the seemingly endless 'limited war' - both in south-east Asia AND at home! The opening chords kick in like some hick garage band, there's a clear
Highway 61
Dylan influence in the rattled-off vocals, yet it's all shot through with some strange stoned psychology and is, I'd contend, a work of minor genius.
Just to show the album is more than simply some lame-ass psychsploitation cash-in job, the other track I've included here is
Laura
: a hushed hymnal organ-led piece of country church cool.
It's a very downbeat, understated love song that has a demo feel, and it cuts straight to the heart and stays there.
We talk in such a silent way
In words too beautiful to say
Indeed.
29 Jerry Jeff Walker - About Her Eyes
30 Jerry Jeff Walker - Help Me Now
Despite being born in New York State with the rather ungroovy name of Ronald Clyde Crosby (no relation), Jerry Jeff went on to be one of the larger names in country in the 70s, settling in Austin, Texas, and penning the widely-covered
Mr. Bojangles
.
Before setting out on his own, he was one of
Circus Maximus
, who made two rather wonderful LPs on Vanguard.
A particular favourite track is the jazz-tinged Dylan cop
Wind.

By the end of '68, though, he was recording solo, putting out a number of LPs in a very short time. The best, for my money, is
Five Years Gone
on ATCO, though we'll visit a couple of others later on along the way.
Recorded in Nashville and backed by a stellar cast, including Travis Lewis and Boomer Clarke, both formerly of the
Lewis & Clarke Expedition
(who issued an album on the
Monkees
' label, Colgems), the album is a haunting, hazy, late-night selection, the mood of which is perfectly captured by the downbeat, humble, name-free cover, showing our hero as some kind of young Joe Strummer, slightly dazed and confused, slightly up, slightly down.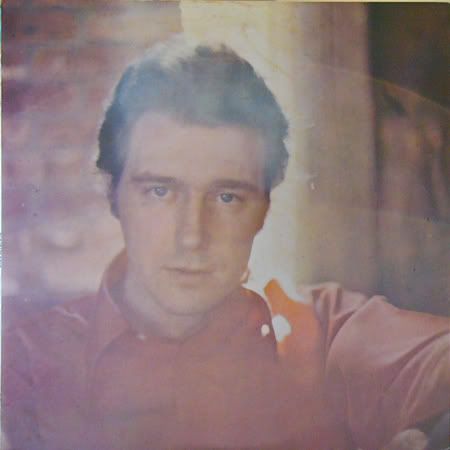 Not really a country album in any traditional sense of the word, this is more a soundtrack for a sunset: with mildly psychedelic blurry edges, it's what you spin when when your lights are out, your windows are open and the sun is fading fast into darkness. A record of deep lonesome beauty.
The first track I've selected is almost like ambient music.
Twilight incarnate.
About Her Eyes
floats and oozes like thick molasses.
It's dream music, the sound of an obsessive memory of a lover that arrives to haunt you as you drift into fitful sleep.
The slide guitar drifts through the track like a warm breeze on an early summer night, the vocal is narcoticised, the backing feather light.
Perfection.
Help Me Now
is the album opener and is music from a parallel universe where
Sgt. Pepper's
was made not by tripping Scousers, but by Nashville cats on heavy quaaludes.
The lead guitar rips out a fuzz riff that throbs throughout and sounds like nothing else I've ever heard, the piano is
Hey Jude
on one hell of a downer, and yet the track is still strangely uplifting.
31 Gram Parsons - She
32 Gram Parsons - A Song For You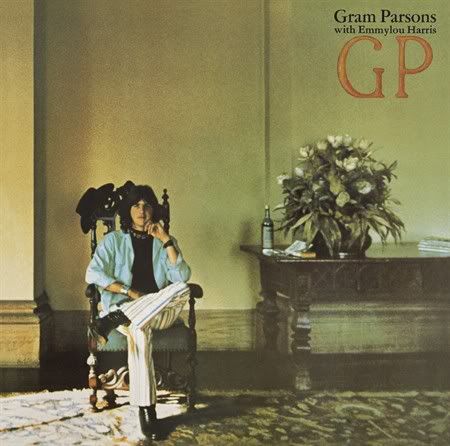 What is there left to say about
Gram Parsons
, God's Own Singer?
33 Willis Alan Ramsey - Muskrat Love (Muskrat Candelight)
34 Willis Alan Ramsey - Angel Eyes
Willis Alan Ramsey
came and went like the dead-eyed killer in
No Country For Old Men
, leaving just one incredible LP nailed to the wall behind him.
When asked where the follow-up is, to this day he often responds, "What's wrong with the first one?"
The answer, of course, is NOTHING!
Born in Birmingham Alabama, but raised in Dallas Texas, Ramsey is further proof of the fact that Texas really was
thee
state.
Perhaps it was the rigid republicanism and the fact that once you were an inch over the line, you might as well as be ten thousand miles, but the Lone Star State has always been a breeding ground for visionaries, loons, three-eyed men, outlaws, loners, lovers, lawless wild cats with their souls brimming over like bourbon out of a ten-gallon hat. Just as I had it bad for Texas garage punk and psych as a young 'un, now I got the itch for the cracked and ragged country that came pouring forth like the original motherlode wellspring of all human goodness.
Willis Alan Ramsey apparently relocated to the British Isles in the 80s in order to reconnect with his ancestry and study traditional and modern musics, whilst his sole LP, released in 1972 on Leon Russell's Shelter label, continued to grow in retrospective stature and influence. He's still active on the Texas scene and there are even rumours that a second LP may eventually emerge!
The first track I've chosen from the album is
Muskrat Love (Muskrat Candlelight)
. On the surface, a song about the anthropomorphic romantic tendencies of river rats that was covered by
America
and later murdered by
Captain and Tennille
(who had a US number 4 hit with the song, and also managed to get it voted as one of the worst popular songs ever recorded - their version features sound effects created with a synthesizer to evoke the imagined sound of muskrats courting and featured an endless loop of these sound effects created by encoding the end groove of the 45
) is not something that's likely to appeal to many here, and yet it's exactly the kind of song that totally transcends the idiot concept of genre.
This could have come from a soul LP or a jazz LP or an easy listening record or a top-notch SSW disc and no-one would've blinked. Leon Russell guests on vibes and the whole track is as mellow as
Donovan
and his most truly high, as deep as oceans and as sweet and dark as molasses.
Incredible free soul cut from the very very top drawer.
Angel Eyes
is more steeped in country liquor and tragic tales.
The vocal is lazy and loose, yet aching and plaintive.
The violin barely there and yet lingers like a ghost on the porch.
Genius.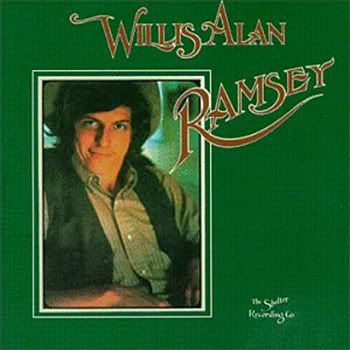 35 Muleskinner - Opus 57 in G Minor
36 Muleskinner - Rain and Snow
Muleskinner
were, if you can imagine such a thing, a kind of bluegrass supergroup. The group featured Peter Rowan (on guitar and vocals) and David Grisman (on mandolin and vocals), both of whom had been in
Earth Opera
, who recorded a couple of late in the late 60s for Elektra, and who had
their own country vibes going on good and strong
. Richard Greene, the fiddle player, had played with
Bill Monroe and the Bluegrass Boys
in the mid-60s and then helped formed
Seatrain
in '69. Bill Keith, who played banjo, had also done a stint with
Bill Monroe
, before going on to work with
Ian and Sylvia
. The final ingredient in this heady stew was ex-
Byrd
Clarence White, who provided lead guitar and vocals.
Muleskinner
originally came into being as Richard Greene was asked to put a band together a band to join Bill Monroe in a TV show.
However, Monroe's bus then had some technical problems and
Muleskinner
ended up having to play the whole evening on their own - and it was a roaring success.
All this resulted in a recording contract with Warner Bros. and in 1973 the band recorded its first (and unfortunately, only) studio album,
A Potpourri of Bluegrass Jam
, which included elements from jazz, country and progressive bluegrass. This recording is apparently the first in the bluegrass genre to include drums.
However, all plans the group may have had were shot to pieces when, on the evening of July the 15th 1973, Clarence White was hit and killed by a drunk driver whilst loading equipment into his car.
He was 29 years old!
The
Muleskinner
LP came out the following year, to little or no real acclaim, and then vanished, which is a terrible shame as it contains some astounding moments.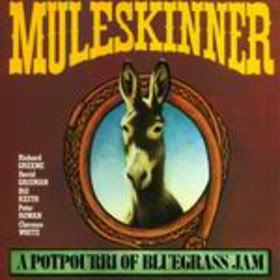 Side One opens with a take on the old standard
Muleskinner Blues
, which is hillbilly music played with a fervour and intensity that suggests
The Yardbirds
' style of rave-up was very much part of their musical palette!
Song titles like
Opus 57 in G Minor
are much more commonly found on dodgy prog LPs with classical pretensions than bluegrass records, but this is a country jam for smokers, stoners, hippies and heads who've heard and dug (US)
Kaleidoscope
. Frenetic picking and playing, all undercut with a strange melancholy air, an air which is picked up on and magnified tenfold on
Rain and Snow
, which is a tale of marital strife and hard hard weather, all sung with that high lonesome mountain keen and offset with some truly stellar mandolin adds and crazed violin fills.
RIP Clarence.
37 Jefferson Airplane - A Song For All Seasons
38 Jefferson Airplane - The Farm
When I was 13 or 14 and first really getting into psychedelic music, my old art teacher, Mr Stewart lent me a few LPs and among them was
Volunteers
by
Jefferson Airplane
, a record which to this day still seems to litter the bargain bins of the world's record emporiums. At the time, I was veering much more towards the elaborate kitchen-sink, bells-and-whistles full-blown tripped-out tomfoolery of UK psych and couldn't get my head round the moot rootsy, downhome San Francisco stuff I was hearing. These seemed like two utterly alien beasts, distant cousins perhaps, but not real close relations of any kind that I understood. Where the UK bands went in for whimsy, backward cymbals, brass bands, Victoriana, day-glo pop-op splendour, brash post-mod powerchords, discordance, disorientation and mind-destruction, The Airplane seemed to be coming far less from a mod / pop-art angle and far more from folk and blues and country, with slightly wobbly edges.
I generalise wildly, of course, and later came to learn that all is but a spectrum across which sound is stretched, but it's kind of ironic that over 25 years on from first hearing this, it's been on the decks a lot again of late. Anyway,
Volunteers
(originally intended to be called
Volunteers of Amerikkka
!!) was the group's sixth LP and came out in '69, when a country comedown was ringing out loud and clear throughout the hippie havens of the West Coast. Jerry Garcia guests on pedal steel and Nicky Hopkins took time off from his work with
The Stones
to play piano. At the time, it caused a plenty big stink due to its heavy politics fairly stringent anti-war / pro-anarchist hippie Yippie nonsense lyrics and stance, none of which is what concerns you good people in the here and now.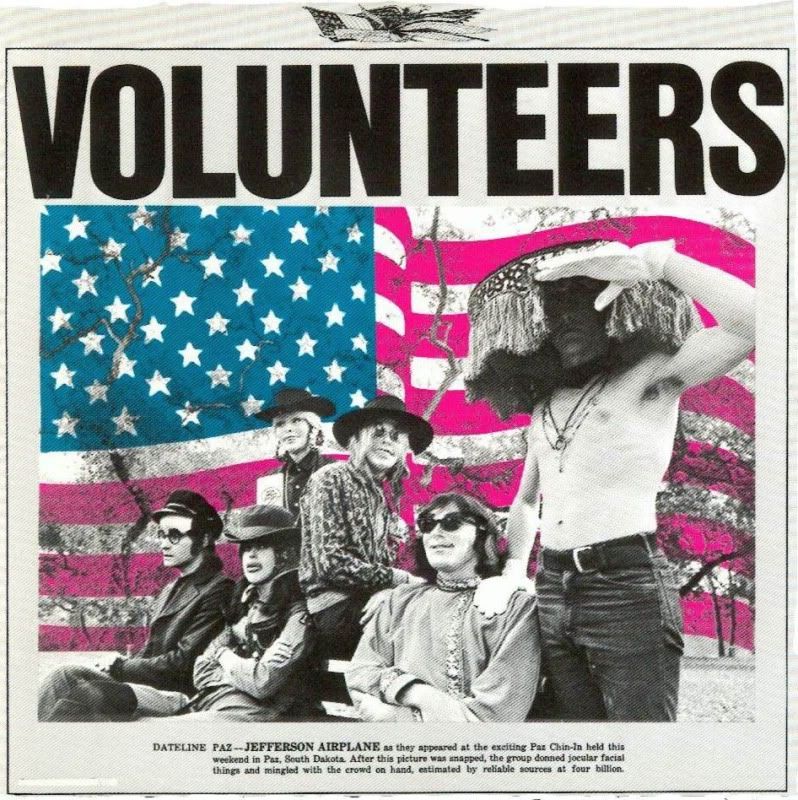 The two tracks I've picked here are
A Song for All Seasons
and
The Farm
. The former is a lovely lurching late-summer-evening country ballad that's had a touch too much moonshine out on the back porch, while the latter is all glimmering pedal steel, shimmering honky-tonk piano lines, male-female interplay on the vocals and good ol' back-to-Mother-Nature vibrations.
39 Fraser & Debolt - Them Dance Hall Girls
40 Fraser & Debolt - Waltz of the Tennis Players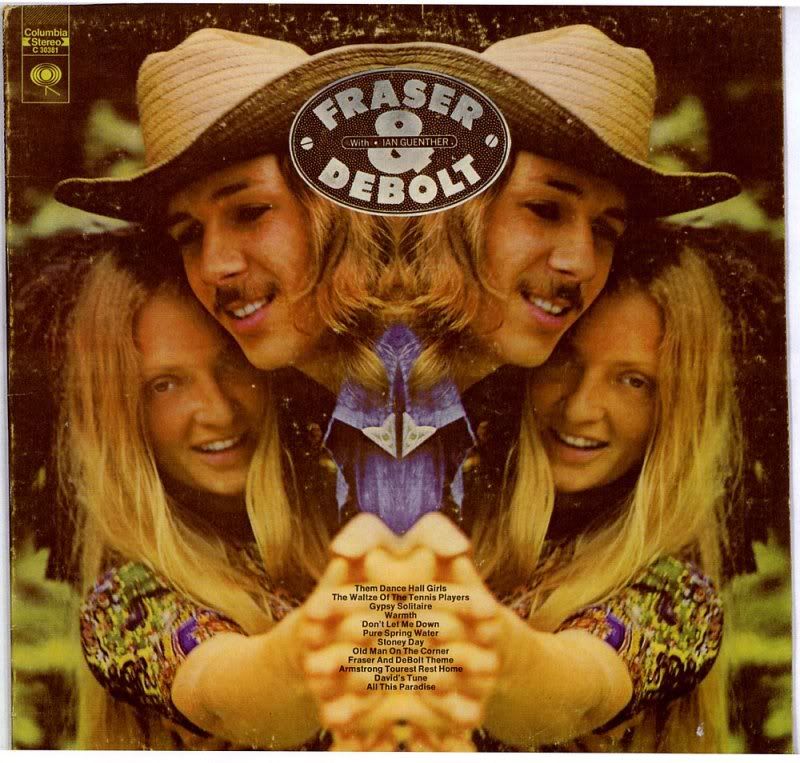 This LP has haunted and obsessed me since I first heard it and has been one of my most regular listens of the last few years.
I even got to the stage of tracking down both Allan Fraser and Daisy DeBolt and will eventually turn this contact into something for Shindig, the Great God of Time permitting.
Anyway, there are others out there who can speak of such matters far more eloqunetly, so I' going to take the liberty of posting up the review from
Acid Archives
site that first piqued my interest in the record.
Do an Internet search on this album, it's uncanny: you'll find absolutely nothing but raves. Most of the people who recommend it lament the fact that their vinyl copies are worn out from so many listens and that it has yet to be re-released on CD. It's hard to find another record that is so unanimously treasured by the rare people who have heard it, and has had such a huge influence on so many while being heard by so few. In their native Canada, Allan Fraser and Daisy Debolt are revered in the folk world by those lucky enough to have seen them perform. They influenced other musicians mostly from their live performances, not their recordings, and if it's true that they were even better live than on this LP, I'll gladly trade the entire "F" section of my collection for a video.

The reason for all of this passion is the same reason the record sold squat: it's full of gorgeous ragged edges and inspired imperfections. It's human and heartfelt with no pretense or gloss. We're not talking idiot savant (I won't name examples here, as I don't want to offend anyone); it's as insulting to Fraser & Debolt to lump them with "real people" or "incredibly strange" music as it would be to Bobb Trimble. Every out of out-of-tune violin lick (courtesy of Ian Guenther, who gets credit in the album title), every backing vocal that starts too early or comes in too late, and every dissonant guitar chord is intentional (or at least a brilliant performance accident retained after much thought.) This may be raw; it may be loose, and it sure is fun, but this album is arranged with as much foresight as any 70s prog record. On all but one song (which adds sax and piano) the musical backing is merely two acoustic guitars and violin, often arranged with a punk-like simplicity. Yet every song sounds full and rich, each is different from the others, and the unique approach to dual vocals fills the songs with left turns, sublime beauty, and moments that will make the most jaded listener smile. It's been called "art-folk," which is as good a description as any. It's also rock and roll without electricity or drums, and acid folk without any of the daze or confusion.

Unimaginative rock critics compare the vocals to Jefferson Airplane, whom I suppose are in the same universe, assuming you catch the Airplane during a moment of clarity. Both bands monkey with the concept that the lead and harmony singers should sing at the exact same time (as did the Velvet Underground, on that very year's LOADED), but Fraser & Debolt do it better, and with more clear intent. There are some shocking high notes hit here (as many by him as by her), but not one cringeworthy moment. If you want "perfect" harmonies, I direct you to the Beach Boys, or the Belmonts, or Capability Brown. If you prefer a real jolt of adrenaline, I recommend this.

Without giving away too many of the record's surprises, some of the moments that give me goose pimples: The opening "All This Heaven" (what a perfect title to begin this album!) takes so long to fade in you'll think you forgot to turn on the volume, then it ends so quickly that you'll wonder if it's a dream. It's immediately followed by the choppy, dissonant chord progression and deadpan vocals of "Gypsy Solitaire." This is the one that sounds like punk rock, at least until the insane yodeling on the chorus. There are lovely ballads with no hint of weirdness (try to resist "Them Dance Hall Girls"), a gorgeous muted-vocal dirge called "Stoney Day," mysterious lyrics like "Constance/what a name/you should have been Felicity" and "the mushrooms keep growing in every new bootprint," a songlet purposely misspelled "Armstrong Tourest Rest Home" where moaning voices duel a squeaky violin, and a song called "Pure Spring Water," which is just as fresh and soothing as its subject. Hell, they even do justice to a Beatles song (see the Terry Manning review for reasons not to attempt this), closing the album with an impassioned version of "Don't Let Me Down." It's one of the Fab Four's most hard-rocking songs, but this version is more powerful that you ever knew the song could be. Fraser & Debolt add stops and starts that will make your heart skip a beat.

The album is structured so that side two's songs are a little longer and a little less peculiar, but no less compelling, than the short quirky songs on side one. It's as if they're saying "not only can we sing far out, we can sing pretty." Even so, for every "David's Tune" or "Stoney Day," which finish as quasi-singalongs (and it doesn't get any catchier than Daisy's vocal freakout at the end of "David's Tune"), there's a "Pure Spring Water," which drifts into unexpected dissonance. This album always keeps the listener guessing. Most unlikely of all, there's not one moment here where it will cross your mind that it would sound better if the other one was singing, or if the backup vocalist would shut up. Try to name any other dual-vocal album you can say that about! When you listen to as many different records as I do, it's easy to forget what it's like to hear one in which every song is a true work of art, where the entire approach reminds me why I listen to so much music in the first place. Discover this and it'll all come back to you. By the way, another Canadian folk masterpiece of the era, THE PERTH COUNTY CONSPIRACY DOES NOT EXIST, is also on Columbia. The label hired somebody north of the border who knew what they were doing!

Postscript: Three years later they finally got around to a second album. Unsurprisingly it is much more produced, with not only bass and drums, but saxophones and steel guitars. It's natural for them to "progress" in this way, but the fullness of the sound feels like a coverup for the disappearance of songwriting magic and decline in vocal creativity. As if they knew the album was a disappointment, they took the only song that lived up to the quality of the first album and subtitled it "Pure Spring Water #2," a brief reminder of the glory of their masterpiece.
Phew! Two little postscripts to add to that eulogy.
Firstly, live footage has subsequently emerged and can now be seen on YouTube. Astounding stuff.

Gypsy Solitaire live at the Philadelphia Folk Festival, 1971.
Secondly, there is a Fallout re-issue doing the rounds.
PLEASE avoid it like the plague and shun it with the disdain it deserves.
It's a total boot and its existence has caused nothing but hurt, frustration and annoyance to those whose music it is profiting from.
The two tracks I've gone for from the LP are perhaps the most country-tinged.
Them Dance Hall Girls
is a broke-down bar-room ballad for the final minutes before throw-out time, telling tales of broken hearts, bad luck and the eternal down of Baltimore life. The kind of music that plays on the jukebox in those low-rent Irish bars McNulty got sauced in on
The Wire
.
Waltz of the Tennis Players
is a more abstract beast. Starts out like a one-man-and-his-guitar straight ahead ballad and then somehow slowly unfurls and blooms into a beautiful blue-black bruise of a song.
The calm stillness of the way they incant the lyrics cuts me clean through every time.
Incense
Velvelt
Simplicity
Religion
Where on earth are you going?
The cowboys are sprinkling mycelium.
The mushrooms keep growing in every new boot print.
My my my
Indeed.
41 Vernon Wray - Facing All The Same Tomorrows
42 Vernon Wray - Prison Song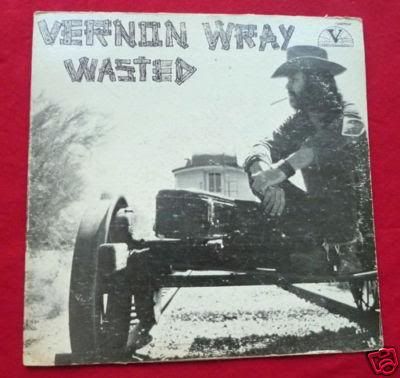 For far too long, this grail has been a scarily three-figured pull, due to its having initially been a limited print run of only around 400, and thus way way out of the reach of cheapskate chancer bastards such as myself.
However, at the tail end of last year the
Sebastian Speaks
label finally did right by the late great man and put out a repress of this 1972 gem.
It's strictly limited to a thousand copies, so grab yours fast if this is even remotely your bag.
And if it ain't, what on God's own sweet earth are you doing this far down the list?!
Vernon was, perhaps unsurprisingly, Link's older brother and, along with the third brother in the Unholy Triumvirate, Doug, was one of the original Ray Men that inflicted such virtuous violence on the unsuspecting world in the late 50s and early 60s. The boys grew up in Portsmouth, Virginia and as soon as they were old enough, they started their own gigging combo. Names changed according to the venues they played - Lucky Wray and the Lazy Pine Wranglers . . . Lucky Wray and the Palomino Ranch Hands . . . (the "Lucky" was Vernon, picking up his nickname for his success at gambling.) - and by '55 they'd moved en masse to the country music hotbed of Washington DC and continued to hit the circuit and hit it hard, building up a reputation as a fearsome live act, until Rumble broke big in '58 and made their name nationwide, though by this point it was the hotshot younger sibling whose name blazed out of the billing!
Vernon also established a solo career as "Ray Vernon", releasing sides for Kay, Starday, Cameo and Liberty Records.
He was also an industry pioneer, setting up one of the first DIY record labels - Rumble Records - in 1961.
At the same time, he continued to work with the Ray Men, moving behind the scenes as manager and producer.
He moved his recording studio from Washington DC down to his spread in Accokeek Maryland.
First stop was in the basement of Vernon's home.
Too loud for Vernon's wife Evelyn, he moved the studio across the street in a building that housed Wray Grocery (always the entrepreneur...).
Finally, and most famously, the studio ended up in an outbuilding on the property and christened "Wray's Shack 3 Tracks".
"The Shack" was a busy place. All of Link and the Ray Men's classic Swan tracks were recorded there, as well as too many local musicians to count.
The last recordings in Accokeek saw major label interest -
Mordecai Jones
(more on whom later!) and Link's solo debut on Polydor Records, as well as the UK issued "Beans and Fatback", studio outtakes of the
Link Wray
LP.
In 1972, Vernon decided he wanted to mellow out, so he started working solo - just him and his acoustic guitar.
He packed up and moved to Tucson Arizona, taking a talisman of sorts with him - the back wall of the legendary "Shack".
Vernon may have wanted to mellow out, but he still kept very busy. He became the artist in residence at the Plaza International Hotel, playing gigs seven nights a week with occasional jaunts to Los Angeles, New York, San Francisco and Washington D.C. His repertoire included songs from the Big Band era, Sons of the Pioneers, Bob Dylan, Hank Williams, John Prine, his idol Kris Kristofferson and of course original compositions, having written over 200 songs, some with brothers Link and Doug.
While in Tucson, Vernon began to act, getting movie work in Kris Kristofferson's "Alice Doesn't Live Here Anymore".
He also filmed four episodes of TV's "Gunsmoke".
Using the back wall of the original "Shack", Vernon reconstructed it, complete with an upgrade from 3 to 8 track recording.
Now dubbed "Vernon Wray's Record Factory", he continued his production work for Tucson musicians.
He also released his final two works, "Superstar At My House" available on cassette and 8 track only, as well as "Wasted", both on his Vermillion Records label.
That's enough back story.
What about the music?
Well,
Wasted
is an aptly-named piece of doom-laden downer country that chills to the core most every time I listen to it, and yet which also somehow has a southern warmth and charm as well.
Facing All The Same Tomorrows
has been one of my most listened to songs these last twelve months.
It's almost fireside intimacy and close-miked almost spoken vocals thinly veil the world-weary gaze into the abyss.
There's gorgeous aching gospel backlift on the choruses and Link's wonderful understated scattered picking throughout, but there's no way round the stark lyrical content.
It's like a paean to the acceptance of decay and a command to stare fully into the facts of age and loss and hits at least as hard as something like
Johnny Cash
's take on
I See a Darkness
.
You talk about all the things you've got
But a whole lot of things don't mean a lot
You talk about all the good times you had
But time is just is a place
And things just waste away
So what? It's a lot of nothing.
Facing all the same tomorrows.
Facing all the same tomorrows.
Prison Song
is even starker, beginning, as it does, with a dedication to "all the guys all over the world in hell holes better known as prisons" - and a prayer that "some day you will all be free."
One can only assume this means metaphorically, as any sane grocery store really wouldn't be wanting all those stick-up artists reappearing round time any time soon, surely?
There's then a mournful marching band drum roll, more haunted distant backing vox and Vernon's tragic tale of a young man falling in love in Reno, murdering a bank guard and winding up in chokey unfolding over a hypnotic minor key circular loop. Incredible.
Sadly, the great man passed on from this realm in 1974, but his sombre brooding work remains and will prevail.
43 Bob Lind - Loser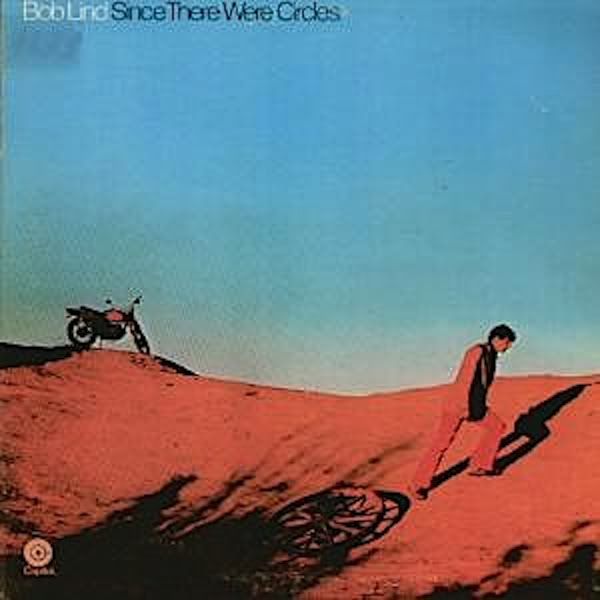 At The New York Dolls gig I went to the other week, there was a great DJ playing jump blues,
Howlin' Wolf
, sick mambo and Spector Pop in the main bar, but if you stumbled off to a side tunnel in search of a Portaloo and then managed to ensconce yourself in one of these plastic atrocities before they went all Glastonbury on you, you may well have caught music from a parallel reality. The bogs seemed to have their own internal sound system going on and the one and only time I ventured forth, I was stunned to find this particular
Bob Lind
track playing softly in the background - almost as if in a dream. It's a perfect record:louche, lush, lazy and loping.
Best known for his big hit
Elusive Butterfly
and for writing
Cheryl's Goin' Home
, Lind has perhaps been overlooked as a result of their more saccharine sweetness. This is a real shame as Since There Were Circles from 1971 is a masterful record, full of aching, brusied SSW folk-blues. It belongs in this chart, though, partly through dint of featuring various Dillards, Gene Clark and the omniscient Bernie leadon, but also becuase of the standout track -
Loser
.
The bar-room piano player has already been at
the ripple wine
, the slide guitar player has another broken heart and Bob himself comes on like some kind of backwoods Bowie with his beat-up poetry and phrasing. Flawless.
44 Tony Joe White - Takin' the Midnite Train
45 Tony Joe White - Backwoods Preacher Man
I'd like to believe that
Tony Joe White
needs no introduction here, but if there's one thing I've learned over the years on the site, it's that one man's bleeding obvious is another's absolute unheard of! Perhaps best remembered for penning the original - and utterly sublime - original of
Rainy Night in Georgia
, Tony Joe really epitomises that country soul vibe: southern cats who grew up soaked in soul, R&B and country and for whom the genres had no beginning or ending, they were just all part of one great big Memphis stew.
Born in Louisiana in 1943, Tony Joe was one of seven kids and was raised on a cotton farm, a fact that casts later tracks like
Willie and Laura Mae Jones
into perspective. Signed to Monument in 1967, he released a string of five stone-cold classic albums in the next four years, with tracks going on to be covered by the likes of Tom Jones and
Elvis
, but never quite bringing him the major breakthrough he so deserved.
These two tracks are from his slightly overlooked sixth LP from 1973, on Warner Brothers, and really capture the duality of what he's always been all about.
Takin' The Midnight Train
is a skeletal broke-back ballad of the lowdown blues and heartbreak, of loss and then departure - with the kind of intimate vocal that's almost spoken, softly, straight into your ears.
Backwoods Preacher Man
is swamp country funk.
Real grits to go with your gravy.
Sexy, sloppy, slightly sleazy, yet all soaked in The Good Book and good bourbon.
And the rest of the LP ain't no slouch either.
46 Lawrence Hammond - Tornado's Comin' Down
47 Lawrence Hammond - Empty Rails in Garfield County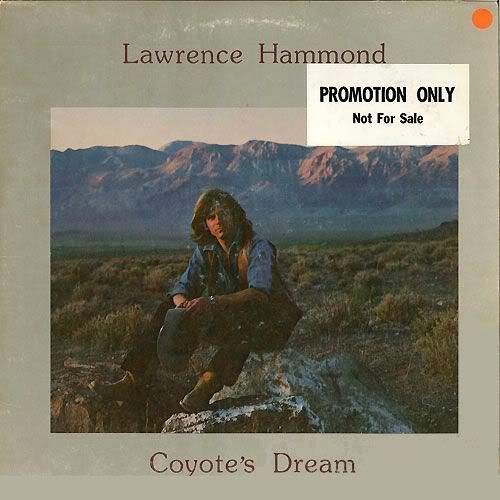 Lawrence Hammond had pedigree.
Born in Berkeley California, he spent his childhood in the mid-West, soaking up folk and country music and by the mid-60s was studying medicine at Antioch College in Yellow Springs, Ohio, where he met the members of what was to become
Mad River
. The group performed in dives all throughout Ohio, but quickly became frustrated with their efforts and eventually packed up and moved to the more progressively minded Berkeley. Hammond played bass, wrote the bulk of the material and added his strange, singular, wavering quaver of a voice to it.
Mad River
cut two LPs for Capitol, widely ignored at the time, but later regarded as among the more original and startling releases from the Bay area: dark, neurotic, frenetic and angular, with dueling twin guitars that recall
Quicksilver
and preempt
Television
.
The second LP in particular,
Paradise Bar and Grill
, saw the group slightly more steeped in country music, aided and abetted by the addition of pedal steel, courtesy of producer Jerry Corbitt of
The Youngbloods
.
A track or two may feature later on in this chart.
By 1970, the band had dissolved amidst general commercial failure, heavy drug consumption and end-of-the-decade comedown blues.
Hammond split for the wide open skies of country living, and lay low, stockpiling songs till this '76 release crept out on John Fahey's Takoma.
Coyote's Dream
is one of the strangest country records I know: powerful and beautiful and haunting.
Beddoes was originally responsible for turning me onto this record and once wrote that "the songs are so carefully, stylishly, alarmingly literate, they seem more like a meditation on country-music tropes. When Hammond describes a tornado as
the devil trying to wring his own neck
, you know you've encountered a wordsmith. And then there are the harmonies, which are surprising and very strange, obeying some skewed aural logic. They give the songs an otherwordly air which would be menacing if the production were not so warm; and because of them, none of these songs could ever have made it on country radio."
Words that cut to the quick of the matter.
The two tracks here are dark, dense and spare; desert-sunstruck, heat-racked and small town low'n'lonesome.
The instrumentation is pared down, the pedal steel is crying into its bourbon and the bar room lights are blinking and ready to die right down.
As for his voice, well, you'll either hate it or find it impossible to stop listening to.
To me, he emotes the inner self as profoundly as Al Green or Lady Day.
'Nuff said.
48 Hedge and Donna Capers - Becoming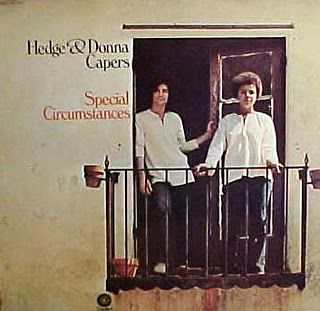 Hedge and Donna
are one of those peculiar couples who put out a whole slew of LPs over several years, most of which you regularly see in the bargain bins in big record stores in the States. yet every single LP of theirs that I've heard - and I think I own six now - has moments of worth, sometimes moments of sheer sublime transcendence, taking in everything from jazz to folk to free soul to mighty mellow goodness.
Hedge and Donna were married right through up until the 80s and Hedge ended up with a minor film career after the music gig petered out.
The track here features the inimitable Sneaky Pete Kleinow yet again and is taken from their 1971 LP,
Special Circumstances
.
Becoming
is perfect 4am comedown country with a massive mellow blissed-out feel to it.
It seems to float and hover about three feet off the ground and hurts and heals all at once.
Superb.
49 Jacobs Creek - What You Hear
50 Jacobs Creek - The Circle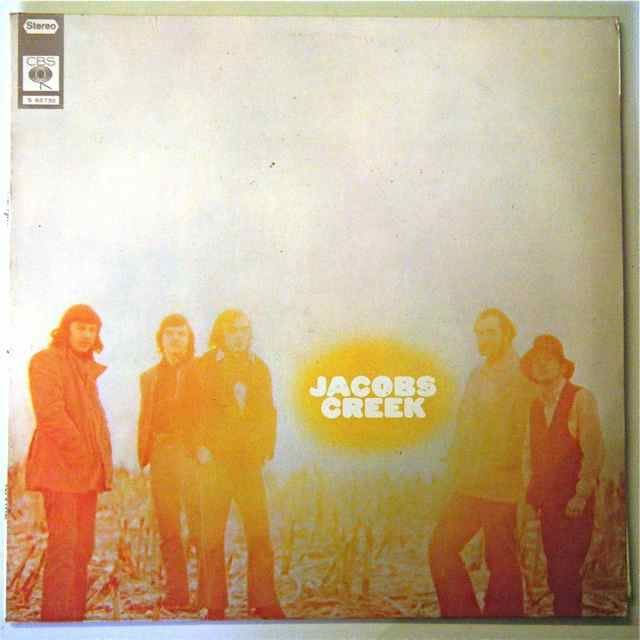 Anyone chancing upon the
Jacobs Creek
LP in the racks might be tricked into thinking this is a purely rural LP, and indeed, I bought it as it was touted as country psych.
Which it is and it isn't, I guess.
The group were from New Jersey and seem to have been based around the twin axis of brothers Lon and Derek Van Eaton, who would go on to release an album on Apple Records in 1972 entitled "Brother" (with some involvement from Ringo Starr and George Harrison) and another in 1974 for A&M Records called "Who Do You Out Do".
Back in '69, though, they released a very odd record indeed, which takes in everything from proto-psychedelic progressive rock to more mellow country-tinged ballads and which features all manner of instrumentation, including harpsichord, sitar, slide banjo, saxes and keyboards!
Anyhows, onto the music.
First up is
What You Hear
, which flows on from
Hedge and Donna
quite nicely.
Woozy, easing-into-a-dream country ballad with full psychedelic production: warm horn washes, Sgt. Pepper-esque drumming and subtle fuzz.
Great harmonies too.
AND a stoned fade out.
Stellar stuff.
The Circle
is even better, though: six minutes of Eastern-tinged, sitar-soaked madness that also features a rare appearance by a slide banjo!
Watch out for the fade out / fade in aural mind reverse twist three and a half minutes in.
51 Mary Ford - Gringo's Guitar
Mary Ford is probably best remembered for being half of the duo she formed with her husband, Les Paul. The couple had a whole string of huge hits in the 50s before going through a fairly unpleasant divorce in the early 60s. Mary married again fairly quickly and sadly died, aged only 53, in the late 70s. She was born in California and came from a musical family that travelled the country singing gospel music and preaching at revival meetings.
Perhaps the Californian location is partially responsible for the Mexican / Spanish lilt to
Gringo's Guitar
, which was a 1967 45.
The track lopes along in a lazy border town / high sierra slow and dreamy kind of mood, with vibes softly singing in the background and a great pseduo-mariachi horn burst appearing midway through.
The Mexican / south of the border vibe seems deeply imbued in country music, and was maybe best realised by
Willie Nelson
, who we'll come to sometime later on.
52 Sammi Smith - Saunders Ferry Lane
Sammi Smith was born in 1943, in Orange County, California, but spent her childhood in Oklahoma, Texas, Arizona and Colorado.
She dropped out of school at the age of eleven and began to sing professionally in nightclubs.
She was only fifteen when she married, and eventually had four children!
In 1967, soon after her divorce, she moved to Nashville, Tennessee, where Johnny Cash got wind of her talent, and soon after she was signed to Columbia Records, though she later jumped ship and wound up on Mega records. She's probably best remembered for her 1971 hit, Help Me Make It Through The Night, written by Kris Kristofferson.
Whilst much of her output is either too trad or too schmaltzy for me,
Saunders Ferry Lane
, a 45 from 1971, is a great, moody, dark, haunting, sad sad sombre song.
She has a very very human-sized voice that hits the heart every note of this gem, oozing a rare vulnerability - very quiet and just barely controlled.
The strings behind her are so melancholy and spare that you can almost hear the empty dock creaking, and see the leaves tumbling and the clouds threatening.
For the interested few, there's a great YouTube clip of Sammi singing the track on US TV as well.
53 Waylon Jennings - Revelation
I freely admit to being utterly obsessed with Waylon Jennings.
To the point of having a fierce argument with my wife about whether it was feasible for our forthcoming son to be named after the great man.
It wasn't.
Apparently.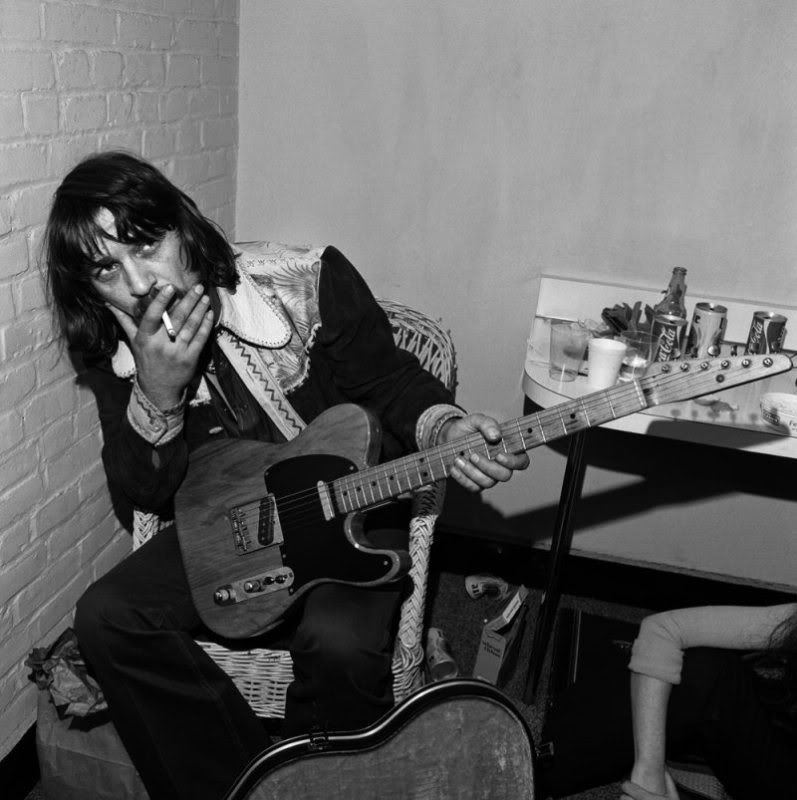 Born and raised in small-town Texas, he started playing guitar aged 8 and was gigging by the time he'd hit his teens.
His first sessions, in 1958, were produced by Buddy Holly, and by 1965 he was signed to RCA Victor, where he'd stay for several years and many of his finest records.
Between '67 and '72 he cut no less than fifteen LPs, every single one of which contains at least one out and out gem.
The track I've gone for here,
Revelation
, is from 1972's
Ladies Love Outlaws
.
Now, whilst this isn't strictly true, as in my experience, ladies tend to love squares and uptight suits and total dickheads, but as an expression of a fantasy reality, I like it just fine.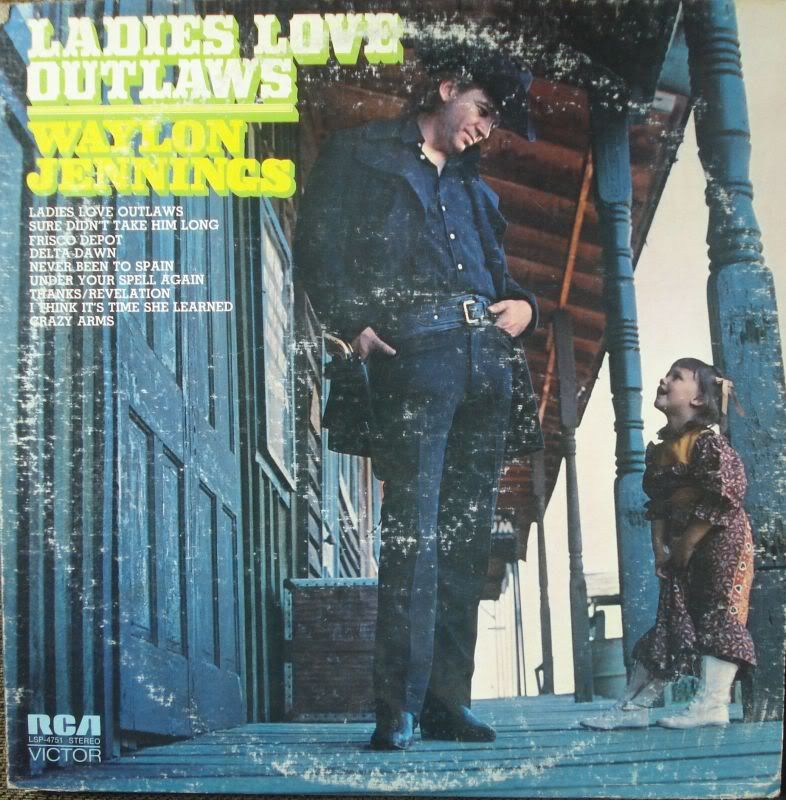 Revelation
is just that: revelatory.
Waylon's deep and sombre voice soft talks you through an apocalyptic series of filmic flashes: Vietnam, Belfast and Memphis, Tennessee all feature – and all the while a storm is brewing, a distant heavenly choir broods and limbers loosely up.
As this vision of Thee End Days unfolds, we find our hero lying "in a cheap motel / in the arms of someone else's woman" and the nightmare then peaks with visions of Jesus Christ parting the very clouds themselves. Waylon wakes screaming and realises the errors of his ways and repents for all he's worth.
A song for the Sunday morning after the night before, when you wake stinking and sore and full of fear and self-loathing.
Music that chills to the core and yet absolves in equal measures.
I could play this a hundred times in a row and still be left a-hungering after more.
54 Brave Belt - French Kiss
Brave Belt
were a sort of wonderful, mist-shrouded bridge between
The Guess Who
and
Bachman-Turner Overdrive
. Based in Winnipeg, Manitoba they initially consisted of Randy Bachman on guitar and vocals, his former
Guess Who
bandmate, Chad Allen on lead vocals and keyboard), and Randy's brother Robbie on drums. Both Allan and Bachman had jumped ship from
The Guess Who
at the peak of their fame and success, to much local horror and bemusement. The trio was put together amidst this fallout and was augmented by the wonderful pedal steel of Ron Holldorson. A deal with RCA led to two LPs, of which it's the debut that really does it for me.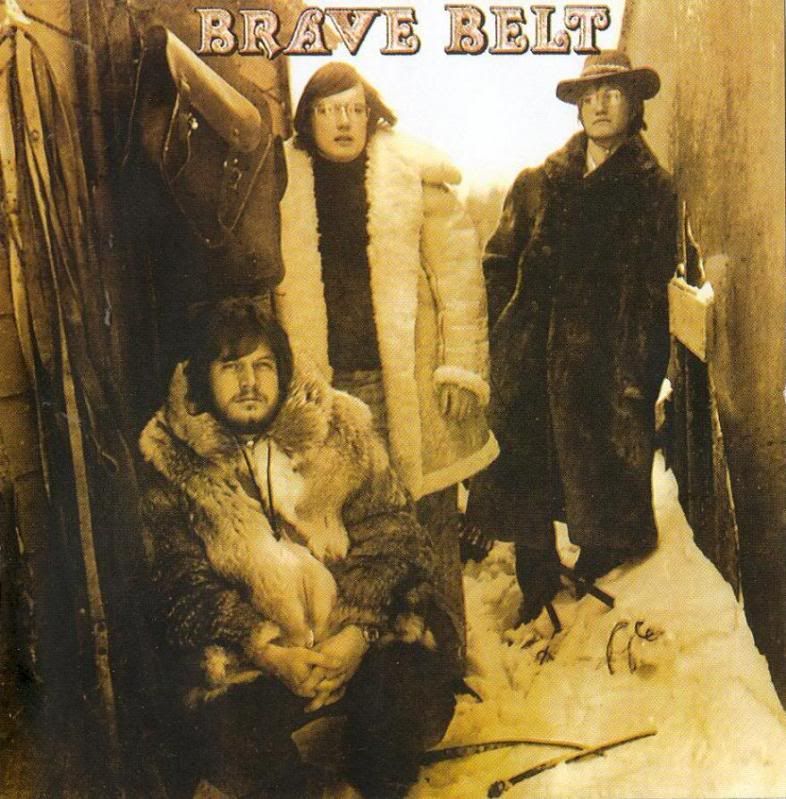 A real mish-mash of fuzzy psych-tinged rock, jazz-inflected pop and straight-down-the-line wracked country ache, it sold zilch back in the day, yet retains a real shine and sparkle.
French Kiss
features Chad Allen's intimate, bruised and slightly bloodied voice, some stellar pedal steel and lyrics hinting at the misery of masturbation!
The track almost hits the kind of soulful heights that gram was reaching round this time.
THAT good.
55 Jesse Colter - You Ain't Never Been Loved Before (Like I'm Gonna Love You)
Following on from the
Waylon Jennings
track, it seems only right and proper to introduce y'all to one of his good lady wives, Miss
Jessi Colter.
The couple married in 1969, Jessi being Waylon's fourth - and as fate would have it - final wife.

56 Anita Carter - I Don't Need You Anymore
57 John Hartford - Hey Jude