I think it's fair to say many of us on this board gamble on records.
I know I do – I'm forever taking deaf punts hoping against hope and sometimes logic, that I'll unearth something I didn't know that's worthy of repeat listens, suited possibly to a mix or perhaps, just perhaps, worth playing out on an unsuspecting public.
It's often the scantest bits of information which get my brain humming - hoping there could be something interesting on the record, the inclusion of a particular instrument, certain session players, favourite songs, arrangers, producers, labels, year of recording... if anything trips that switch in my brain there's no going back, I'm hooked and if it's cheap – it's going home with me.
Back home and the vinyl is slapped on the turntable pronto, and the hunt for that elusive fix is on.
Ninety nine times out of a hundred the results are of course disappointing, and I find myself trying to persuade myself that I haven't just wasted another pound. Ultimately though after the buzz is busted and cold logic kicks back in, it's back to the charity shop with it. C'est la vie.
But...
If aural gold is struck... joy, rapture, ride that wave of great music and revel in the satisfaction of finding that redeeming feature that makes all the mistakes worth it.
In the spirit of sharing knowledge this board was built on, and cowering in the shadows of more ambitious charts, I humbly present this ongoing project...
Where I get to cobble together a loose selection of wildly different records with nothing much in common other than they hit my musical sweet spot, and therefore contain what all diggers are after - The redeeming feature.
Mod-psych-dancers these are certainly not, but I hope you'll enjoy them. Please feel free to comment on what get's bunged up - I hope they strike a chord with some of you at least, and to make your own additions to the list if you wish.
I'm hoping this chart will kill two birds with one stone. Not only giving some sort of slightly justifiable purpose to my insane behavioural habits (what gambler regularly takes these odds?), but serve as the answer to that most unanswerable of questions – so, what sort of music do you like?
So then the music, in no particular order...
Get chapter one here:
http://www.divshare.com/download/14725812-845
(Thanks Shaun)
Sydney Thompson and his Orchestra – Accent on the Latin Rhythm
Ballroom dancing records rarely disappoint in providing insipid, uninspired music... So it's a genuine surprise to find a version of Popcorn to savour.
The redeeming feature: Popcorn
----
Waldyr Azevedo – Um Cavaquinho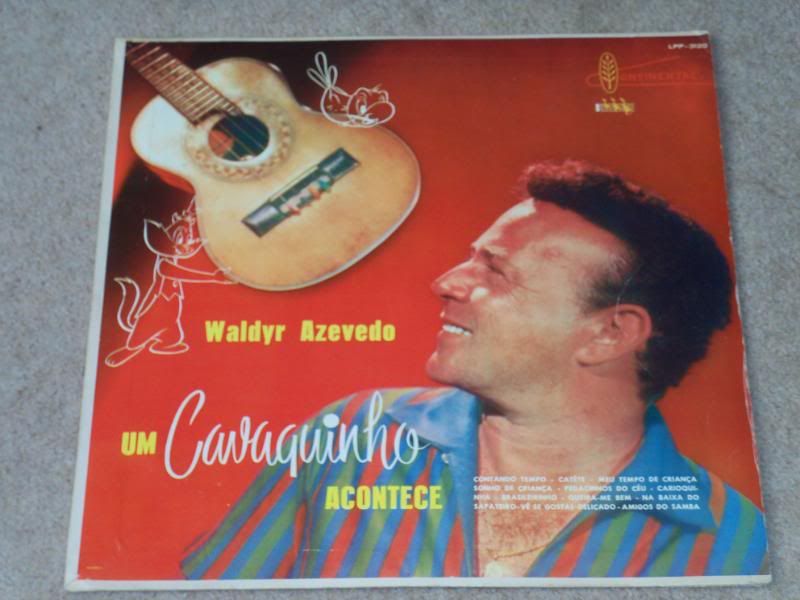 Cartoon characters offering up an acoustic guitar to an unknown (to me at least) Brazilian? I'll risk it...
Duly rewarded with a bass heavy shuffling song of quite some charm... I'd be really interested in knowing what the hell it's all about, so if an Portuguese speakers could help out I'd be much obliged.
The redeeming feature: Catete
----
Xavier Cugat and his orchestra – Cugat plays continental hits
Now Mr. Cugat is hardly an unknown, but over the years I've never quite managed to get with the majority of his output, it's all just a little... well polite for my tastes.
But I wasn't going to pass up the chance to hear his take on Apache for the price of a packet of crisps...
The redeeming feature: Apache
----
Instant Asia – John De Souza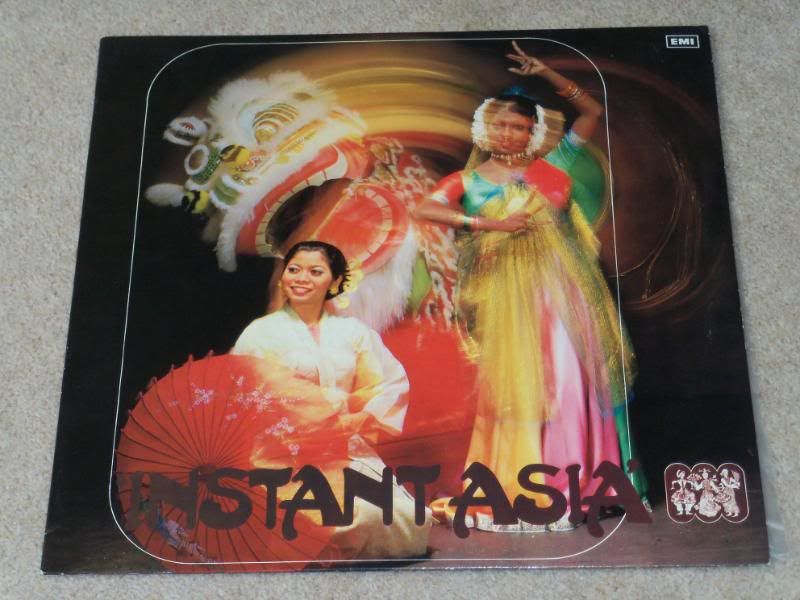 I swithered for a while about this one as 1979 is well out of my comfort zone, but I'm glad I took the plunge... Despite an album obviously tailored for western ears, I kept coming back to the majesty of one tune.
The redeeming feature: Avam Didek
----
Orchestra Ethiopia – S/T
To be honest I was never gonna pass this one up, I mean Blue Nile records? There are those who would probably get a lot more from this than I, but because of Imbilta I can't let this one go.
Otherworldly wind instruments over a thumping shuffling beat... beautiful.
The redeeming feature: Imbilta
----
The Burbank Philarmonic – S/T
Just how many cover versions of the Doors Light my fire does anyone need? I found myself considering this very quandary when eyeing this record up. But the fever took hold and home it came with me. Happily for all concerned it was indeed a different take on an old standard...
The more I think about it the more I'm sure Jim Morrison would have enjoyed the rendering of this tune as a sleazy tittyshaker.
The redeeming feature: Light my fire
----
Catelli Trinidad All Stars – Classical jewels 111
I admit it, I am a sucker for Steel drum records. But would I stoop as low as to buy a steel band interpreting classical music? You betcha, especially as they included a tune called Calypso progress.
Give it a chance and beware the false ending, but this goes down as yet another warning shot across the bows of the human race that we seem determined to ignore. Potent, and relevant stuff.
The redeeming feature: Calypso progress
----
George De Fretes and his Royal Hawaiian minstrels – Hula girl
Before you say anything I didn't just buy this for the cover... I mean I do buy records just for the cover, but that's another story and thread.
I've always been into sounds from far away places – check the last Xmas mix for proof, and long been fascinated by Hawaiian music.
This album comes as close as any I know to mixing jazz into Hawaiian music... hear for your selves.
The redeeming feature: Molakai Nui Ahina
----
Hits electronic – Dan Hill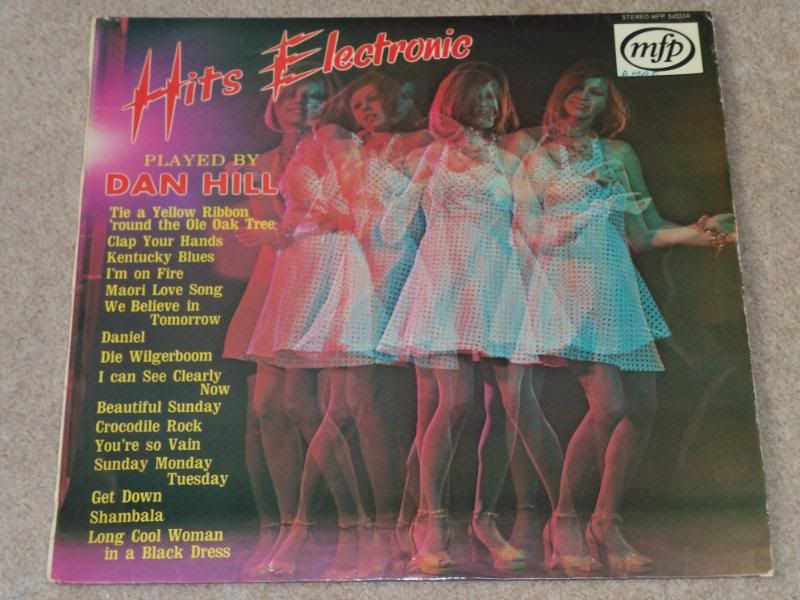 Nothing, absolutely nothing prepared me for this. It still makes me smile every time I play it.
The redeeming feature: Long cool woman in a black dress
----
The New Haven women's liberation rock band & the Chicago women's liberation rock band, pause for breath, and a caste of millions – Mountain moving day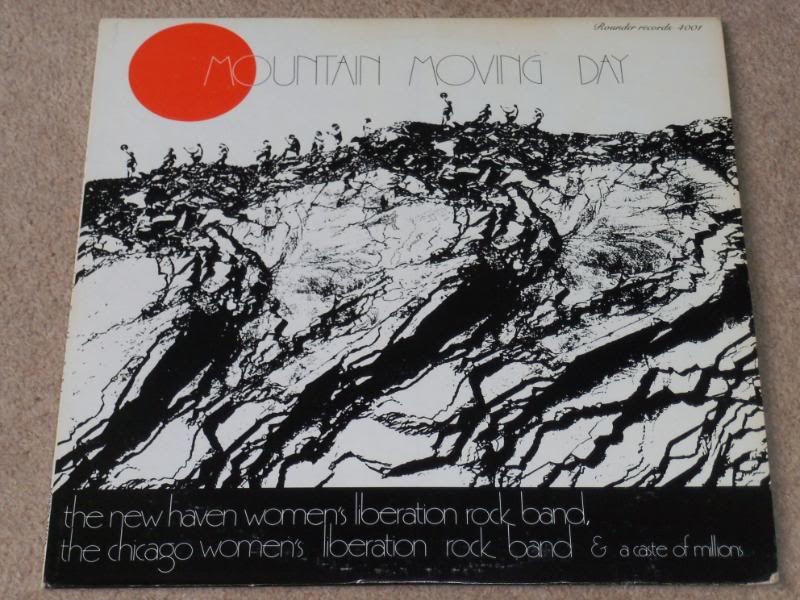 I dunno how many of you have experimented or dabbled in the delights of Lesbian music...
But I can tell you it's a hairy arm-pitted, comfortable shoe wearing, minefield out there... Infact the only record from this genre I've kept is this one.
That's not so say all the other records in this genre aren't any good, just that they don't speak to me... I'm not sure this one does either but I can get with the groove though, and they certainly do with this epic. Clocking in at just under nine minutes Secretary sticks it well and truly to the, er... man.
The redeeming feature: Secretary
Chapter two: The Redeeming Feature
Grab Chapter two:
Here (Hopefully)
Ian Townsend challenged me to play some redeeming feature records at Byker Groove, so I've included a couple which I played out to the Tanner masses and even snuck in a couple from the Northern Brillo in Leeds aswell...
Alex Scorier Orchestra – Latin hits for dancing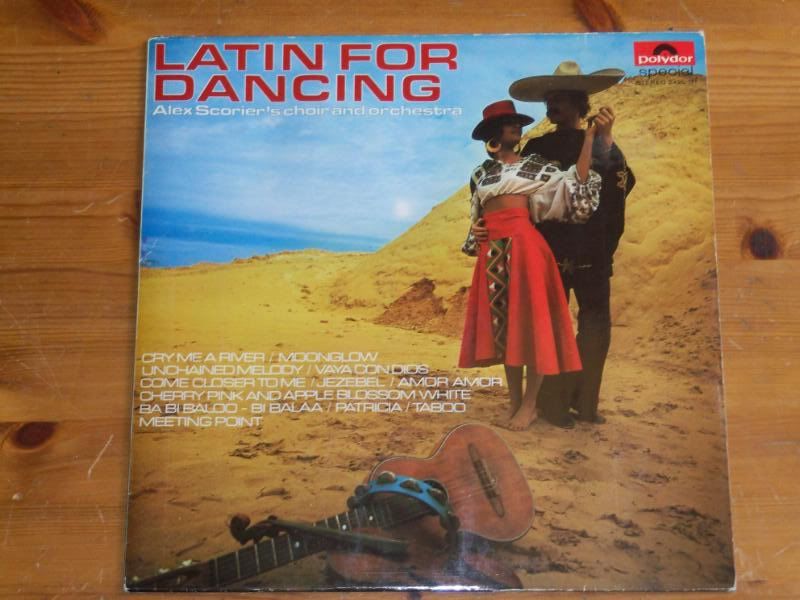 I'm a sucker for anything even slightly exotic so when this popped up in my local Oxfam pound bin there was no hesitation. Admittedly hopes were high and bingo, there was indeed the anticipated payoff.
The Redeeming Feature:
Ba bi baloo – bi balaa
_______
Leroy Holmes Orchestra – 36 Great motion picture themes & original soundtracks Vol. 3
This caught my eye in a charity shop earlier this year, it seems to be from New Zealand but there's not much else to go on... It's a double record gatefold comp so at first I was slightly disapointed to only be grooving on one track. But one killer track is one killer track, so I'm happy now! Anyone got the other volumes?
The Redeeming Feature:
Emotions - Leroy Holmes Orchestra
______
Werner Muller Orch – Elvis's Greatest Hits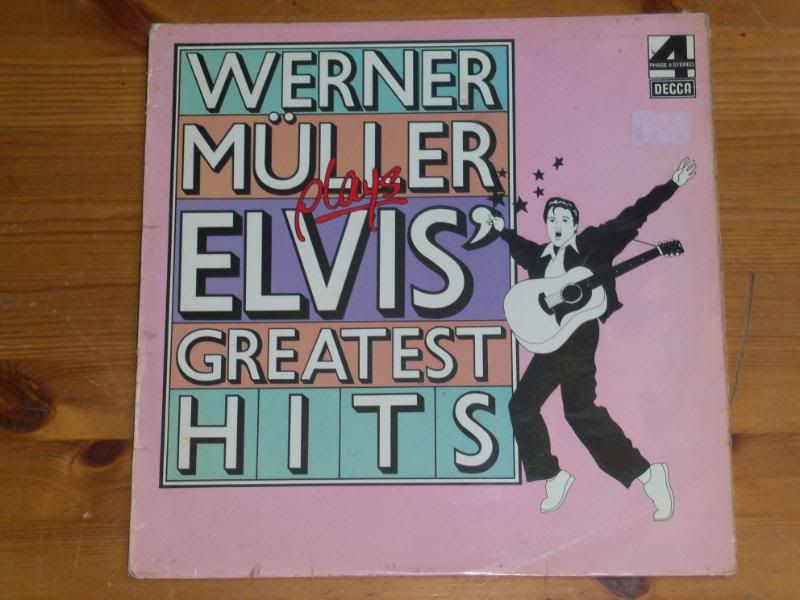 Orchestral versions of the King? Yes please... although only one cuts the mustard.
The Redeeming Feature:
Bossa Nova baby
______
The Rick Powell Choir Book
Another one of my guilty pleasures is weird Christian records, I'm for ever trying to disprove the maxim "the devil's got all the best tunes". So when I clapped eyes on this moogy Xian effort my spirits were lifted...
The Redeeming Feature:
Joyful noise
_____
Disco Turkish dances
Now this isn't one of your B-Music Turkish psych funk bangers, but it does have a charm all of it's own. A record I suspect people with sampling and looping skills might get a lot out of...
The Redeeming Feature:
Oyun Havalari – Sis Kebabi
______
Cliff Richard – Don't stop me now!
I know, I know... does the sexless one really have it in him? Does this qualify as a weird Xian record? You be the judge...
The Redeeming Feature:
My babe
_____
Living guitars - Guitar man
I bought this record in Barcalona and to be honest overlooked it for a long while... a recent re-evaluation and it was saved from the cull.
The Redeeming Feature:
Guitar man
_____
Les Elgart Orchestra – The great sound of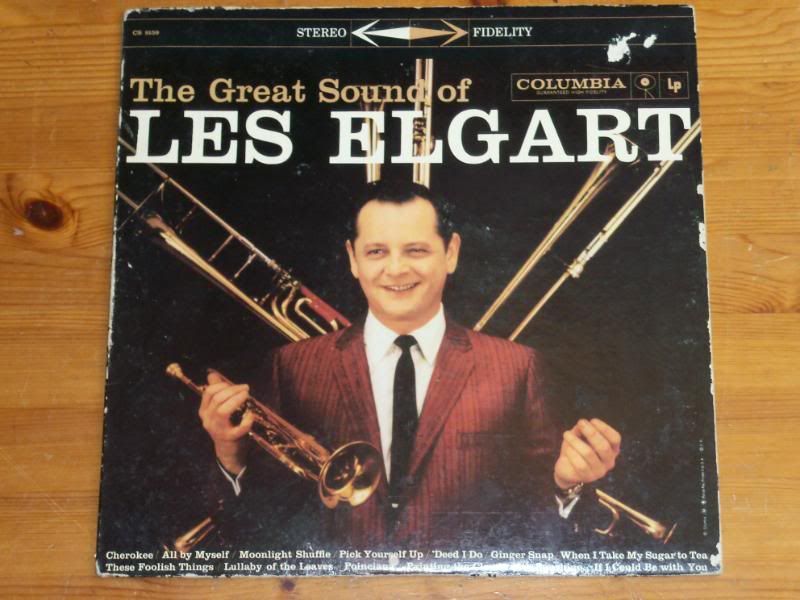 Hard to classify this one, easy listening I suppose... as always, there's one track I keep returning to...
The Redeeming Feature:
Moonlight Shuffle
______
After the first chapter there was talk about Ballroom dancing records, and if there was anything worth looking out for...
Well one name I wouldn't flick past without at least a glance at the tracklisting is Victor Silvester.
To (hopefully) prove my point here's a couple from the great man to round off this second installment.
Victor Silvester Orch – Up up and away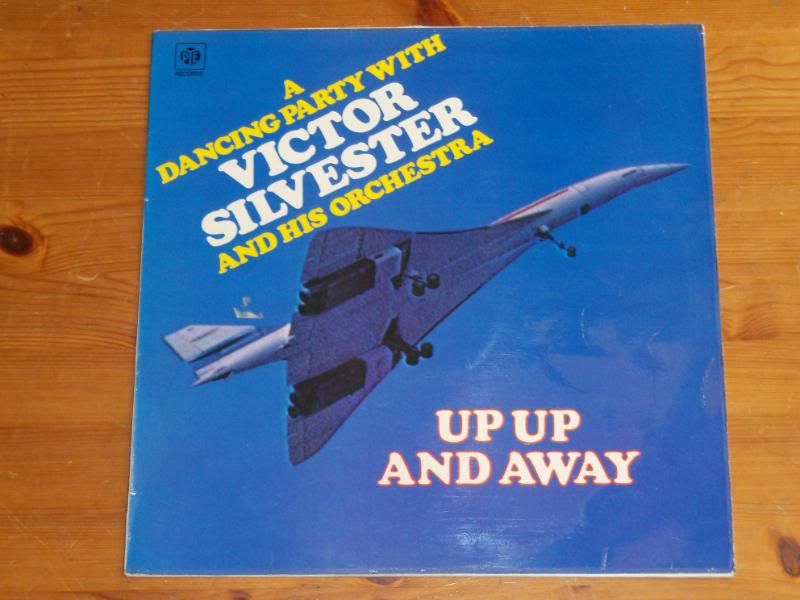 I found this in Peebles a while ago, and written on the back is "Property of the Peebles Ballroom dancing society"! So I wonder... at somepoint in the mid seventies did they really whirl around the floor to this one?
The Redeeming Feature:
Ironsides
_____
Victor Sylvester Orchestra – Dance to the music of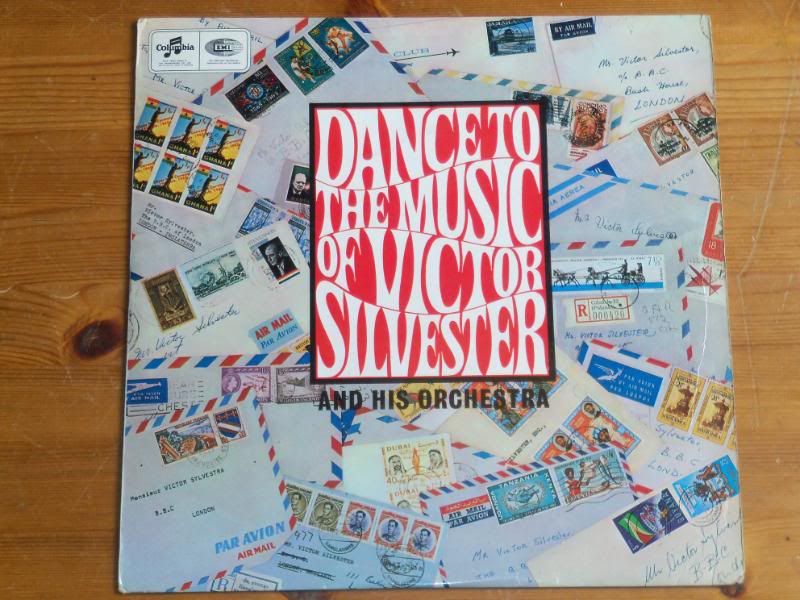 Most Beatles covers pull me in... and there are many. But this one perhaps above all the rest keeps me smiling. This truly swings and I will defend this tune until the bitter end.
The Redeeming Feature:
I feel fine
______________________________________________
The Redeeming Feature chapter 3
Rogero's Brazilian Brass – S/T
If songs from the musical 'Hair' appear on an album it always increases the likelihood of it being rescued by me from the charity shop floor, especially if the asking price isn't too much.
So I proudly present to you and every 'Hair' fans, Roger's Brazilian Brass take on 'Hare Krishna' in it's blazing glory… and they certainly do get down on it.
Be warned though true to form this is a one tracker, their version of Aquarius despite a promising beginning doesn't really rise above ordinary.
The Redeeming Feature :
Hare Krishna
__________________________________________________ __
The Mexicali Brass – A taste of honey
More brass, different continent… The version of Tequila on here is okay but it's the last song 'Careless love' which captured my heart.
Laid back breezy brass of the finest order, so mellow that it sounds like ska.
I've a hunch this is an cheap exploito LP as the label has a history of it and the album is a real mish-mash, so who were The Mexicali Brass?
The Redeeming Feature :
Careless Love
____________________________________
Carlos Romanos Sounds Latin – Viva la Samba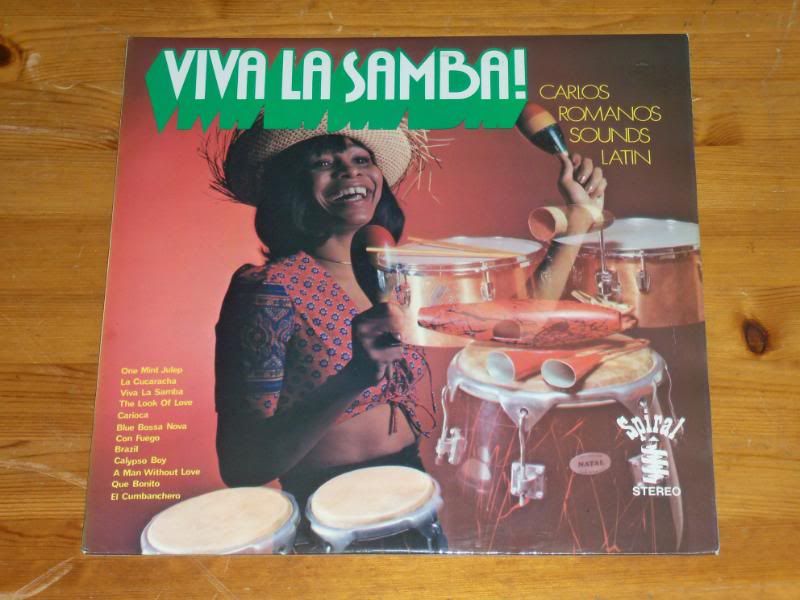 Keeping it exotic… an old latin standard ab-so-lutely hammered into shape by a crack team of percussionists.
Whisper it, but hells yeah… this really is another Ballroom dancing record.
As I understand it Mr. Romanos plied his trade in Britain, I'd have given a lot of money to see this performed live in the early sixties at one of those oh so proper suburban ballrooms.
The Redeeming Feature :
El Cumbanchero
_____________________________
The Tradewinds – One Caribbean Souvenir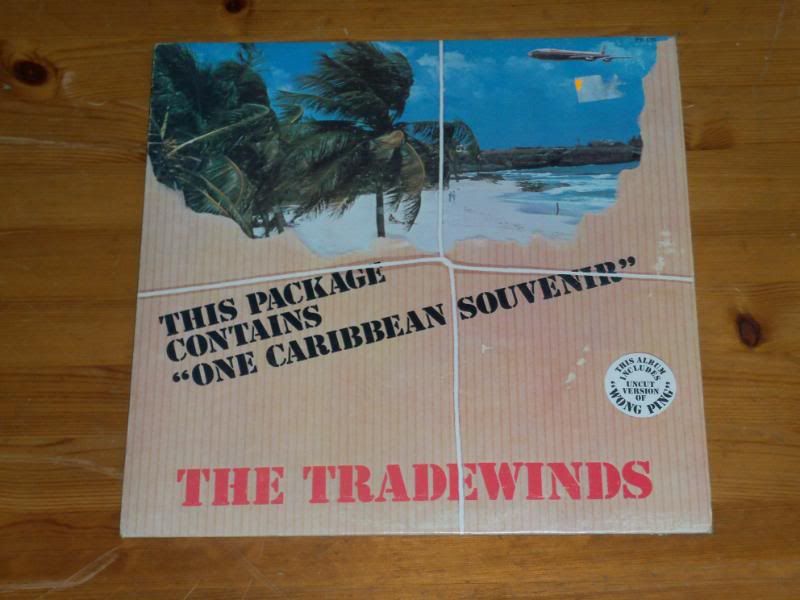 Brazil, Mexico, where next but the Caribbean!
How many touristy LP's from this part of the world have I frittered away my money on in the vain hope that they might stray away from the dreaded standards and do some thing just a little bit different?
With out a word of a lie literally… hundreds. Will I learn my lesson? Not when tracks like this surface… Fuzz bass on a tourist record? Yep indeed.
The Redeeming Feature :
Alone
___________________________________________
Eddie Layton at the Hammond organ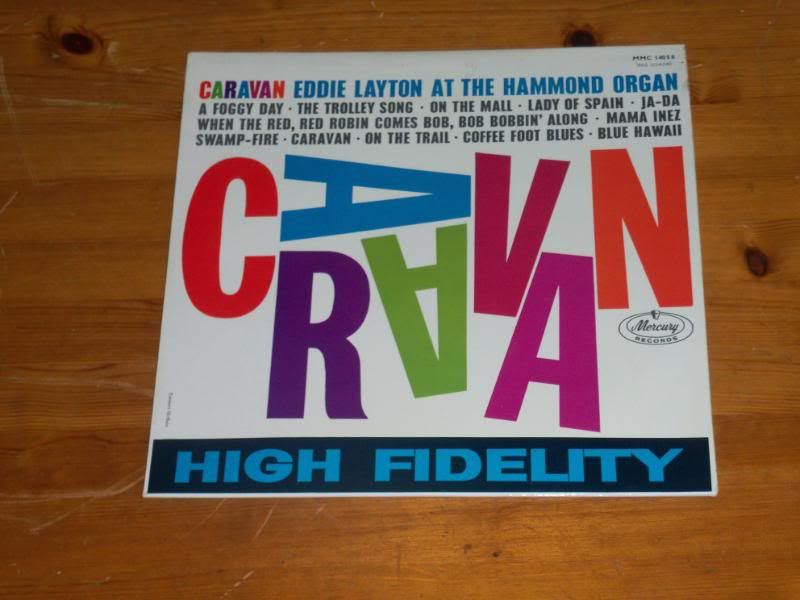 American organist Eddie Layton takes us on a journey into the East now, with a version of Caravan which to me is reminiscent of an Ice cream van getting lost in the ghost train ride at the end of Brighton pier, or something.
The Redeeming Feature :
Caravan
__________________________________________
Trombones Unlimited – You're gonna hear from me (us)!
Staying in the East with a version of Arabesque, which mixes atmospheric eastern jazz and, erm… screaming fuzz guitar.
The Redeeming Feature :
Arabesque
__________________________________
Mac Davis – I believe in Music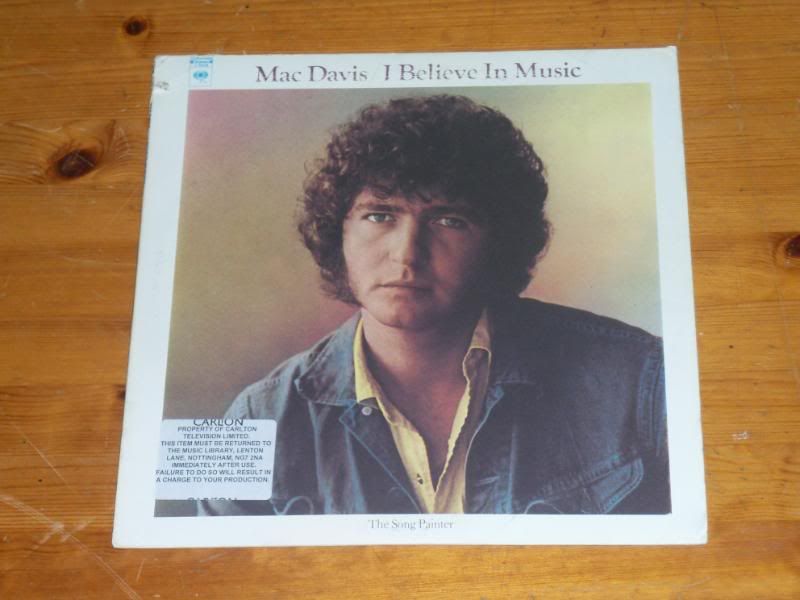 And now for something completely different…
If you're better than the king - what does that make you?
There aren't many singers who can take on and beat Elvis when it comes to providing the definitive version of a song.
Here Mac Davis delivers a version so far from the jaunty upbeat Elvis version of the tune that it changes the song totally. He injects it with such menace, cruelty and urgency that frankly hangs the jump suited one out to dry.
Thanks to Lee for hipping me to this initially…
The Redeeming Feature :
A little less conversation
____________________________________________
Barry Drake – Happylanding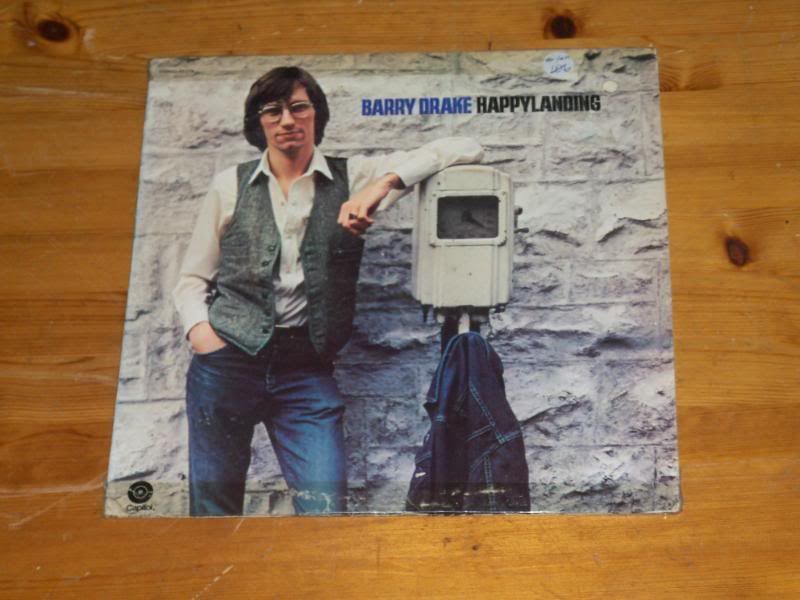 The trouble with singer songwriters is that they so often come across as wet blankets… that, and the fact that they never have enough drums in the mix.
Something about 'Jack of Spades' grabbed me like nothing else on the album… he still sounds like a wet blanket but at least the drums keep the song moving along.
The Redeeming Feature :
Jack of Spades
________________________________________________
Uncle John Shearer - Children's Party time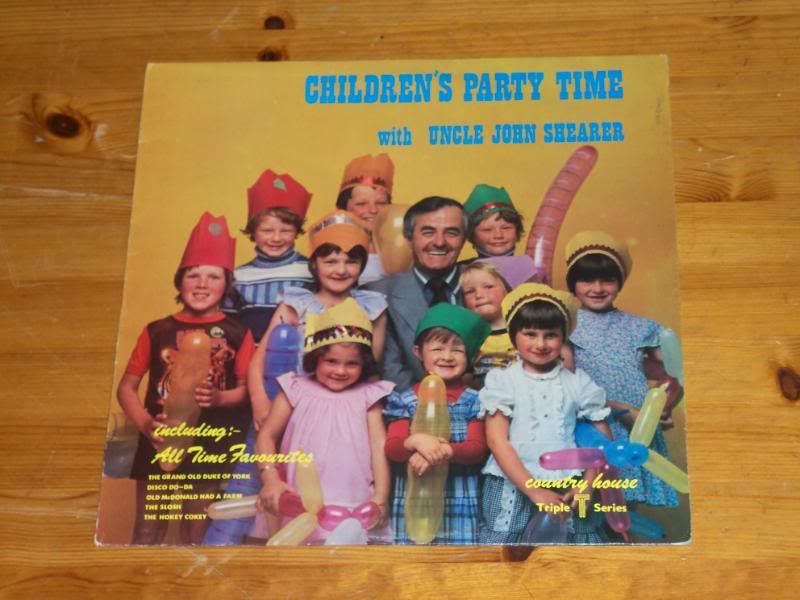 And now for something completely bonkers…
You gotta love Uncle John…
He gives it his all he does, popping up between each track with a relentlessly funky backing track urging the kids to have
even
more fun, before giving way to not bad, but ultimately a bit dull versions of kiddie classics.
The highlight though is easily the freestyle dancing competition where those tots are well and truly treated, as Uncle John pushes back the furniture and ushers in disco time.
Truth be told the song slightly outstays its welcome, but all is forgiven because of the rather tasty break with which it starts.
The Redeeming Feature :
Disco do-da
_______________________________________
Victor Silvester - Let's have a Party!
Regular readers should have been expecting this… we sign off this chapter with another Ballroom dancing record.
Maybe it's because there are less worthwhile records in charity shops these days that I've resorted to buying this genre, or maybe I am genuinely turning middle aged and square… either way I am grooving on this stuff at the moment.
Last chapter I advised anybody who would listen not to pass Victor Silvester's albums should they come across them… well, I took my own advice and came home with this beauty last week.
This record should not actually be in this chart as it actually has four, yes
four
, cracking tunes on it.
But where else is the board even thinking about these records? So I'm gonna lay these four goodies down.
It is a Ballroom dancing record, but give it a chance and you will find yourself totally won over and swinging like a pendulum.
It walks the thin line between metronomic ballroom fare and divine soaring and seemingly improvised solos with such style that you just can't deny it, throw in some crazy percussion and you'll find yourself quoting Hughie Lewis… 'It's hip to be square'.
If only Strictly Come Dancing was this good… The Redeeming Features :
Mambo Jambo
Sucu Sucu
Tequila
Boulder buff
_______________________________________
Thanks for reading and listening, until the next chapter...