First installment. Relying on my neighbours to help me out with the other countries as my collection may be a bit thin in the Nordic e-z department, except for Sweden. Do we have man a in Iceland?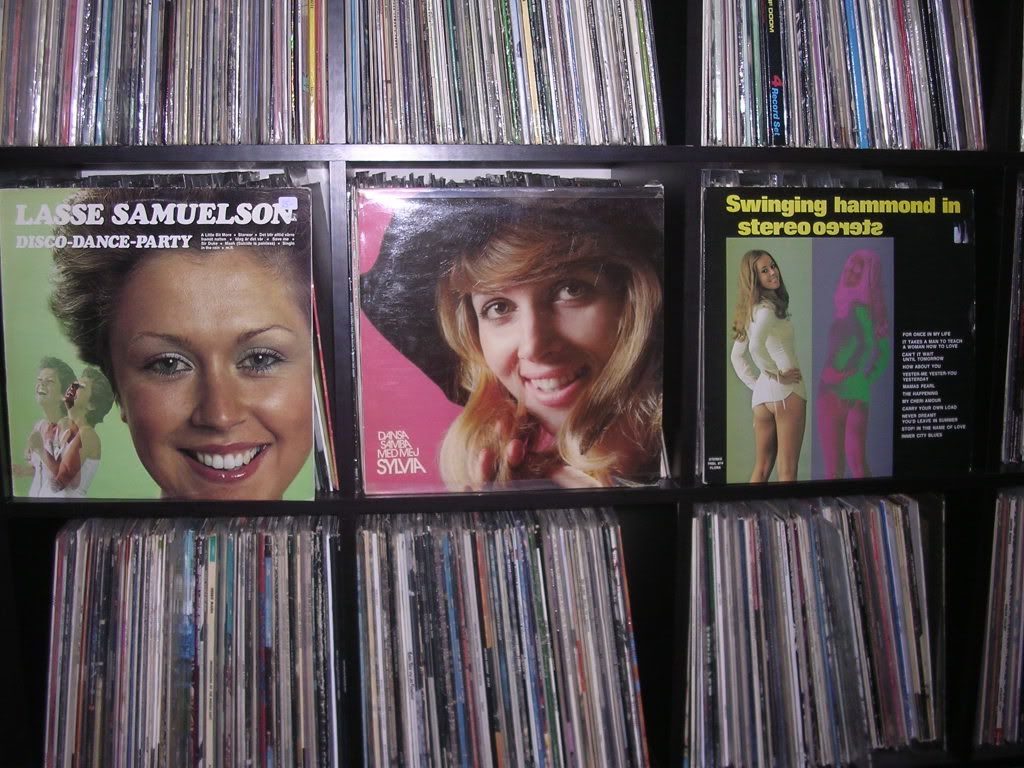 1. Lasse Samuelsson - Disco-Dance-Party, 1977 Sweden
Well known musician and arranger who dabbled in both e-z and jazz, and whose name pops up here and there on several records by different artists. Here he serves up some discofied Swedish and international standards (Starwar (sic), Singin in the Rain and MASH for example) and some more mellow easy listening. It's mostly nice but nothing special until we arrive at the final track - Sunnysound. An original that I don't think would sound completely out of context as a mid 70s TV theme to some soap opera about shady goings on in a big city, for example about lawyers or a police station:
DivShare File - lssunny.mp3

2. Sylvia Vrethammar - Dansa samba med mej, 1972 Sweden
Sylvia is perhaps internationally most famous for her (not very interesting) hit Viva Espana, released on 7" in many versions in many European countries. In 1973 that kick-started her international career and there are several Sylvia records about in bootsales and charities all over Sweden. Many contain some nice stuff, but this is my absolute fave and possibly many other too as it's one of the hardest LPs of her to find. Nevertheless it pops up every now and then in cheapie bins so it should not be seen as rare at all, yet I remember how happy I was when I found my first copy at a sunny summer bootsale of the hectic kind - lots of elbowing going on around the record crates and when I decided to maybe give up I turned around and spotted a crate semi-hidden away that no one else had seen, so I rushed over but was beaten within a second to it by another digger who just looked at me and said "we'll work together on this one, ok?" - so we managed to agree so that we could divide the treasures in a civilized manner and this is one of those that fell upon my share. Enough happy memories - what is it? Well, basically a pretty standard but very nice samba/bossa themed album with well known covers of songs like Pais Tropical, Wave, and Mocoto sung in Swedish. It's very nice, especially the version of Take me back to Piaui, but the real knockout is the sole original composition Blasvart Samba - a fantastic moody and mellow six-plus minutes long samba with great jazzy flutework that I would not be surprised at all if Json Lindh was behind:
DivShare File - svblasvart.mp3
3. Henryk Lysiak - Swinging Hammond in Stereo, 1972 Norway
Reprising me previous post about this and expanding: This sleeve has so much going for it: A generic title. A cheesecake cover with enough of a weird twist to catch the attention of the eye and no - I'm not talking about the female buttocks but the inverted mirror image making her look like a psychedelic monster of some sort. Some well known tunes that could be in good versions. A promise of hammond galore. And this Norwegian jazz pianist of Polish origing certainly delivers a very nice soulful e-z hammond record with several Stevie Wonder covers and other soul hits. My pick is his slow psychedelic groove version of Inner City Blues:
DivShare File - hlinnerc.mp3
So - a small start, but at least a start. Eventually.