SELECTION 1: Espaços Entre Espaços - Brazilian psychedelia, folk, and some funky singer songwriters
There's something magical about Brazilian records from the late 60s and early 70s - a history of music that's parallel to the one I've grown up with but other-worldly. Music made during a period of brutal repression that seems liberated and joyous. Familiar reference points mixed with instruments and traditions that come from somewhere totally different. I can't claim to be any kind of expert, & not speaking Portuguese doesn't help - but rooting out Brazilian records has become something of an obsession over the last decade so I thought I should share a few.
I put together 2 CDs for the 2012 VG+ CD swap which cobbled together club jazz and MPB (Brazilian popular music) on the first and more laid back and alternative sounds on the second. When I get round to it I'll load these up in this thread. This selection focuses more on psychedelia, rock and some vaguely uptempo folky grooves. You can listen to each track individually below.
DOWNLOAD the full set here
MIXCLOUD here.
Hope you enjoy...
1. Paulinho X Dorinhas -
Vivencias
(Forma EP, 1972)
From the soundtrack to the TV mini-series (novela) 'Temp de Viver'. I don't know much about either of the singers but the whole EP is beautiful.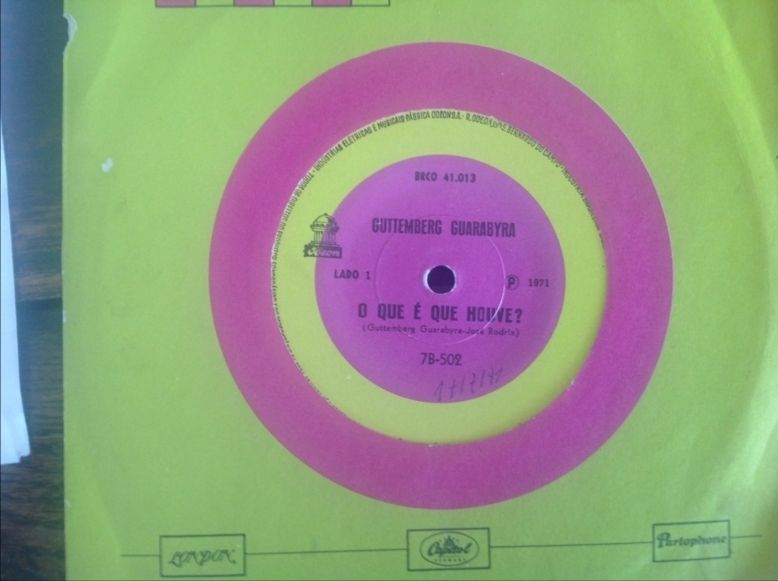 2. Guttemberg Guarabyra -
O Que É Que Houve?
(Odeon 7", 1971)
Co-written by Jose Rodrix, who put out a very sought-after single himself around the same time. Great catchy chorus which builds to a real crescendo.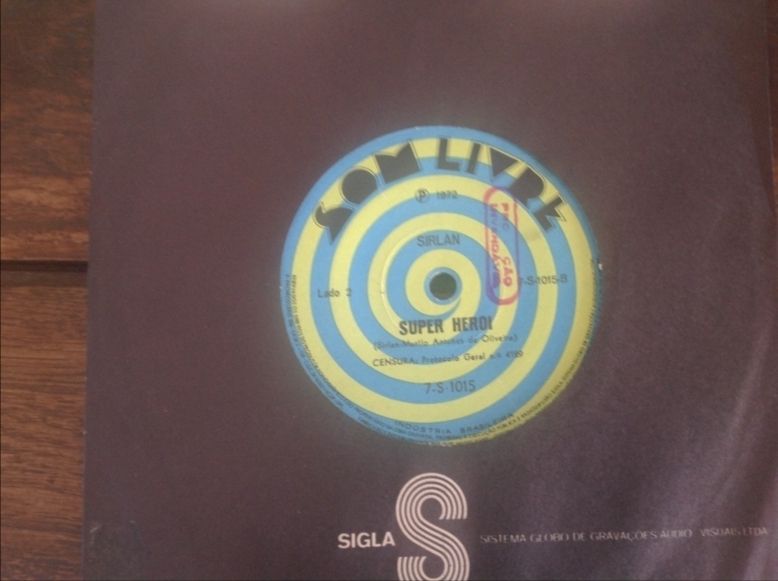 3. Sirlan -
Super Heroi
(Som Livre 7", 1972)
Can't find out too much about the single or artist. Another catchy pop song, to my ears at least!
4. Naire E O Som Século -
Biquini Bacana
(RGE 7", 1971)
I think this is the same Naire who made a great LP around the same time.
5. Jean E Gil -
Tagarela
(Copacabana 7", 1971)
'Tagarela' is Portuguese slang for 'chatty', apparently.
6. Majó -
As Sementes
(Odeon 7", 1974)
7. Azambuja E CIA -
Nega Brucho
(CID LP, 1975)
A very strange LP - a couple of excellent tracks and large chunks of comedy routines, to an appreciative audience. Azambuja and CIA are comedic alter egos for Arnaud Rodrigues and Chico Anysio and the LP is from a TV show of the same name.
8. Cléo Galante -
Você Vai Ver Que Eu Tenho Razão
(Fermata 7", 1972)
9. Carlos Thiago -
Cabeceira
(RCA 7", 1972)
I'm only aware of this single by him, but apparently he made other records.
10. Os Impossiveis -
Dando Fora
(Copacabana LP, 1972)
A real one-tracker, but it's a great song.
11. Trio Nagô e Roberto Luna -
Capoeira
(RCA Victor 7", 1968)
Berimbau opening, builds to epic scale which sounds like a Spaghetti Western soundtrack transplanted to Matto Grosso
12. Equipe Mercado -
Mary K. No Esgoto Das Maravilhas
(Odeon 7", 1970)
Art school quirkiness - something about US filmstars I think, I can pick out 'Douglas Fairbanks' but the rest is a bit hazy.
13. Rubinho E Mauro Assumpção -
Quero Companheira
(Tapecar LP, 197?)
This whole LP blew me away when I finally found a reasonably priced copy earlier this year - there's another track later on, and I could have put the whole LP on here...
14. Sociedade Anônima -
Filho Do Sol
(Som Livre 7", 1972)
Another one-single group, so far as I can find out. Features the drummer Rui Motta, who also played with Os Mutantes.
15. Som Imaginário -
Uê
(Odeon LP, 1971)
The LP gets a bit over-proggy for me but this track has some excellent fuzz
16. Karma -
Você Pode Ir Além
(RCA LP, 1972)
Just the best LP of whacked-out Brazilian psychedelia I've heard - I think I've pretty much worn this out over the past few years...
17. Marcos Valle -
Vôo Cego
(Odeon LP, 1972)
Marcos Valle Described this LP as his 'hippie experiment'; it features backing from O Terço and was largely written and rehearsed at Buzios, a coastal hang-out for artists and alternative lifestyles. I think this is the only Valle LP from his golden period through the late 60s to mid 70s with songs he didn't write - this one is by Cláudio Guimarães - but the whole works beautifully.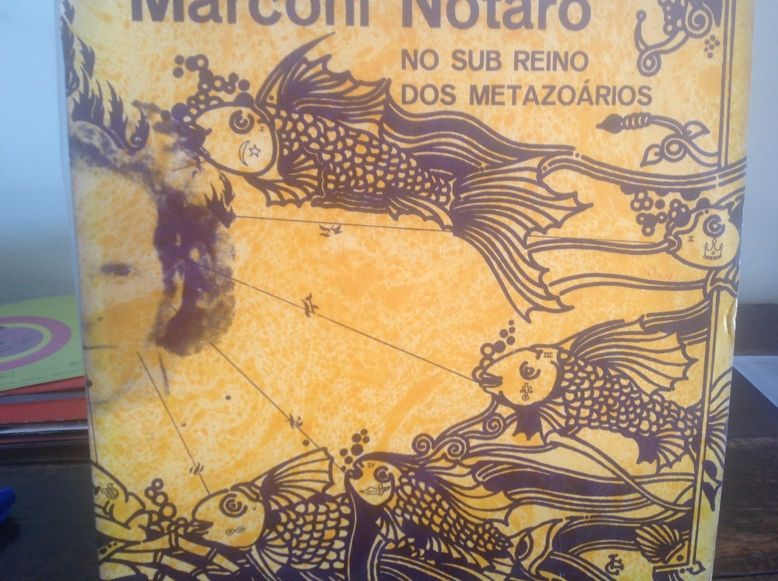 18. Marconi Notaro -
Fidelidade
(Rozenblit LP, 1973)
Part of a tight-knit musical network around Recife in on the north coast of Brazil, Notaro died in 2000 before this LP was 'rediscovered'. It's a mesmeric swirl of sounds, melodies, dischordant noise and drone-like psych 35 years before its time.
19. Nelson Angelo E Joyce -
Vivo Ou Morto
(Odeon LP, 1972)
A perfect LP, combining masterful and restrained orchestration with Joyce's clear,beautiful voice.
20. Toninho Horta -
Diana
(Odeon LP, 1980)
A member of the Clube Da Esquina collective with Milton Nascimento, Lô Borges and others in the early 70s, Horta didn't make a lot of records but the ones he did produce are well worth tracking down.
21. Antonio Adolfo -
Espaços Entre Espaços
(Philis LP, 1974)
Adolfo sounds to me a bit like a Brazilian Elton John at times - I guess it's the singer-piano player vibe. This track ("spaces within spaces") has some nice woozy sound effects and a lovely tune.
22. Paulinho E Dorinha -
E Natural
(Forma EP, 1972)
This track was co-written by Antonio Adolfo - a fact I only realised just now, so it's serendipitous that it comes after the previous track...
23. Nana, Nelson Angelo, Novelli -
Aranda
(Saravah LP, 197?)
Issued on the French Saravah label - more experimental and electronic than his earlier stuff.
24. Rubinho E Mauro Assumpção -
Quando Cheguei
(Tapecar LP, 197?)
25. Karma -
Tributo Ao Sorriso
(RCA LP, 1972)
<<UPDATE JUNE 2014>>
SELECTION 2: Bem Quente - Brazilian club jazz, pop and groove
Here's another seleção of Brazilian records from the 60s and early 70s, this time with the focus on uptempo dance tracks and Brazilian jazz combos. These tunes were on my swap CD from a couple of years ago, but I thought it might be a good time to bung them up for all to hear. I'll add some short write-ups if I get time...
If I understand it correctly the Moreira da Silva track is the tale of how Brazilian agent Moreira confounds James Bond and helps the Brazilian team to win the 1966 World Cup, while also copping off with Claudia Cardinale.
You can download the full set
here
Mixcloud
here
1. Inema Trio - Aruê Pam (RGE 7", 1970)
Vocal trio from Bahia - two members went on to form Tom & Dito.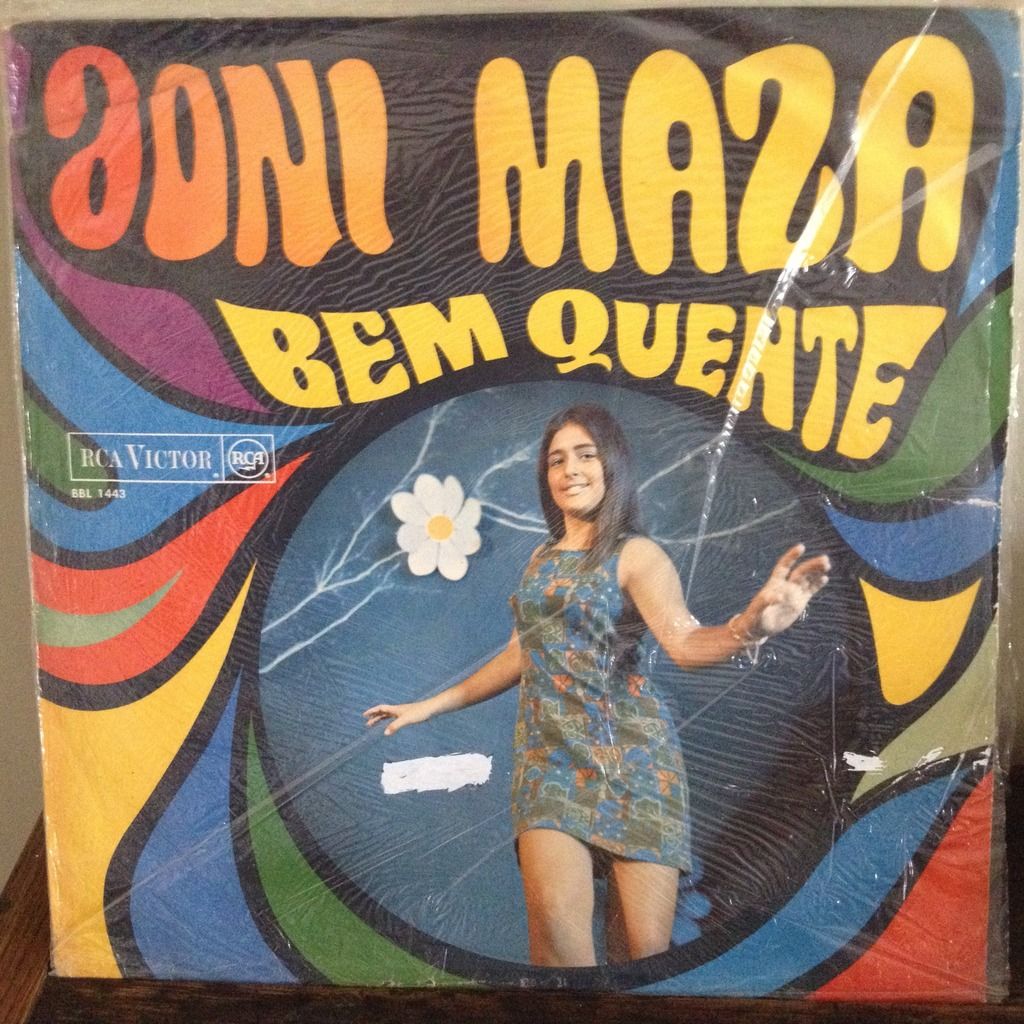 2. Joni Maza - Você Vai... Você Vem... (RCA Victor LP, 1968)
Bandleader and drummer from Rio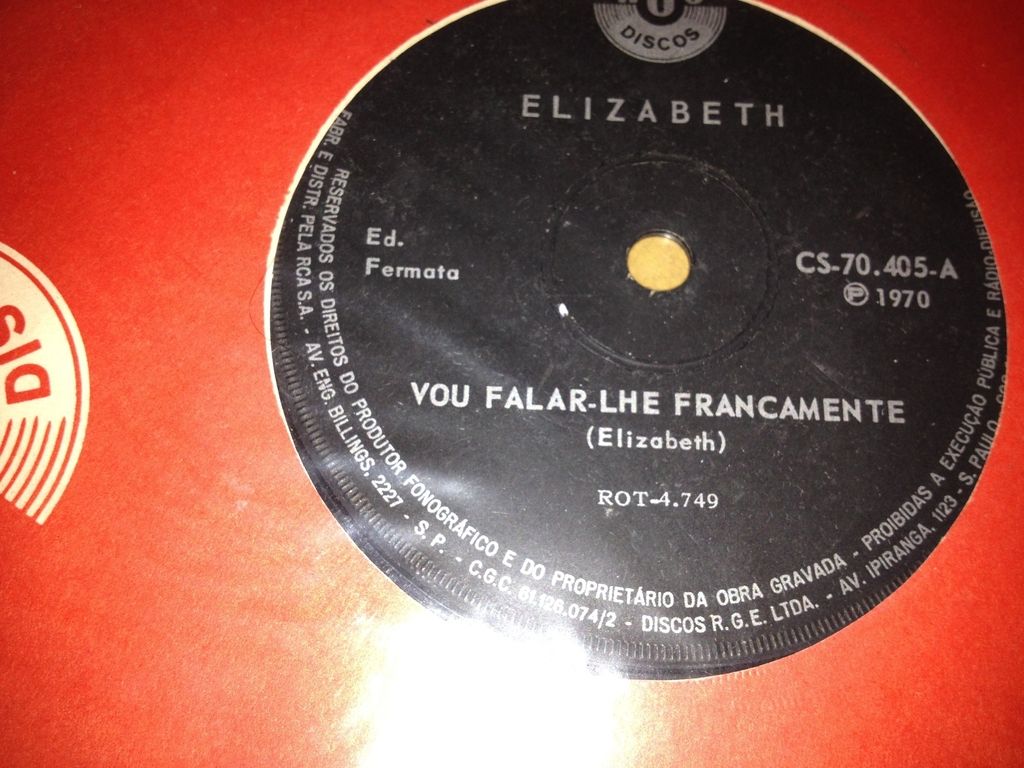 3. Elizabeth - Vou Falar-lhe Francamente (RGE 7", 1970)
There's an excellent LP by Elizabeth with a bunch of good tracks - including one used by Mr Mck on a swap mix not so long ago. She was apparently nicknamed 'Gatinha do Mato' (loosely translated as 'Jungle Kitten'…).
4. Claudia - Macumba (RGE 7", 1970)
Again, can't find out much about Claudia - nice Halloween moves though...
5. Ivette Garcia - Caju Amigo (RCA Victor 7", 1966)
This came in a Globo library sleeve, from the Brazilian TV / radio giant, so I guess filching from sound libraries is a universal phenomenon.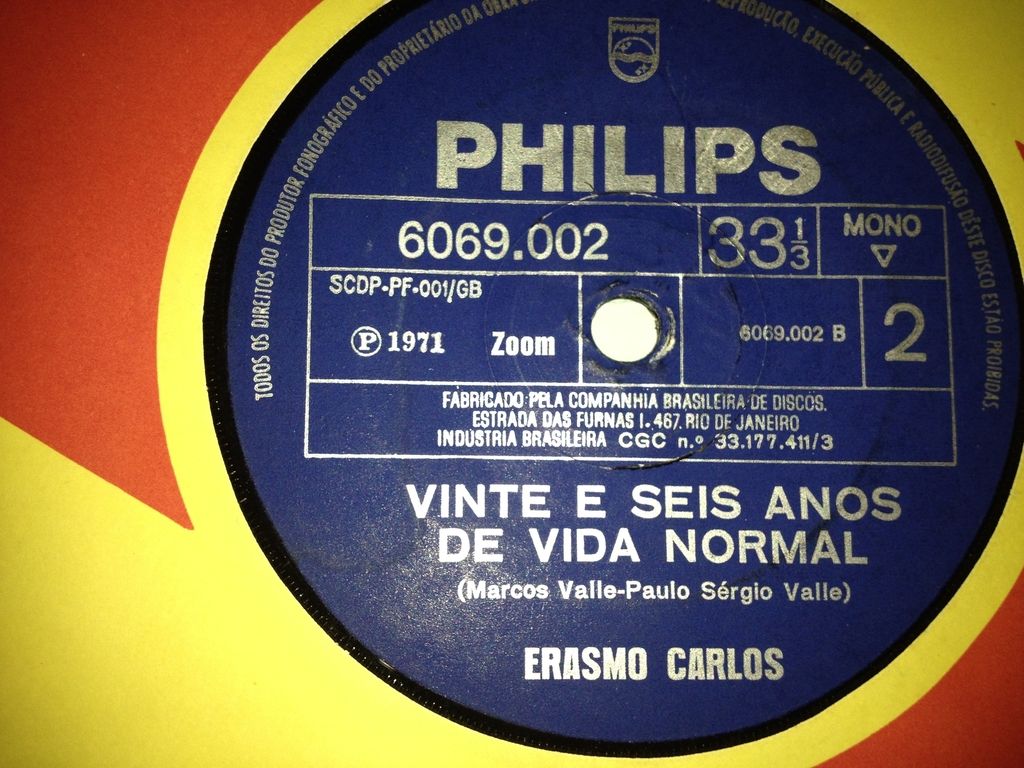 6. Erasmo Carlos - Vinte e Seis Anos de Vida Normal (Philips 7", 1971)
Hits harder than the Marcos Valle original
7. Anamaria e Mauricio - Eu Quero Ver (Chantecler 7", 1971)
Another top-class Marcos Valle cover - production by Artur Verocai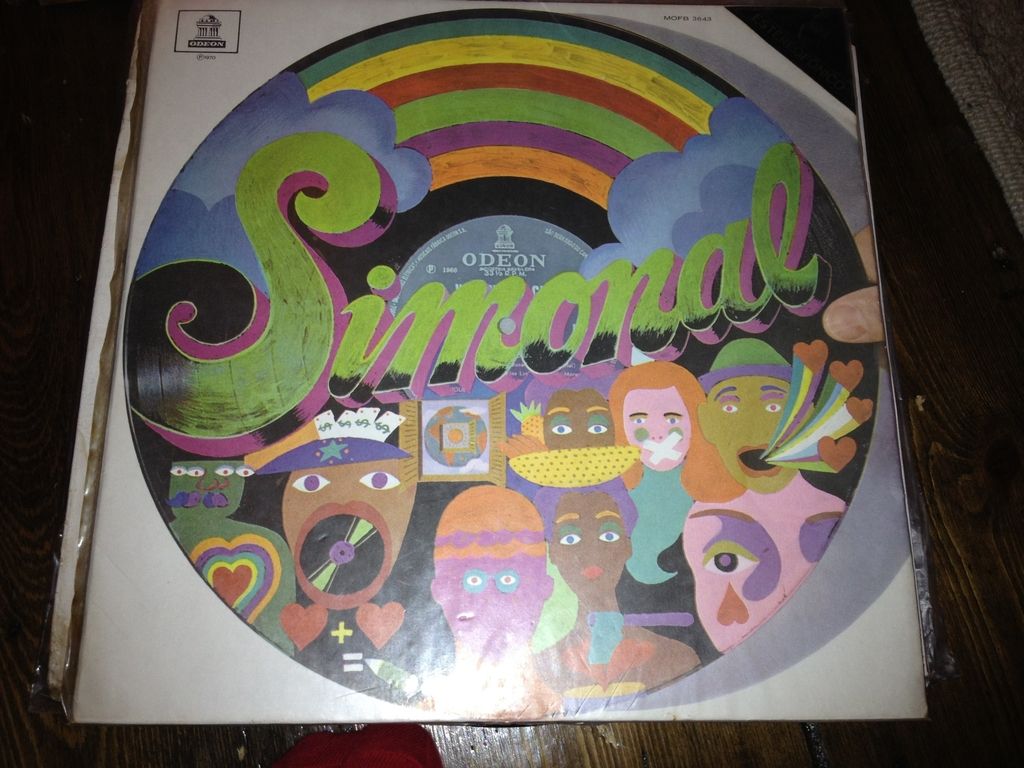 8. Wilson Simonal - Sem Essa (Odeon LP, 1970)
Simonal was so much more than just a crooner. This LP came out when his career was already on the wane, hit by rumours that he was a stooge for the military regime. There seems to have been a collective revision to this narrative - and the consensus now is that he was at worst naive in failing to understand the corrosive politics of the late 60s / early 70s. Perhaps his greatest crime was to be hugely successful, adored - and black.
9. Claudia Soares - Carolina, Carol Bela (Philips LP, 1970)
Beautiful Jorge Ben cover from a stellar LP.
10. Osmar Milito e Quarteto Forma - Rita Jeep (Som Livre LP, 1971)
Another Jorge Ben track - Osmar Milito assembled a top set of musicians and arrangers for this LP, overseen by Luiz Eça and produced by Nonato Buzar.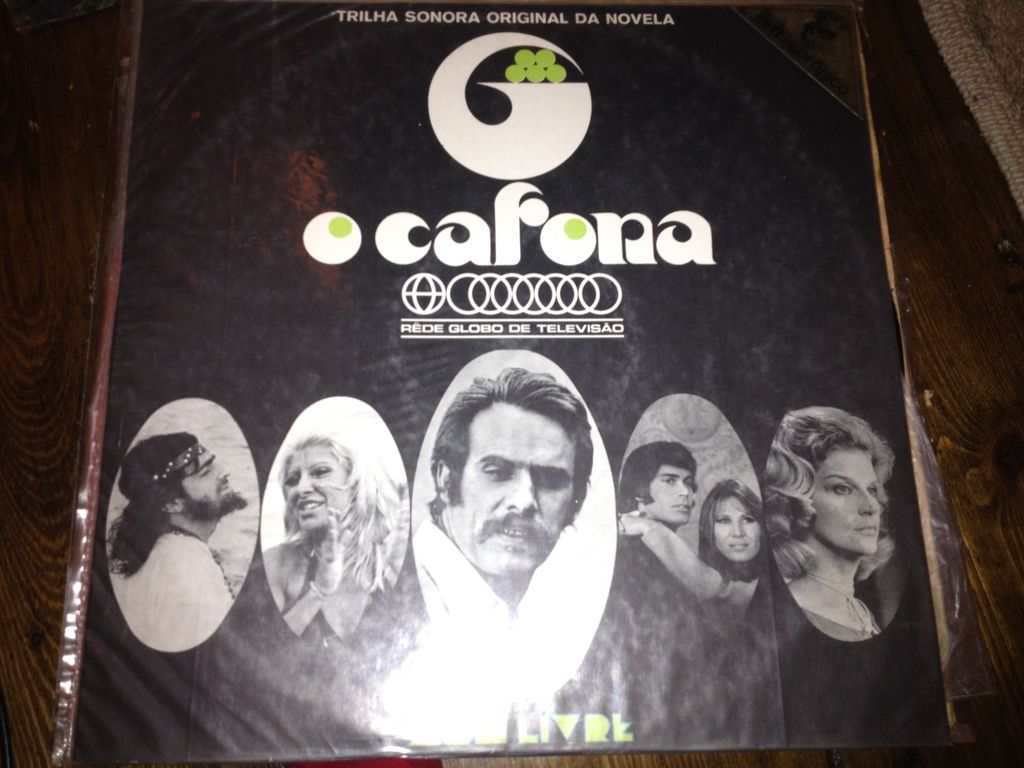 11. Marilia Pera - Shirley Sexy (Som Livre LP, 1971)
From the soundtrack to a TV mini-series (
novela
) called O Cafona - groovy remake of a track first recorded by Claudette Soares.
12. Banda Veneno de Erlon Chaves - Quem E (Philips LP, 1971)
Yet another Jorge Ben cover - Erlon Chaves was a stalwart band leader and recorded a string of excellent soundtracks in the early 70s.
13. Vanja Orico - Janaina (Continental 7", 1974)
An actress who sang in Fellini's 1950 film
Luci del Varieta
, apparently.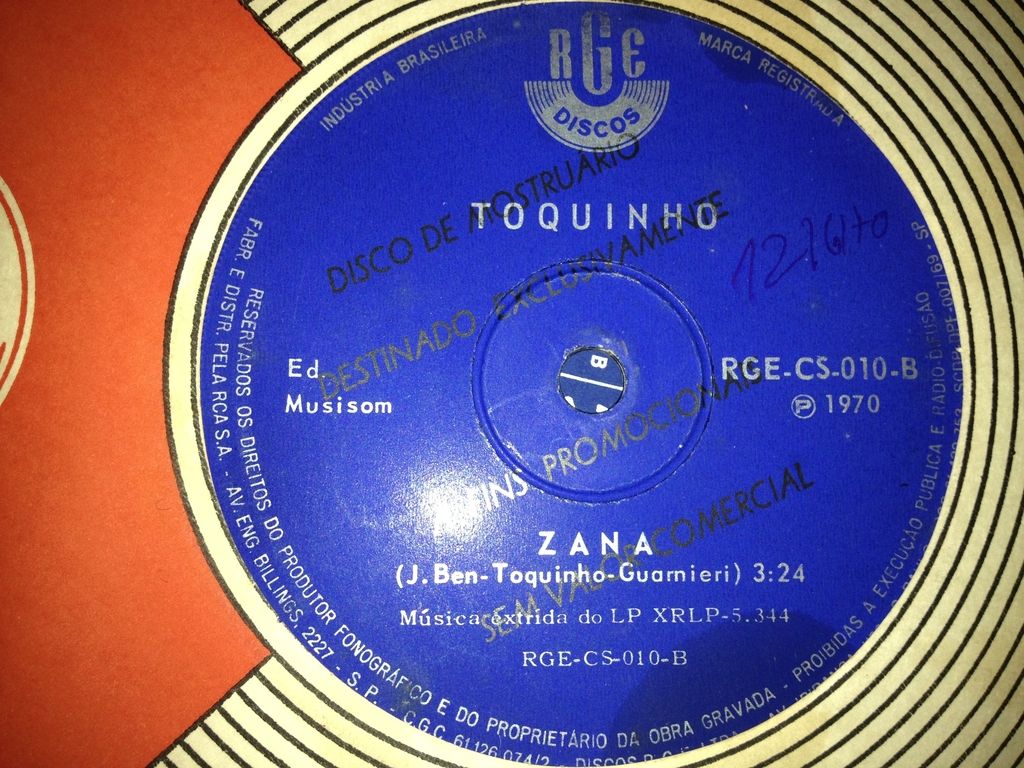 14. Toquinho - Zana (RGE 7", 1970)
Famous for LPs recorded with lyricist and poet Vicinius De Moraes - this is yet another Jorge Ben cover
15. Tim Maia - Quer Queira Quer Nao Queira (Seroma LP)
From the second of Maia's famous 'Racional' LPs released while he was a member of the "Rational Culture" cult, based on the ideas in the book
Universo em Desencanto
(Universe in Disenchantment) by Manoel Jacintho Coelho.
16. Rock Grain - Out a space (Square LP, 1972)
Apparently this group is the backing band from the 2 Tim Maia Racional LPs, though that might just be eBay hype...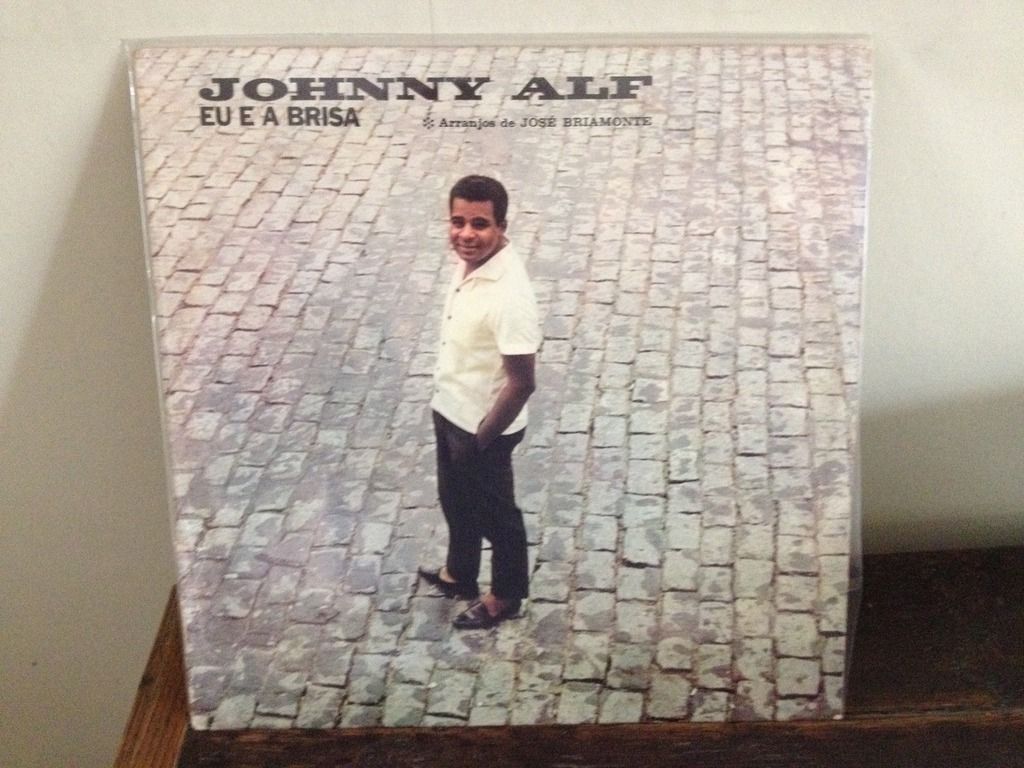 17. Johnny Alf - Bossa So (Imagem LP)
One of the original, and most feted Bossa Nova singers in the 50s and 60s - heavily influenced by American jazz and vocalists like Sinatra. This track echoes these sources - his mellow voice reminds me of Nat King Cole.
18. Lennie Dale e o Sambalanço Trio - The Lady is a Tramp (Elenco LP)
One of a number of US singers to move to Rio during the 50s and early 60s - Dick Farley, who was a mentor for Johnny Alf is another. Dale was apparently a big influence on Elis Regina, who took on some of his phrasing and also his stage mannerisms. Dale is backed on this LP by the superb Sambalanço Trio - Cesar Camargo Mariano (piano), Humberto Clayber (bass) and Airto Moreira (drums).
19. Joni Maza - Zero Hora (RCA Victor LP, 1968)
20. Osmar Milito e Quarteto Forma - Joao Bello (Som Livre LP, 1971)
21. Sérgio Mendes e Bossa Rio - Neurotico (Philips LP, 1964)
Before his world-conquering - and often very excellent - MOR concoctions, Sérgio Mendes was a Rio jazz pianist who played with Tom Jobim and other luminaries of bossa nova. This LP must have come out shortly before he decamped to the States and the rest is history... Jobim is the arranger on this LP, and the band includes Edson Maciel and Raulzinho on trombone plus Edison Machado on drums.
22. Dom Salvador e Banda Abolição - Moeda, Reza e Cor (CBS LP, 1971)
Fantastically funky LP - Salvador had been around for years but (James Brown-style) recruited a young band at the turn of the 70s and updated his sound.
23. Pery Ribeiro - So Quero (Som Livre LP, 1972)
Others followed suit: Ribeiro was an established vocalist but took on Dom Salvador's band to give his career an overhaul. The LP's a bit uneven, but there are 3 or 4 cracking tracks.
24. Penha Maria - Sol Demais (Rozenblit 7", 1968)
Not much info available on Penha Maria - great track though...
25. Ivette Garcia - Pobre e Teimoso (RCA Victor 7", 1966)
26. Os 3 Morais - Automovel (Continental 7", 1972)
Formed by 3 brothers: apparently their foremost influence was the Swingle Singers. By the time this single was recorded one of the original band had left to form a husband-wife duo and been replaced by Vera Lúcia.
27. Moreira da Silva - Morenguera Contra 007 (Odeon 7", 1965)
Brazil's international man of mystery helps Pele and co to outfox James Bond and win the cup in 1966 while copping off with Claudia Cardinale.
28. Gasolina - Batucada de Nada (Continental 7")
Nice drum and cuica work-out. Drawn a blank finding out anything about the band though...
29. Capitão Aza e Martinha - Sideral (CID 7")
From what I can gather this is taken from a children's programme in which Brazil is at the vanguard of the space race... I think this is excellent - perhaps it's better not to understand every word, from what I can work out it's a bit like a reinvention of Space Oddity.
<<UPDATE OCTOBER 2014
SELECTION 3: Faça o amor e não faça a guerra: Brazilian rock, folk and psychedelia
After a rather lengthy break, here's a third installment of Brazilian tracks. The emphasis this time is on folk, rock and psychedelia with a laid-back feel. This was disc 2 of my swap CD from a couple of years ago: I'll try to come up with something new in the near-ish future (ie maybe 2016). Hope you enjoy - any questions and comments welcome.
You can download the full set
here
Mixcloud
here
1. Karma - Transe Uma (RCA Victor, 1972)
Last record made by guitarist Jorge Amiden, previously with O Terço. Also features Luiz Mendes Junior (guitar & vocals) and Alen Cazinho Terra (bass & vocals).
2. Piri - Reza Brava (Quartin, 1970)
One of a handful of records issued on Roberto Quartin's label - and one of only two 45s of which I'm aware. Piri plays guitar and sings; also Danilo Caymmi and Paulinho Jobim on flute, Jorge Marinho on bass, Wilson Das Neves on drums and Juquinha on percussion. Tita Lobo sings backing vocals.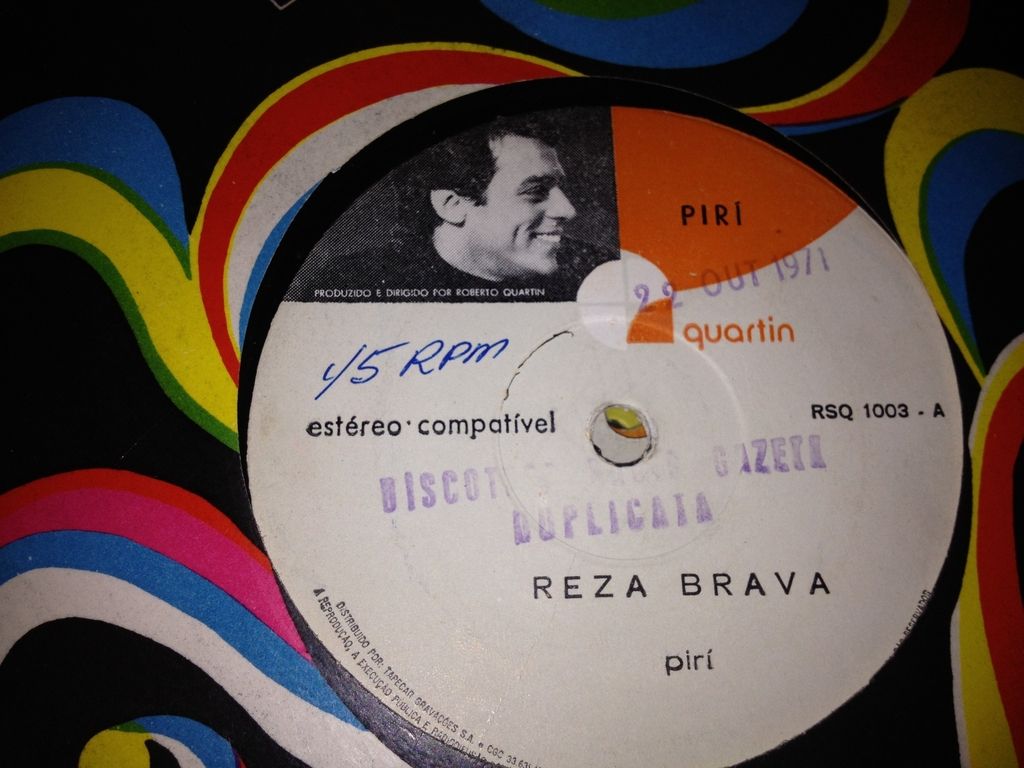 3. Antonio Adolfo - Sempre Que e Possivel (Philips, 1972)
This LP was produced by Paulinho Tapajós
4. Hyldon - Na Rua, Na Chuva, Na Fazenda (Polydor, 1975)
Most famous (I guess) from the City of God soundtrack, beautiful Brazilian folk.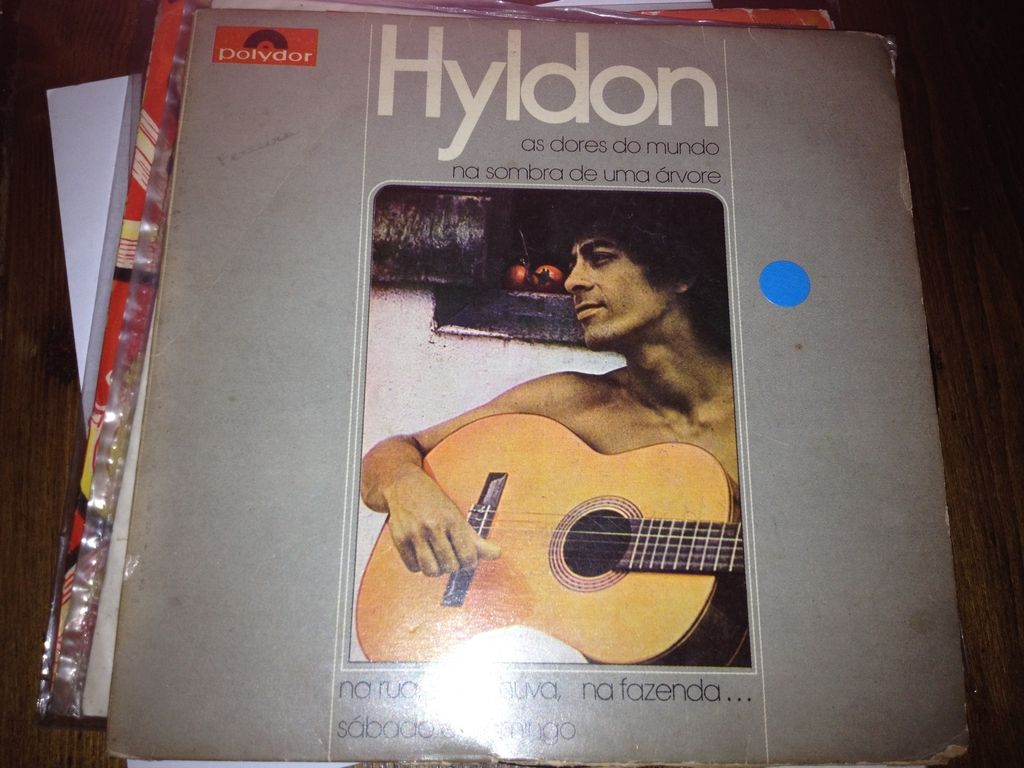 5. Walter Franco e Silvia Maria - Tema do Hospital (Philips, 1971)
Apparently this is from a TV novela called 'Hospital'
6. Jean e Gil - Faça o Amor e Não Faça a Guerra (Copacabana, 1971)
Precious little info available on this - my limited Portuguese indicates that the title means 'make love not war'.
7. Ronnie Von - Espelhos Quebrados (Polydor, 1969)
Some great fuzz guitar on this track, Ronnie's backed by Os Mutantes.
8. Dori Caymmi - Velho Pescador (Odeon, 1972)
Son of the great Dorival; Dori worked through much of the 60s as a producer for Edu Lobô, Caetano Veloso, Nara Leao and Eumir Deodato. Despite his long career this is his only LP before a flurry of release in the 80s and 90s. This song was originally recorded by his sister Nana.
9. Papeti - Leila (Copacabana, 1973)
Haven't been able to find any info about either Papeti or this single.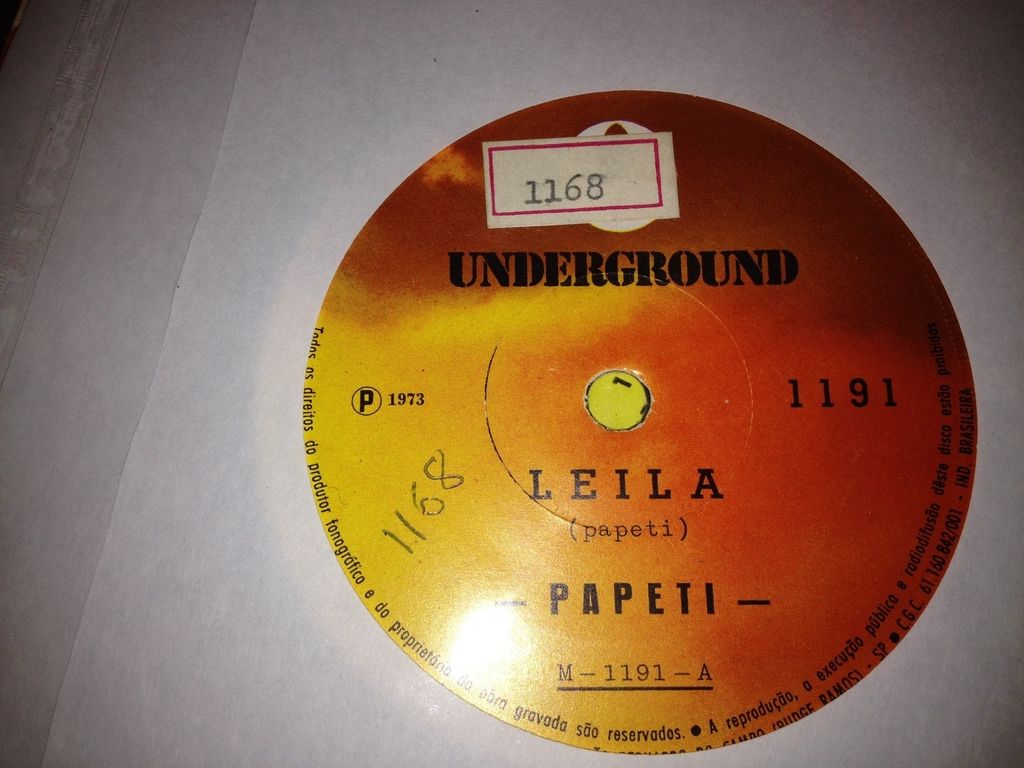 10. Paulo Bagunça e a Tropa Maldita - Mensageiro (Continental, 1973)
Cult classic Brazilian release - the myth is that Bagunça was a street musician who won a competition to record an LP before disappearing shortly after its release. Not sure whether that's true or not, but it's a superb record.
11. O Africanto dos Tincoãs - Salmo (RCA Camden, 1975)
This is a blues-style prayer to the Lord about the impacts of drought in the North East of Brazil.
12. Taiguara - Um Novo Rumo (Odeon, 1968)
Another Verocai production - his trademark strings much in evidence.
13. Jose Mauro - Tarde de Nupcias (Quartin, 1970)
Only the second 45 released by the Quartin label (and unlike most Brazilian singles these really did play at 45...). Mauro tragically died in a car crash in the early 70s.
14. Olivia Byington - Fantasma da Opera (Continental, 1978)
The story is that Byington's father was a high-level employee of the record label, and pulled some strings to get his daughter to release this LP. Whatever the background it was worth it - she has a strident singing style which fits with the music very well, most of which reworks songs previously released by the band A Barca Do Sol, who provide backing here.
15. Luli e Lucinha - Yorimata Oke Arue (Nós La Em Casa, 1978)
Female folk duo, this was their only release together.
16. Sérgio Sampaio - Eu Sou Aquele Que Disse (Philips, 1973)
Sampaio rocked vampish make-up like a Brazilian Alice Cooper. The music is altogether more introspective; this LP produced by Raul Seixas is a relatively unheralded high point of Brazilian rock from the early 70s.
17. O Bando - Pela Rua da Praia (Polydor, 1969)
Recorded in São Paulo; vocals from Marisa Fossa who put out a cool version of Marcos Valle's 'Wanda Vidal' a couple of years later.
18. Raul Seixas - A Hora do Trem Passar (Philips, 1973)
Brazilian rocker who led the band Raulzito E Os Panteras during the 60s.
19. Piri - Porta do Sol (Quartin, 1971)
20. Beto Guedes - Era Menino (EMI, 1978)
Later LP by Guedes, who kept up a high standard of releases right through to the early 80s.
21. Lô Borges - Toda Essa Agua (EMI, 1972)
Fantastic LP featuring Toninho Horta, Tenorio Jr, Robertino Silva, and Nelson Angelo among others.
22. Toninho Horta - Manuel o Audaz (EMI, 1973)
Superb collaborative effort by consortium of musicians from Belo Horizonte, a number of whom worked with Milton Nascimento on the famous Clube De Esquina LP.
23. Paulo Diniz - Gósto Aborrecido (Odeon, 1972)
Diniz is a bit of an unsung talent - he produced a string of excellent LPs during the 70s, and wrote a number of songs covered by more celebrated contemporaries.
24. Clara Nunes - Canseira (Odeon, 1971)
Nunes was known as one of the 3 'queens of Samba', and became increasingly interested in the African roots of Brazilian music and the Umbanda religion later in her life. This track was written by Paulo Diniz.
25. Jorge Ben - Maria Domingas (Philips, 1971)
Another sublime production from the incomparable Arthur Verocai.
<<UPDATE JULY 2015>>
Selection 4 Tudo De Nôvo: Brazilian club jazz, folk, funk and psychedelia
After another lengthy break, here's a fourth installment of Brazilian tracks. I've gone for a very broad spectrum of sounds - the best of the records I've picked up over the past year or so. Hope you enjoy - any questions and comments welcome.
You can download the full set as a zipped file
here
or as individual files
here
Mixcloud
here
Photos and write-ups will be added in the opening post of the thread when I have a spare couple of hours...
Tracklist:
1. Grupo Enigma - Sapatão (Caravelle 7", 1972)
2. Ronnie Von e Os Mutantes - Silvia 20 Horas Domingo (Polydor 7", 1969)
3. Maria Alcina - Charles, anjo 45 (Chanticler 7", 1972)
4. De Kalafe e a Turma - Guerra (Rozenblit 7", 196?)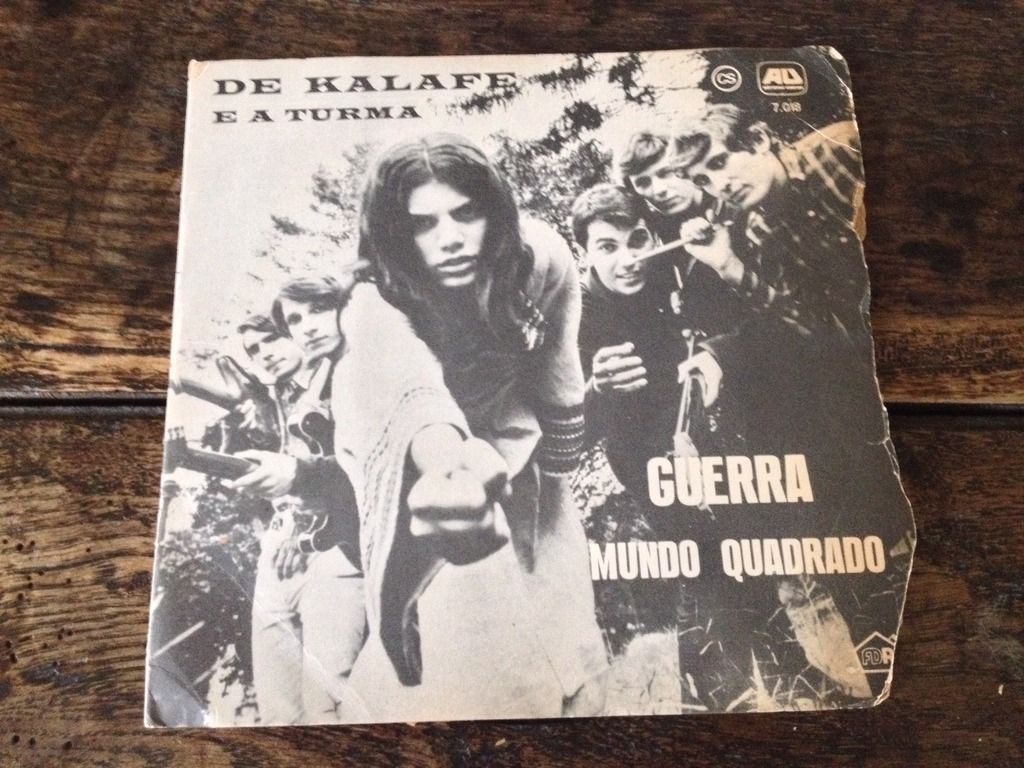 5. Piri - O Som Do Roberto (Quartin LP, 1970)
6. Paulo Diniz - Canção Do Meu Amor (Odeon LP, 1971)
7. Rildo Hora - O Empinador (RCA Victor LP, 1971)
8. Agnaldo Rayol - Perigo A Vista (Copacabana 7", 1969)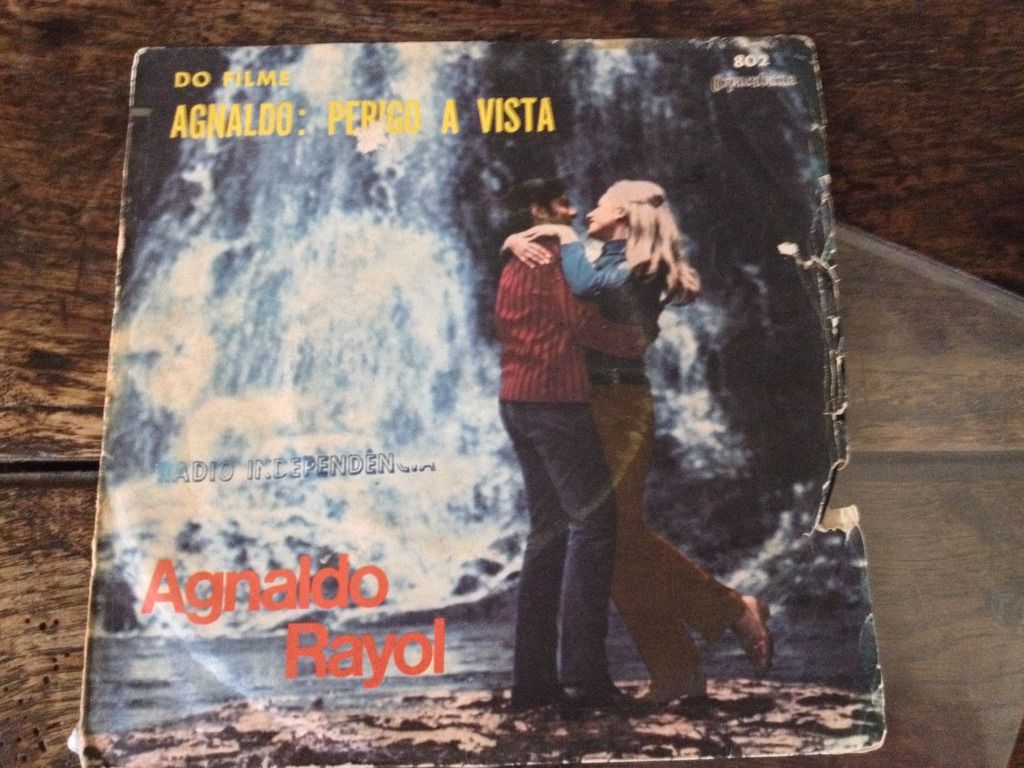 9. Zapatta - Fiesta Macabra (Odeon 7", 1973)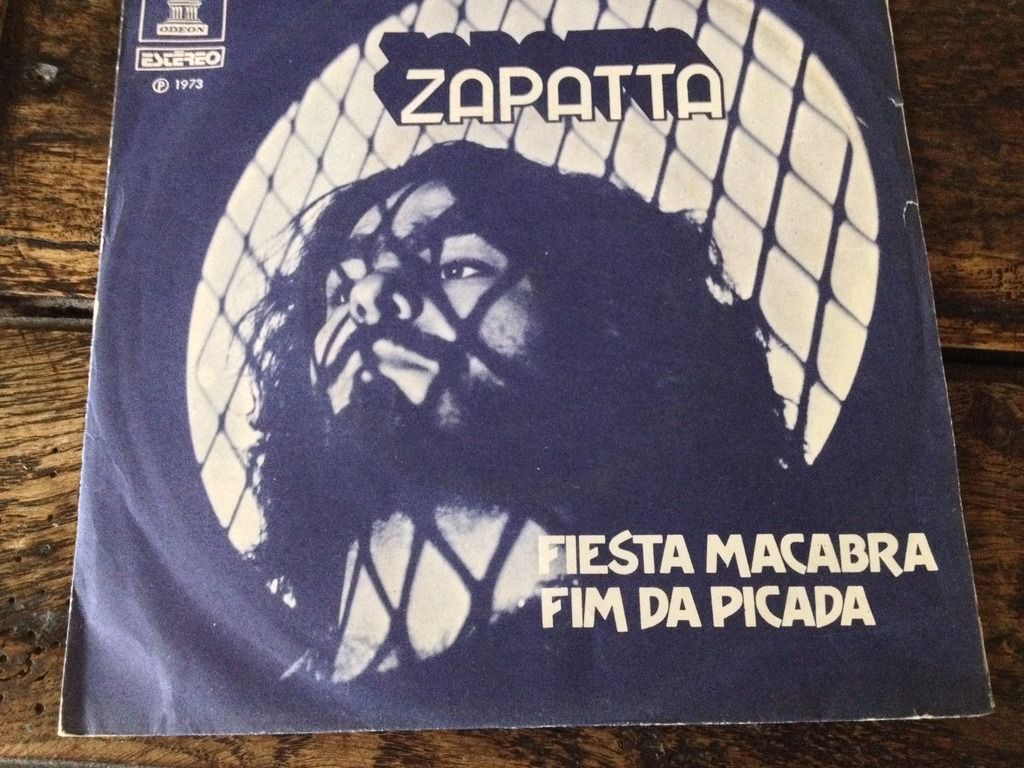 10. Free Son - Africana (Solar Fidelity / Chanticler LP, 1972)
11. The Jordans E Moacyr Silva - Gamboa (Copacabana 7", 1969)
12. Rildo Hora - A Canôa (RCA Victor LP, 1971)
13. Claudette Soares - Kosmus (Philips LP, 1969)
14. Marilia Medalha - Tudo De Nôvo (RGE 7", 1970)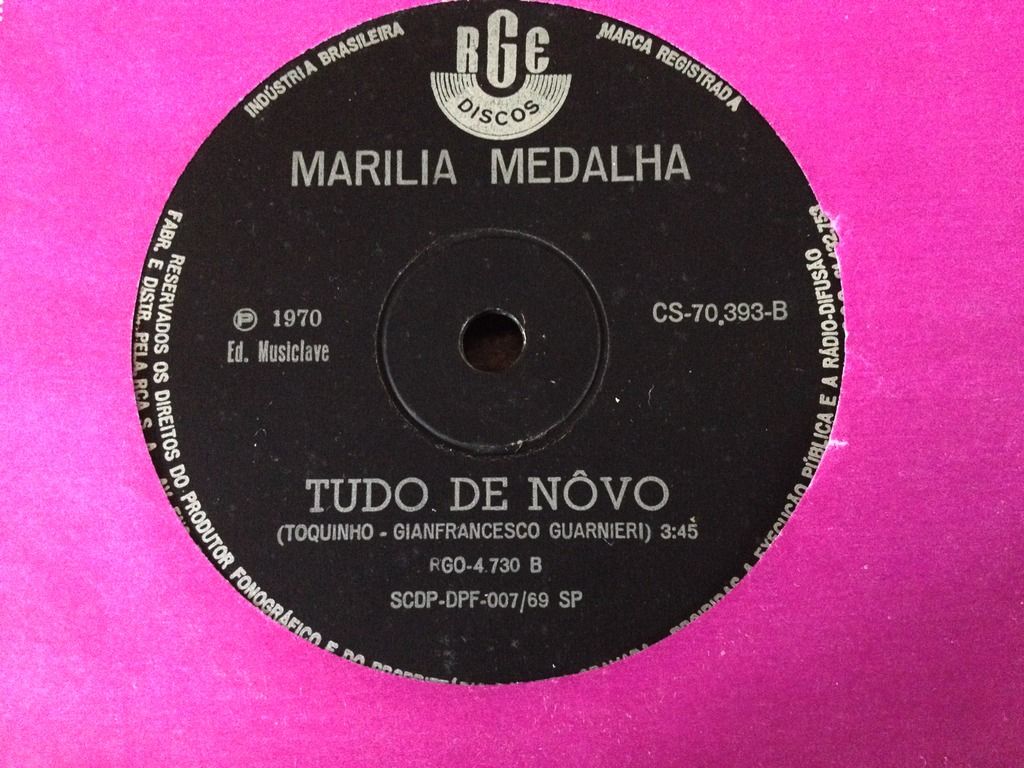 15. Piri - Sombra Morta (Quartin LP, 1970)
16. Sidney Miller & Nara Leao - A Estrada E O Violeiro (Elenco LP, 1967)
17. Waleska & Josemir No Pub. Pra - Dizer Adeus (ENIR LP, 1968)
18. Waleska & Josemir No Pub. - Apelo (ENIR LP, 1968)
19. As Cancageiras Sebastiana (Itimaraty LP, 1970)
20. Raulzinho - À Vontade Mesmo (RCA Victor LP, 196?)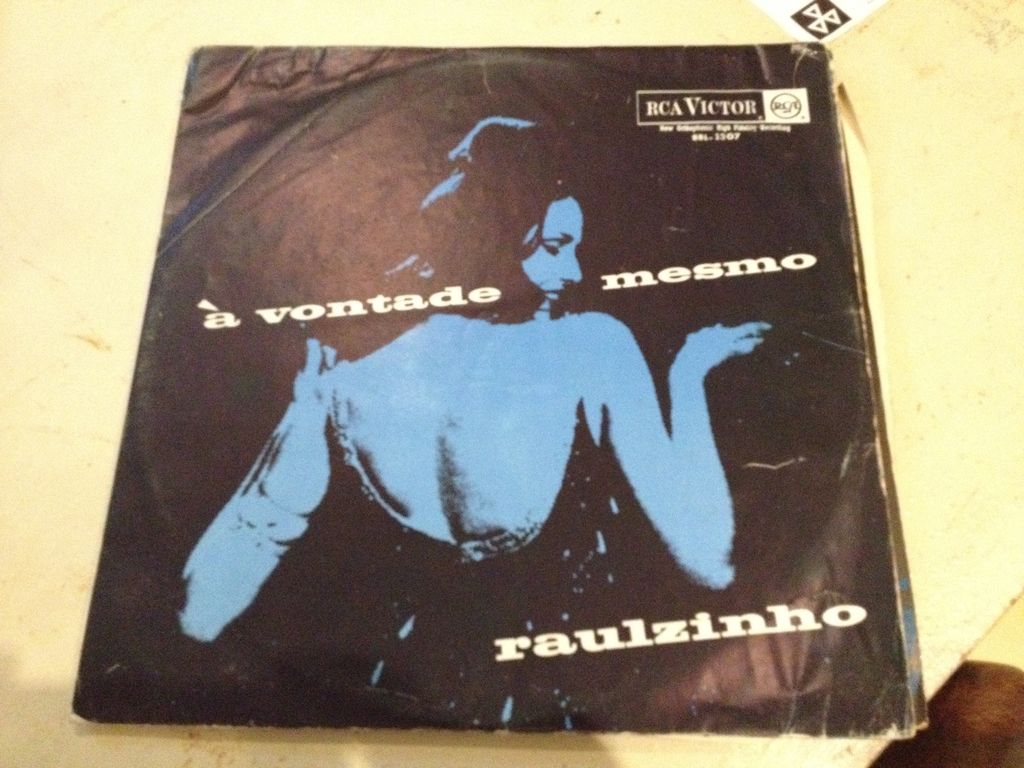 21. Os Tremendões - The name of the game (Som Major EP, 1970)
22. D'Angelo - Curto de Véu e Grinalda (Equipe LP, 196?)
23. Os Marruazes - 16 Tons (Epic 7", 1969)
24. Free Son - Grande Poder (Solar Fidelity / Chanticler LP, 1972)
25. Paulo Diniz - Asa Branca (Odeon LP, 1971)
26. Edu Lôbo - Feira de Santarem (Elenco LP, 1970)
27. Matheus - Yemanja (Copacabana 7", 1971)