Edit:
NOW WITH ADDED SOUND!
Here's a Top10 of one of my favourite record labels: CBS
I've highlighted my prefered tracks.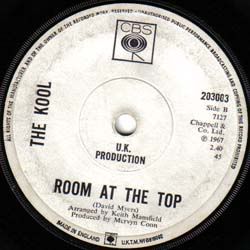 The Kool -
Look At Me I'm You /
Room At The Top
(1967 CBS 203003)
Great beat stuff here, similar to James Royal's stuff on the label. The flip is a nice mix of pop + freakbeat. Nice hammond and crisp drums plus strings which give it the same sort of vibe as Double Feature's cover of 'Baby Get Your Head Screwed On'. Production credits to Keith Mansfield. Dunno if they're connected to the Aussie Cool or the deWolfe Cool, sounds like they could be...?
The Electric Flag -
Sunny /
Soul Searchin'
(1969 CBS 4066)
Nice frantic instrumental – lots going on here; heavy R&B, bluesy, funky. Sounds great played out and can be picked up for pence too.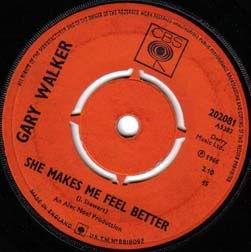 Gary Walker -
Twinkie-Lee /
She Makes Me Feel Better
(1966 CBS 202081)
Fuzz guitar intro, jangly 2nd guitar kicks in, cue pounding drums + fuzz-bass! A classic mod club play in the standard 4/4. Plugside is forgetable blue-eyed soul nonsense. Another cheap one to search out or even better, go for the French EP which couples this 45 with his other CBS seven 'You Don't Love Me' (raw garage-esque R&B!!!)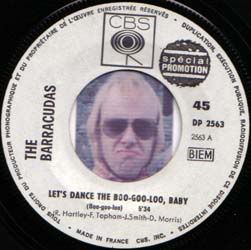 The Barracudas – Let's Dance The Boo-Goo-Loo, Baby
/ Knock On Wood (1967 CBS DP2563)
Xylophone & bongos introduce this record before the organ and femme vox appear, then the whole tracks speeds up a notch for the lead male vocals. I have no info on this band at all – would definitely be interested in any other releases by them. The cover on the flip is a gutsy but unremarkable interpretation. This is a French issue and probably came with a pic sleeve, never seen a UK press. Any further info would be appreciated.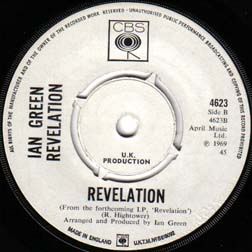 Ian Green Revelation -
Groover's Grave /
Revelation
(1969 CBS 4623)
A V.V. classic? Surely. The Aside is a great kick-back but it's the thematic flip which grabs me with it's orchestration fighting for space against the fuzz guitar. Nice snappy percussion and good use of bass and keyboards in the builds. Both sides penned by Rosetta Hightower!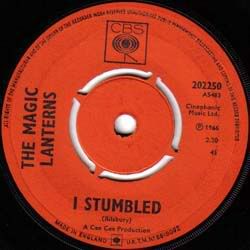 The Magic Lanterns -
Rumplestiltskin /
I Stumbled
(1966 CBS 202250)
This band had a fair few releases on CBS but the Bside of this 45 is becoming their most sought after release (and has recently been bootlegged, such is the demand) and has a nicely polished freakbeat sound with gain dials set to eleven. The plugside has an early popsike feel but pales in comparison. Staying with popsike, they also recorded a good version of 'Auntie Grizelda' (best known as a Monkees song).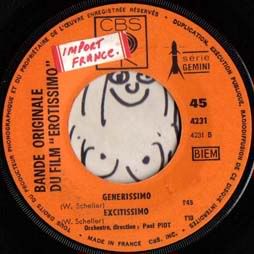 William Sheller -
Erotissimo / Generissimo /
Excitissimo
(1969 CBS 4231)
Another French CBS release, this time as an OST 7" for the film 'Erotissimo'. The killer track for me is the instrumental 'Excitissimo' which leans into Euro style heavy psych – all funky and fuzzy and FX-laden basslines, truly fantastic but criminally short in time. Certainly not a one-tracker either, The plug vocal side is good progressive pop and the other instro has a nice sitar edge to it.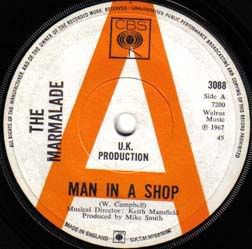 The Marmalade - Man In A Shop
/ Cry (1967 CBS 3008)
Keith Mansfield goes paisley! This single flopped, coming out just before the band hit it big. A shame as it's a psychedelic pop masterpiece, slurried in backward tape effects and twee brass and string arrangements. A quality overlooked piece from 1967. Still listed cheap in price guides and surprisingly
not
(yet) revered in psychedelic collecting circles. Recommended.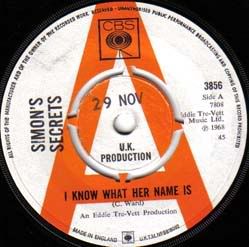 Simon's Secrets – I Know What Her Name Is
/ Keeping My Head Above Water (1968 CBS 3856)
Another obscure freakbeat screamer stuffed full of pounding beat, lacerating guitar and the expected drop-out and smash-in! The flip is more in a whimsical psych style. Clifford T Ward was in this band and wrote both sides.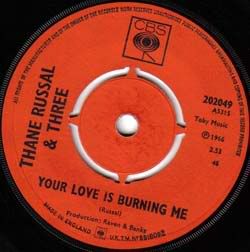 Thane Russal & Three –
Security /
Your Love Is Burning Me
(1966 CBS 202049)
The thunderous version of Otis Redding's 'Security' has been a mainstay in mod clubs for years now but I prefer the jewel tucked away on the flip. Sounding more akin to US garagepsych bands a year or two later, 'Your Love Is Burning Me' has a raw haunting quality with echo effects on the vocals and guitars/organ high in the mix. The promos came with a picture sleeve – ultra-rare for a UK release back then and the current value backs this! His follow up 45 'I Need You' is also worth hunting down as are his post-UK Italian records.
Edit:
NOW WITH ADDED SOUND!