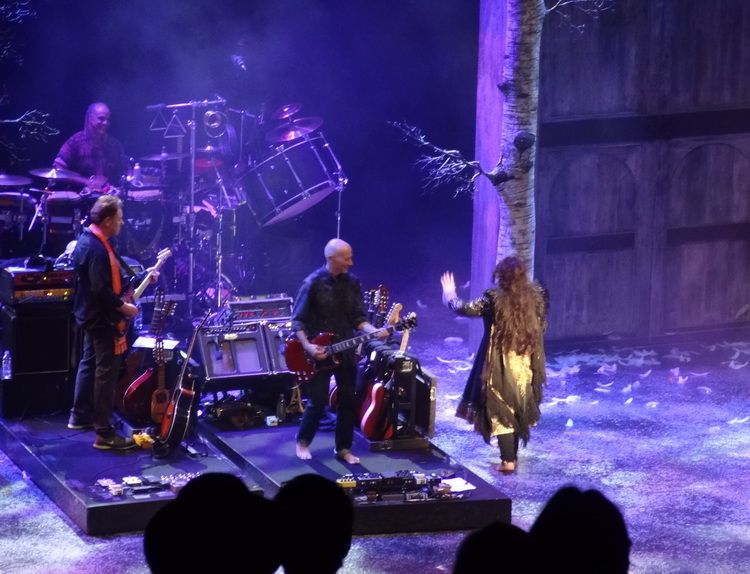 Kate's back!
Kate's front!
She was in such good form Saturday night, telling us how much she loved us, god the audience just lapped it up,
there were some folks near us in raptures, a bit annoying to be honest as they whooped and hollered at
every opportunity. There were some celebs, a couple of seats in front was Moby - celebrating his 49th,
the reason I know this was I had read it in the 'i paper' on the train going down, he was sat with his
young son (?) who was dressed identical to him, jeans/t-shirt, shaved head! he was the youngest person I saw there.
The programmes are really beautiful (of course) and were worth the £15 - there were lovely posters too
and the T-shirts which have wings on the back were £25. All the hoola about having ID etc was not enforced,
they just scanned the tickets and we were in. The general vibe was so chill and relaxed - nothing to do with the
3 pints and a spliff we'd had before we went in. The first half hour was a few odd LP tracks,
Top of The City
and
Running Up That Hill
were good but the revelation was an incredibly powerful, goose pimply version of
King Of The Mountain
, which made the single sound weak in comparison, it was the nearest she came to rocking out.
The main course was
The Ninth Wave
in the first half and the stage gets transformed from the normal set you
see in the pics, and it becomes a mix of theatre, film and WTF, and her voice was spot on throughout, any doubts
about her not cutting it were swept away, she really was as good as you'd hope she would be.
Although the second half of
A Sky Of Honey
from
Aerial
was hit and miss for me, there were still the theatrics and some
beautiful backdrops film of birds and the moon etc but the piece as a whole was a bit self indulgent and I suppose after
the first half being so good it was hard to top. It came to a bit of a Eh? moment half way through when her son
Bertie sang a song, and to be honest he cannot sing at all, and that was almost painful to hear, but the polite applause
he received was for who he was more than what he'd just subjected us to.
She finished off with a few more album tracks and a good run through of
Cloudbusting
and then she was off.
The show finished at around 11 and of course the queues at the tube were pretty grim, along with train delays
at Euston and a packed last train home I didn't get in until gone half 2am so was pretty shattered yesterday
but the abiding memories are of a fantastic experience and well worth the money, hassle and wait.