Edit:
NOW WITH ADDED SOUND!
This month I'm gonna list a label celebrated amongst the digger populace:
President
.
Up until recently you could still pick up the sweets direct from their warehouse leftovers. Sadly no longer the case as it has been picked clean. In the field, it's always an easy label to spot and has a fairly good aural hit rate (well, one in four at least). Label owner Ed Kassner would release young talented artists/producers i.e. Eddie Grant alongside reissues of older recordings from foreign lands making for a fun and eclectic catalogue. I've highlighted my prefered side from each release.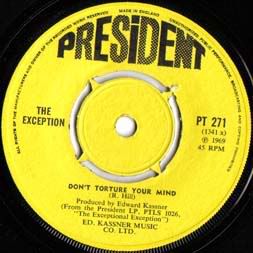 The Exception –
Pendulum /
Don't Torture You Mind
(1969 PT271)
Definitely their best of 5 President 45s. The Bside mixes a heavy pop/beat vibe with an off-kilt sax to solo out on. Don't know much about them apart for their links to Fairport Convention (several member involved at one stage with Dave Pegg being the mainstay). If anyone has their first CBS 45 'Eagle Flies On Friday', please contact me!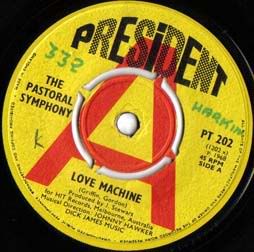 The Pastoral Symphony – Love Machine
/ Spread A Little Love Around (1968 PT202)
This mysterious group hailed from Australia and the 2 songs included on this record were originally one side of a 1967 EP on the Festival label. It's a fantastic symphonic psych sound with a barrow-load of effects and way-out phased lyrics. The flip is a trippy whimsical popper. Also watch out for Fluff's cover of 'Love Machine' on another yummy UK label, DJM, from 1970.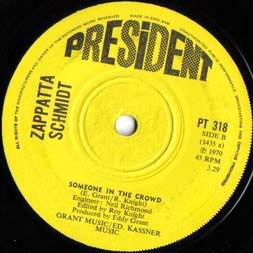 Zappatta Schmidt –
You Got The Love /
Someone In The Crowd
(1970 PT318)
The LP seems to be a VinylVulture fave according to it's regular appearances in the Trades section and if other tracks are anything like the Bside on this 45, it's easy to see why. 'Someone In The Crowd' has everything: plenty of funkiness, big big drums, hammond, brass and above all, an interesting arrangement. Real nice.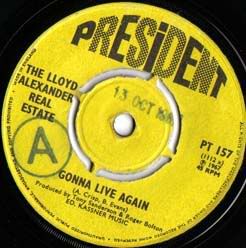 The Lloyd Alexander Real Estate – Gonna Live Again
/ Whatcha Gonna Do (When Your Baby Leaves You) (1967 PT157)
Killer mod club doublesider! The vocalist in this band sounds just like Stevie Marriott and with a powerful performance from the rest of the group plus top quality production, there ain't no doubting this release. The weird ska-esque vocal rhythms also pushes the Aside into your attention zone. The flip is a tasty cover of the Chuck Willis number with added hammond wibbliness. Please get in touch if you have any additional info regarding this outfit.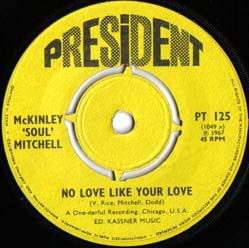 McKinley 'Soul' Mitchell –
The Town I Live In /
No Love Like Your Love
(1967 PT125)
Originally released several years earlier on the US label One-derful, this seven has a meaty mid-tempoed bluesy soul number hidden away on the flip. Gritty vocals, classy backing and more hammond make it a serious contender at today's more R&B flavoured Northern Soul nights. Get on this one quick before it goes the way of the Jimmy Robins President 45!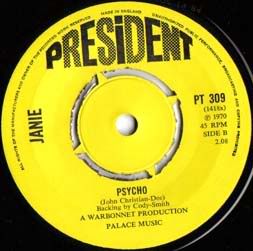 Janie –
Back On My Feet Again /
Psycho
(1970 PT309)
'Psycho' really is psychotic from the start, mixing up a heavy wah-wah intro with witch-like cackling before the surreal comedic conversations begin. Really insane stuff. Believed to be high society whore-house honey Janie Jones!
The Explosive – Cities Make The Country Colder
/ Step Out Of Line (1969 PT244)
Intriguing swirling organ/drums intro/outro segments surrounding a paisley pop stomper as the main track. If you could get hold of the extended intro/outro recordings, that'd be one helluva Licorice Soul release! The flip is nice too – a fine mix of blue-eyed soul and popsike. These chaps were Watson T Browne's backing band.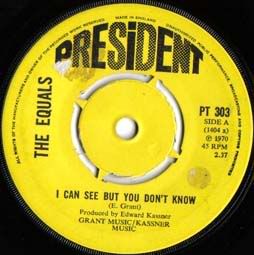 The Equals – I Can See But You Don't Know
/ Gigolo Sam (1970 PT303)
You can't tap-out a President synopsis with mentioning The Equals! Here's something completely different to their usual recordings – this is real wild freakbeat – full of distorted guitars and a pounding beat but released 4 years too late to be recognised by most collectors of this genre. Their loss is our gain.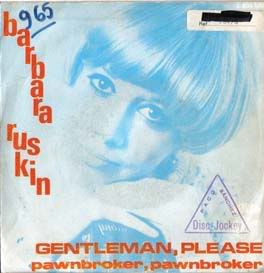 Barbara Ruskin –
Gentlemen Please /
Pawnbroker, Pawnbroker
(1967 Sintonia S083052)
This is a Spanish President issue licensed to Sintonia which cobbles together two UK Asides. One side is rank but the flip is a tasty psych/soul hybrid complimented with Ruskin's girlie vocals, which gives it a trippy edge. If you dig Calum Bryce's 'Lovemaker' then you'll definitely dig this. If anyone has a UK issue (PT217) and wants to trade for this Euro pic-sleeve pressing, get in touch.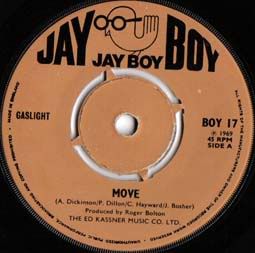 Gaslight – Move
/ And So To Sleep (1969 BOY17)
Released on subsidiary label Jayboy, this is a wicked uptempo track with harmonic vocals and Rhodes piano to the fore. A real earworm which will have you humming it all day. Haven't been able to dig out any info on them although they may be same lot who have a pricey LP in the RC price guide.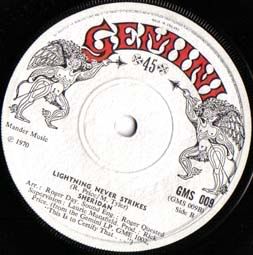 Sheridan & Rick Price – Sometimes I Wonder /
Sheridan - Lightning Never Strikes
(1970 GMS009)
Gemini was another President subsidiary and this is another quality release. My personal tastes lean towards the beat-sike raver on the flip – full of effects, aimed at the dancefloor and still popular in the mod/6Ts clubs today. The Aside is a cool likeable oddity with bass high in the mix, lots of handclappy malarky and a heavy folky flavour. Definite Vulture material.
Edit:
NOW WITH ADDED SOUND!