Mrs SK had buggered off to Vietnam and I had access to the car. The weather had changed and was set to be sunny the next day ( Friday 6th April) and I had that day off. Time for a Charity Shop Challenge, I thought. Thinking of somewhere closeish and largish I hit on Colchester. The last time I went to Colchester was to see my son's group play. Colchester is about an hour and a half from here so I'd left home in plenty of time, but getting to Colchester in the dark I'd found it impossible to navigate my way around and find somewhere to park, and then find the venue. By the time I walked into the gig they were playing their last song and I'd missed the whole thing. I was pretty narked. This time I did my homework. I downloaded some maps, I asked someone who has been to Colchester recently about good places to park, I wrote a list of the Charity shops, I wrote a list of what I should take, and I got up early.
The forecast said the weather was going to be fine, not super-hot or anything but sunny. I decided a needlepoint corduroy jacket would fit the bill nicely- but definitely a lightweight wool sweater too, just in case.
It was a little chilly as I went out to the car but hell, it's early, of course it's cold. Mrs SK wasn't with me this time so I am unable to provide a photograph of the 'Welcome To Colchester' sign although if anyone remembers her piss-poor effort at photographing the 'Felixstowe' sign last year they will realise this is no big loss. I got to Colchester in what I thought was good time. There were so many charity shops here I was going to need all the time available, probably all day, so you can imagine my frustration as I then spent half an hour trying to find the suggested parking area just outside the main shopping streets. Now, the car has a satellite navigation system but I rarely go in the car and although Mrs SK had given me a tutorial just before she left (as I have to go to pick her up from the airport) the use of the damn thing was proving difficult. I had maps but they're only any good if you know where you are in the first place. 'Damn you Colchester' I muttered, realising it was gig night all over again except this time in the bright light of day. I eventually found the parking place and feeling a little better I stepped out of the car. Jesus Christ that's cold! What the F***. I had been badly misinformed about the weather. It was overcast, but worse than that was the freezing 50 mph wind that I'd been unaware of while driving. Bugger. I headed off down an underpass which suggested that Colchester is, maybe, on it's arse these days.
There were some nice plaques set into the wall which made up for the lack of an artfully composed 'Welcome To Colchester' shot from Mrs SK. Mind you, I don't speak Latin and nor do most other people so if you wanted to know where you were they'd be useless. Checking the internet when I got home I discovered that my hunch that Camulodunum is foreign for Colchester was correct. Phew, I was in the right place.
Gripping my map in my freezing hand (why, oh why hadn't I brought gloves just in case) I made my way to the first shops which were all in the same street.
Sue Ryder, Sense, and PDSA. No records at all in any of them. Great start. I cursed the weather as I hurried on to the next shop.
Just around the corner was a British Heart Foundation. They had a dedicated 'Vinyl' shelving system
but there was naff- all in it. Just for a moment I considered the Frank Chacksfield, bottom- middle, but no- I had loads of shops on my list so I wasn't desperate.. Mind you, I was already growing annoyed with this weather. What I really needed now was a loo. This cold weather weren't doin' me no good, even though I'd had only one cup of coffee all morning. There were signs to public loos but I no sooner followed one than they stopped appearing. Bloody infuriating. On the hunt for the loo I came across a Havens charity shop.
They had a very small selection (I mean really small, about seven records) of tat. There was an Emmaus next door but it was all furniture. Never mind, there's another Emmaus here, described online as an 'Amazing place' so I had high hopes for that. Now where's that loo? Ahh the sign says down there, past the Dogs Trust shop- I'll come back to this when I've found that loo. Where the next loo sign should probably have been there was nothing. Give me a bloody break. It's freezing, there's 'F' all in the shops, micturition is a priority, Oh Lord why hast thou forsaken me? There was an Oxfam shop.
I'm here, I've no idea where a loo is so I'll just grit my teeth and go in- Oxfam always has something doesn't it? It'll cost but they always have something don't they?
Yes they did- but not much. By a stroke of luck I am one of the few people alive who actually has an interest in Morris dancing! So I was happy to hand over £2.99 for this Ashley Hutchings compiled LP. Now where's that bloody loo. I was near the bus station and they had a 'you are here' map; I was actually holding various maps in my frostbitten hands but they didn't show loos, they showed charity shops that would hold untold treasures. Ha! I followed the directions from the bus station map and, behold, a Gentleman's Convenience. What's that sign on the door? Female cleaner in attendance closed for cleaning. YOU HAVE GOT TO BE KIDDING YOU UTTER BASTARDS! Right, that's it; I'm going to go to use Debenhams even though I've no intention of making a purchase there. I'd been trying to avoid this as I consider myself to be decent, and upstanding, but this is what they'd done to me, I was turning rotten. Blast you Colchester! Thank you Debenhams. Right, back to Dogs Trust.
Ahh, just as I suspected: zilch. As my mind wandered to Turboellis and his, "..so I just wandered into this second hand sale after work, you know, after everyone else had already been through everything, and I managed to pick up a handful of pretty interesting things, some usually costing a hundred pound or more.." story, I noticed a wonderful church.
This is the Holy Trinity Church, the only Saxon building still standing in the town centre. It's not a church anymore, and the poor thing is completely surrounded, on all sides, by shops. As The Pop Group said 'Department stores are our new cathedrals'. Next stop Colchester Cat Rescue. By God it's cold I thought for the nth time.
Nothing, no records at all, not even any records to leave behind. I had a chat with the woman in the shop about the cold weather. She basically told me I was an idiot and I hadn't checked the forecast. I had checked it, I told her, I'd checked it last night. 'Well you should have checked it this morning', she said.
There were still loads of Charities on my map although I'd already found out they weren't all for me. One was a specifically 'Vintage' charity shop. Another was just furniture, and another just for the charity's book sales. It was a pretty poor show. I'd had visions, crazy visions I now realized, that I'd waft into 5 or 6 shops, repair to a coffee shop to gloat over my bargains with a pastry and an espresso, then go to empty the remainder of the shops of their hidden treasures. So far I had one record, I was bloody cold, I couldn't be arsed to sit down for coffee because I knew I'd just dwell on my disappointment, I was still annoyed about the lack of decent signage to the loos, and then finding them closed. I walked past a charity shop; don't even remember which one, I was past caring. I'd pretty much made up my mind I'd stake it all on the 'Amazing' Emmaus and then bugger off home. I'd only been here about 2 hours. I had thought I was going to be here all day. This is the sight that greeted me at the Emmaus.
Looks promising, doesn't it. Well cool your jets. I'd like to say I hit Gold but I didn't. The quality control was a bit absent. You know how people used to use record covers as ashtrays, and sometimes there will be a few burn-marks on a hippyish type record, well one of the records here had been burned right through, in several places. Another just had large pieces missing out of it. I did find a few though.
'Disco Two' could have been good. It's got 'Superstition' on it, it could be a fantastically groovy breaks-laden version. It's not. There is a passable cover of 'Also Sprach Zarathustra' but that's about it. Thank God for Chaquito (or John Gregory as he often styled himself whenever Chaquito groupies cornered him," Chaquito? No, my name is John Gregory. I did see someone in a sombrero run off around the corner") who never disappoints. Johnny Scott is fluting on this and it's a delight. Similarly I've found Percy Faith to be pretty solid and so he is on 'The Music of Brazil'. Nice percussion on here. John Inman? I only bought this in case Agnes wanted it. I saw John Inman on 'The Good Old Days' recently and he was very good- not as a singer, I hasten to add. LPs were £1 each and singles were 50p. I really couldn't find one more LP to round it up to a fiver so I had a quick look at the 45s and came up with The Shadows and Elmer Bernstein. The Bernstein has a couple of nice hip Big Band jazz numbers on it.
There were a couple of charity shops outside the main area which I'd need to drive to. I thought I better had as I'd come all this way. I had a photocopied map showing where they were so I headed back to the car. The relief of getting in out of the cold was fantastic. Mind you, after driving around for half an hour and not finding a single one of them I'd had enough. My map showed the shops but you had to know where you were in the first place and I didn't have a bloody clue. All I knew for sure was I was in Colchester and I wanted out of Colchester. If it had at least been pleasant weather I may have been able to salvage the day seeing what else Colchester had to offer but I really wasn't in the mood. On the way home I formulated a plan to drop in on Stowmarket. It was sort of on the way, If I went on a scenic route. I'd never been but I knew It was just a small town so It would be easy to park and would probably have a few charities. Maybe the weather would get better too. Within an hour I was in Stowmarket, and parking at B&M. The weather hadn't changed; it was still taters (cold for non-cockneys). They have a very nice Citizens Advice building in Stowmarket.
First stop Age UK. I bought Pete Sayers 'Bogalusa Gumbo' for £1. Probably not worth that but it's for charity isn't it. I thought it might be a bit rough 'n' ready but it's not, it's a bit slick.
There's really only a couple of streets in Stowmarket so it was easy to find the charities . Next was British Heart Foundation. The prices were beyond ludicrous. Plimsoll Sandwich was reduced from £24.99 to £12.99. They had a Marantha Choir LP and I'd liked the track of theirs that Dukowski83 had put on a mix a while back but I didn't really want to pay £4 for it so I left empty handed, and cold.
On the way down the street I heard someone say hello. There was a woman selling pies and she said she says hello to everyone. She'd come from Chelmsford and we discussed how bloody cold it was- although she was dressed for it- and what a state Colchester was in. She attempted to persuade me that Chelmsford was on the up-and-up, and now had a John Lewis. Next stop something called Supporting Charity For Sick Children with a very homemade sign.
I bought 6 LPs here at £1 each. Nothing to write home about really.
They had a box of records that were all absolutely mint, presumably from an old shop. Unfortunately it was mostly Jim Reeves type stuff. I bought the Hawaiian LP just in case I ever wanted to feel I was on a sun-kissed Isle (like at that very moment, for instance). Bill Le Sage handles the vibes on Wout's LP but It's not one of his best. I just love the photograph of Eddie Lee on the front of his LP. What a hard bitten desperado. That gang of his looks right rough too, don't they. Hillside is a local label who put out a lot of English Country. This is not a great example, I don't think Eddie has much of a voice. It's a little on the staid side. Look at that groovy Mantovani cover. Man is he 'with it'. There is a very good version of 'Up Up And Away' and the rest is Mantovani doing his signature thing, supposedly more groovily than normal but not really. I don't mind the odd bit of Manto though. The 'Monastery Garden' I am pleased with. It's only Decca Eclipse but it was only £1 and it's mint and it's got all those other great Ketelbey favourites on it which I love. Handy if you ever want to do a sand-dance to pull some dolly-bird who has taken your eye. Next to this was a St Elizabeth Hospice with a few boxes of records.
Alas, nothing in 'em except this White Plains 45 in a Harvest Sleeve.
Who doesn't like White Plains- form an orderly queue and I'll deal with your grievances one at a time and we should have this sorted by the end of April. Well I think they have their moments. The A side of this is the extremely drippy 'Step Into A Dream'. The action (if you can say that about White Plains) is on the B side. 'Look To See' is a stripped back, harmonies, bongos, acoustic guitar affair which would suit anyone who likes The Natural Acoustic Band.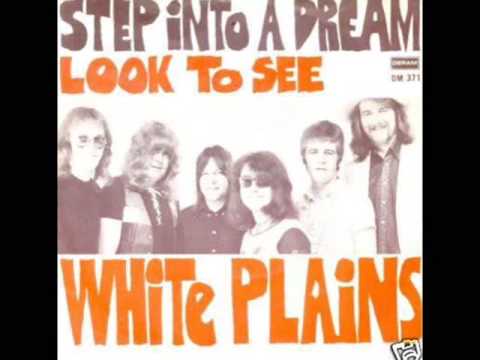 That was it for Charities. I quite liked Stowmarket. It had it's own family run Department store which is pretty rare these days.
An independent electrical retailer- another rarity
A nice church with an open viewing platform halfway up it's spire
A massive United Reform church bang in the middle of the town that looked like a Fire Station
And the rarest of the rare, a Post Office which was just a Post Office!
All in all it hadn't been such a great day. I'd been to quite a few charities and not come away with much. There weren't even any VV/VG+ classics I could buy to give away. It's tough out there. Colchester is on it's uppers a bit, I think. Stowmarket I liked. It still has the feel of a classic market town, with it's independent shops still managing to keep going. The cold weather made the lack of any really good finds seem worse than it was. I was so peeved with the weather I still hadn't had anything to eat or drink since I left home but I thought I'd just head back and relate my struggles to the cat. I knew he would be all ears (quite literally as he's an Oriental)
On the way home I had a very strange moment where I felt I was entering a warp in time as I passed through an ancient village called Wickham Skeith. This could have been a hallucination caused by a lack of hydration (it had been 7 hours since I'd had my only drink of the day) or it could have been God's way of saying, 'Look mate, I know I don't exist but, aside from that things aren't all bad; you did get that Chaqito LP didn't you'.