Davey Sands and The Essex - Live for the Sun....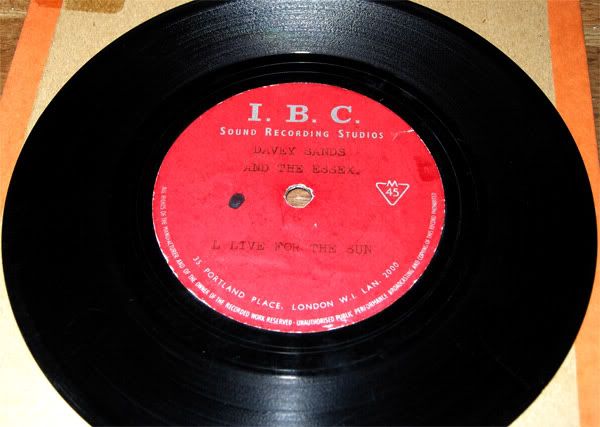 This is not my normal bag but there's something about the attack the of delivery and the quality of harmonies that kind of gets me going. I like the idea of a bunch of Essex boys deluding themselves into thinking Margate is somehow twined with Waikiki...But perhaps this is stretching things a little, the chances are this lot were just trying anything to get a hit like so many other acts past and present.
Musically the sound is undeniably British no matter how much they appropriate from the Beach Boys. The tempo and delivery have a surf / beat feel that kind of works but I'm not sure if this cut received a release? (They did do at least one 45 on Decca) There's also a link with this lot and Brian Poole in terms of production. Anyone know this track? I have to admit I've not done much to find out about this acetate but in the past I've enjoyed peoples views on the few that have found their way onto this site. Thoughts, Info, opinions welcome...
LISTEN HERE
(I'll try and upload the flip to this in the next day or so if anyone's interested)
[Edit] OK here it is...
Davey Sands and The Essex - Baby's Gone
For me the flip doesn't have the same bite to it. Nevertheless I do like the intro and the keys on this cut. I can't quite place them but they do sound familiar. In parts some of the harmonies work OK.
Listen Here