Yesterday was my 33rd birthday and much to my horror I found that I had no one to play with until the early evening. With this in mind I thought what better way to spend the day than rooting through piles of crap records. This seemed much more appealing than folding and stapling 150 zines piled throughout my house despite the fact I should have finished it way back in April. This picture represents just a tiny part of my girlfriends current domestic hell.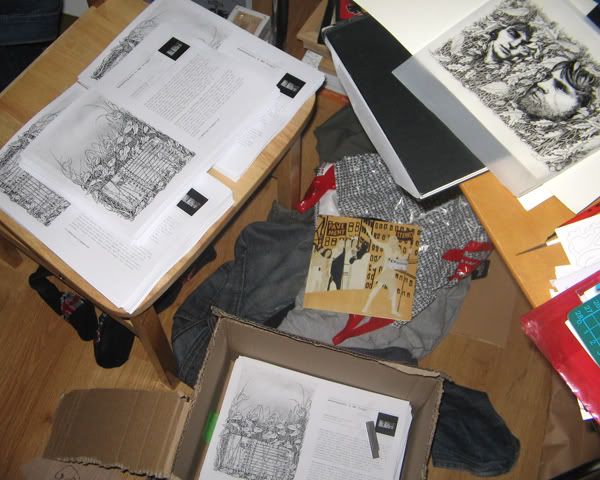 Here's the pick of my birthday presents - an original Dark Star poster - not sure where I'll find a frame for it but it's a beauty. Not sure if it's got anything to do with the challenge but forgive me a little bit of show-n-tell.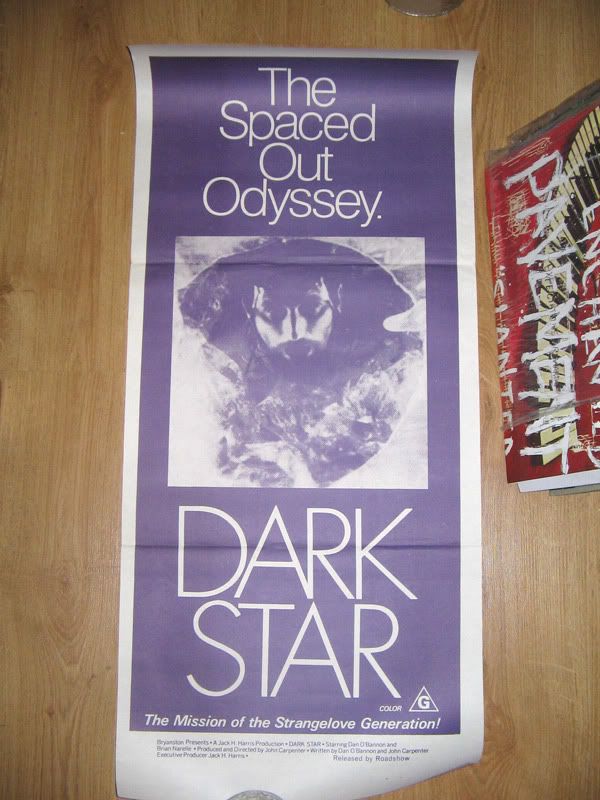 You lot are a dapper bunch and as a rule I'm a scruffy bugger but in honour of the day I thought I'd wear a tie for a change. My inability to 'tuck in' combined with my cheap 65% polyester/35% short-sleeved paper thin shirt gave a distinct whiff of disheartened local government worker rather than anything bordering on smart but if it's good enough for Homer J Simpson...
Not gonna be winning any footwear awards neither with these student bothering Converse.
I've not had the greatest experiences with charity shop record hunting in the past fifteen years and as a result barely bother these days so I wasn't expecting a great deal. Since the great cull I'm dead picky about what records make it over the threshold of Naga mansions so I've almost the lost the habit of taking a blind punt which is a shame. With that positive mental attitude flowing from all pores I headed off to the nearest Charity Shop - a well picked over Mind. The concentration of VG+ folk round Finsbury Park is frightening - I half expected to see a few of you on my first port of call.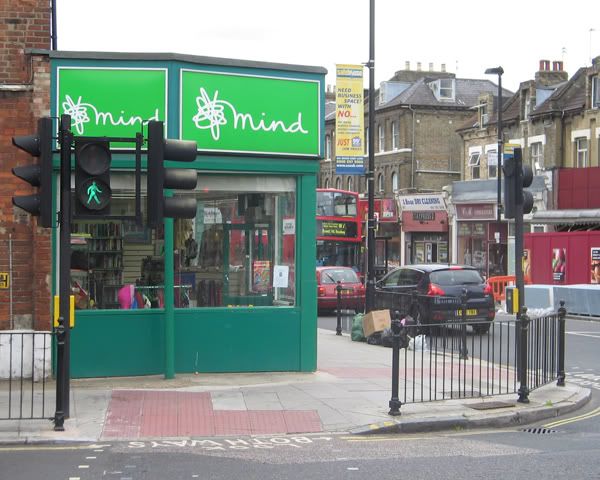 It was a bit of a shock to the system - some decent records! Alas the prices were a bit of a shock too.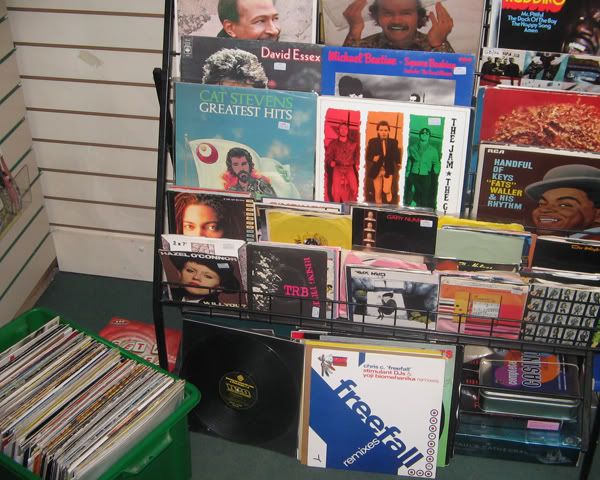 A still sealed new (ish) Prefuse 73 lp with substantial sleeve damage at the top. Five years ago I would've bitten your arm off for some fancy glitch-hop (not least because it would've been two years prior to it's release) but I can't say his two first albums get a lot of airplay these days and £6! Over half my budget splurged in less than ten minutes.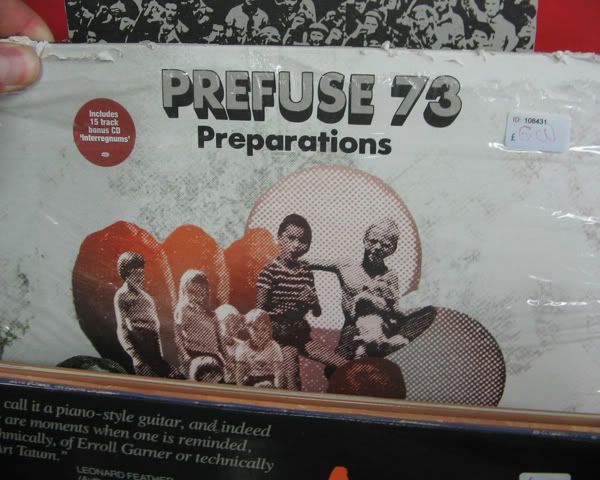 A near mint copy of Talking Heads: 77 is also vaguely tempting given it's one of the best records ever made and I could do with (near) minting up but life's too short for all that nonsense. Besides it's a fiver.
So I leave open handed and wander up from Stroud Green towards Crouch End passing the grand 'Old Dairy' pub. Smashing building and a decent restaurant and pub - bit dear mind and too much new media braying for the most part so I can't really call it a local. I believe Simon Pegg does though - I rode past him walking his dog around there last year. Fascinating...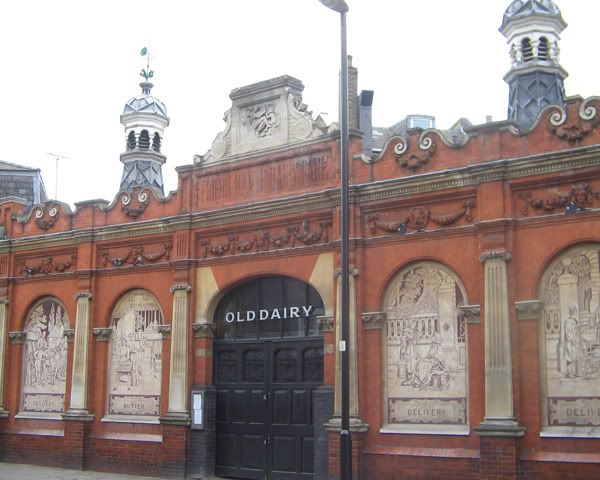 I wander up Crouch Hill which is reasonably steep - steep enough for me to be impressed by some fixed gear cyclist making short work of it - not sure what his gearing would've been but I'd have to have lie down afterwards if I attempted it. From the peak of the hill you can just about make out Alexandra Palace in the distance - having recently read Joe Boyd's brilliant 'White Bicycles' I was impressed to find out they had psychedelic all-nighters there in the late sixties featuring the likes of Pink Floyd before they went shit and The Soft Machine (also in their pre-shit years). Course you lot probably know that already so I'll shut up but I do expect the next Cosmic Slop to be put on up there.
Flashback Records
is one of the first sights to greet you upon reaching Crouch End (new website up and running too). Smashing little record shop whom received the best of my tat from the big cull - I still have £100 or so record credit that I'm holding on for dear life. The thought of not being in the position to go browsing there or at the Essex Road branch every week fills me with terror. But today is not a day for record shops and besides it's shut even though it's gone ten. Naughty.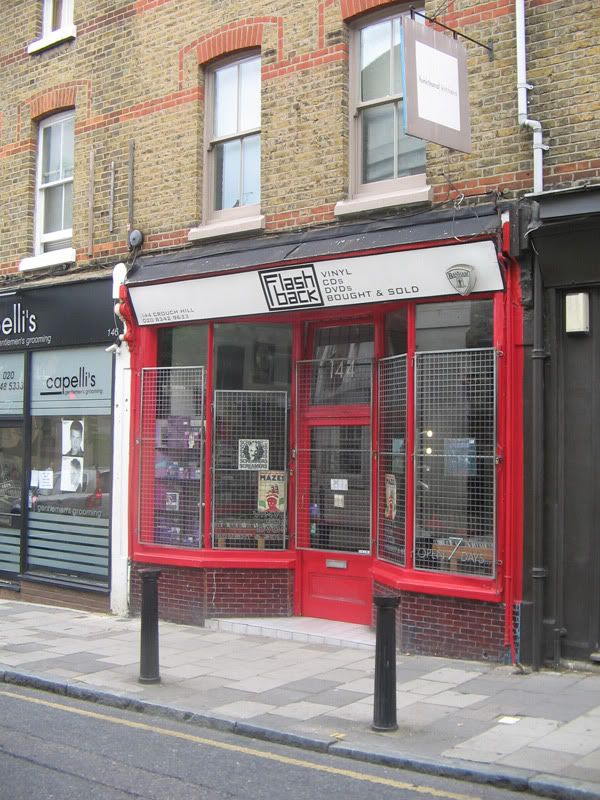 Strolling on I pass The King's Head - even posher than The Old Dairy and not to be frequented unless you like brushing shoulders with beautiful, well-spoken, confident, happy, rounded twenty something idiots. I'm brimming with far too much self-loathing and bitterness to even consider it. That said they do have good gigs occasionally downstairs - I saw Voice of the Seven Woods play a storming set there in 2007 or so and the fantastic Stewart Lee also does stand up shows there regularly.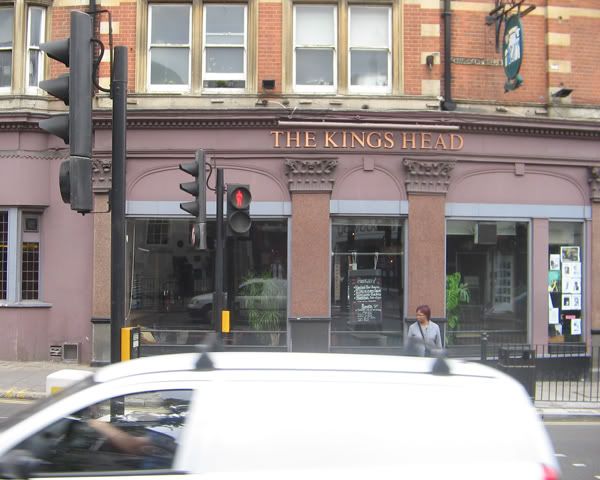 Right back to the CSC - I'm detouring far too much.
Next up is Cancer Research. I hate taking photos almost as much as I dislike jazz so apologies for the hastily taken snaps - the shop pics in particular offer very little of interest thanks to my 3 second approach. The way I see it why spend 5 minutes taking a shit photo when you can take 3 seconds to do it.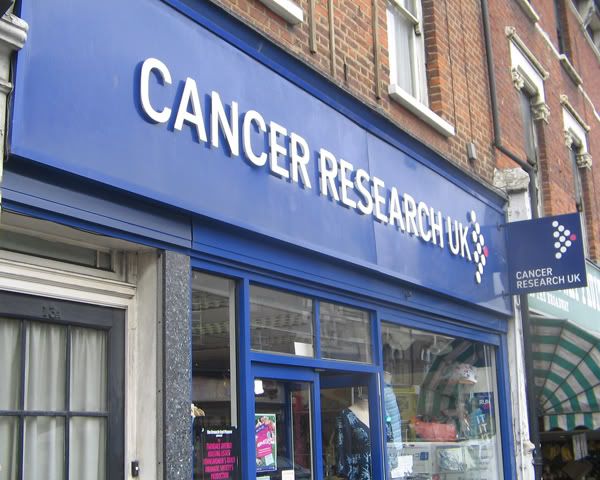 Inside I'm greeted by some vaguely interesting records which are unfortunately a little too pricey for me.
Once my eyes stop sicking blood from the horror of the cover I discover this over-priced funk comp actually has some half decent songs on it but at £4.50 it's way too much for me to part with this early in the day. Besides I tend to think whoever decided to do a fecal protest on the cover has got a point - as record covers go it's got to be one of the shittest.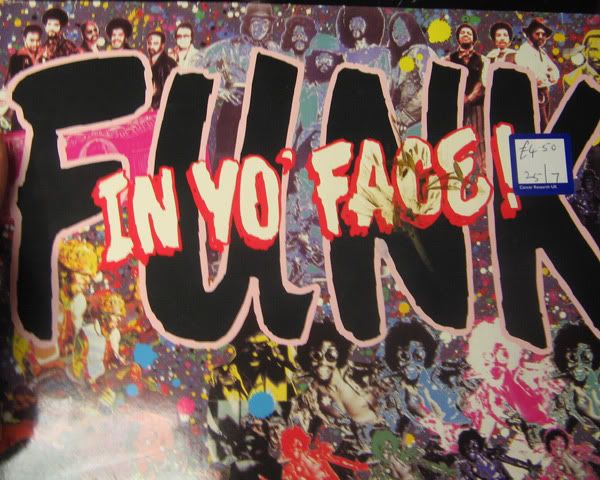 As I said a half decent track list - I must dig out Bertha Butt when I get home. Ooops pardon etc.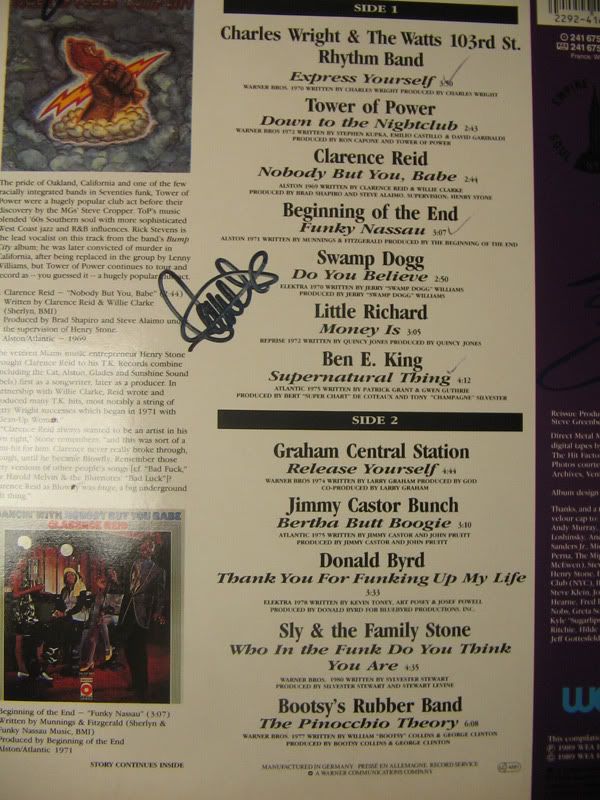 I also pass up this - too pricey and not really my bag these days. As a rule I have a cut-off point for funk and soul at 1972 or so for fear of disco. This is the first nagger of the day though - the records you leave behind but you think may have been worth a punt. I also pass on a mint copy of 'Watchmen' for a fiver - I already have it - I've not managed to read two books at the very same time as yet so it's wasted on me with no visual stereo capabilities. Darn.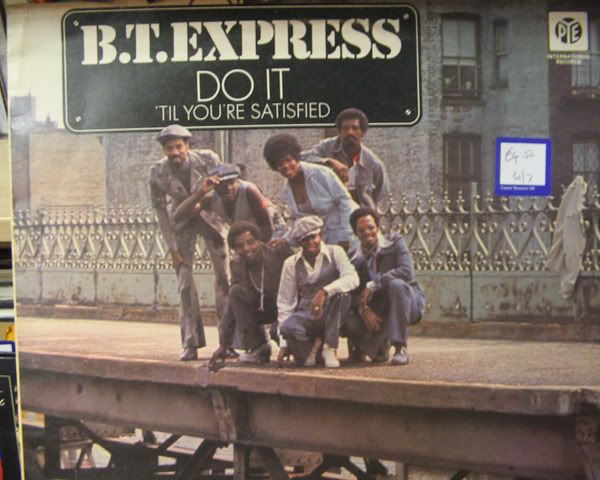 Onwards to Oxfam - a dedicated book and record joint no less. I'm rather taken with spending an afternoon in here - if you come on the right day there's an older beard-faced man that works here who's a very agreeable soul and quite happy for you to sit and listen to records all day on the listening apparatus. I do just that - well for an hour or so.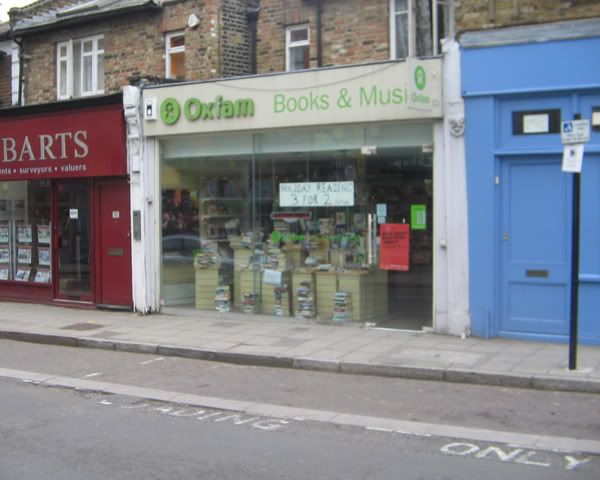 There's plenty to sift through too and some of it quite promising.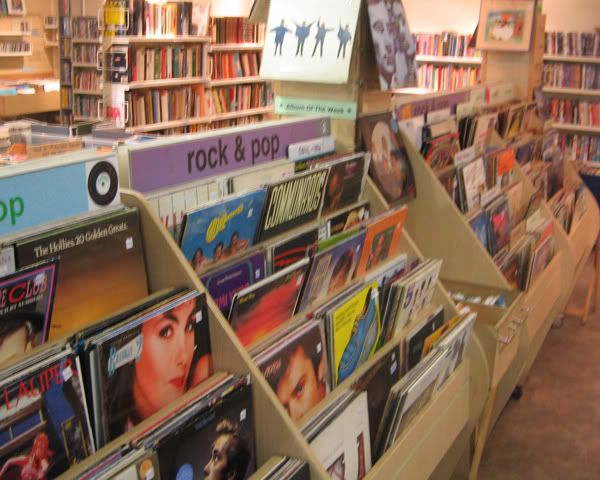 I pass on Melanie - as the old adage goes thrice bitten very fucking shy. I've never really recovered from the live version she does of some proto-veggie folk song where her intro makes me want to go out and eat live dogs and such but I'm frozen from wincing so hard at her annoyingly twee and right-on speech.
I also pass on this - a quick skit through shows some silly prog promise but the guitar solos are just too much for me.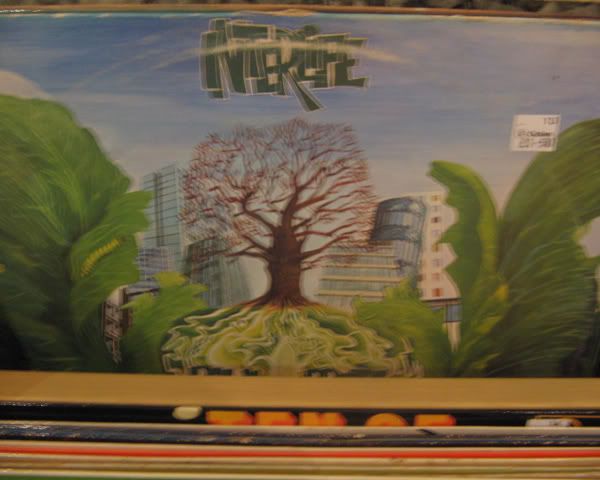 I pass on this too - it's from a fresh batch of goodies beard-face has just put out so I'm flush with excitement at potential 'Chapter Three' goodness. Unfortunately in attempting to gauge what sort of records I'm after by way of gentle conversation beard-face also points out it's no 'Chapter Three'. Baws.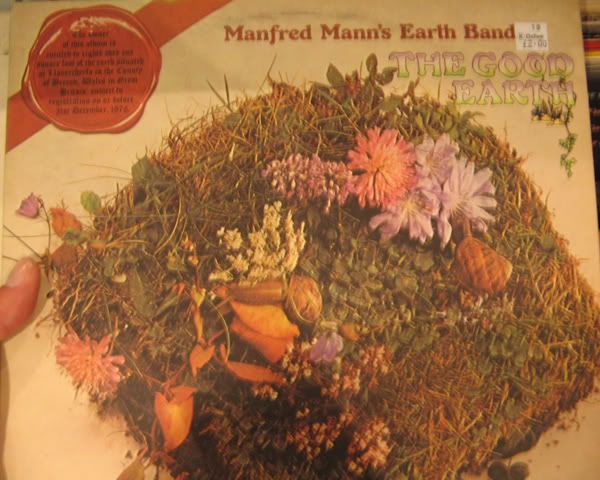 This is another fresh one that generates a little buzz within me - I cast my mind back to VG+ threads of yore and seem to recall some positive words about Roy Wood.
The buzz builds and I start to feel a little light-headed as I discover it's on Harvest - could this be a find? The mugginess of the day combined with my cheap BHS polyester shirt have me perspiring as I nervously drop the needle onto the vinyl...
Regrettably it's fucking nonsense. Nice one Roy you big berk. From my quick listen it appears to be bog standard run-of-the-mill seventies boogie rock and something of an ego trip by Mr Wood seeing as he plays every instrument throughout. It's the second serious nagger of the day though - my knowledge of records is passable at best (my memory seems to struggle beyond the realms of US based indie rock) but I'm wondering if it's worth owt. I don't really do the buy to sell flipper thing so I don't let this distract me too long and quickly unearth a Marble Arch lp. In accordance with this years CSC I should really pick it up on sight but I can't get passed 'A Groovy Kind of Love' on the front. To the point where I won't even give it a listen. Besides he doesn't look capable of proto punk dissonance but with God as my witness if one of you lot tell me it's got a gem on it I will seek Phil Collins out and kick his tiny Tory cock clean off and thrash it about his sweaty pasty-like face.
A glut of Dory Previn lps are a bit tempting based on the sublime 'Lady With The Braid' 45 I own but my spidey sense is tingling in the negative so I don't bother with her either. I razz through the 7's and find a couple of reggae bits by Dandy Livingstone and someone else whos name escapes me but realise I have more than a few Trojan little ones already that barely see the light of day (the poor wee fellas) and I decide someone else can give them a better home. Also they're a bit fucked.
In the last few singles I spot The Hollies fuzz glam stomper '
Hey Willy
' and bag it for 50p. I've got it already but my copies a bit knackered and imagine what kinds of dope shit you could do doubling that up on the ones and twos? No I can't either. But it's a spare. Poor beard-face was exasperated (but in a thoroughly pleasant way of course) that after all my dawdling about I only spend 50p but he doesn't understand the marathon-like nature of the CSC.
On my way out I do the cursory once over at the graphic novels section and see a shamefully discarded copy of 'Kick Ass' for £4.50. It's a peach of a graphic novel - one of the North London contingent should snap it up.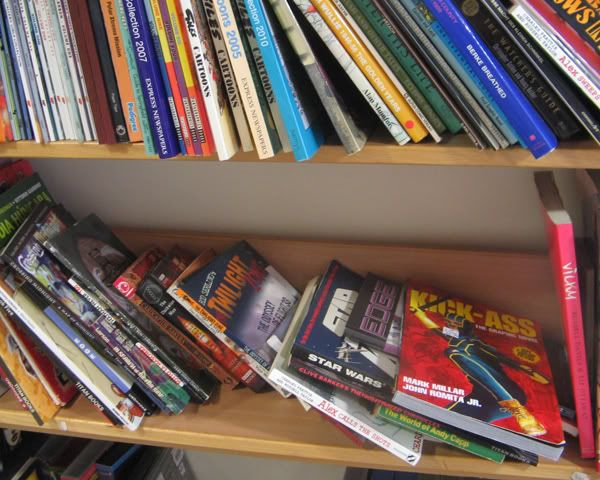 At this point I'd like to confess my primary objective of the day is finding a copy of Paul McCartney's 'II'; a record so neglected by me for so many years that typically upon hearing 'Dark Room' (thanks to the guidance of Pencilface) I haven't seen it for less than a fiver ever since and I refuse to pay more than a quid for it. With this in mind and the early buzz of some potential goodness I have a spring my step and decide I should document Crouch End by way of crap photo. Da-da!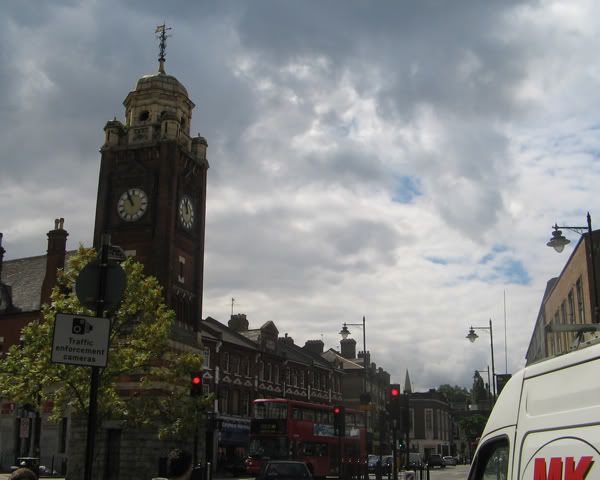 Next stop The North London Hospice a traditionally smelling charity shop - I inhale a deep breath of musty-fusty-dusty and remember better times.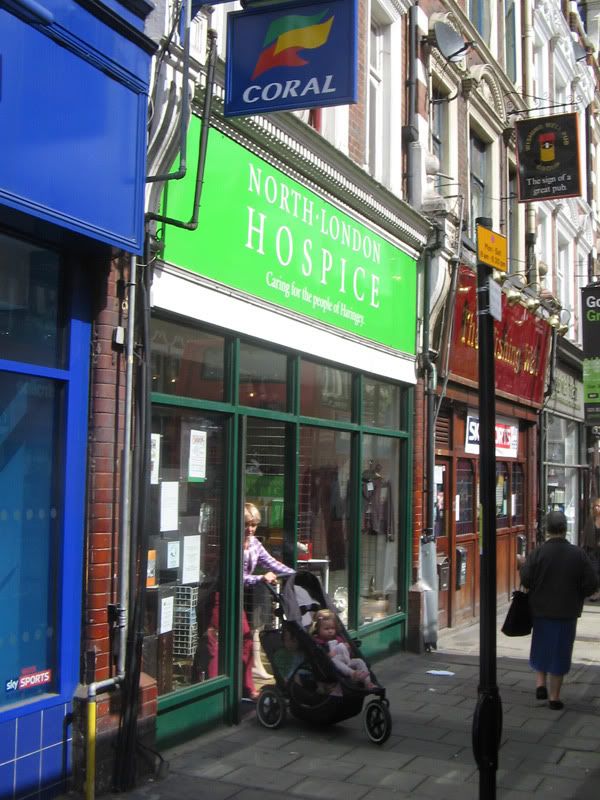 And some records too.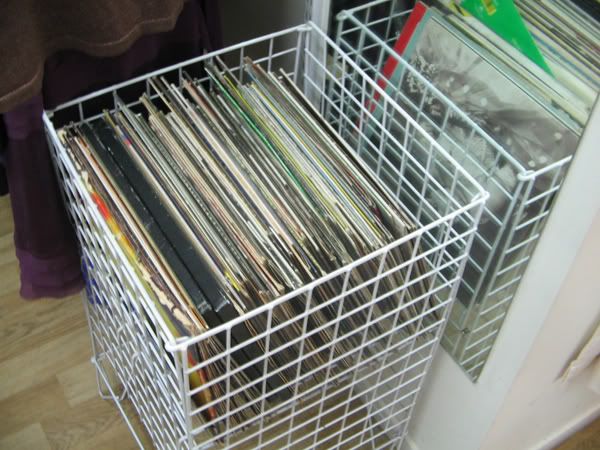 The usual array of crap records but a gem in amongst them in the form of Burl Ives whom I've come to love through the use of his songs on the mostly patchy but kind of good Wes Anderson film The Fantastic Mr Fox. Even if you can't take his films the soundtracks are generally great. I've been trying to get "Burl Ives Sings Little White Duck and Other Children's Favourites' for a while now but as common as it is in the States I've had no joy finding it over here. It's got three songs from the soundtrack including '
Buckeye Jim
' and although I'm not entirely sure why I can't get enough of his voice and the simple songs he sings.
I'm in luck - the record I find has 'Buckeye Jim' on it so I grab it for £1.50. Bit steep price-wise but I suppose the two-for-a-quid days are long gone at least in Crouch End.
I also find this footballing geographical oddity amongst the tat - apparently I have a fellow Palace supporter in my neighborhood. I wonder if they had the same bother I had trying to find a pub showing the crucial W.B.A game last season? I ended up in a pub in Wood Green where I spent a fraught evening trying my best not to have my face punched off.
I didn't buy it - the floating head wasn't quite enough of an incentive.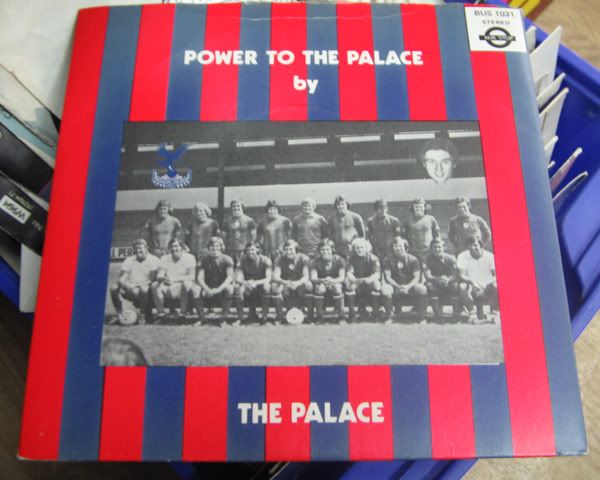 At this point I decide to leave the relative sanctuary of North London and chance my arm in my hometown of Croydon. I'm not sure what the thinking was behind this but it in hindsight it may have been an error.
Marching on up to the top of Crouch Hill again I pause to take in all that is London before me and my mind races at the vinyl related pleasures ahead of me. Or something.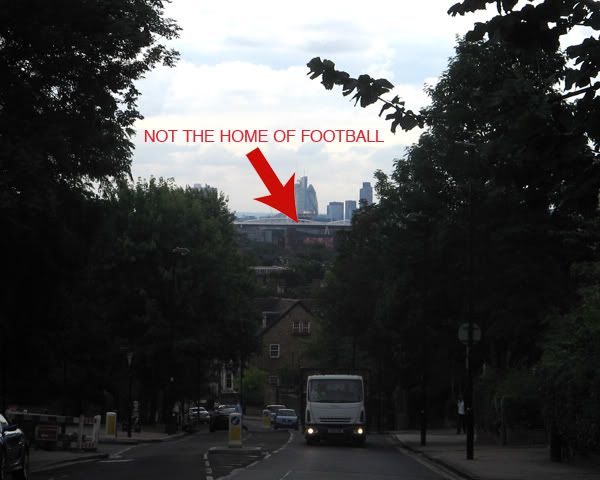 First I need to get out of my sweat-drenched shirt and tie - the disheveled local government-like exterior combined with my taking photographs is starting to raise eyebrows. I may be able to get away with it in Crouch End but back in Croydon folk are a more ferrel breed and having spent some years as a disheveled local government type at Croydon Council I know the perils at large there.
I also look like a tit and feel the need for more casual attire come the close of day in a boozer of my choice.
I take a quick detour on my way back down from Crouch End into a wooded area known locally as Parkland Walk. It's very pleasant and unusually quiet the times I've been considering how built up and busy the surrounding residential sprawl is. It used to form a railway route from Finsbury Park to Edgeware but hasn't been used in decades. There's a rickety ram-shackle adventure playground attached to what I think is (or was) some kind of yoof centre.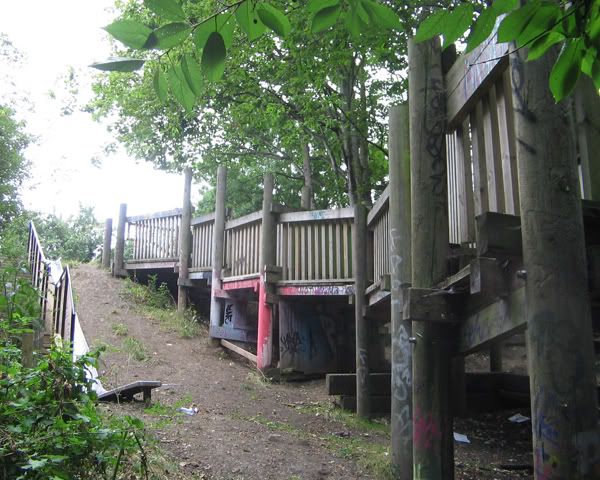 If you're feeling especially cowabunga freshhhhh you can skate the half-pipe - the woodland backdrop liken it to something out of the surreal but skillz skate movie
'Macho Tail Drop'
.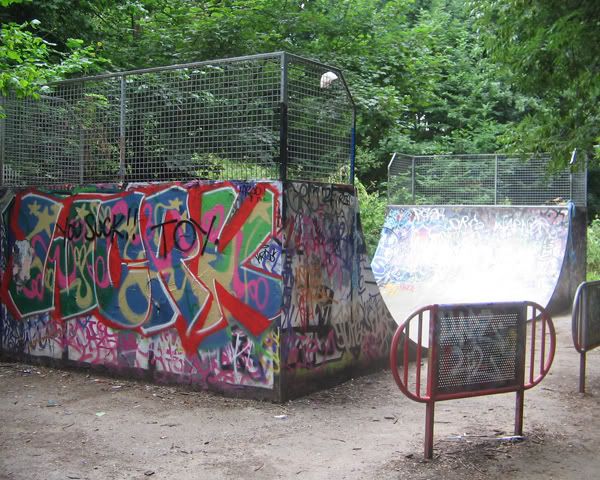 The best thing about the walk is the eerie man-sized Spriggan sculpture that leers out of one of the leafy railway arches overhead apparently inspired by a ghostly 'goat man' figure said to haunt the woods there. This in turn inspired Stephen King to write a spooky short called 'Crouch End' - not saying much really - I imagine a slightly off-kilter bowel-movement is inspiration enough for a spooky short from Mr.King.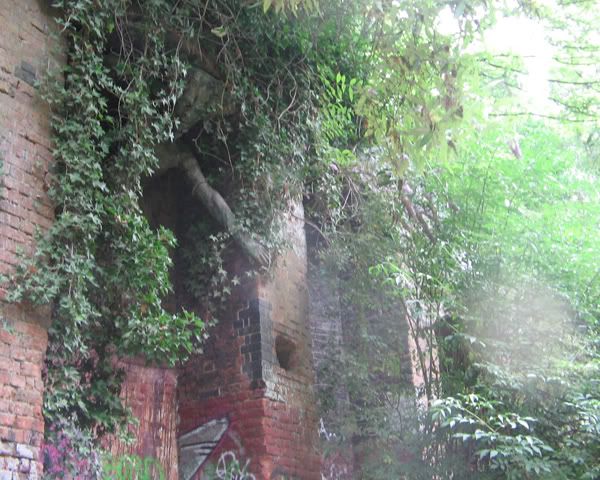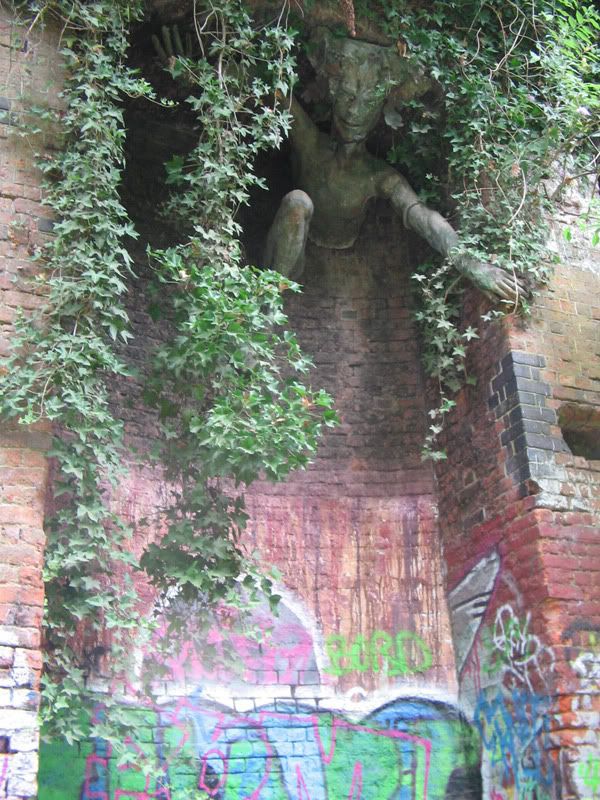 I quickly set-off for home with the lurking ominous dread of my own spooky bowel-movement to exorcise.
An hour or so later I'm hurtling towards my hometown of Coulsdon still eight quid to the good in fine spirits given the relative success of the morning. Unfortunately these high spirits quickly pass as find myself wandering through East Croydon in search of some provisions en-route to Coulsdon. Walking through Croydon after a long spell away is a kick in the nuts and no mistake. I scurry into Doughmasters seeking digestive refuge from a town that can boast at least five McDonalds within it's CBD alone. Croydon's delights only ever stretched as far as Beanos (ceased trading at least two years ago as a fully functioning record shop), The Oval (a decent pub in shitty town - though I hear the owner is looking to sell up soon to manage Cymande!) and Doughmasters - a family run eatery specialising in grilled rolled sandwiches. Given the 'sandwich' is made from freshly rolled dough sandwich is a bit of an understatement - I opt as I always do for the Mexican and a Coke. Food of the gods.
Wolfing it down I make a dash for my connecting train to Coulsdon South - the idea is I start in Coulsdon and work my way up to central London.
The joys of the morning have well and truly subsided by this point - why on earth did I choose to do my CSC in a hometown I could barely tolerate when I lived here and on my birthday of all days? The first sight to greet you upon reaching Coulsdon town centre from Coulsdon South is this rather oppressive looking building (Brutalisitc? I have no idea...)
Then onwards into the main stretch passing the library of my youth - I never really progressed much beyond the well-thumbed pages of Fungus The Bogey Man. I'm not convinced I have now.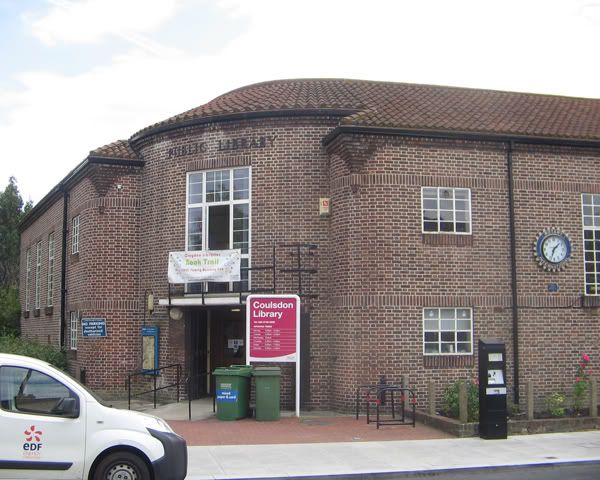 Then two charity shops sitting side by side, Cat's Protection and Marie Curie Nurses. I venture into Marie Curie first but don't expect to find much beyond what I dumped here last year - the turnover in Coulsdon is slow.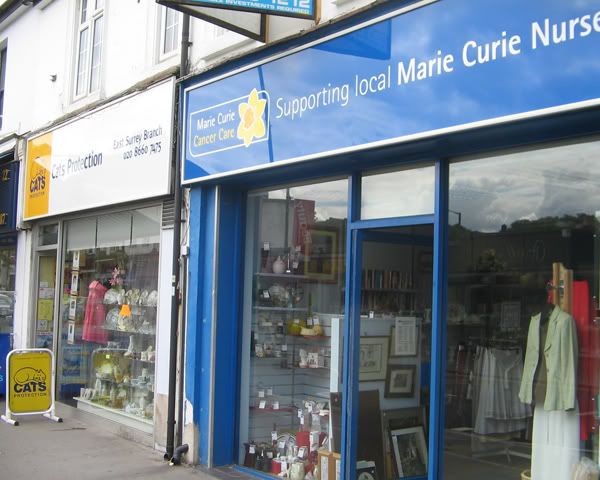 At one pound a pop the price of records seems to have stayed static since I left a few years back. It seemed pricey back then but after the shock of Crouch End not so much now. Probably says more about Coulsdon town centre dying on it's arse as much as anything but then I don't think that particularly singles it out amongst the rest of the countries once prestigious high streets collectively carking it up and down the land.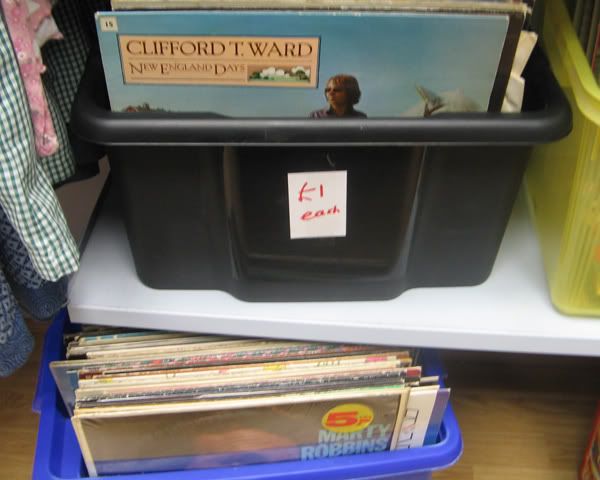 Not much to note except this light folk lp which I gather is common as muck but a flattering word or two from our very own Hooded Claw nearly had me exchange money for goods but for the fact the record within was battered to fuckery. Dang - another time.
Next door isn't much better despite the promise of a sizable batch of vinyl to rummage through.
I left Herb here last year in the cull - it has the Method Man sampling '
Treaure of San Migel
' but I picked it up on 45" a few years back so couldn't justify keeping it. Not sure how it managed to finish up here - my indifference to cats would never have me willingly donate records to The Cat's Protection. Hmmmm....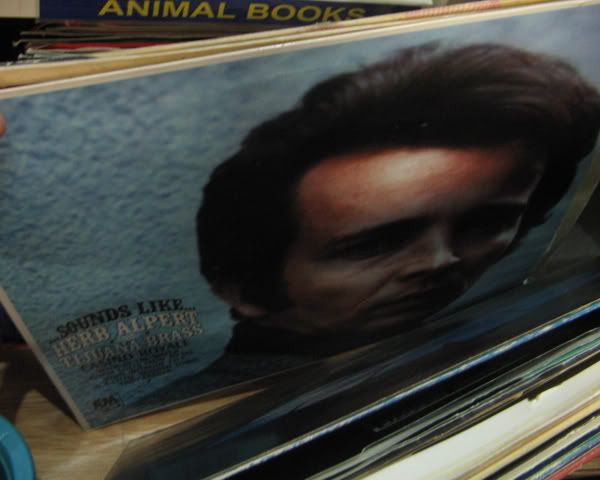 I do spot the Tremeloes VG+ cheapy classic '
Instant Whip
' but decide to leave it on account of owning at least one already.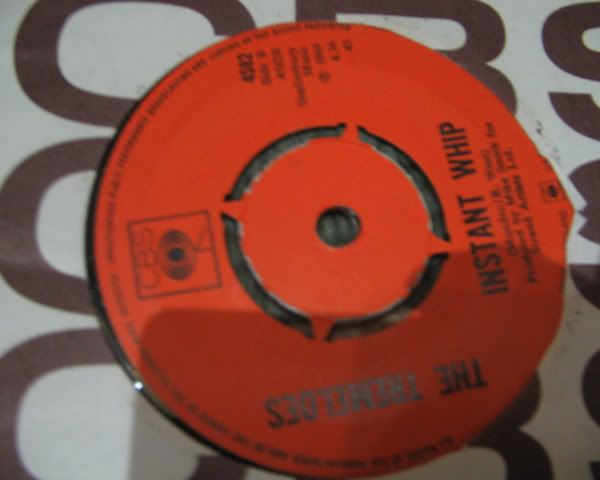 Down the road a few yards I pop into Scope, again not expecting to find a lot - the record section has been meager at the best of times.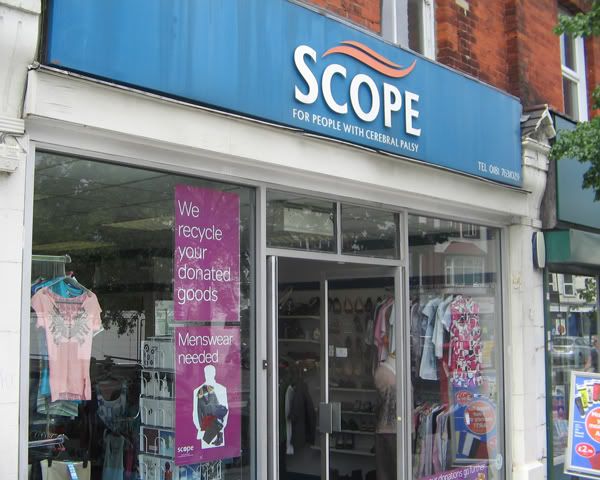 A few records and a Sex and the City VHS box set. I get my third twinge of 'whyonearthamIdoingthisonmybirthday' as my spirits drop to an all time low. I take some comfort in a fleeting memory of the
good doctor's
recent review of Sex in the City.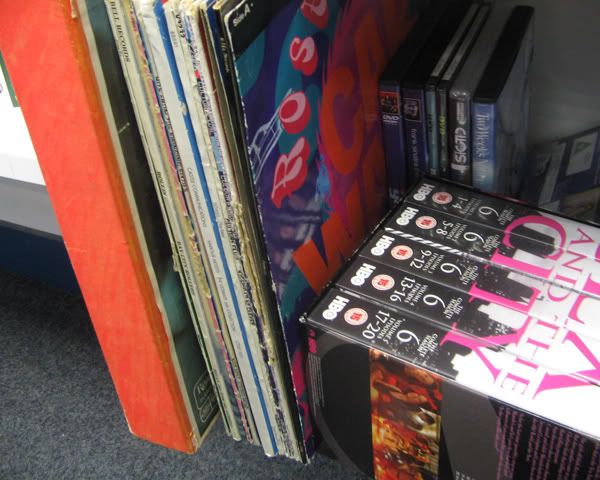 And with that Coulsdon is complete. No end of level baddies to face or anything. I didn't even need to use a poke. I stand dejected at a bus stop I seemingly spent my entire childhood waiting at repeatedly whining "when is the bus coming?" to my mum. It's little wonder I made it to 33 in truth - I'm sure if a bus had turned up during my junior years she would have been well within her rights to kick me under it. Fortunately it never did.
And on to Purley. Nudge nudge wink wink etc. In truth a hot bed of nothing more than charity shops and fast food chicken outlets - all a deceptive cover for what was once the richest postal area in England.
First up Cancer Research - one of six or so charity shops. There used to be a couple more too - during my dole years I'd hit this stretch every month or so. I can't remember any significant finds but I bolstered my collection over the years with plenty of run-of-the-mill record collection staples like The Specials, Zep, Pink Floyd, Sabbaf, The Smiths, The Pasadenas and the like...
Not for the first time my path to vinyl sanctuary is obstructed by a leg. Do I venture in regardless of this man's bodily blockade or wait patiently for an appropriate moment? Not being the most patient of fellows and noting the all too rapid passing of time (it's five and twenty to four!) I go in for the kill; my head not more than a foot from the man's bottom. I kid you not I've been in similar situations and had charity shop dwellers fart in my general direction - I'm almost certain I can't be the only VG+ member this has happened to. Such is the life of the over-zealous impatient record collector.
I take a deep breath and hastily finger through the records. First thing of promise is a Christian lp 'Folk Passion' but as with Melanie I've been burnt all to often by god-botherers and their god-awful geetaring. It's hard to resist the tasty cover but I let it go as another nagger.
Another one I leave behind is a wacked out (at least in cover alone) 'Symphonie Fanastique' - it's one of my favourite classical pieces but I already have it.
And finally I find this reasonably interesting comp 'This Rock Machine Turns You On' - the inclusion of a track by the stupendously good United States of America is enough to make me hand over a staggering two quid for it.
In retrospect it's nothing more than a mostly tame collection of CBS classics masquerading as something far more interesting and acid drenched but it does stand up as nice collection of songs to assist domestic drudgery. I think I was also swayed by the time of day, having not spent much up to that point and a general waning of spirits and foreboding.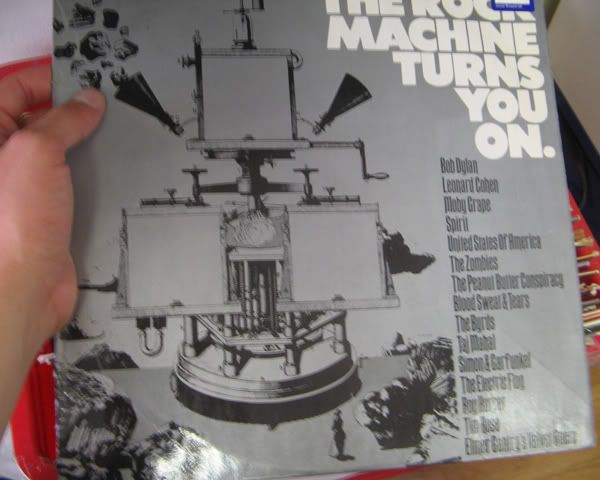 Poor old DebRA was closed due to illness.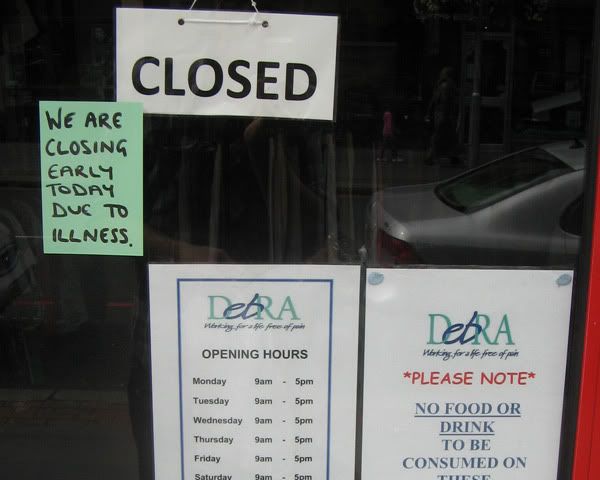 Three more in a row - first up the Children's Trust.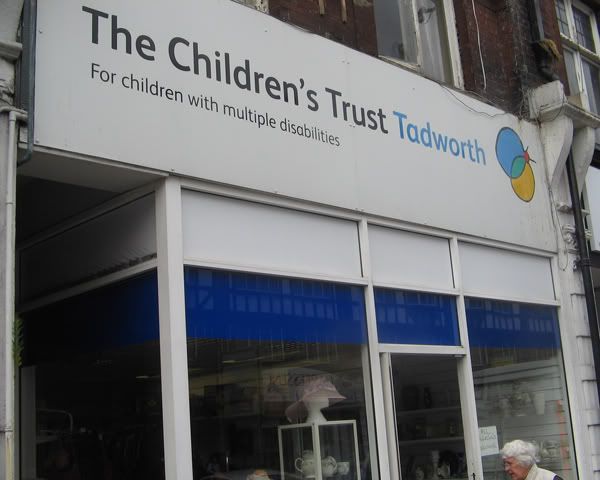 Not much here but there is another (crap) glam stomper - The Sweet's '
Little Willy
'. Pretty sure someone on here claimed it was cheapie gold but I'm not convinced. Maybe it's the b side.
Age UK - I cast my mind back to previous charity shop successes but I'm drawing a serious blank on this shop. It's always been a little too rough and ready in layout and content. That's not to say I don't like my charity shops rough and ready - they tend to throw up more interesting finds for less pence than your new fangled gentrified faceless generic charity shop but there's a limit...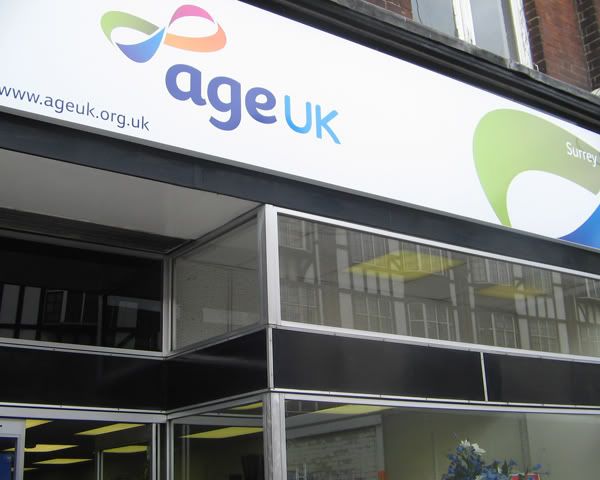 I do the most perfunctory of searches through this frankly unwieldy display of records and calenders but it's as promising as it looks unless of course you like motorbikes and ELO.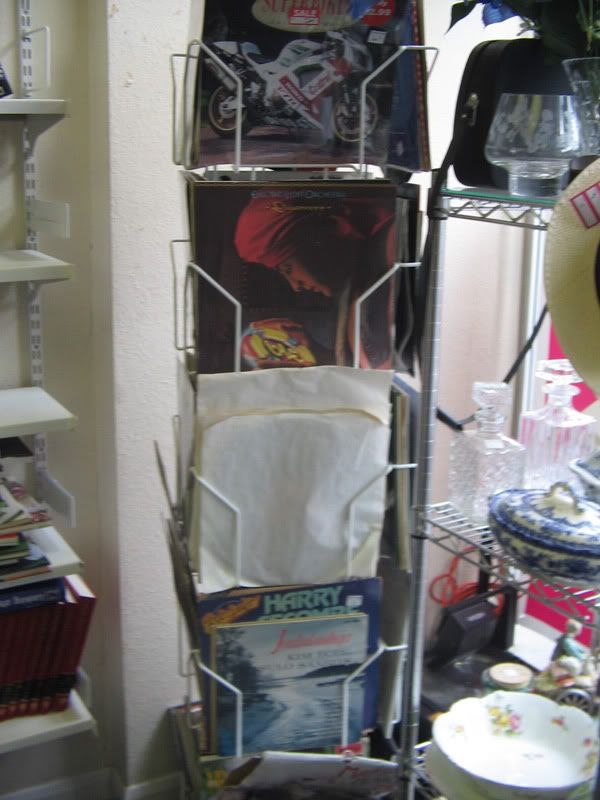 Oxfam next door is quite the opposite - well organised and over priced.
A few records but nothing of note.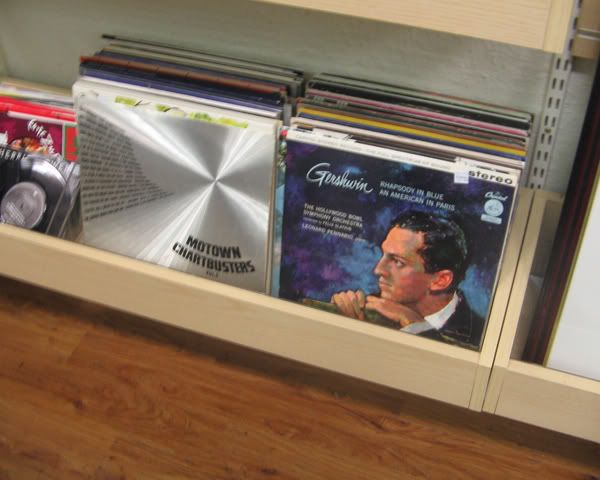 And finally another cat related charity shop. This reverts back to musty-dusty-fusty type. For some reason I always thought I'd find something of note in here but never did. A speedy once over suggests they've long since stopped selling any vinyl in here. Usually I'd have a skim through the books and crap paintings but time is tight, Purley is a spent force and I've still spent less than a fiver.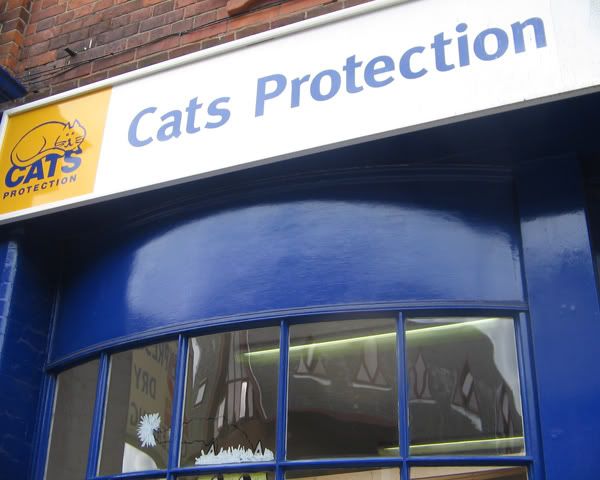 Back to the bus stop for the short trip up to Croydon. As I mentioned before I used to work as a lowly council worker in Taberner House so many lunch times were spent foraging in the local charity shops but many have long since disappeared.
First stop on reaching Croydon is the British Heart Foundation but they've stopped selling records.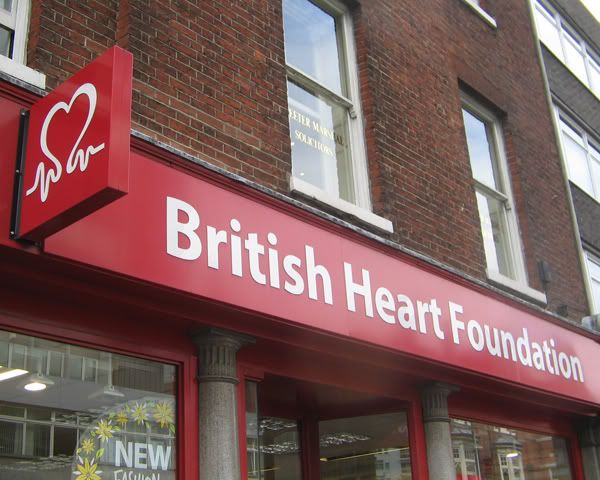 Long before the Whitgift Centre was the jewel of Croydon's shopping centre there was this dilapidated shopping centre which has long since lost it's sheen. I think it's been on the verge of redevelopment for at least twenty years and looks sadder than ever. When I did my charity shop rounds here some ten or so years ago there was at least two charity shops in here and at one point an actual record shop which can't have lasted more than six months. Frighteningly I can remember nearly buying The Monkee's 'Head' lp in there but felt the £20 asking price was a little too rich for my blood. I'm slightly concerned my memory seemingly covers records I didn't quite buy and where I didn't quite buy them... Still not tracked that lp down either.
The rental costs must be fairly low given the type of shops that set up in here - the turnover in shops is pretty scary too. Not quite as scary as these t-shirts for the massively obese. 2XL all the way upto 8XL! Eek.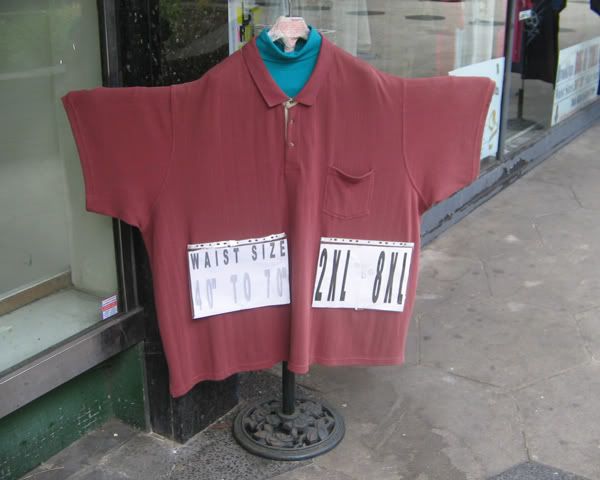 This is another shot from beneath the roof of the same shopping walkway. You know there's troubled times ahead when the fried chicken take-away is boarded up.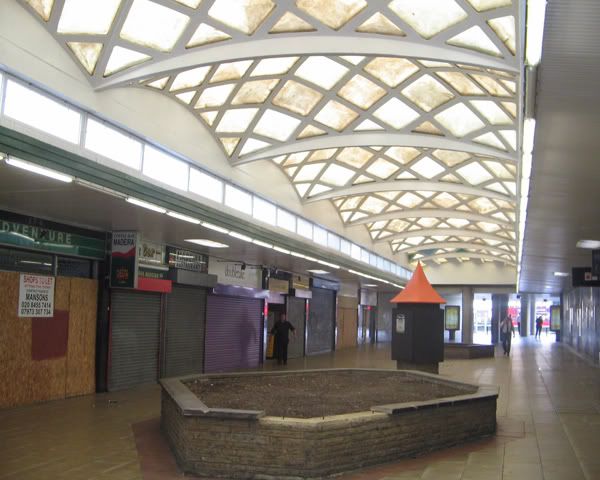 At least three of the spots in my rounds have gone so I'm left with no option than to get the hell out of Dodge. I read an article a few years ago that suggested Croydon was the perfect location for shooting films given it's likeness to three big international cities one of which was Vienna. With that in mind I decide never to visit Vienna as I make my way back upto East Croydon station.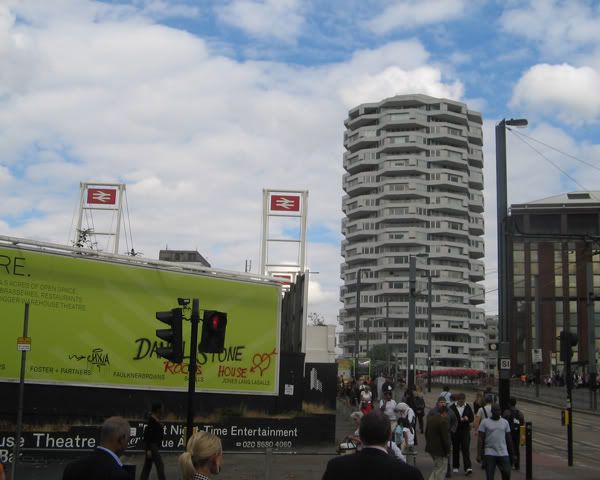 And one last parting shot from the platform.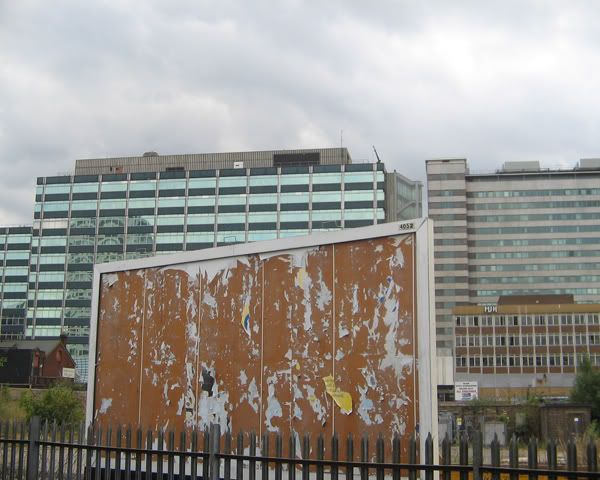 With just under two hours left of potential CSC left I decide a last ditch run in Clapham is my best bet. I've done it a few times in the past with relative success and at this juncture my mind is already wandering further ahead to evening beers and curry at Lahore near Aldgate so Clapham is ideally located to carry on through to London. First up along Northcote Road is a British Heart Foundation.
No beans. Across the road is Scope.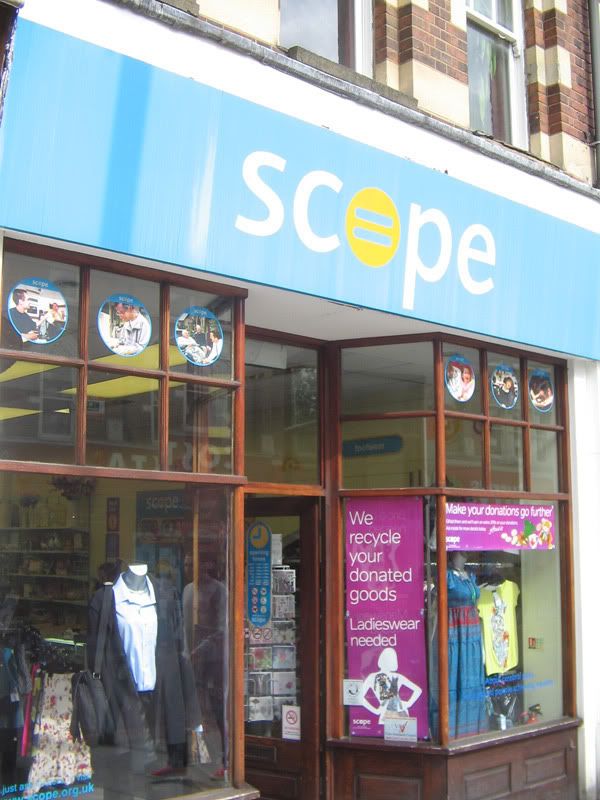 A little pricey - £1 for a small one - no ta.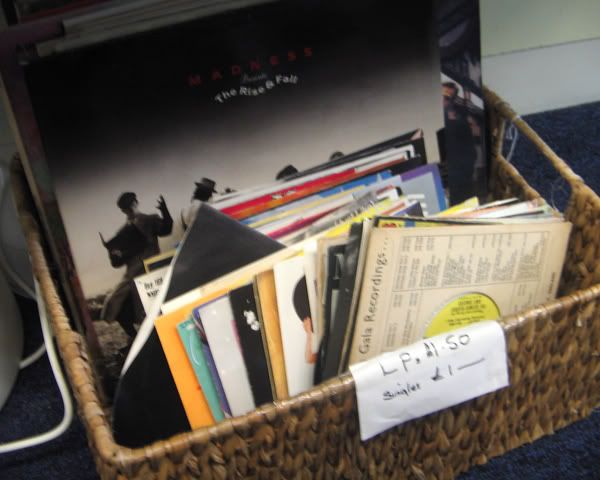 This Sesame Street book/record would've been worth a punt perhaps if actually housed the record but there's nobody home.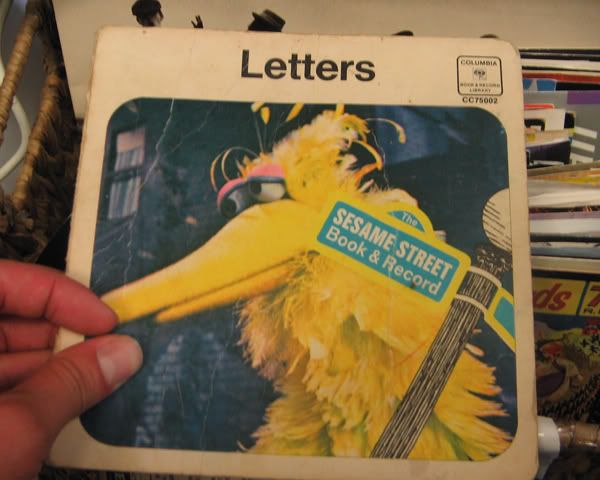 Time really is against me by this point so no dawdling - it's about half four by this point. I nip over to another Cancer Research shop but no records in sight.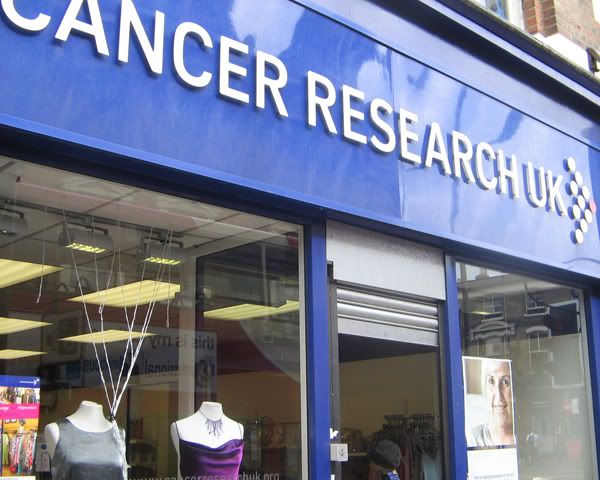 Marching up Northcote Road there seems to fewer charity shops than I recall and more snooty bars. The Trinity Hospice looks suitably non-gentrified given the relative glamour of the surrounding foo foo shops and boutiques.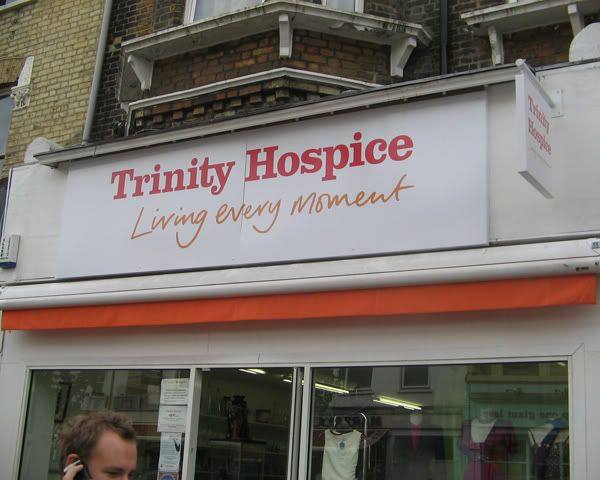 Ah - a much more promising site - a couple of boxes of lps to delve through.
The Manhattan soundtrack is sorely tempting as a big Woody Allen fan but I've got a few of the Gerswhin songs already and it looks a bit battered all told.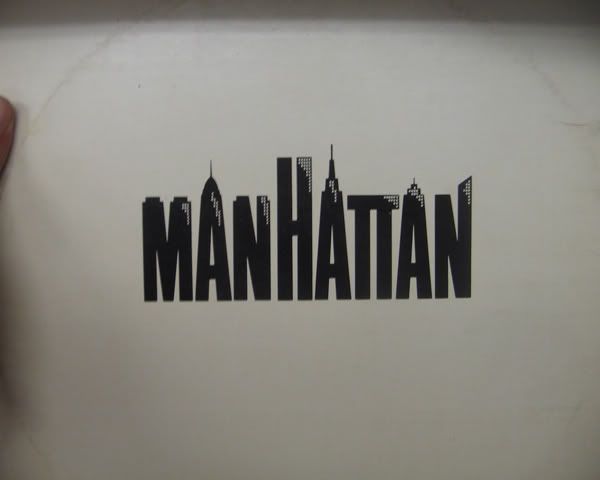 I'm also a fan of James Yorkston but I already have the lp this 10" single is taken from and I'm fairly happy to say I don't need anymore Four Tet remixes in my life. Good as they sometimes are I rarely listen to them and at three quid the charity shop seems to be charging just shy of the recommended retail price. There's another James Yorkston 10" in the box but I pass on that too for the same reasons.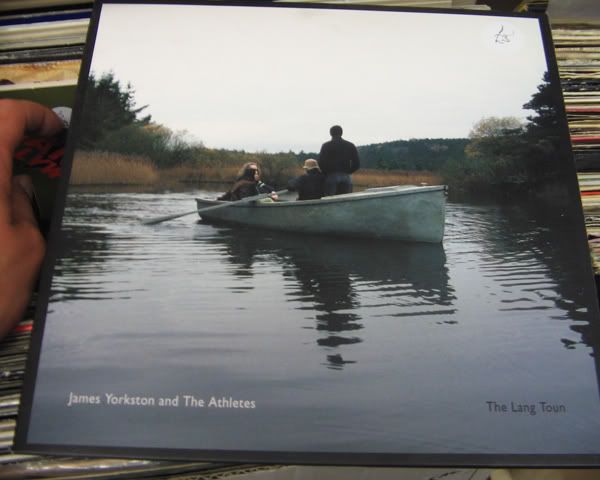 No thanks on 'Let Me Clear My Throat' either - it's proper borderline blasphemy in some parts but I can barely cope with the 45 King's '900 Number' as it is.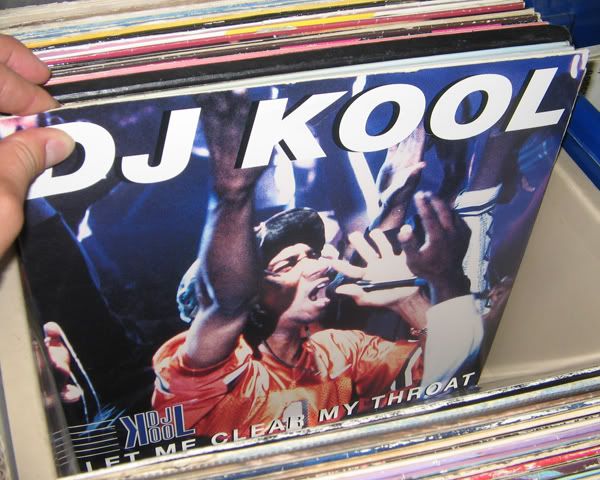 I leave empty handed for the umpteenth time and attempt to formulate a plan for the final hour or so of the CSC. I don't really fancy back-tracking down Northcote Road to Clapham Junction and figure if I keep following it in the direction I'm already headed I may stumble upon one or two more charity shops. Failing that my usually keen sense of direction suggest that Clapham Common is at the end of Northcote Road and there may be some more chazzas up there. My sense of direction combined with my inability to turn around do a number on me as the shops become more and more foo foo with each brisk step onwards. Ten minutes later I'm in a veritable haven of designer boutiques and fancy restaurants with no repsite in sight. Eventually Northcote Road ends at a t-junction in deepest Clapham suburbia. I throw a left and with each passing step feel the CSC slipping away from me for another year as I find myself surrounded by pretty semi-detached houses. I look for a bus stop but they're few and far between and I've gone too far to turn back now - it's quarter to five and I'm at least a mile or so from any shops of any kind feeling increasingly lost and frustrated.
After another twenty minutes of walking I see something of an oasis in the distance - a large green space with trees - all the hallmarks of a park or dare-I-think-it a Common! On closer inspection I determine I have in actual fact stumbled upon Clapham Common as hoped but time is tight.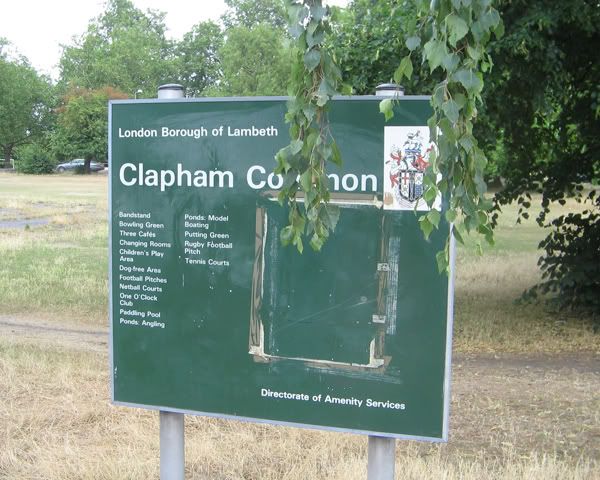 A quick glance back at the suburban hell behind me and I'm off again with a new found energy if not optimism - it's perilously close to five and I'm going to be very lucky to find a charity shop open beyond then.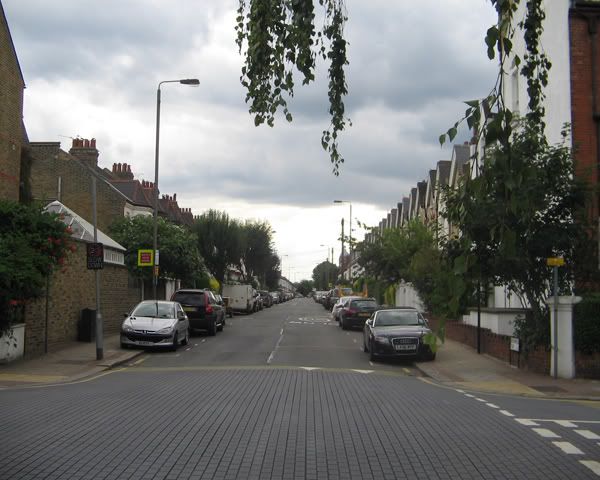 It's been a few years since I've been through Clapham and even longer since I was in Clapham Common but it's really not much to see. In fact even as someone who loves parks and green spaces it's something of a disappointment. It's large yes but virtually featureless but for one or two points of interest including this band stand.
With reasonable sense of direction resumed I head on through the park passing a few tramps drinking cider. I mull over the option of grabbing a few cans of delicious Heineken for myself and collapsing on the grass but I resist in the hope there'll be at least one more chazza worth a look in beyond the Common. As a keen cyclist my feet are aching like fuck by this point - walking really isn't all its cracked up to be. I reach the outskirts of the park and see an unusually welcome site perhaps for me only. There are shops as well - it's around five twenty by now so I don't hang about.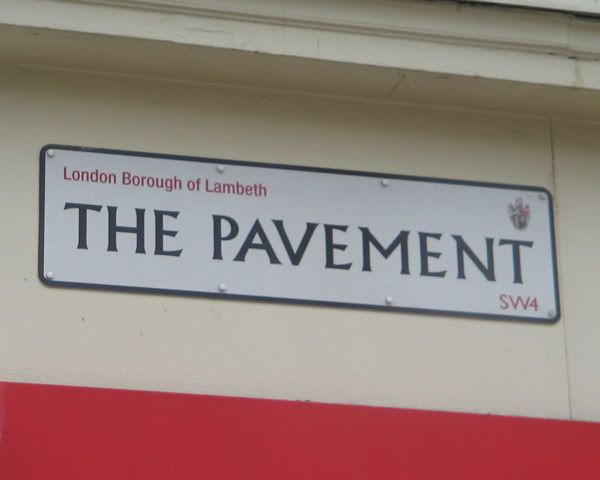 Hooray! Another Trinity Hospice! I skim over the thought that the last one was a pile of crap and rush inside knowing it could close at any moment.
A box of lps too! But in keeping with the spirit of the day the charity gods offer me no more than Phil Collins and the like. Crapola squared.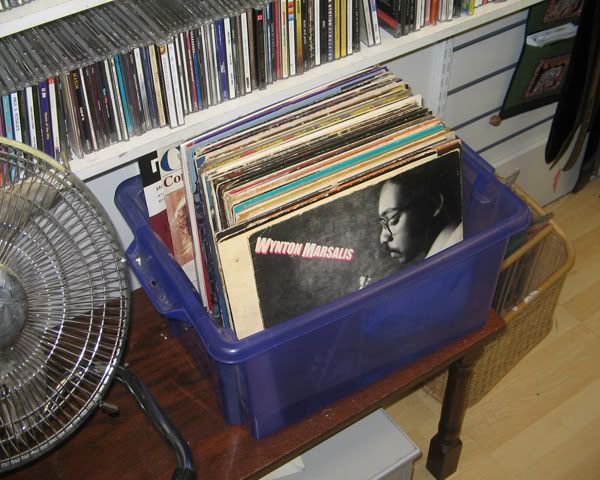 It's now gone half past five - my game is up. My worst fears are confirmed as a past a closed Age UK.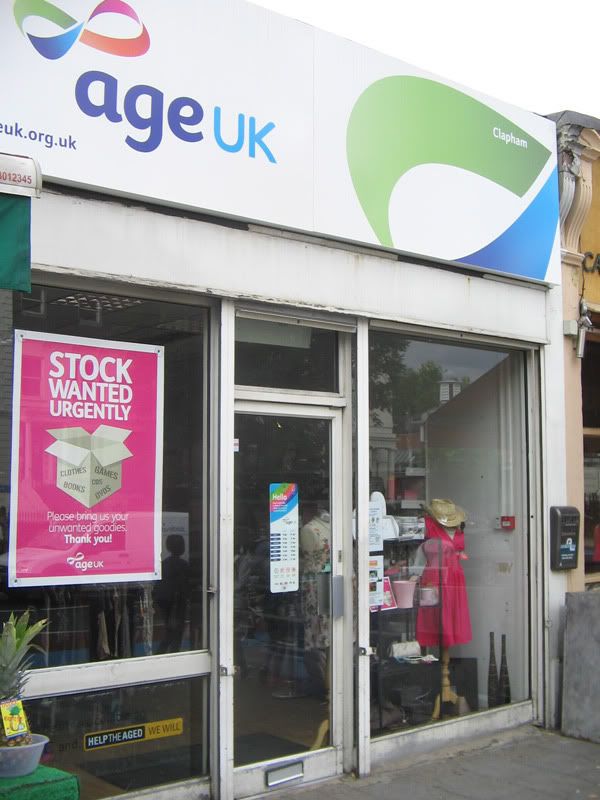 Still could be worse - I have a pub full of beer and friends awaiting me in Bethnal Green. I carry on up in a Northwardly direction hoping for a tube station but unexpectedly chance upon a final charity shop and it's open! The clouds above the shop break for the first time all day and the sun bursts through delivering me a glorious optimism with regards to the booty within.
I dart inside noting the later closing time for future reference and I'm greeted by bountiful boxes of the black stuff!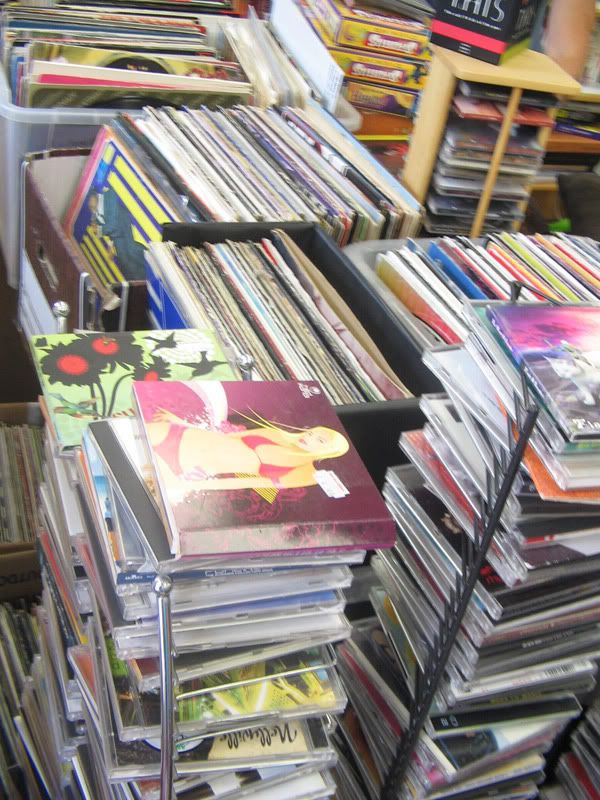 Even more on the floor - I can excuse Phil Collins ghastly dome leering up at me from the box for now such is the thrill of chancing upon so many records to root through.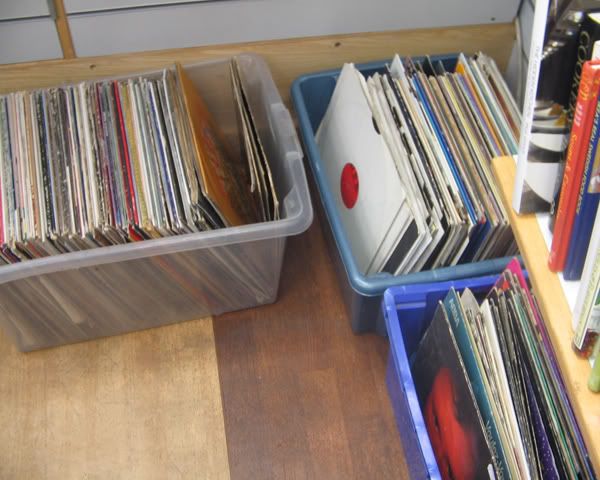 Interesting range of lps too - early sifting shows potential though someone is pricing them rather optimistically.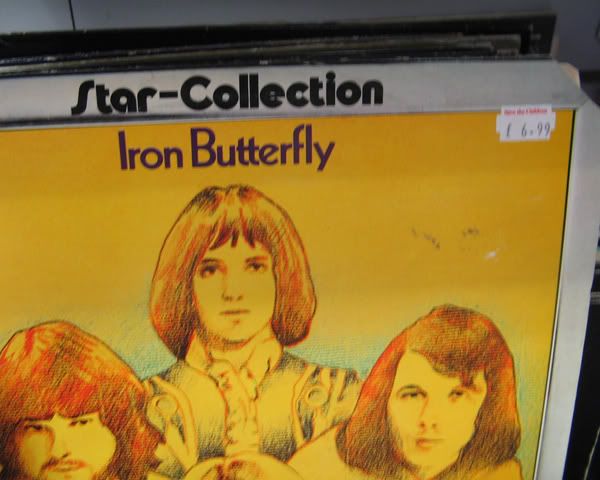 I've been meaning to pick up a copy of this early Air ep for a while and would at this late stage in the game happily pay £2.99 for the pleasure but a look in the sleeve reveals horrors beyond belief. The vinyl is scratched to buggery...
Led Zepplin's tiresome guitar wank dirge is painful enough for me at the best of times but big beat remixes of them? There's my nomination for worst record of the CSC but for the fact there's no earthly chance of me carrying over the threshold of Naga mansions.
I've been contemplating seeking out some early REM for a while now inspired by Pavement's '
Unseen Power of the Picket Fence
' but I fear this isn't quite early enough for me.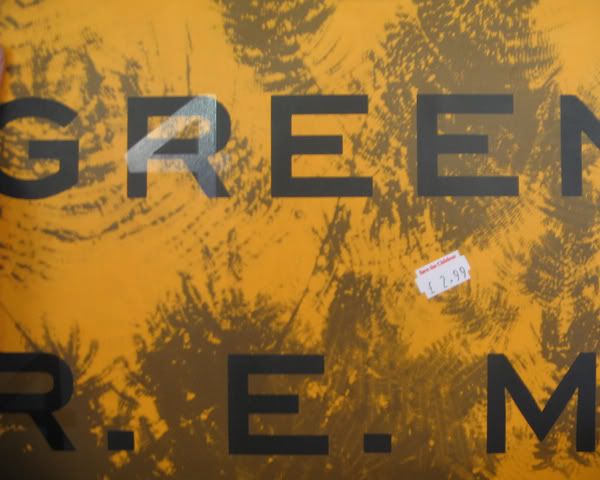 The Fannies are a long-standing favourite of mine and this Big Star inspired
classic
is taken from my bestest lp of theirs. I think I may have included it on a tape compilation for my first proper gf too which is cringe-worthy enough for me to pass it up now. Still a great song though. Bit fucking dear mind at £8...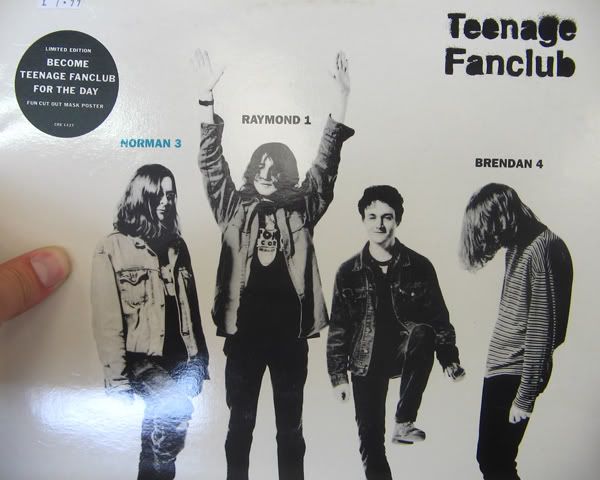 Another trip down memory lane - Red Kross were the first ever band I went to see play live at the Marquee way back in the early nineties.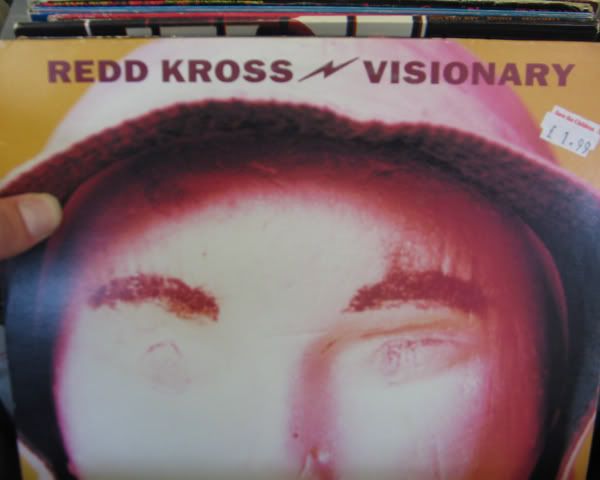 This is the nearest I get to bumping into one of you on the CSC - a Dope on Plastic comp from the big beat hey days. To be avoided with all due respect to John!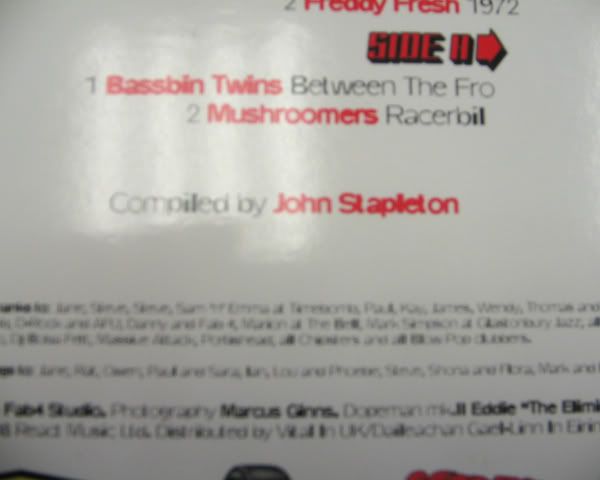 And the final record of note for the day - a Smith's single I would in normal circumstances gobble up with no hesitation even at that rather hopeful price but as with all the near-finds in here it looks like someone used the record to go sledging on. Bah.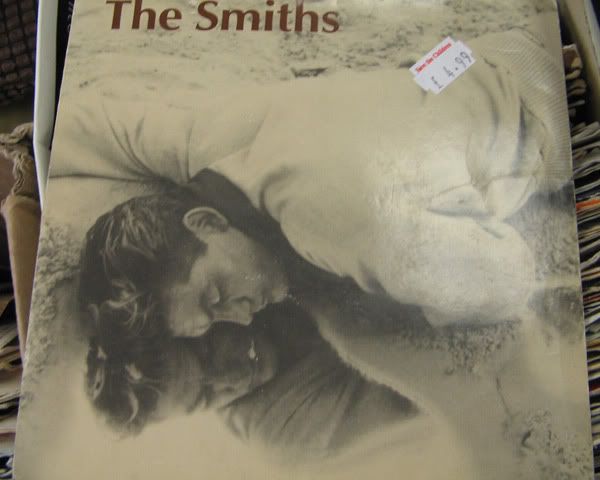 And with that it is done. I leave the shop and cross over the road for the tube taking in the new super-cycle lanes that have recently been installed throughout London. Impressive - I look forward to using them on my next journey to Coulsdon.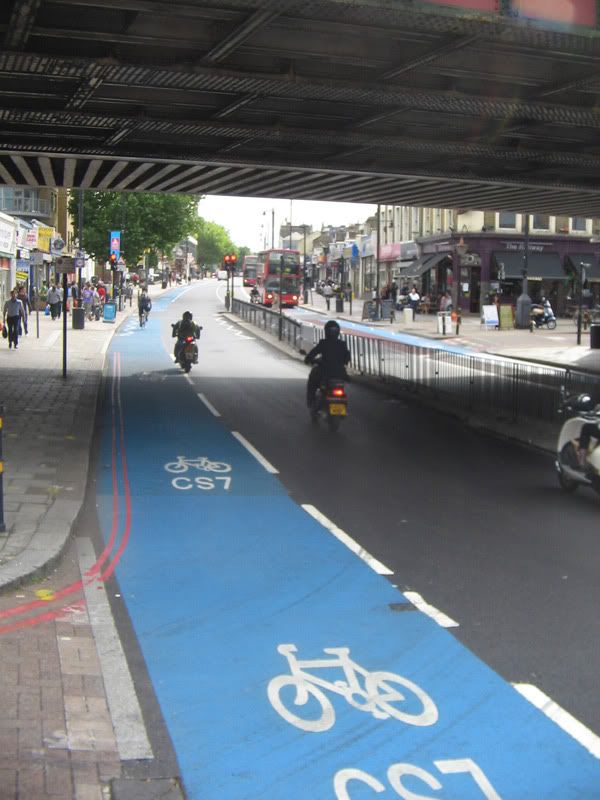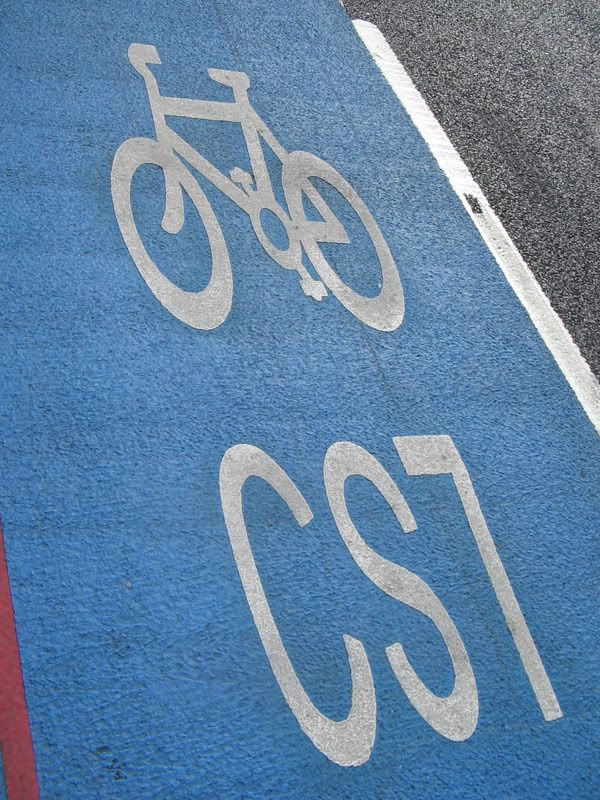 Onwards to the pub and Lahore for beer, curry and hi-jinks.
In hindsight it was a lot of fun despite not buying much at all and sounding like a miserable bugger throughout. Same time next year chaps?