Brothers Wolfe CSC 2013: the A12 Suffolk Corridor
As Team
Wolfe
and
Pitch
rinsed Ipswich last year and Pitch dealt with
Woodbridge
in a previous year, TW™ decided to cover the rest of the A12 Suffolk Corridor….
1 > Wickham Market:
no charity shops. Not a good start.
2 > Framlingham:
2 charity shops, a world famous
motorcycle dealer
and a castle.
Finds: a Spector-esque sounding Give-A-Disc flexi, a glam thing on Antic and a Xian 7" shrouded in murder mystery – check out the link provided by a 45catter:
http://www.45cat.com/record/crsp2007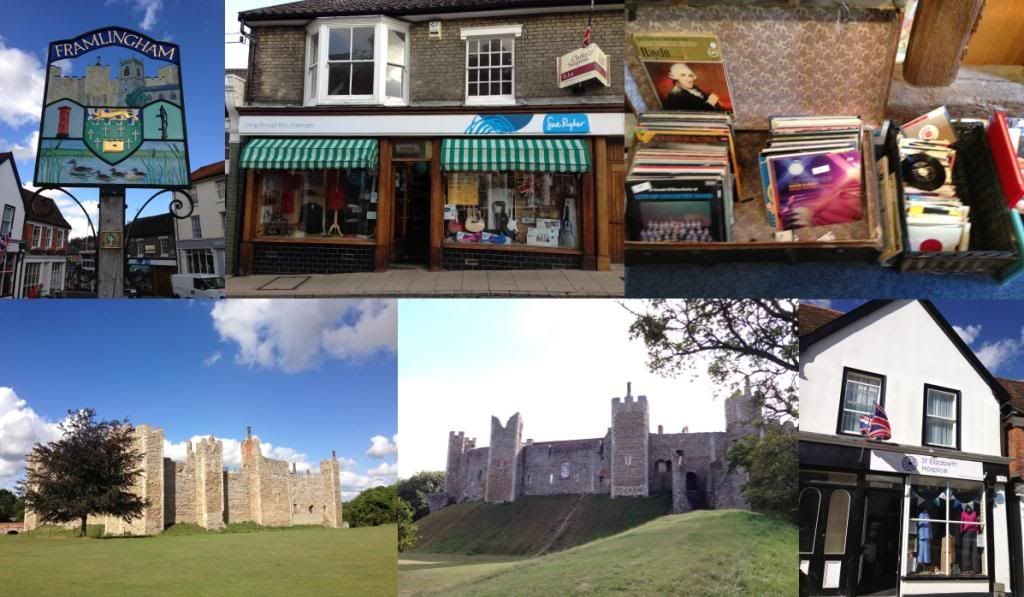 3 > Saxmundham:
3 charity shops (2 for horses) and a second CSC showing for the Xian 'Look & Live' (also seen on
Sie & Will's venture
). Picked up an Eddie Graham Sound 7" (turd), an early SRT EP by Jon Betmead and 'Witch Woman' by Nightmare.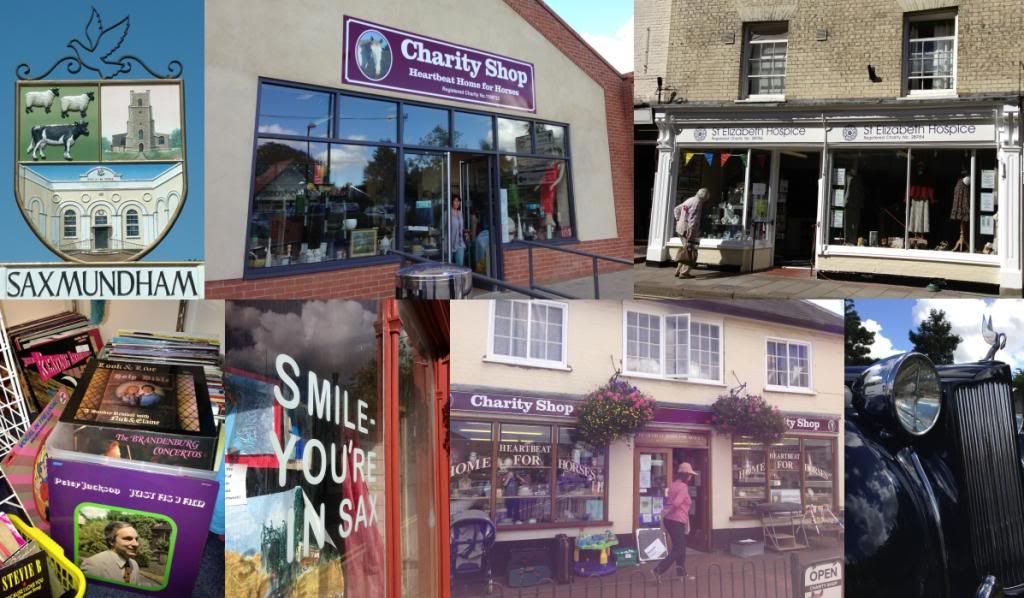 4 > Leiston:
4 charity shops here. The urine stench radiating from Margaret's opening is eminently stronger than most chazzas I've encountered. Found something RG Jones Oak related here. Not the homegrown Wild Oats EP but John Boulter's 'On Wings Of Song'. It stinks only slightly less than Margarets.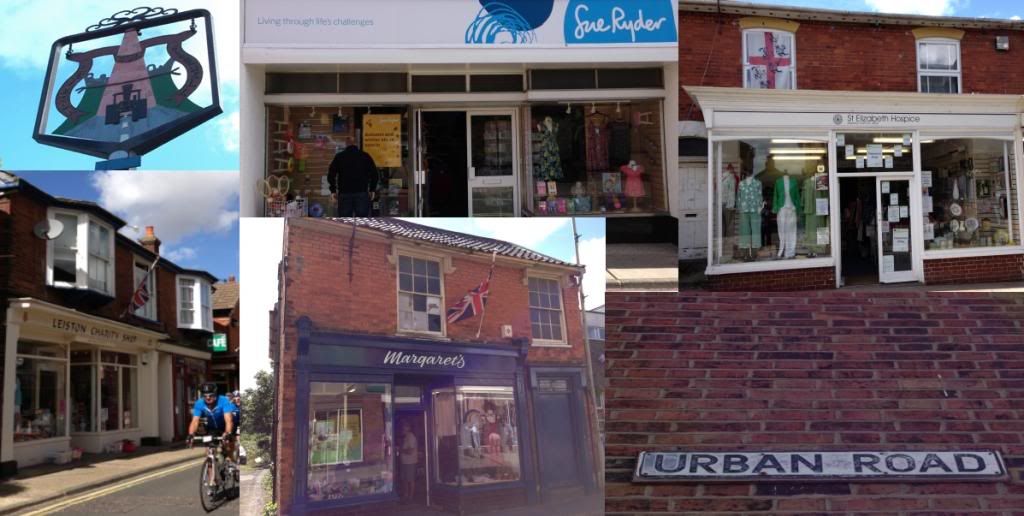 5 > Aldeburgh:
2 charity shops and a pop-up record store. Nothing to be had here. Record shop pricey (but open to negotiation) and he doesn't like dealing with 45s. What kind of record shop doesn't deal in 7"s FFS?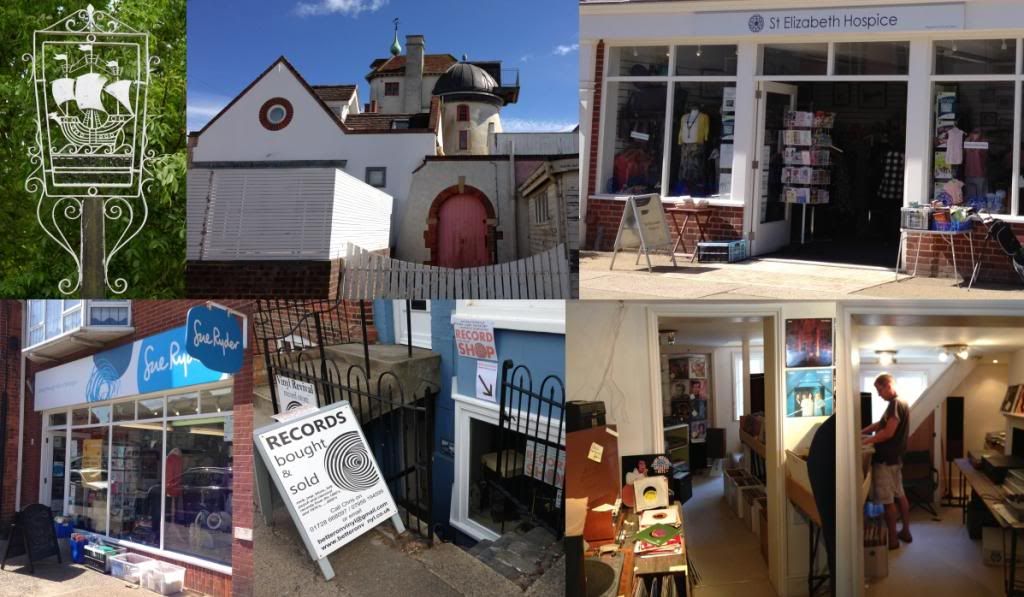 6 > Westleton:
no charity shops but 2 record dealers. Book man is stupidly expensive and looks too much like the Reverend Henry Kane for comfort. JJ and his marvellous shed is a completely different story. A lovely chap with loads of interesting records. I nabbed 2 JA reggaes, a MoonPeople and what I think is the first 7" to be released on the Ipswich Hillside label.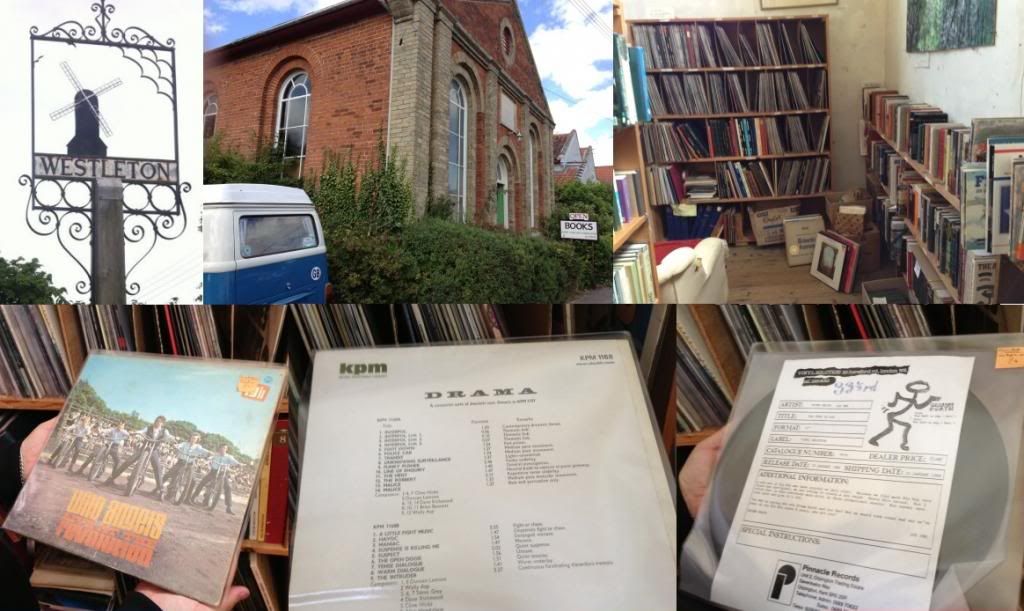 7 > Halesworth:
2 charity shops, no records. Hideous town… birthplace of the NF and riddled with psychobillies in the eighties.

8 > Blythburgh:
no shops but an important place in East Anglian folklore. Please refer to the many stories of Black Shuck (also refered to in Ian & Hayden's CSC – check out the
Bungay bookshop
) or just read/listen to the story via the platform of hair metal: Lowie's Darkness. The church door was locked so no pic showing the mark of the Hell Hound but check out the incredibly creepy village sign.
http://en.wikipedia.org/wiki/Black_Shuck
http://www.youtube.com/watch?v=jeRY-jxKuqA
http://www.azlyrics.com/lyrics/darkness/blackshuck.html
9 > Beccles:
8 charity shops here and I took away 2 classic jazzfunkers on 7" (Geraldine Hunt/Hiroshi Fukumura) and 3 LPs between them – Harmonizers (purely for the cover, you understand), Hillside related Tunetwisters and Dave Pope on Myrrh (meh). Also shown is a pic of Tilneys Gunsmiths, where I purchased my first ever Black Widow catapult (circa'85). I also present imagery of the town's famous tower, which sports clocks on the East, South and West facing sides only (as it is well known that the habitants of Norfolk cannot tell the time). I attended High School in Beccles and so did Jon Brooks (Wooly).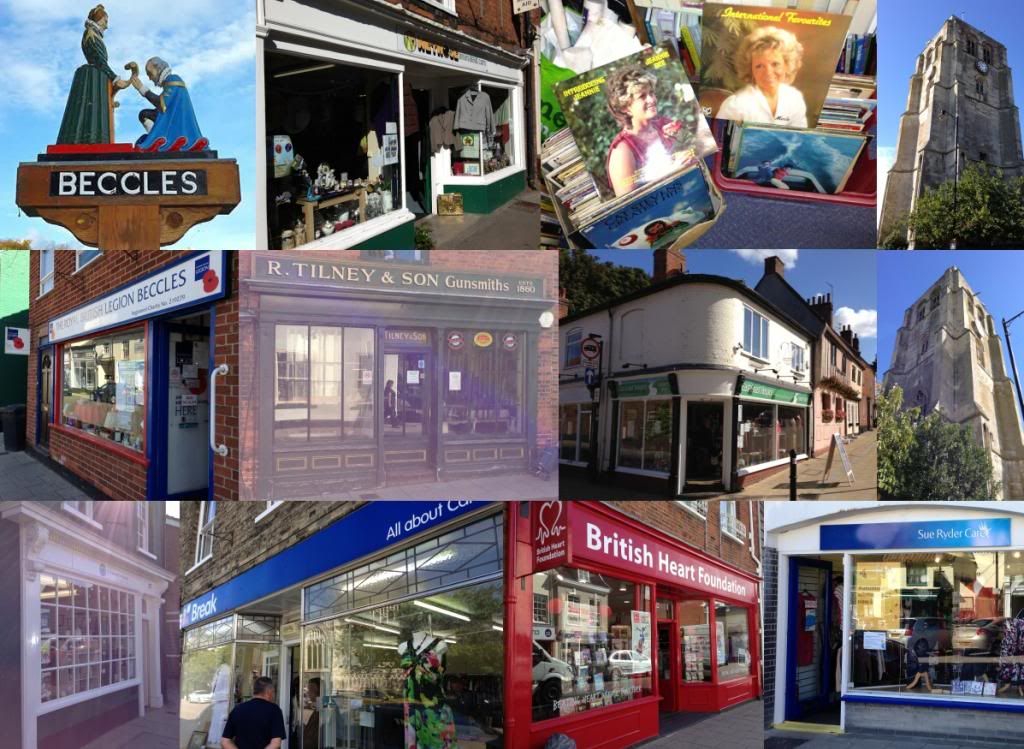 10 > Wangford:
a petrol station that sell records. Yes, you read correctly a box of 60 LPs for a fiver. Next to it, a box of rarer LPs (56 LPs for a fiver). On the display: 10 Abba LPs for £15 (or £3 each). Hardcore dealer. His backroom office (no photos allowed) is chocca with shelved LPs and boxes of 45s. We went through the whole lot last year and couldn't face it again. He also has a lovely Leslie 900 wedged in here. The proprietor, who is the spitting image of Greengrass from Heartbeat, has bad blood with me but doesn't know it. The story revolves around a broken down Vespa in pre-mobile phone days and his refusal to let me use his landline to ring the RAC/my dad. Wangford Wanker.

11 > Lowestoft:
The base of my formative years and a town in steady demise since the withdrawal of the trawler industry and related frozen/tinning factories. Hard times mean charity shops a-go-go, so every cloud and all that…. We visited around 21 shops. There were more but time was getting on and doors were closing. Anyway, finds of the day came from Sense. The Hard Travellin' Flams Ltd is a very rare item (99 copies pressed) in good nick and with a sleeve. Unfortunately, this one had neither attributes. Also purchased from this shop was Dave West & The Cripple Creek on the Map label but recorded at…. Hillside! Also, a bizarre souvenir record relating to a Canadian snowmobile driver – info and an interview here but the best bit is the music on the Bside (a youtube clip will appear soon) and a Freddie Corless private press. Bizarrely, Freddie's picsleeve and signed photo appear to show different people?!?!?!?!? The Listers Guitars shop used to be
Lawrence Green Tailors
, the place where I had my first tailored suit knocked up (blue mohair, covered buttons, ticket pockets, slit/buttons at hem etc). Little was I to know, until Hayden sent me a link a couple of years ago, that Lawrence Green's was the hub of a localised late 50s/early 60s fashion trend:
The Dockside Dandies/Fisherboys
. Across the road from LG's is a Sally Army where my last purchases of the day were located: a 12" promo from popular local beat combo Catherine Wheel and a sweet little 7" on the Jonalco label. I'm trying to convince myself that the Southgreen Recorders recordings came to fruition at Summerisle primary school.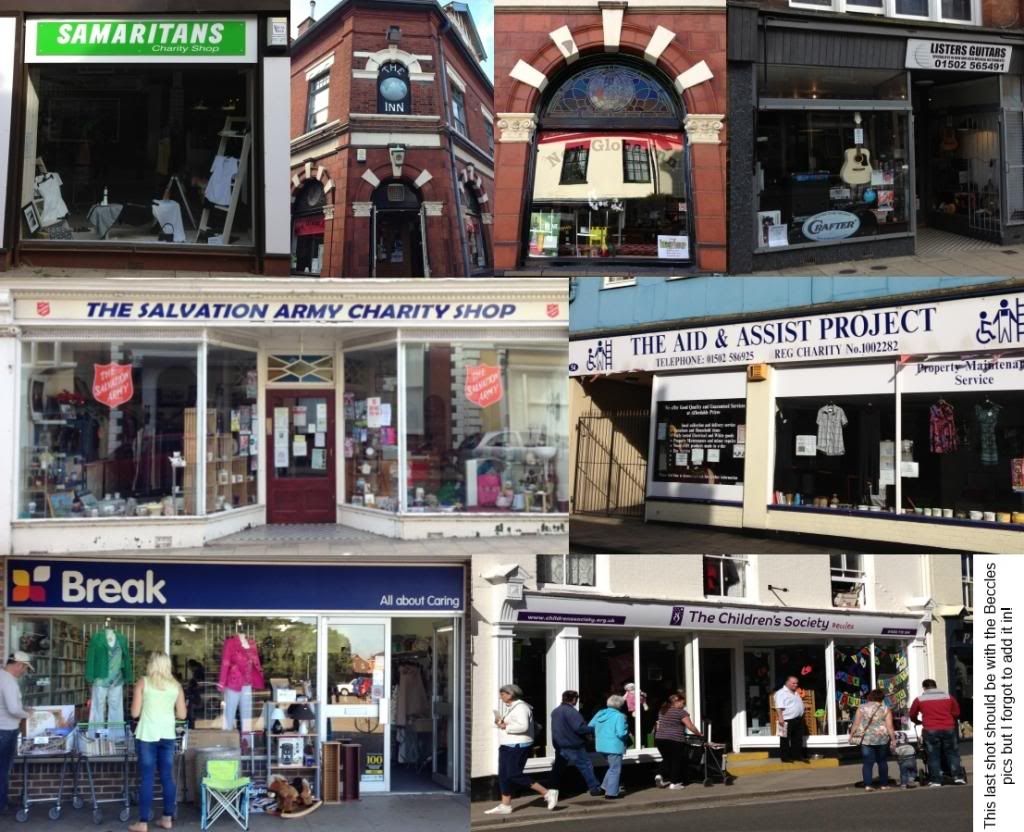 12 > The Records: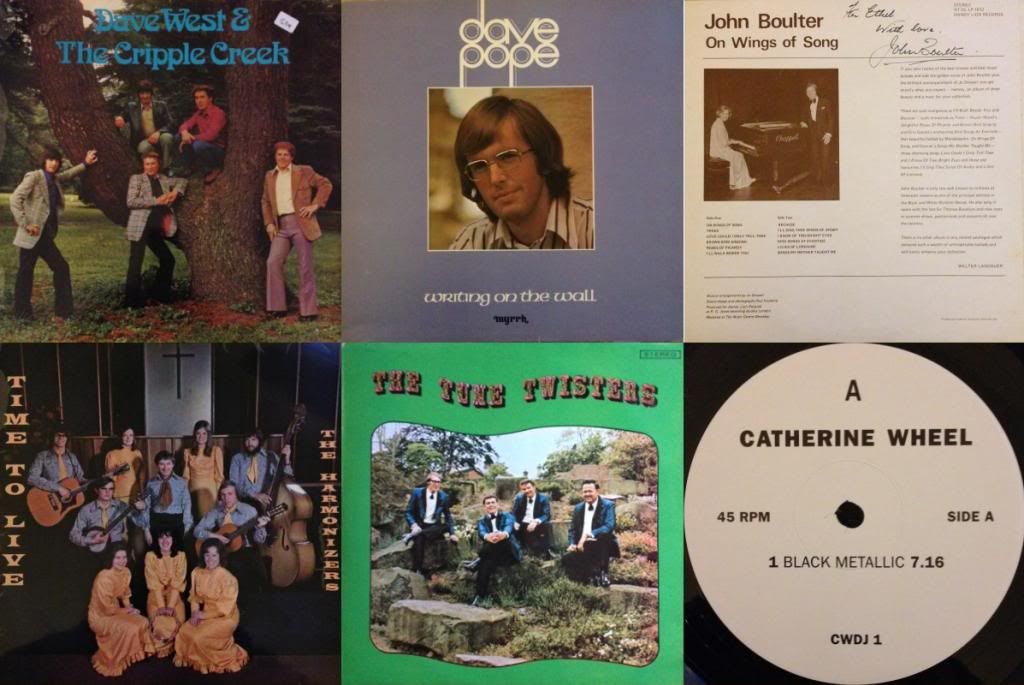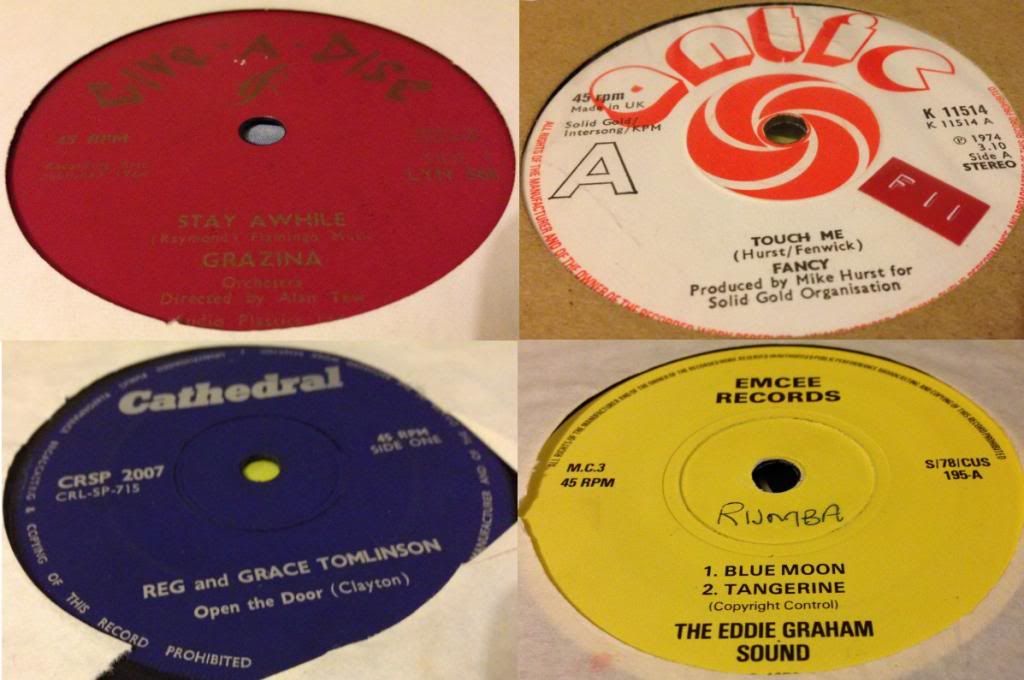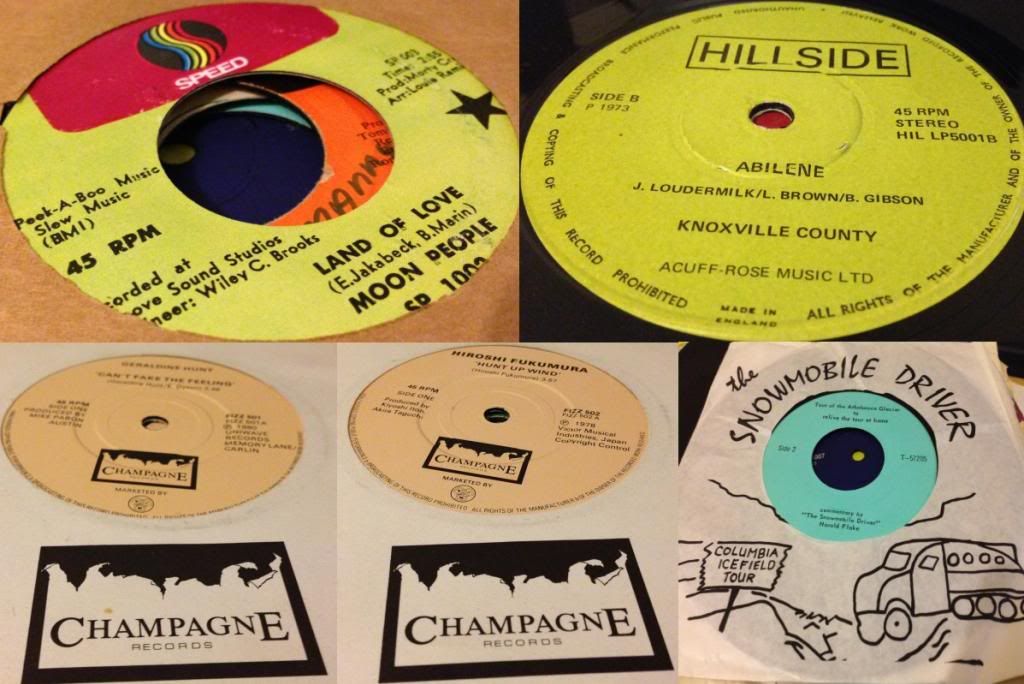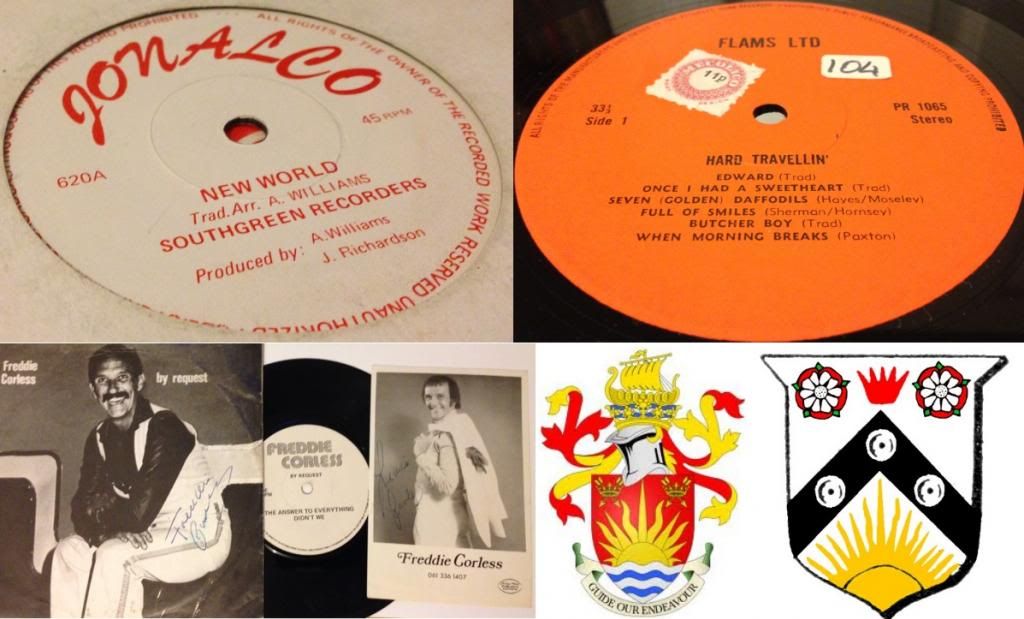 13 > THE END