I particularly like that Big Fun one and Google just informed that one sold on Ebay for the princely sum of £1.99 on January 12th. Bah! Ne'er mind.
I notice Jules Bromley is the composer of Beer Goggles and Panic Attack? His name crops up on some beautiful compositions on several Big Screen Music titles. The date on their first CD entitled Espionage is 2009 and they're only up to 13 releases so far. I've got 5and will post what I like about them at a later date
I'll kick off with a shout out for a very recent and slightly obvious one that I think lots here would check out on sight anyway.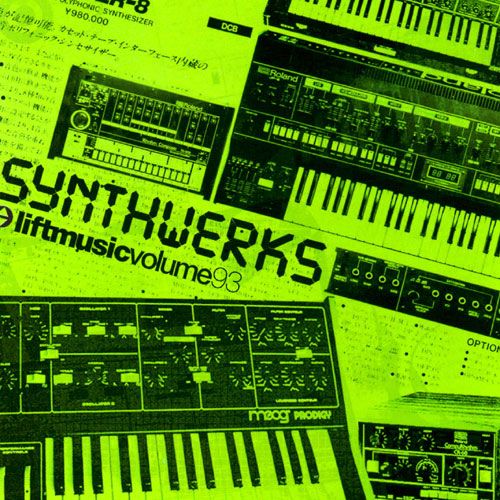 Synthwerks - Liftmusic Production Library: Volume 93: Lift093:
This only came out in November 2013 so it's doubtful there'll be cheapies on Ebay yet but my brand new copy was only £7.99 (inc. P&P) directly from their UK distributor Boost Music.
I bought it because it's the closest thing I've found to having
'stuff like Vector Wave'
on (
!) as it's deliberately attempting to sound like an 80s synth compilation. I liked the chilly cool of the first two tracks,
Network Failure
and
Spirit of '79
, both by
Jon Ryman
, straight away. After that it was
Mark Revell'
s rough- hewn sounding
Synthesis
and the robotic counting
Abacus
by
Pendle Poucher.
That was enough for me to want it. Now I have it I'm really liking several other tracks including Mark Revell's -
Space Cat
which sounds exactly what it says on the title. All the best Library cds I've found so far always have several contributors.
Of course, listening to this CD loud through proper speakers is a
revelation
after only hearing them through earbuds from an iPad.
One minus. The CD comes in a cheapy feel plastic jewel case. (The Big Screen Music ones by comparison are smooth, fold out digipaks with a lovely feel to them).