In the summer of 2014, seven years prior to the Archive Razing Sunspot Explosion, an unelected yet eclectic body of members from the now-defunct VG+ Music forum offered up a stunning selection of short sonic soundscapes for an extraordinary compilation that's about to be issued 'officially' for the very first time on More...Ummm...Music.
From inception to completion the twisted tale behind the 'VG+: The Sum of its Past' compilation of cut n' paste tracks offers a fascinating glimpse into the lives of music collectors in the first decades of the 21st Century. Whilst Austronesian musicologist Samoan Froth has confirmed that VG+ members regularly partook in Swaps to trade compilations of complete tracks, no-one is certain about the exact origin of this obscure collection of sliced, fragmented and micro-edited songs.
Froth best guesses the story began when, armed only with primitive editing tools, a rag tag team of volunteer vinyl vagabonds from every whelk of life attempted to emulate the cut 'n' paste creations of early 00s worldwide crate-excavator magicians such as DJ Shadok, The 45 Midges, Drug Shipton, Randy Rotel and Jerry Cherry Stones.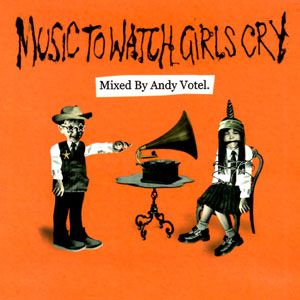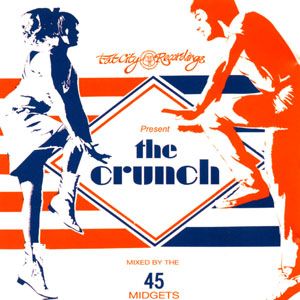 The project initially appeared doomed to failure. Members scoured their personal collections for Takes of the Unexpected only to find Crates of the Unexceptional. This was before the grim discovery that they all had the same records but serendipity intervened in a collective decision.
To compensate for their lack of technical ability and an absence of unique records they decided to reject the restrictive early 21st Century digger dogma of only using sounds if they were 'rare, raer, rear.'
During a well-earned break from the Ebay query, Postage Costs and
'How many records are in this box?'
threads they decided to extend their range of sample sounds several sonic miles away from the standard 'rare or unreleased only' to:
'....Boll*cks. Let's use any f**cking thing we like actually, even if it's common, well-known and major f*cking label. Anything is game. I can mash The Carpenters with
****** text missing here*******
???cock and The Krankies with snippets from a melted Genesis LP with Joe Meek
(text missing here)
...big hitter library my arse and why Jazz Biscuits? Why not Jazz Scones? Anyway. Let's get Right on one Matey, I'm 'IN'
- fragments of posts from 2014 (retrieved 2024)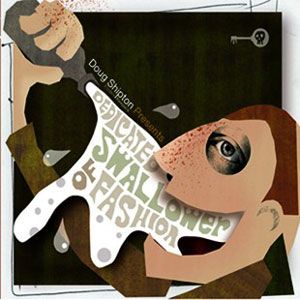 From other remaining post fragments Froth has hypothesized this veritable Dad's Army of sonic sleuths set to work with their primitive sound editor software wearing only bad T-shirts and poorly- fitting underpants. He also believes they created these retro cut 'n' paste nuggets from sounds they did and didn't possess physically.
Eschewing the approach of limiting themselves to only sampling from Icelandic Jazz, Ecuadorian Sike or Self-Released LPs from Psychiatric Units
on original vinyl,
they appear to have vultured sounds from every traditional and untraditional format, genre and generation known to man.
It is believed vicious rows dogged every step of the planned compilation as members cried 'Foul!' in realisation that precious tracks from their own past Swap CDs were being cannibalised willy nilly by other members. Fist fights broke out when a few members added drum-machine and synth sounds from real synthesizers in a higgledy- piggledy fashion to assist in the seguing of unweildy parts and because they wanted to feel a bit like a pop musician too.
Cries of 'W*nker, you w*nker! You're trying to write a f**king song!'
arose, only to be silenced by bearded and older plussers intoning menacingly
'Freedom. We must ...have ...creative ...freedom. Leave. Us. Be.'
in gravelly, pause-ridden film trailer tones.
Regardless of dissent the 'no restrictions' ruling won the day and is credited as the reason for so many superbly creative contributions.
Sound fragments on various tracks have since been identified as sourced from YouTube, DVD, CD, 45s, 33s, 78s, cassettes and acetates. Spoken word, groans, sighs and rhythmic heavy breathing sources have been harder to identify. A few tracks do indeed appear to have been layered with sounds from musical instruments.
----------------------------------------------------------------
- Samoan believes all the finished tracks were forwarded via WAIF files to one central point where they were carefully equalised and segued before being pressed to CD.
- Tantalizing traces of the original packaging were found in the same disused well as the two source CDs themselves (though it's still not known if the compilation was originally just two CDs or more).
-Forensic tests on the original packaging reveal it may have been full- colour digipak. Shards of coloured paper found at the scene suggest there may have been sleeve notes.
- All tracks without exception were crafted mainly from a complex mix of snippets pasted together as seamlessly as the contributor could muster.
- The track lengths vary between three minutes and six minutes. Froth believes this temporal limitation was imposed at the outset by members themselves to ensure a contribution was achievable and also 'so no nob-heads attempted to dominate with Prog-length opuses.'
- The title is a play on a popular quote. The exchanging of the word 'parts' for 'past' is strangely of greater significance post-ARSE than it was in 2014.
- The deadline for cut 'n' paste contributions to 'VG+: The Sum of its Past' was apparently July 31st 2014 though some were predictably late. This was a common occurrence before the 2027 sweeping 'Late = Pain and Death' laws were introduced.
- Some credit this compilation with launching a cracking bumper crop of VG+ Swap CDs in 2014. It is believed this creative endeavour forced members to take time out from just bloody buying reams of stuff and encouraged them to listen to piles of records and CDs they had already accrued but not played.
------------------------------------------
- More Ummm...Music's proudly presents the first reissue of 'VG+: ...the Sum of its Past.'
- Available now on all formats complete with sculpted hologram pillars and exclusive interviews via medium with many of the deceased compilers.

- These recordings have never officially been released before.*

- The original CDs were distributed only to contributors
.
*Recordings are now legally available courtesy of amendments in Music Copyright 2029.
------------------------------------------
'IN'
ginghamkitchen
Sie-Fly
eine
Monday's Child
Cacapo
babycart
MPFlapp
medlar
e3sa934
Paul-K
Ian Townsend
Expiry2011
pitch
Funkjazztical
Great Day
Daddy Ya Ya
Treeboy
Striker
mendoza
Scat Cat
pH
Sam
Swiss Toni