I bought a little batch of Stax 45s the other day. An attraction of this little stack of Stax was the inclusion of a copy of STA0011 Carla Thomas "I've Fallen in Love (With You)" which I had recently…er… fallen in love with. When I dropped it on the turntable I was somewhat disappointed to find that it didn't play "I've Fallen in Love" at all but instead a slow soul/jazz instrumental (featuring amongst other instruments a guitar that immediately made me think of George Benson). So, a mispress - you could say a cover-up manufactured in the pressing plant.
After the initial disappointment I decided to try and identify the track I was hearing. Off and on over the last few days I have had tremendous fun with a bit of sleuthing.
The starting point was the deadwax etched ST-0047 and a ZTSB number. The ZTSB number matched the label, but the label stated ST-0046 not ST-0047. This led me into the wonderful world of Stax master numbers and a comprehensive, but not exhaustive, list of them at 45cat complied by Peterh. The penny finally dropped with me that the numbers are consecutive, and the letter prefix denotes the label (Stax or one of its subsidiaries) that it was released on. Interestingly 0047 and 0048 are two of the only early numbers missing on Peter's list of masters.
So this mystery track was presumably destined for a Stax release that maybe never happened? But it didn't sound like a track that would be released on Stax (it certainly wasn't Booker T & The MGs). So was the master misnamed, could it have been released on another label? The style of the track made me think it would have been more at home on Enterprise. Researching Enterprise releases and artists led me eventually to Art Jerry Miller and I was beginning to think that maybe it could be a track from the 1969 album Rated X Suggested For Mature Souls especially the track times were all in the ballpark. It wasn't any pf those I could find on YouTube though. Looking elsewhere for other possible links to Art Jerry Miller soundfiles led me to a couple of old Ace/Kent compilation CDs. No links to any soundfiles, but what is that last track on that compilation? – The Soul Merchants "For: Wes" – Wes Montgomery? not George Benson but close … So back to YouTube, it has most things, would it have "For: Wes"? Yes, I click play and… THAT'S THE
!
(the feeling I experienced was similar to the one the lad in the Northern Soul film had when he found out the cover-up the big DJ had been playing was the Salvadors!)


My Carla Thomas 45 on one side plays The Soul Merchants "For: Wes".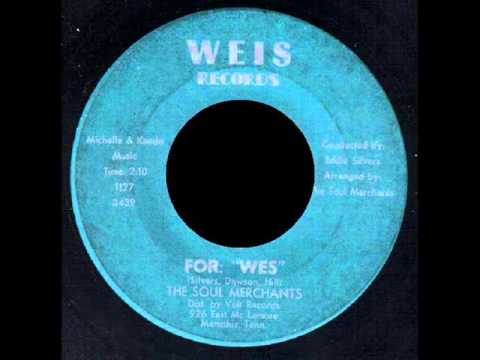 It turns out "For: Wes" was released no less than three times on the WEIS label in '68–'69 (W3436, W-3439, WEA-3001). It is undoubtedly obscure, but of no particular value it seems. The last two releases were distributed by Volt, which is of course related to Stax. Peterh at 45cat has copies of the first two releases and has confirmed that neither of them has 0047 in any guise etched in the deadwax. But does WEA-3001 I wonder?
In the end how this WEIS release got a ST master number, and how it got onto my copy of this Carla Thomas 45 remains a mystery, just a screw up I guess. Incidentally, I know the person I bought it from has multiple copies of this 45 that were unplayed deadstock pulled form a warehouse in the US around 1972. I asked him if he could check his other copies, and it turns out they are all correct pressings, which does make my copy a nice curiosity.
So do you have similar mispresses in your collection, and any good stories in tracking down their identity?
PS: A good excuse to play Carla Thomas too.