more of which later?
), it's just that being 'the new Beethoven', people expected, nay
demanded
symphonies from him, so it's perhaps understandable he dragged his heels given that he didn't feel it to be his natural milieu.
I haven't seen the Boulez programmes yet. I know very little about him, but I have some vinyl waiting in the wings that I want to give a listen to before I dig deeper. Following on from my experiments with Berg, this morning I gave an outing to this: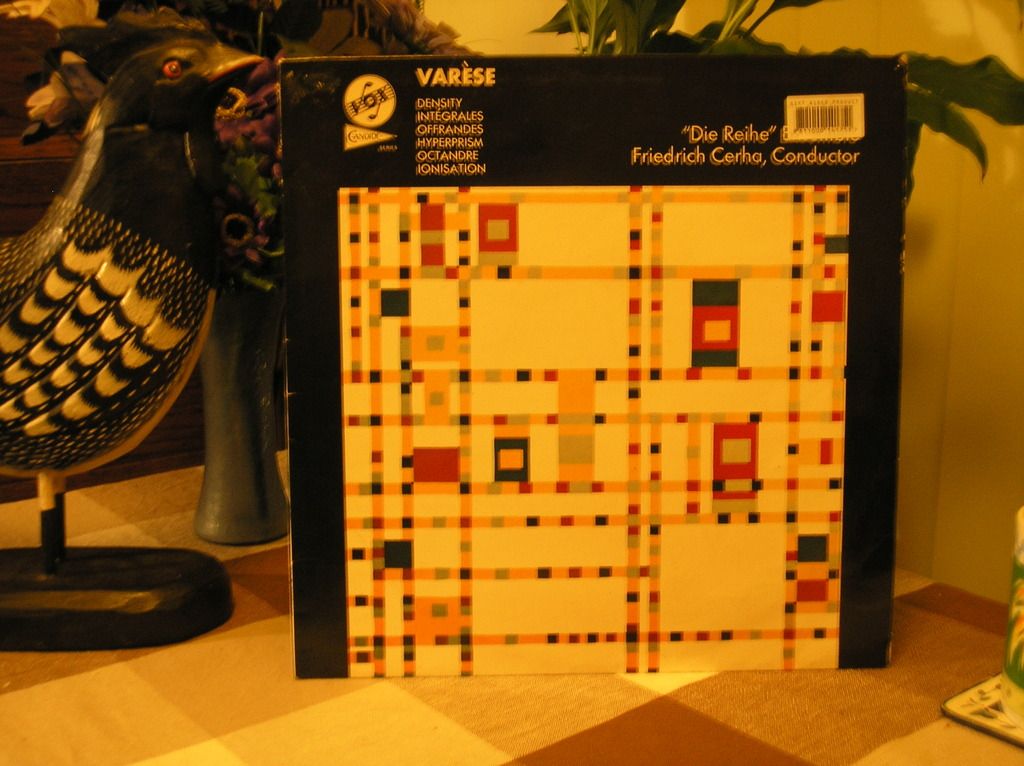 'Edgar Varese' - 'De Reihe' Ensemble/Friedrich Cerha
I'd heard a little about Varese's experiments with theremins/magnetic tapes/electronics and so picked up this 1971 Vox Candide release to investigate. It was a 25p charity shop find and I should say that despite appearing to be in reasonable condition, there's a lot of static and crackling throughout, particularly on side two.
It concentrates on Varese's earlier works from the early 20's to the early 30's, so no electronic noodlings just yet, but a good example of a composer who along with contemporaries such as Berg, Hindemith and Schoenberg was busy throwing his toys out of the pram, although not necessarily in a bad way. Living as they did in revolutionary times, when 'theory' wasn't the dirty word it is today, Varese's generation were keen to tear up the musical rulebook, although to varying degrees, they were sometimes a bit too hasty to replace it with another of their own making.
In Varese's case this meant that the prevalent 'diatonic' system and conventional notions of melody and harmony were left out for the binman, while in came a concern with 'pure' instrumentation and a striving for music based on 'rhythm and intensity'.The key casualties of this were string instruments (sorry, Alban...) as Varese was keen to avoid their tendency towards vibrato, whilst percussion was the main beneficiary.
The 'Integrales' and 'Hyperprism' written for a small brass and woodwind outfit with lashings of percussion typify this approach. You could be picky and say that there's a bit too much atonalism here and the odd gratuitous crashing cymbal there, but by and large this is recognisable as 'modern' music. It leans heavily towards an air of tension, but it's music that soundtracks the passage of time from moment to moment very well. Certainly, anyone with an appreciation of film scores could surmise that this is a kind of music which at some point would
have to be written
by someone somewhere.
Fortunately, Varese didn't appear to be an absolute stickler to his own theory either. The short 'Density' for solo flute is a pleasant (and not unmelodic) listen, and the flute joins it's woodwind brothers and a few brass instruments (including the notoriously 'impure' trombone) in 'Octandre'. Poems are set to a chamber orchestra and sung soprano in the slightly eerie 'Offrandes', but it's 'Ionisation' from 1931, composed for 13 percussion players (playing 37 instruments) that is the most modern and most experimental piece on the album, perhaps a pointer for where Varese would go in future years. It's that 'rhythm and intensity' in it's purest form and despite a few touches that hindsight might lead us to identify as a bit 'obvious' (chiefly use of a siren), it's a satisfying piece with just about the right amount of structure. It's probably worth taking a moment too to imagine how alien this must have sounded at the time, and the subsequent (and almost universal) critical mauling it received as a consequence.
It's a pity that this copy is in such a poor state (I shall subject it to the giantchicken 'intensive' treatment) but I'll look out for a better one, which I suppose means that it passes the test, and look out for some of Varese's later works too. Here's a modern reading of 'Ionisation'...