Maybe it's a little bit earlier for this but I have my contribution ready so, here it goes.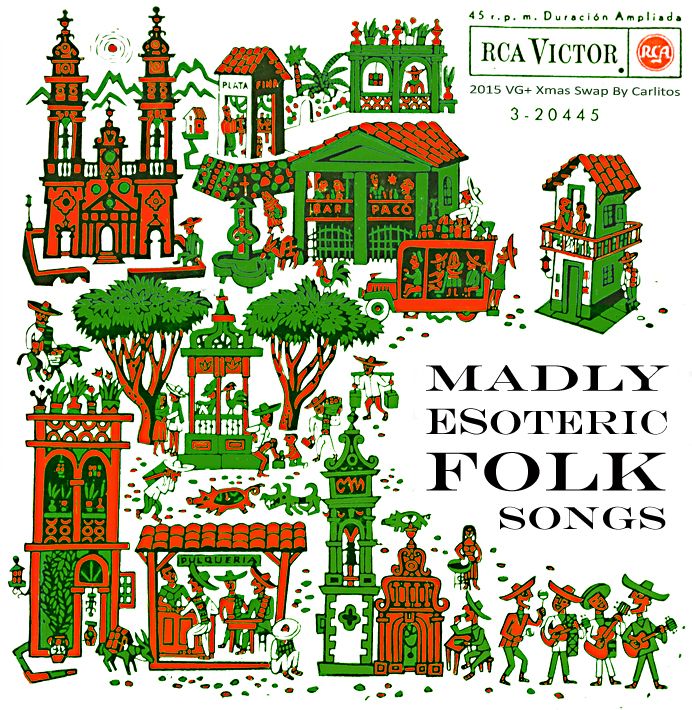 First and foremost, credit must be given to ETK for suggesting half of the title of the compilation. Thanks so much for defining, with just 2 words, the vibe of my eclectic mixes. I love the term and I will embrace it for my subsequent cds.
I have tried to make a similar mix to my 2013 effort but this time leaning more on music that, I hope, will be easier for ears not used to this kind of "folk". From the nearly 80 songs selected for this year's swap, all the field recordings, Middle Easter music, flamenco and many of the Greek ones weren't included to make the cds more accessible. Hope you like it.
CD1
1. Agua Viva - Cantaré (Spain)
2. Los Machucambos - Valsecito (France)
3. Atahualpa Yupanqui - La Alabanza (Argentine)
4. Edmundo Rivero - Esta Noche Me Emborracho (Argentine)
5. Los Caracas - Barlovento (Venezuela)
6. Los Guerrilleros - Ay Che Camino (Cuba)
7. Amália Rodrigues - Caminhos De Deus (Portugal)
8. Chico Buarque De Hollanda - Juca (Brazil)
9. Coro Popular Jabalón - En La Plaza De Mi Pueblo (Spain)
10. Miguel Aceves Mejía - Escaleras De La Cárcel (Mexico)
11. Luis Navarrete - La Llorona (Mexico)
12. The Carnival - Canto De Carnival (Brazil)
13. Alberto Cortez - Sabor A Mí (Argentine)
14. Los Guayaki - La Peregrinación (Paraguay)
15. Billo's Caracas Boys - El Tabaquito (Venezuela)
16. Peret - Pleitos Tengas (Catalonia)
17. Veryovka Ukranian Folk Choir - ЧEPEЗ ПОЛE ШИРОКЕЕ (Ukraine)
18. Piatnitsky Folk Song Ensemble - Down The River (Russia)
19. Bulgarian Song And Dance Ensemble - Dilmano -Dilbero (Bulgaria)
20. Culture Musical Club - Mwiko (Zanzibar)
21. Miriam Makeba - Pole Mze (South Africa)
22. Little Kid Lex - Fosmaan (South Africa)
23. Laguestra Y Su Marimba Típica - El Manisero (Holland)
24. The Cowboy Church Sunday School - Go On By (USA)
25. NHΣIΩTIKO (Greece)
26. Hollow Rock String Band - Hog -Eyed Man (USA)
27. The Davis Sisters - Foggy Mountain Top (USA)
28. Robin Hall and Jimmy MacGregor - Sinner Man (Scotland)
29. Nuestro Pequeño Mundo - The Drunken Sailor (Spain)
30. The Limeliters - Gilgarry Mountain (Darlin' Sportin' Jenny) (USA)
31. Dominic Behan - A Row In The Town (Ireland)
32. The Dubliners - The Galway Races (Ireland)
CD2
1. The Dubliners - The Fairmoy Lasses - Sporting Paddy (Ireland)
2. Na Filí - Fergal O Gara Rattingans (Ireland)
3. Ottilie Patterson - The Real Old Mountain Dew (Ireland)
4. The Tuxedo Brass Band - John Casimir's Whoopin' Blues (USA)
5. Eric Weissberg and Steve Mandell - Rawhide (USA)
6. Chico Arnez - When Johnny Comes Marching Home (England)
7. Yoel Dan And His Trio - Sharm-A-Sheikh (Israel)
8. The Brothers Four - Daddy Roll 'Em (USA)
9. The Golden Gate Quartet - You Better Run (USA)
10. Vipers Skiffle Group - I Saw The Light (England)
11. The Chas McDevitt Skiffle Group - I'm Satisfied (England)
12. Jack Elliott - San Francisco Bay (USA)
13. Jesse Fuller - Taka It Slow And Easy (USA)
14. Fuxan Os Ventos - A Costureira (Galicia)
15. Mariza - Fado Curvo (Portugal)
16. Grupo Academico De Dancas Ribatejanas - Moda De Dois Passos (Portugal)
17. Os Teleco Teco - Peixe Vivo (Brazil)
18. Mirvet Bolovska - Na Koga E Crna Zenata (Macedonia)
19. Choeurs Et Orchestre Potchverachvili - Samaia (Georgia)
20. Ensemble Philippe Koutev - Donna Attendait Devant Sa Porte (Bulgaria)
21. Marjatta Ja Martti Pokela - Pyssäysmaatuska (Finland)
22. Mikel Laboa - Txoria Txori (Basque Country)
23. Rena Dalia & Ioannis Papaioannou - Gelmenden (Greece)
24. Los Guacharacos - Camarón (Colombia)
25. Eduardo Avila - Pampa De Los Guanacos (Argentina)
26. Chavela Vargas - Corrido De Cananea (Mexico)
27. Paco De Lucía Y Ramón De Algeciras - Quizás, Quizás, Quizás (Spain)
28. Carlos Argentino Y La Sonora Manteca - Vamos Pa' El Campo (Cuba)
29. Bobby Small - Virgen De Amor (Ecuador)
30. Trío Los Chamas - Linda Lunarejita (Peru)
31. Victor Jara - Vientos Del Pueblo (Chile)
32. Quilapayún - Cancion Final (Chile)