... and the Spoke records RKM Library EP, 'Promo-Bombing' outrage.
---------------------------------------
MY SIDE OF THE STORY
THE GOOD: I contacted Jonny seeking permission to take photographs and he say 'Of course' because he is a warm, kind, generous 'Hello clouds, hello sky' kind of gentleman.
THE BAD: Moments before going to the party a Spoke Records man; menacing of appearance and dark of heart, said to me:
'It's a book launch. A book about library records. Take some Spoke RKM Library EPs. Give them out. Photograph people holding them.'
THE UGLY: I said 'No! I can't!' He said 'Yes. Yes you can' and then reminded me in a gravel-voiced, cinema-trailer kind of tone, about his 'Chinese burns' and 'Elephants' skills. Shaking with fear, I reluctantly said 'OK then' but I died a little inside at being so cruelly forced into promo-bombing someone else's party.
THIS IS THE WHOLE TRUTH - HONEST!
Sorry Jonny. x
----------------------------------------------------------------
Veris flosses his copy of 'The Music Library' to a wryly smiling Shawn Lee.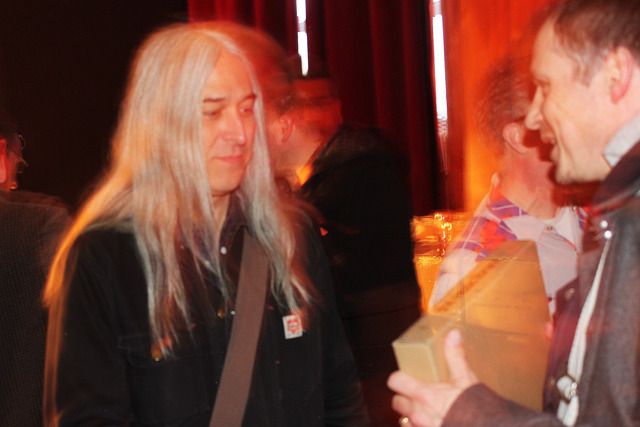 De Wolfe Library man, Steve Rosie at peace with his drink before several VG+ers find out he has worked for De Wolfe for forty years. He was badgered relentlessly for De Wolfe stories from this moment onwards, poor chap.
The crowd is gathering...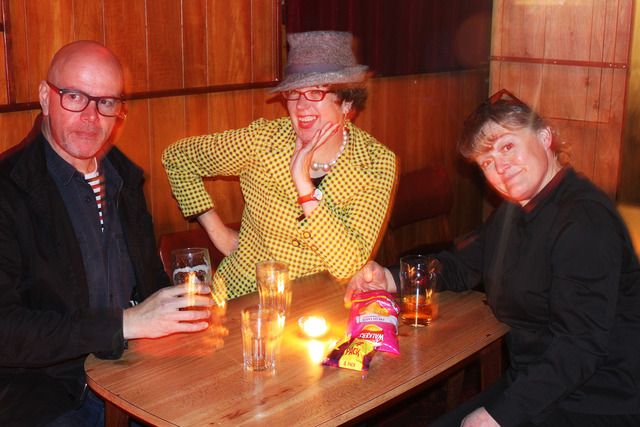 Looking imperious on the decks and mashing libraries and soundtracks with aplomb it's Martin Green; co-compiler with Bob Stanley of all those fantastic Croydon Municipal comps.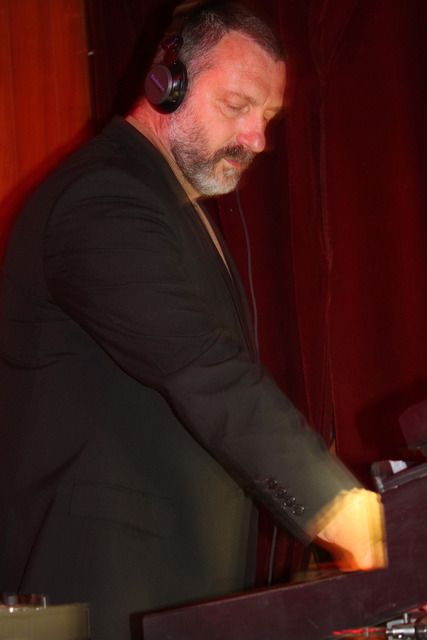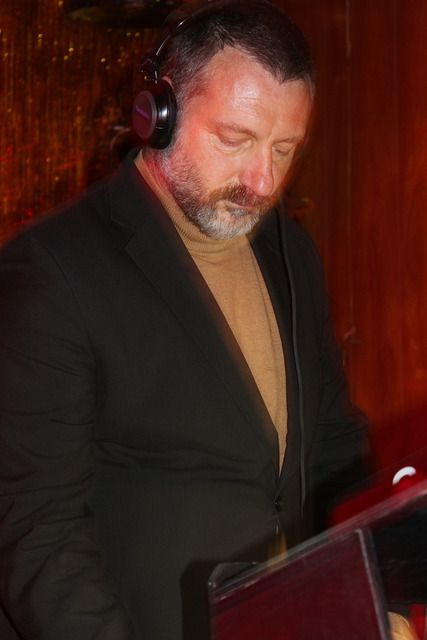 Unable to resist the sultry grooviness of Martin's connoisseur selection, a member of the audience leaps on stage to dance.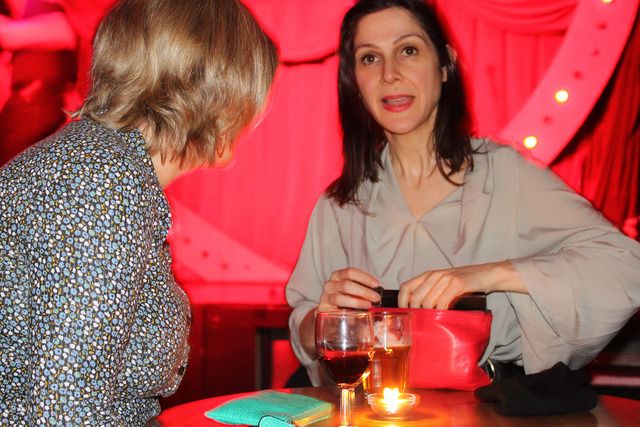 Copies of 'The Music Library' book: (the Limited Edition of 500 with 10" LP): were absolutely flying out all night. When I left at around 9.30 the mountain of boxes at the side of the sales table had been reduced to a molehill.
Sartorially co-ordinated, The Two Jonnies; Jon Tye of Lo Recordings (left) and Johnny of Trunk Records (right) discuss the aesthetics of check shirts.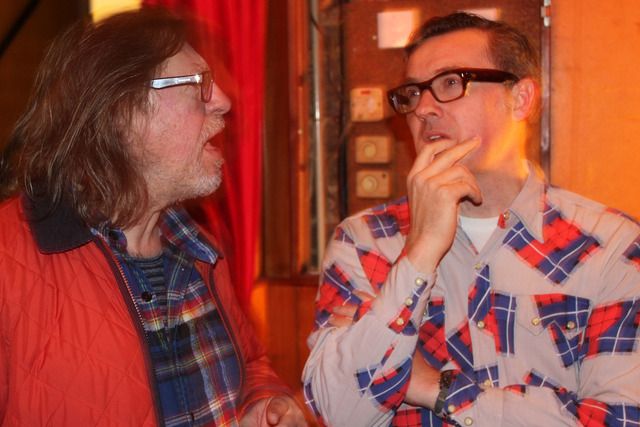 And still they flood in...
Alanmck fires up his light sabre and Steve Rosie is beginning to shows signs of fatigue at the deluge of questions fired at him by yet another foot soldier from the VG+ Library Music Inquisition.
The charismatic Robin The Fog (left) mesmerises Jarvis Cocker and a late entry to the Jon Downing-lookalike contest.
Props to Fuel guys Damon Murray and Stephen Sorrell (and Jonny T!) for another fantastic book and a superb evening.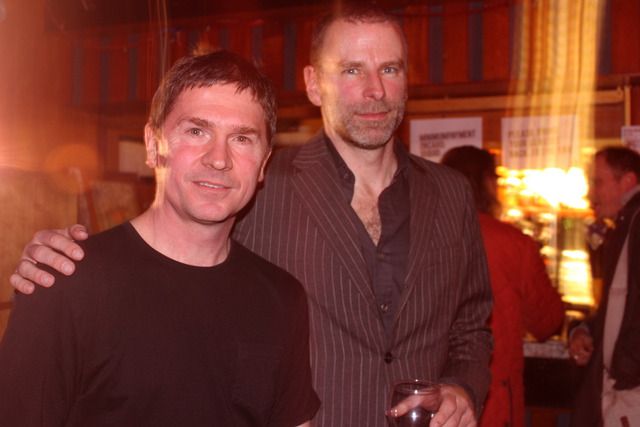 Shawn Lee. A gentleman and a dude. I'm definitely contributing to the Library film fundraiser now.
The baton change over. Martin Green shows Mang where the sliders are.
Though both were a little mystified when I thrust the RKM EPs into their hands, Shawn and Jarvis gamely flossed them for the camera. Thank you both. I will now buy everything in your back catalogues to gift you royalties to help put food on the table for yourselves and any dependents you may have lurking about.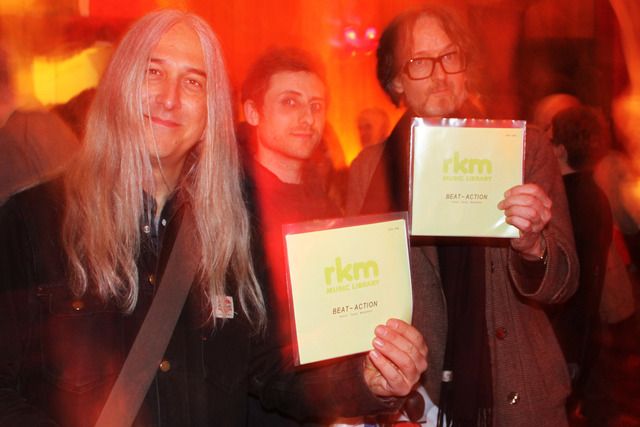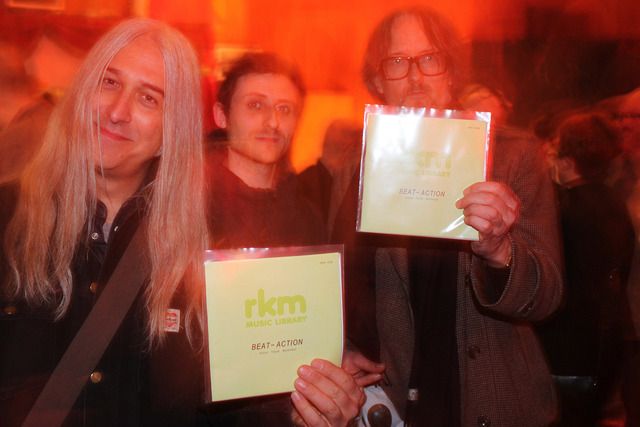 Youngsters? WTF? I pointed out
a) it's a week night
and
b) it's school tomorrow.
They were nonplussed at my haranguing, refused to leave, and like an extra from one of those 70s Children's Film Foundation films one of them said 'Enyway Grandad it's still ow'wer Easter 'oliday...' (in a weird East End via Kensington & Chelsea accent).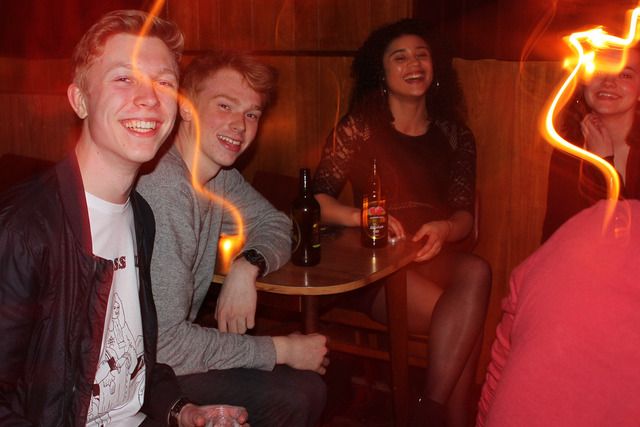 Mr De Wolfe Library? Meet an RKM Library.
RKM Library? Meet Mr De Wolfe Library.
Steve displayed impressive company loyalty by refusing to accept the single!
Goddammit. FAILED! I failed to get an RKM freebie 7" to Matt. If anyone deserved one...he did. He bought the first ever Spoke single so is officially (in my eyes) a hero and a customer. Plus: October Sun melts my face off every time I hear it. What can I say?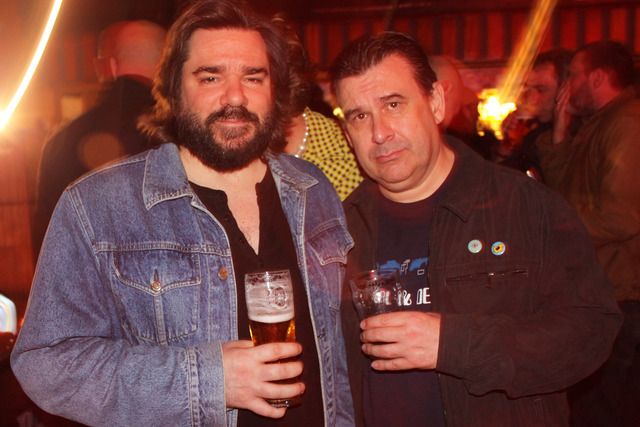 Brilliant. Loved these guys. Two German teachers on a school trip to the UK with students. Both big fans of Jonny and his Trunk records, they couldn't believe their luck that a free Trunk-flavoured party was in full swing on the week they were visiting the UK. Both adjudged the evening 'Marvellous'.
One of the bloody knee-high to a grass-hopper young ne'er-do-wells, is not only staying up WAY past his bedtime, but is also sporting a 'Boss Sounds' library T-shirt.
Two more victims of the RKM promo-bomb, but managing to look very pleased with their freebies. Thank you very much Eddie Piller and Jerry Dammers. I shall now buy everything in the Acid Jazz and The Specials back catalogues to gift you royalties to feed yourselves and any dependents you may have lying about.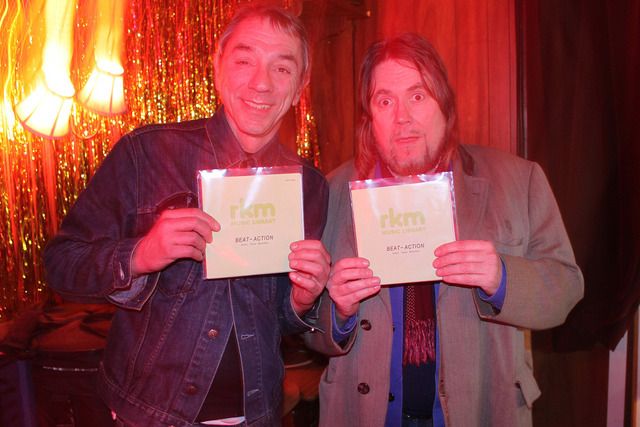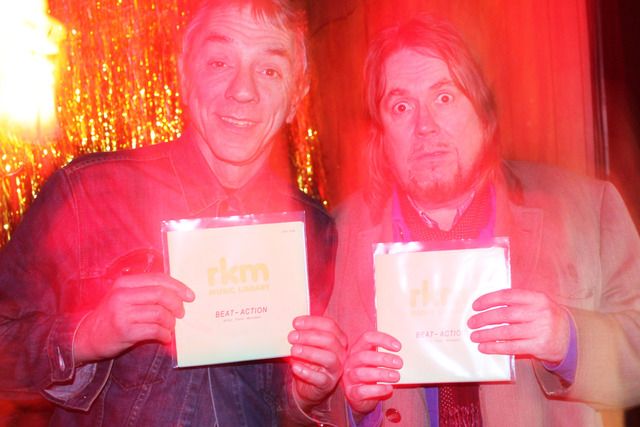 The enigmatic Robin the Fog embraces Strictly Kev AKA DJ Food.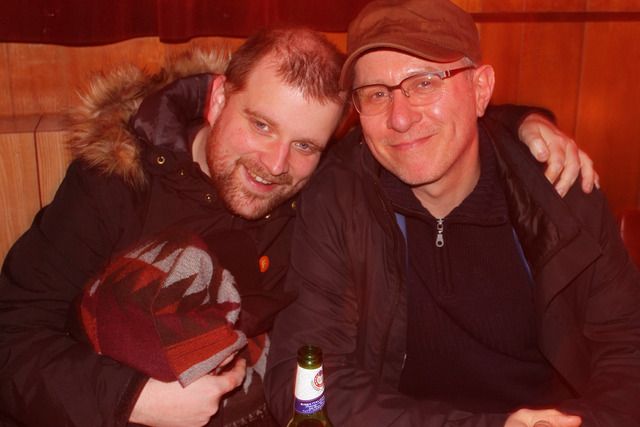 KING DOM! Took the time and trouble to don leather driving gloves to floss his freebie. Dom had internet blog and meme fame thrust upon him four years ago when he was randomly photographed digging. The shot was not posed. The girl was not his girlfriend. Curious? Google 'King of the Hipsters', hit 'Image' and you'll find him wearing white headphones. Dom is still viral today, (terrible though it sounds).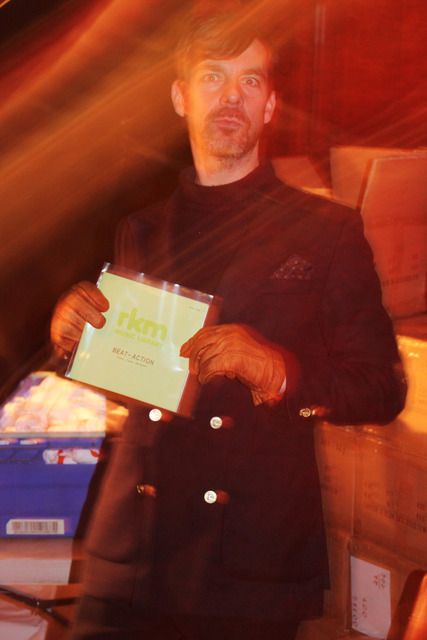 Temperatures rising....dancefloor is heating up.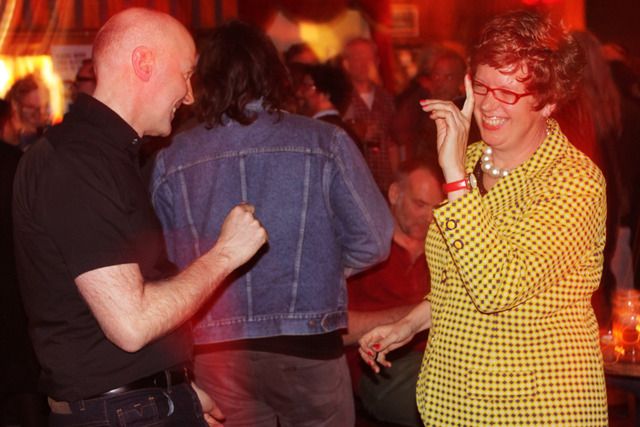 The very lovely Katie Puckrik demonstrating with good grace how to assist a promo-bomb campaign. Katie looks enthusiastic about the product. She has a bright future in promo-bomb campaigns.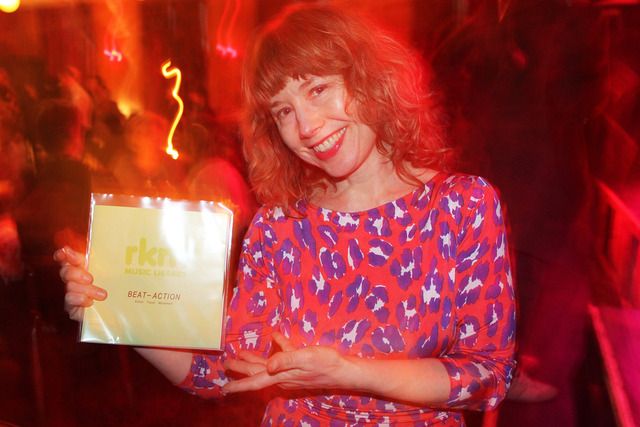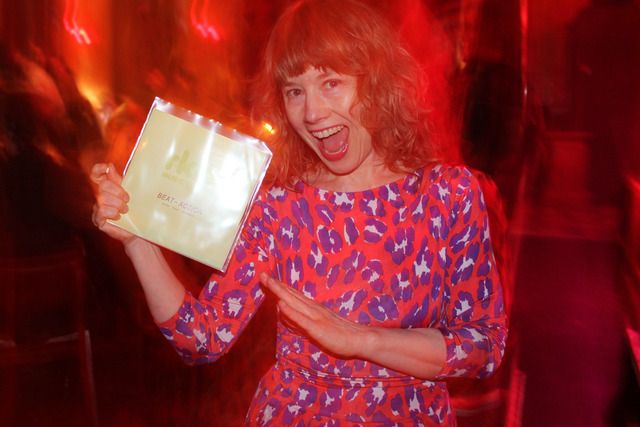 The very lovely Alanmck demonstrating with poor facial expressions how not to assist a promo-bomb campaign. Alan looks unenthusiastic about the product. He doesn't have any foreseeable future in promo-bomb campaigns.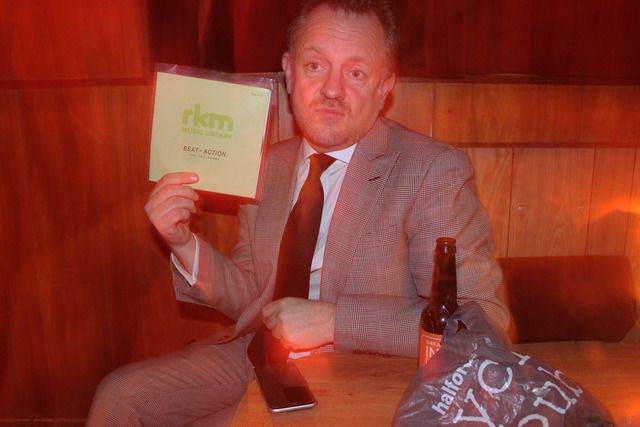 Suddenly aware of the Spoke 7" RKM Library EP promo-bombing, Jonny T goes on the offensive, strategically throwing himself in front of all cameras at every available opportunity....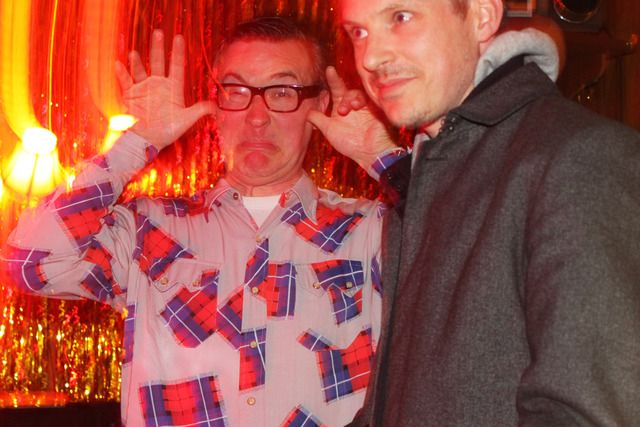 I get papped...
VG+s very own Veris on the decks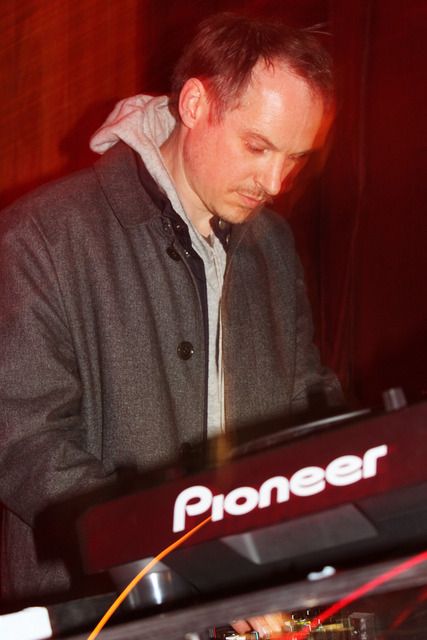 Jerry Dammers and Jonny T.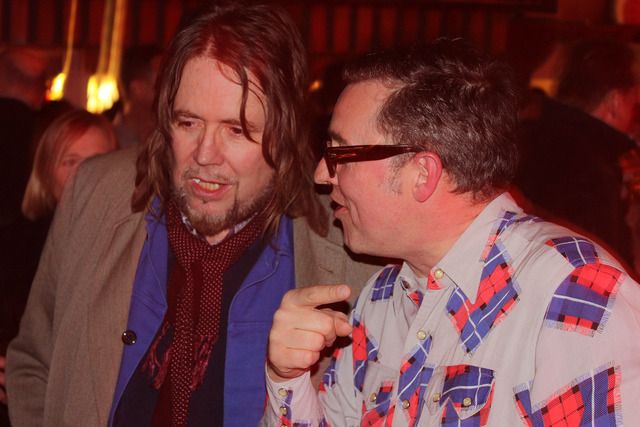 Dammers delivers a blistering set...
Safely home with the swag next morning..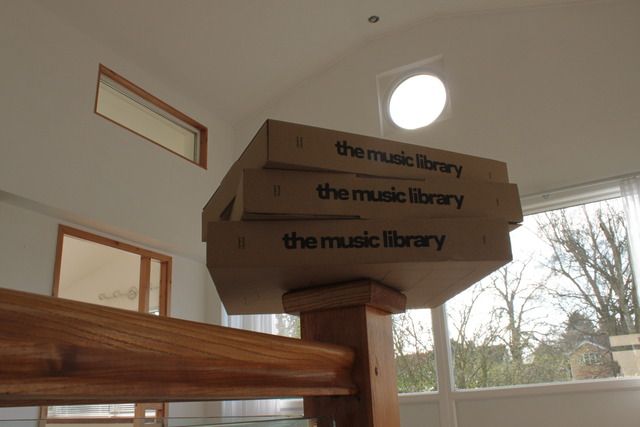 Huge thanks to Jonny and Fuel publishing for a great night.