Well here is the second of my CSCs - this time I set off to the far away land of Dundee for my semi-regular pilgrimage. With the toddler in nursery (and very unhappy about it if the tantrum as I left was anything to go by) and the other half in work it promised to be a day for freedom and ambling about. Setting off breakfast was this:
Arriving in Dundee I heading first for Reform Street where there are a few charities clustered together and I've had some success in the past. A couple weren't open yet as it was just after 9 in the morning so I hit up the Barnardo's and Oxfam first: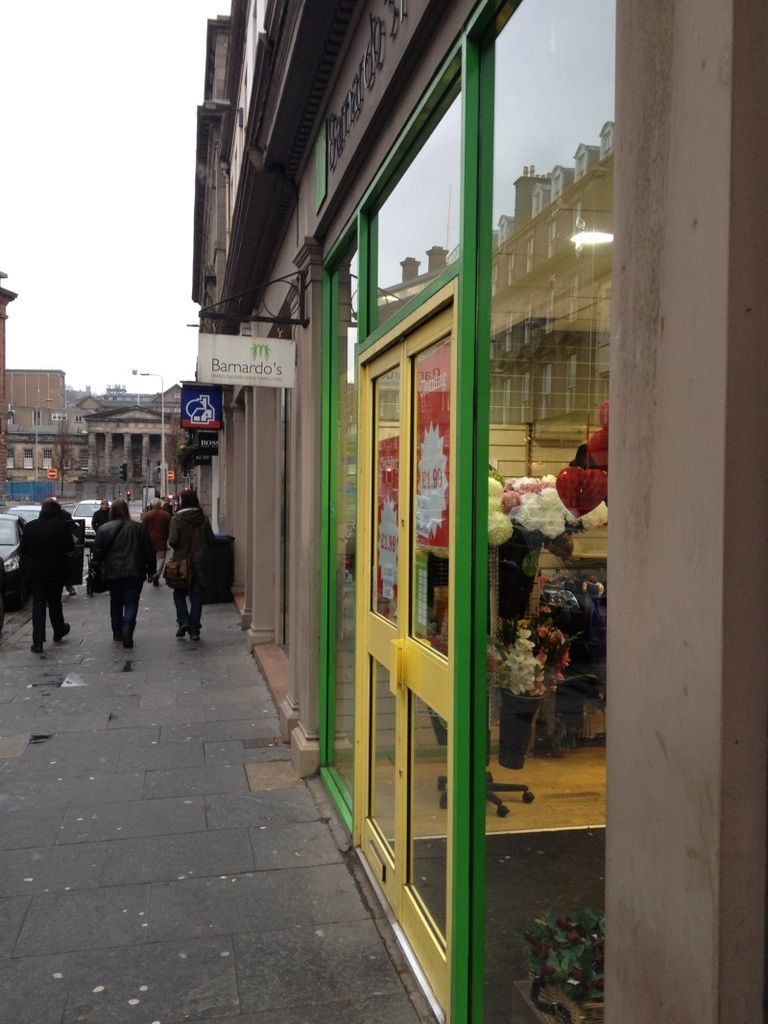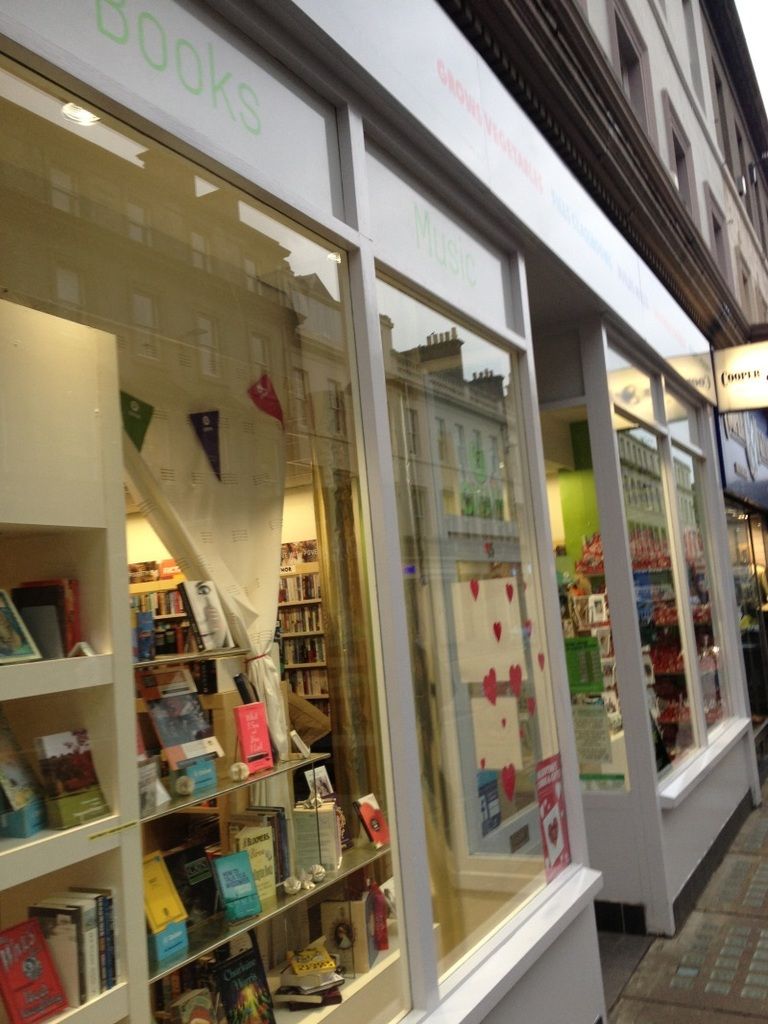 Barnardo's was barren (a trait that would become wearing as the day went on) but Oxfam had a plentiful supply. Unfortunately it was almost entirely 80s pop of the Stock, Aitken, Waterman persuasion and was therefore almost entirely uninteresting. There was a promising book and 45 about Maori culture and music but at a fiver would have taken a fair wedge of the budget and I was feeling optimistic. Still, the first record I actually saw in Oxfam was one that I'd been keen to pick up (indeed, had rejected just the other week online as between the cost and postage it would have been nudging £10 which for a punt is too much) to investigate for my burgeoning interest in Gaelic folk music: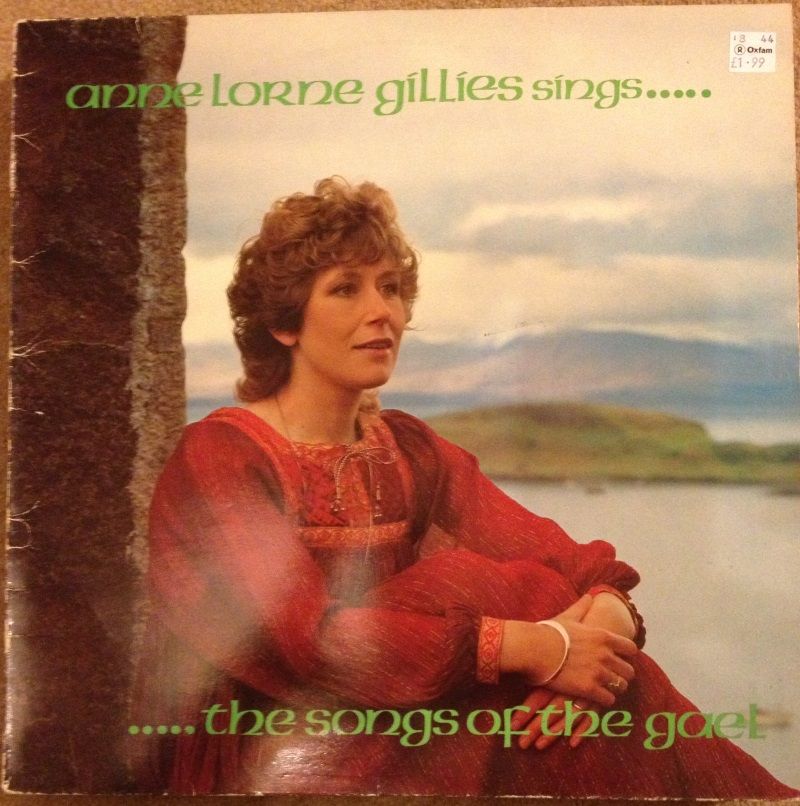 I've not had a chance to listen to this one yet, but am looking forward to it. It was on the shelve with a Sound of Mull LP which is great so hopefully it can come close to that. I carried on my way through the baltic cold that had descended on Dundee up High Street and the Murraygate towards the Wellgate Centre. First shop I came across was a British Heart Foundation which I expected nothing from and wasn't disappointed before heading on to Debra:
Now those of you who read to the end of my previous CSC will know that I hold Debra in decent regard given historic finds and today was, while not the highlight of the trip, still vaguely fruitful. Picked up three records here although not sure how I will feel once I get around to listening to them: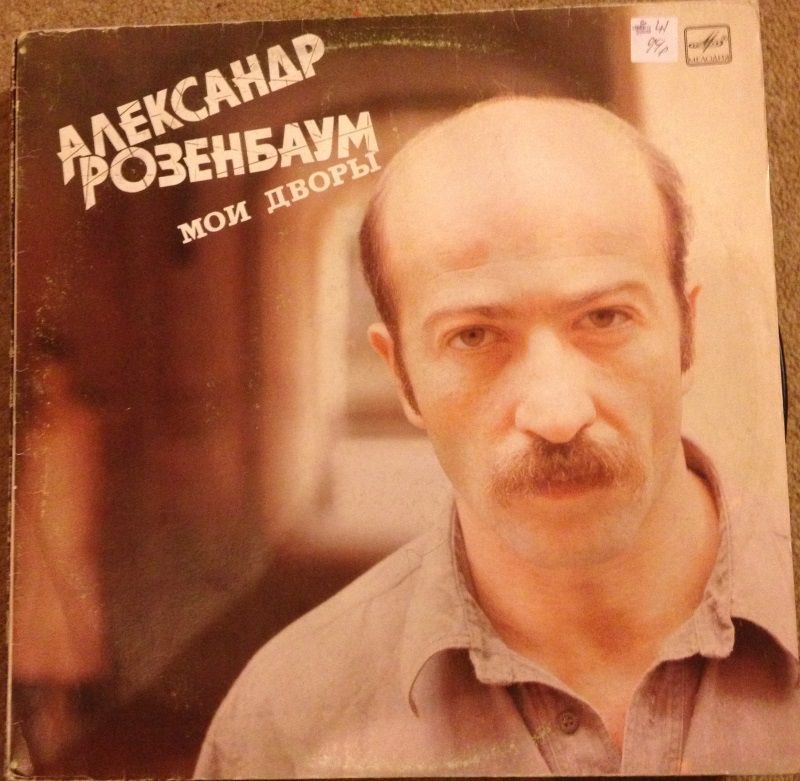 Dekka Danse were a synth pop/new romantic group from Aberdeen who I have a passing interest in so was worth picking up. The Wayne Nutt I've seen online a few times but never in the flesh - he was a Texan oil man who according to the press release had worked in Texas, Venezuela and the Congo before finding himself in the North Sea working in the "isolation of the rigs" and decided to try his hand at country music "in a new British style". Colour me intrigued. The last one by Alexander Rozenbaum just struck me as something unusual to find in Dundee - a politically charged (apparently) Russian solo guitarist on Melodiya who looks particularly serious on the cover.
Next up I headed in to the Wellgate centre (which I would like to publicly state here is possibly the most unpleasant shopping centre I've been in - and have also got lost/trapped in at one point which may have coloured my view). Anyway there are four charities in there including a BHF Furniture and Electrical which I ignored as I headed to the top floor to Sense Scotland, St. Margaret's Hospice and the Tayside Deaf Hub.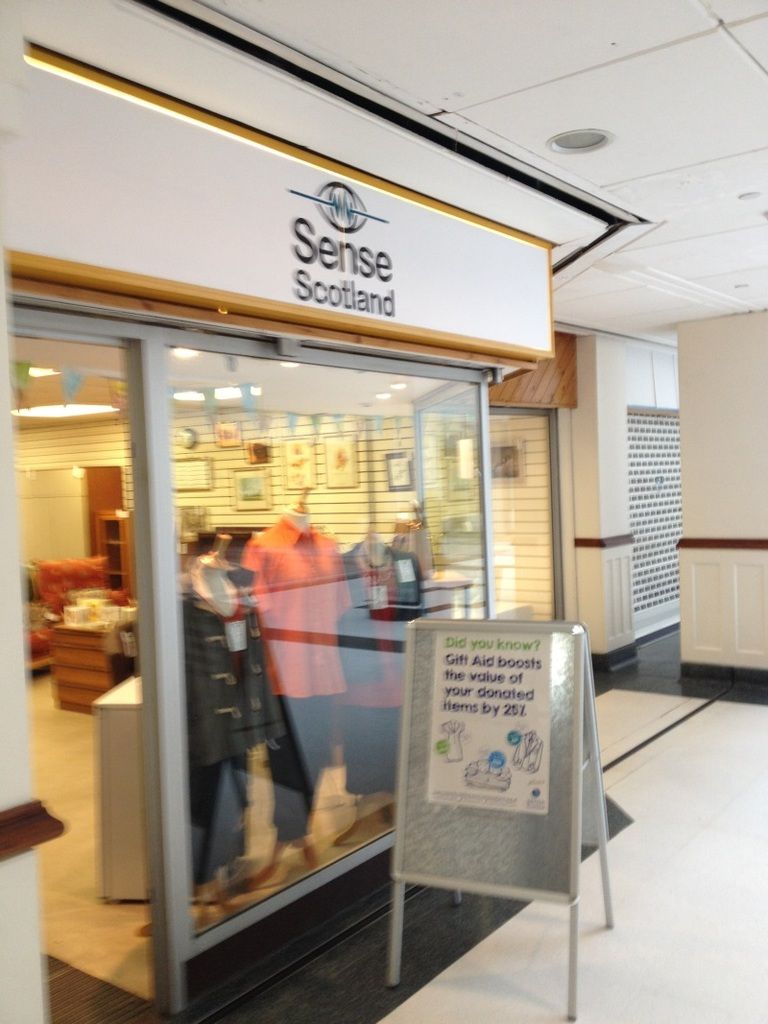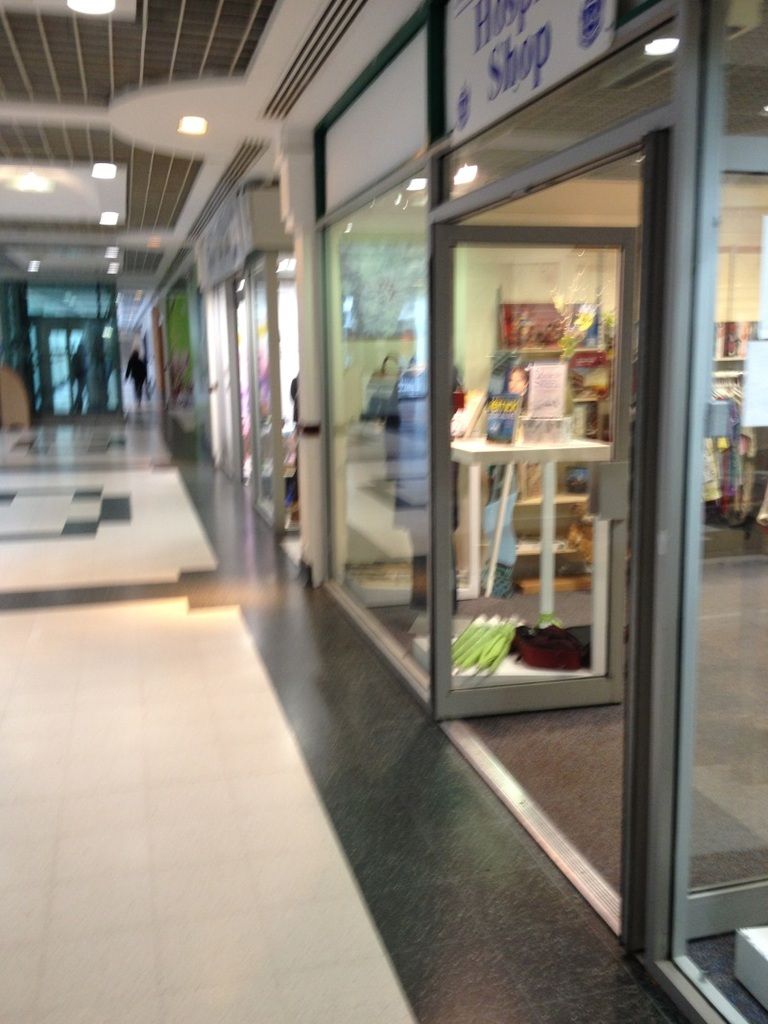 Inside the Tayside Deaf Hub I forgot that there was a high possibility of the staff being deaf and proceeded to make small talk - rather embarrassing. Not as embarrassing as the shop assistant enquiring as to whether I was the toddler on the cover of this: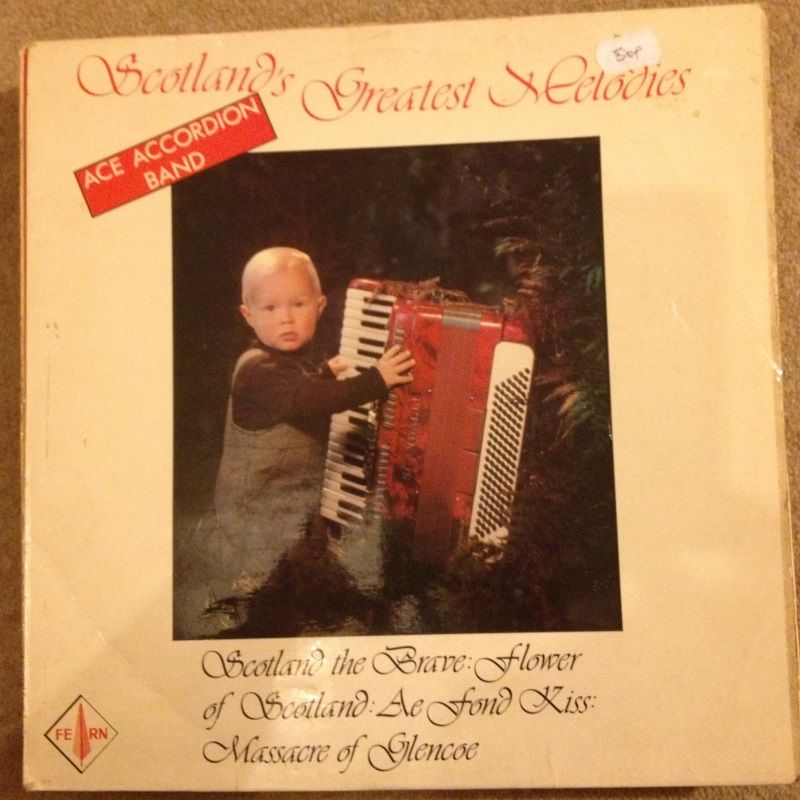 Now, in my defence here I was starting to worry about what I might find as the shops had so far not been up to much and this LP was on a label I was unaware of previously (and for those who don't know I am vainly trying to catalogue every independent Scottish label from the 1960s to the early 1990s) which had a nice label design and the instrumentation, although it mentioned accordion prominently, also mentioned "bass, drums, drums, piano, organ, synthesizer, glockenspiel, celeste and guitar" and described itself as "unique in the world of Scottish music" which it is in places but still smothered in damn accordion. Shamefully this would not be the only accordion LP I would punt on that day. A strange aside to this LP is the address for the label appears to be an electricity substation in Denny which currently has other companies registered to the same address, is this a common business approach?
And no, I am not the toddler on the cover.
Moving back to Reform Street I hit up the last two shops there - British Red Cross (zilch) and Chest, Heart and Strike Scotland (loads of vinyl - most of which I had if it was vaguely interesting.
I did pick up this LP on Lismor but am not holding out high hopes for a psych folk masterpiece: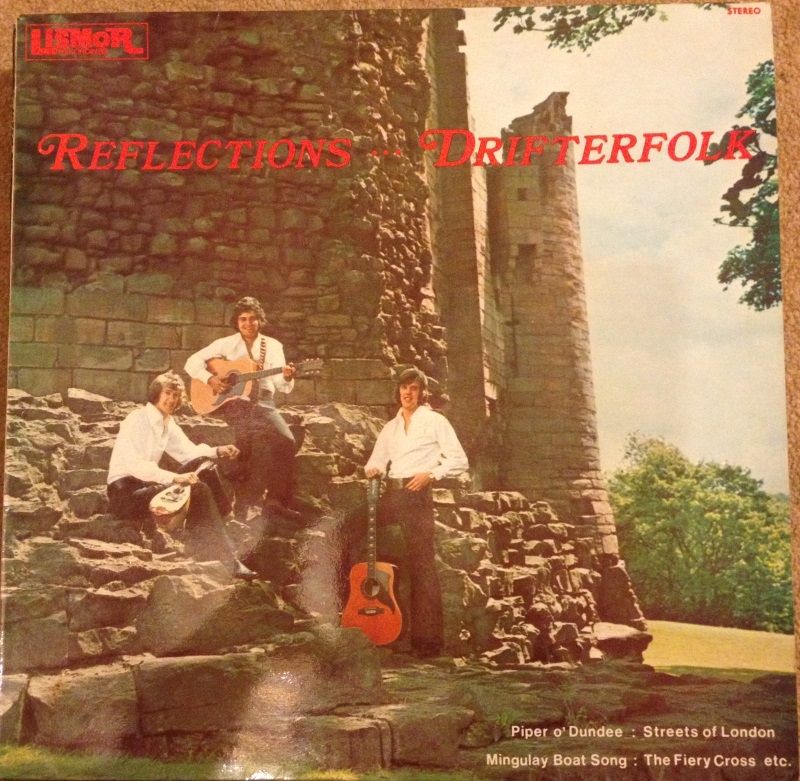 By this time it was approaching lunch and I had a long-ish walk to the next port of call which was the Tayside Re-Use It centre where I have come across a few decent bits before. It doesn't look that promising outside: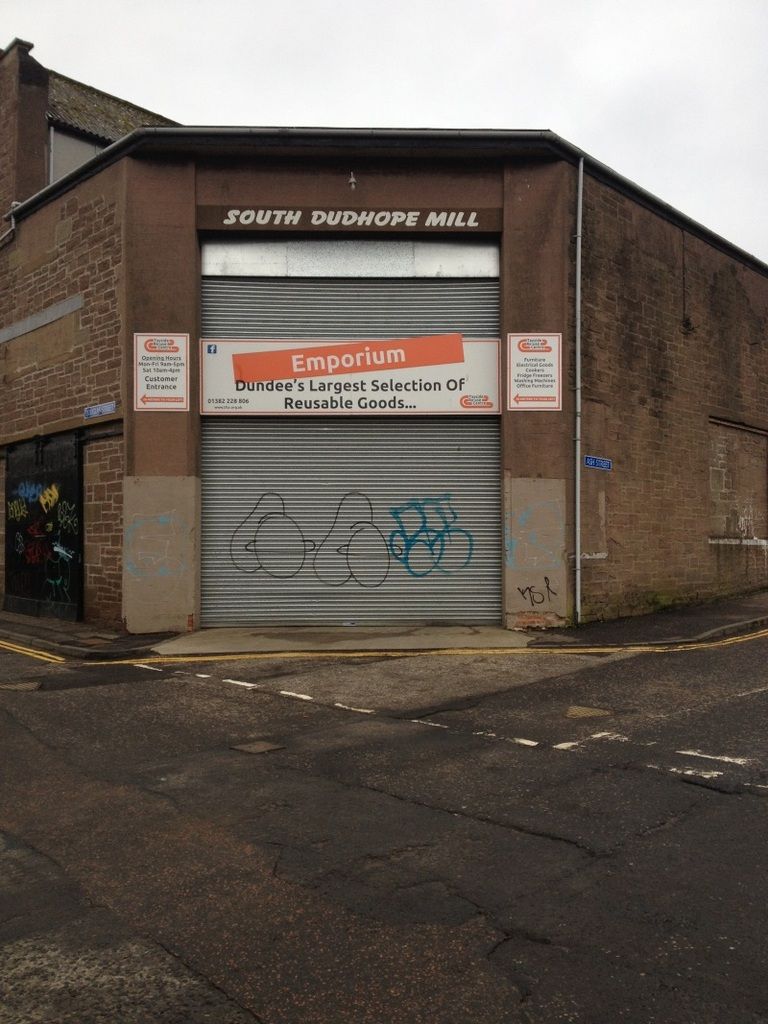 But inside there is a fair whack of vinyl to hunt through. This is one of the two LP stands and there were a couple of boxes of 45s as well:
Picked up these: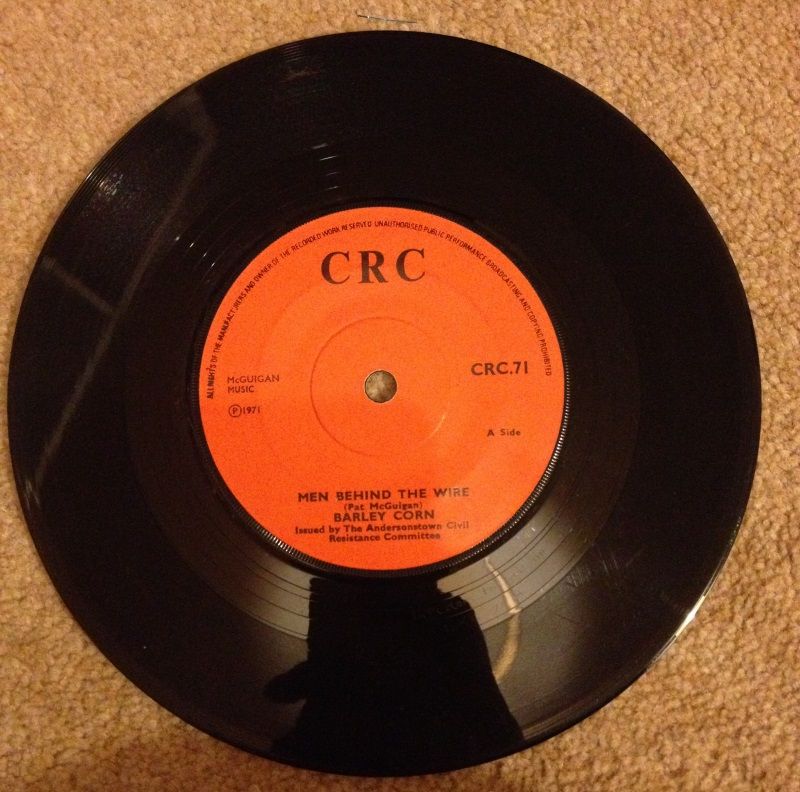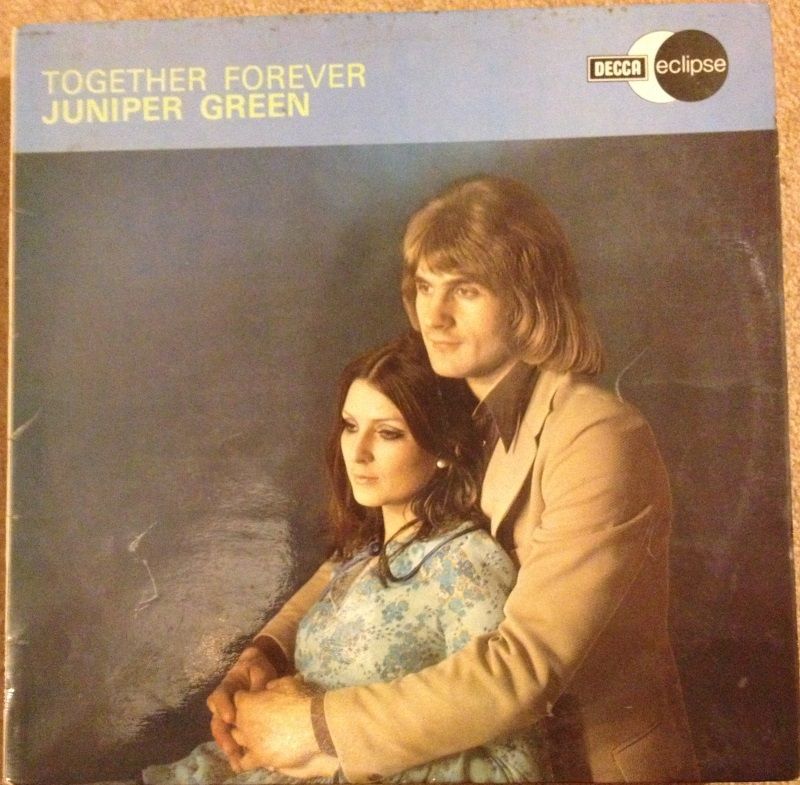 The Proclaim the Word LP is a recording of the 1967 Assembly of the Baptist Union of Scotland and is mostly xian twaddle but there is a track which is a reading over an organ recital which has
something
. It's a keeper for the cover though, I love the typeset and this would end up only being the second best cover sleeve of the day (and the best one had better music as well - bonus!). The Juniper Green is a pop-psych-y type LP which I had been hoping to find (but never thought I would) which sounds like it would be pretty good if it wasn't scratched to buggery. Still my 50p has got me a few unscratched tracks and the knowledge that I like it so should keep my eyes open for it again.
After this it was back in to town past this handsome chap: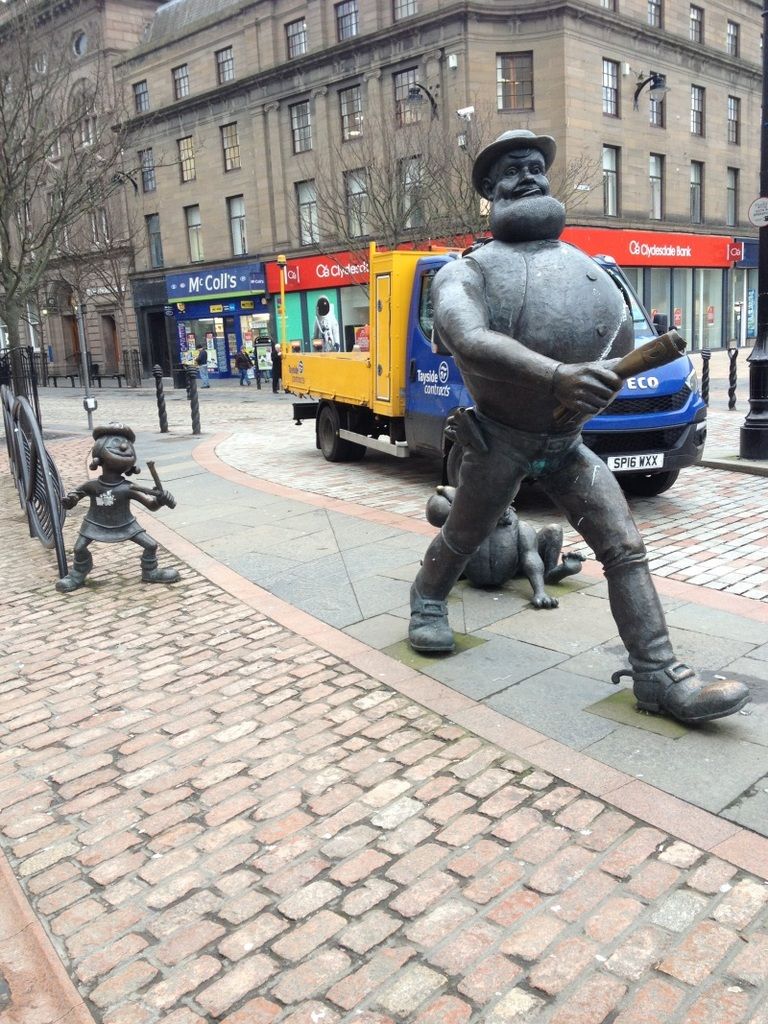 And on to a well known establishment for lunch (a chicken katsu bake thank you very much):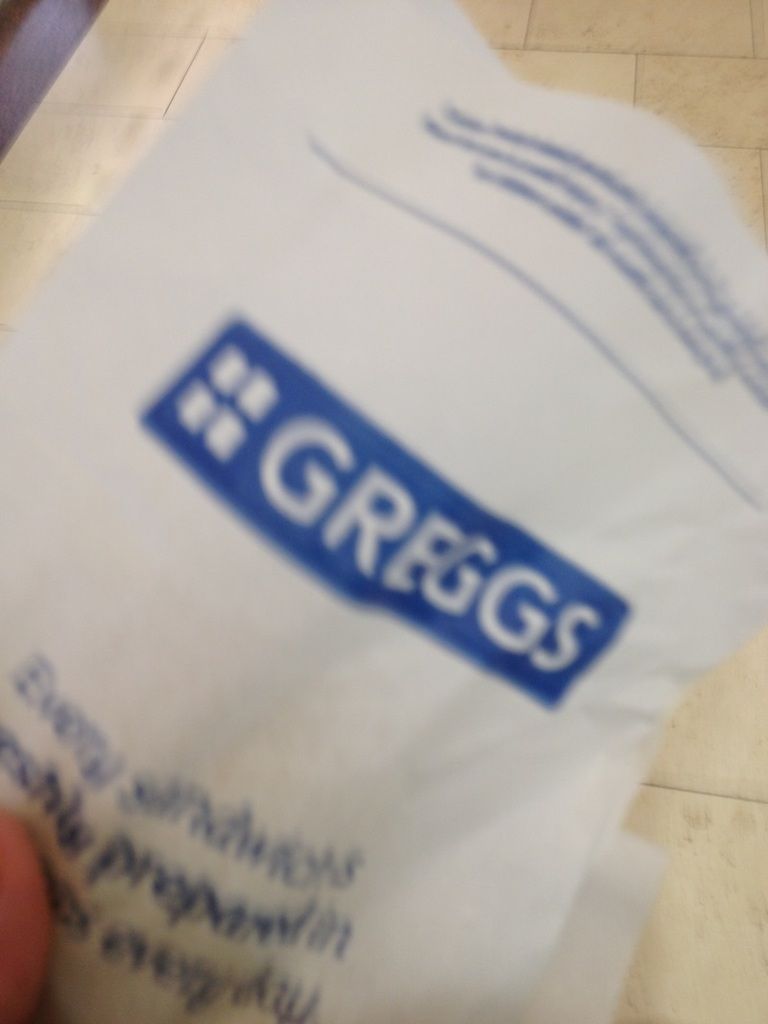 If I had had more time I'd have popped in to this place across from Groucho's as they do amazing rolls with as many filings as you want. Last time I went I had black pudding, a fried egg and bacon which was immense. Washed down with good tea as well and they support the local arts and crafts movements as well so all good.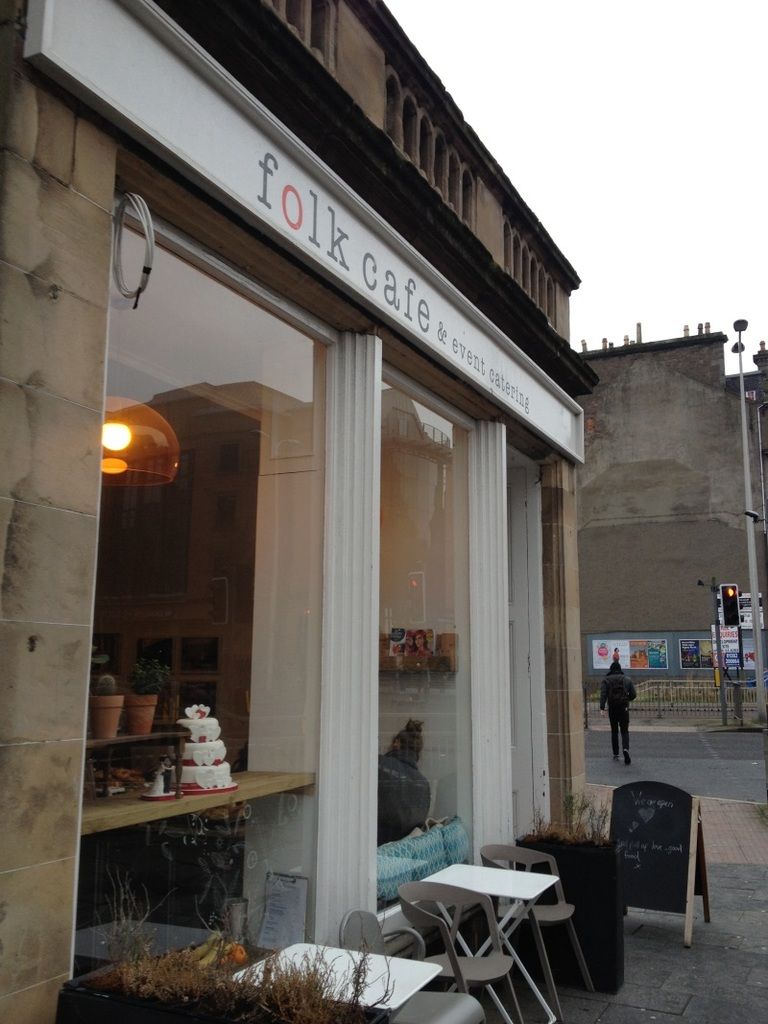 Speaking of Groucho's, it was my last stop in the City Centre before hitting the hinterlands: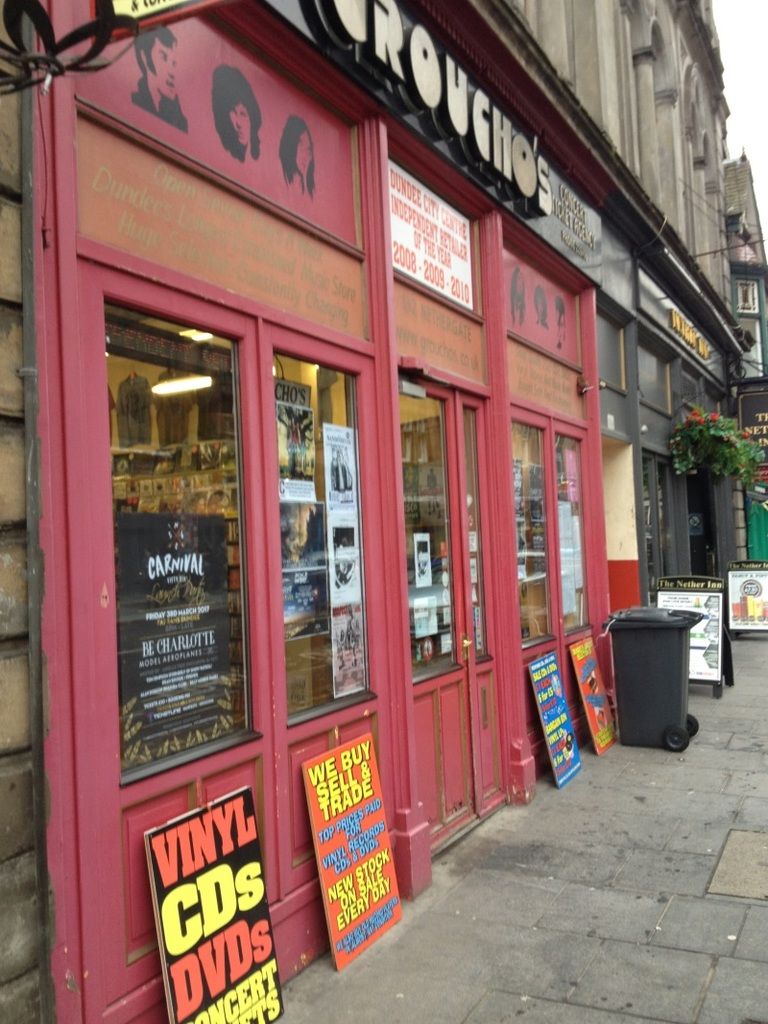 Mostly kept to the cheapo boxes in the spirit of the day. Had been looking for two specific McCalman's LPs and had looked through the Scottish folk box and found almost every single LP except either I was after. However in the £1 boxes I came across one of them! Chucked in another LP by them as ballast and an Alasdair Gillies early effort on Thistle that I have a 45 from and was on my way. I could have bought any number of marginally interesting Scottish folk/xian/choral LPs there but behaved myself as I know I wouldn't actually listen to them, like them or conversely be able to part with them and my other half is relatively understanding but certain areas of music do push it.....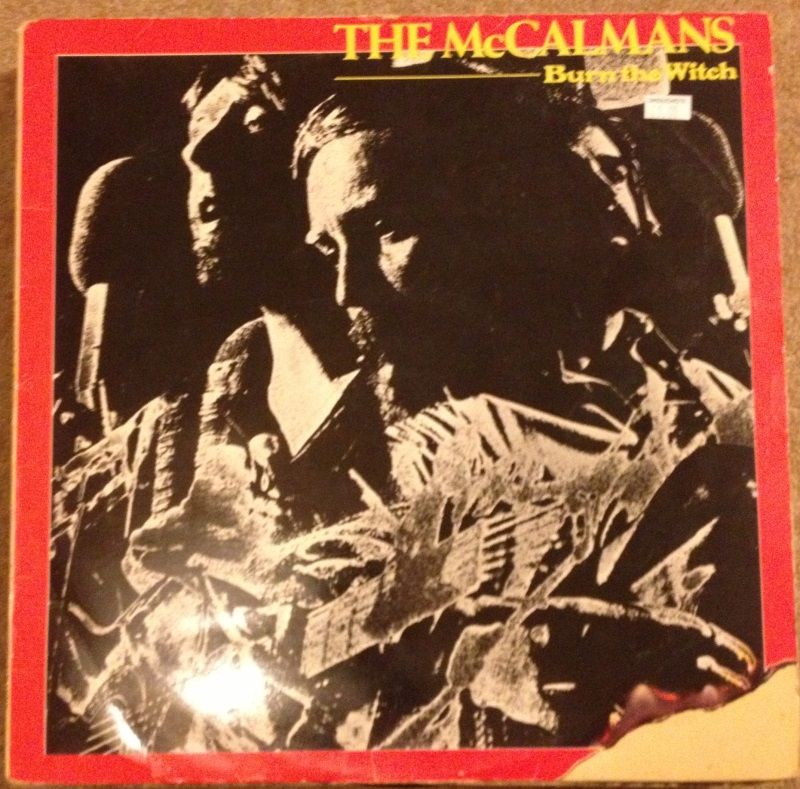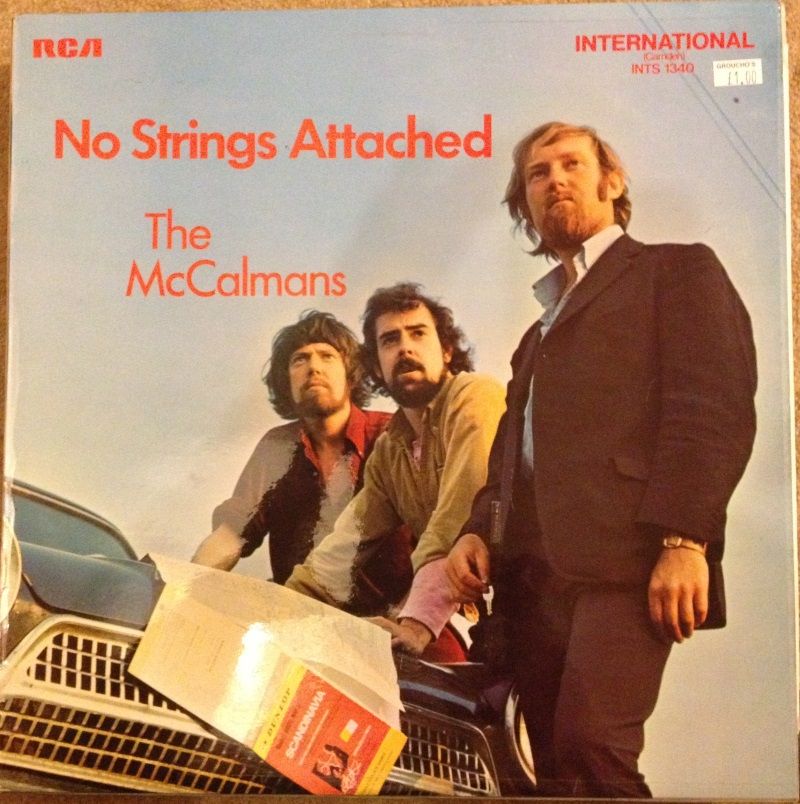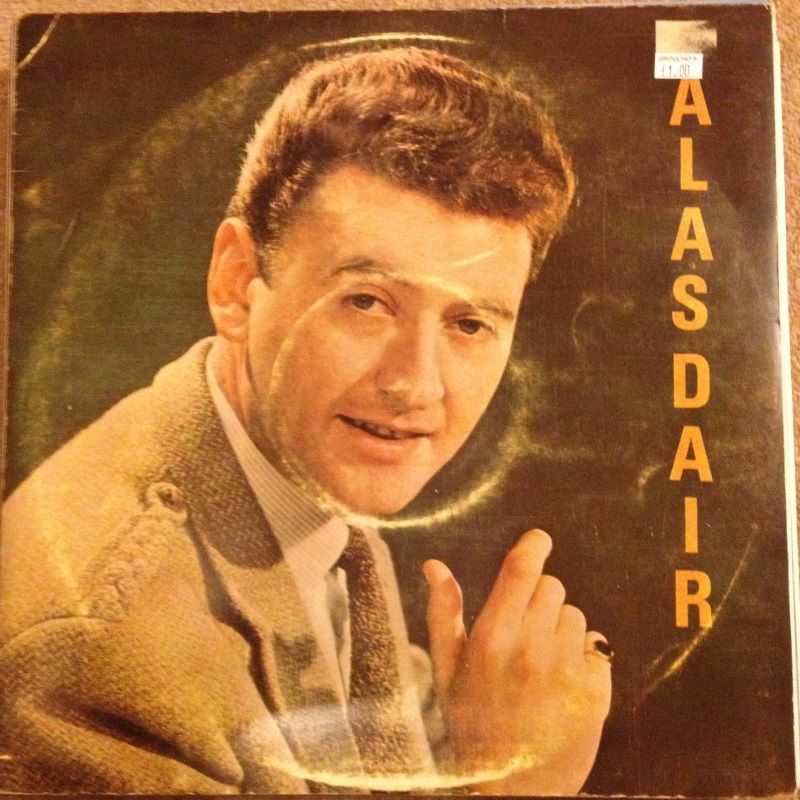 Alas housework is calling so I will need to cover the hinterland searches later this afternoon.