I love the Charity Shop Challenge. So much so that I do it whenever I can. My last finds posted here were from a day of trawling the SW London charity shops. It was a CSC in all but name.
So, inspired by Dukowski83's recent CSC I decided to document my trip to Brighton and Hove on Saturday and make it an official Charity Shop Challenge. The problems was that I only had 4.5 hours from the time that my train arrived at Brighton Station to when I needed to be at a friend's birthday party at the cricket club in Hove. This meant that I rather neglected the documenting and focused on the 'getting to as many charity shops as possible in the shortest amount of time.'
I managed 43. Pretty chuffed with that.
Here they all are plus one (productive) back room shot.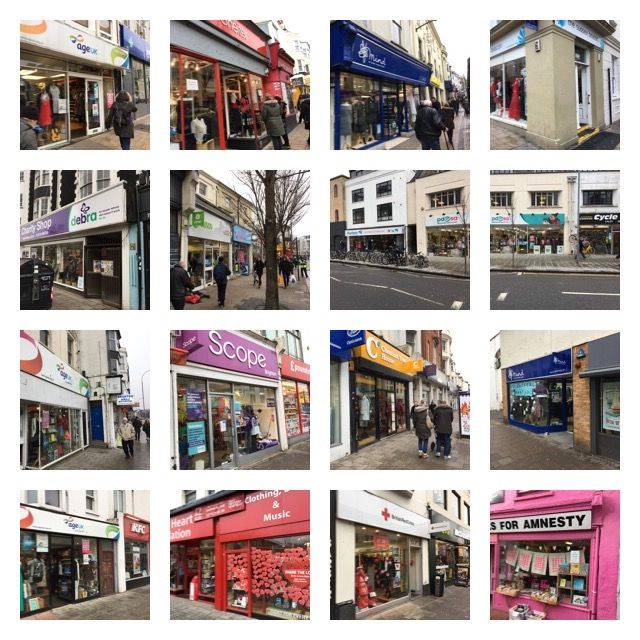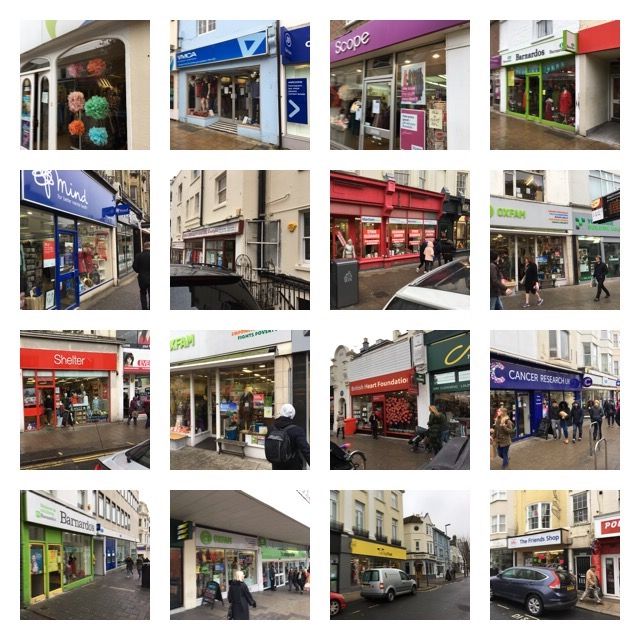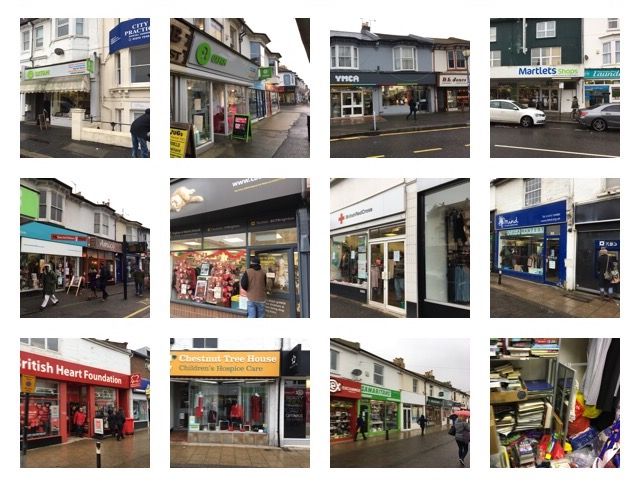 I'd love to give you stories from each but I can't remember which is which. Many didn't have vinyl. Most did. Much of it was terrible, as is always the case.
It was a real exercise in restraint not too look at the other goods as I've recently been buying loads of all sorts stuff with the express purpose of reselling. So it was a pure vinyl day. Plus a handful of CDs. Moments of weakness after a run of three or four vinyl-free chazzas. Though I did get a Beck CD I didn't have before. He's pretty good Beck. I'd never really listened to him until a few months ago.
Anyway. The records.
Continuing the uninformative theme - I haven't had a chance to listen to many of these and some I don't intend to listen to.
I listened to the Aceyalone 12" below. It's good Beat Junkies produced hip-hop. I'll keep it even though I'll probably not listen to it again any time soon.
I never see that White Town so bought it in one of the first chazzas. A check on Discogs later showed that I probably won't hang on to it as it's not that great. Discogs also revealed that the 7" is worth keeping an eye out for.
Box of Dub is tatty but was £1.
---------------------
I haven't listened to any of this lot. I won't be listening to Bruce and Brubeck is unlikely to qualify for my racks either.
---------------------
Dakota Oak is seriously dull. Wanda's on Myrrh but is too much country and not enough gospel for my liking. I haven't listened to the other two but me and the missus are saving Betjeman cos we like 'im.
---------------------
Another White Town for Discogs. Jimmy a freebie for a friend. Or here, if anyone wants it(?)
Blue Boy for nostalgia. Stereo Cocktail as it looked interesting. Haven't listened yet.
---------------------
Julie Felix was because it's one that I don't (think) I own and I recently got her Clotho's Web LP and have been enjoying that.
I always buy Feliciano if cheap and clean. This one was 50p and will make one of my many friends who got a record player for Christmas very happy. Such a great LP.
I haven't listened to the Sgt Pepper LP yet but I usually enjoy this kind of parp-tastic fare.
Blackalicious - why not? I've got the LP and never really listen to that so why would I ever leave the 12" sampler?!?!
----------------------
Babylon by Bus is in excellent nick and is a keeper. Dada looked intriguing but on a brief needle drop last night it sounded a bit 'meh'. The Marilyn Monroe picture disc will probably join it in the out pile. Sly and Robbie 7" is fun.
---------------------
So there you have it. Loads of charity shops; a decent number of records; and very little insight.
Hurrah for the Charity Shop Challenge!
WF