The year so far....
For a number of reasons I've not been buying much this year but so far i have had 2 big blow outs. King bee for my birthday the other week and the Manchester record fair on Saturday. So here are my finds of the year so far:
1st up, form King bee, Sifters and the general Chorlton area...
Cockney Rebel / The Psychomodo - Not really my bag, got it for the drum break
The Association / ST - Not really listened to this yet, seemed OK form a quick needle drop
Todd Rundgren / Back To The Bars - Again, I've not listened to this properly yet
Robert Goulet / Both Sides Now - Erm.... cant remember but i think it was a bit pants.
Mandingo / Tigers In The Night - This is the first Mandingo LP I've got/heard and i actually paid proper money for it. Think I'm beginning to give up on the idea of finding some records in charity shops for pence..
Herb Larson / Sax Appeal - Some nice uptempo cover versions.
Charles Groves / Overture Spectacular! - Another S2S for the collection
Howard Blake / Hammond In Percussion - More S2S but this time a half decent one
Franck Pourcel / The Franck Pourcel Sound - S2S
Geoff Love / Puccini - S2S
Manuel / The Sun The Sea & The Sky - S2S
Robert Delgado / 20 South American Dancing Hits - A comp of some of the not so good Robert Delgado tracks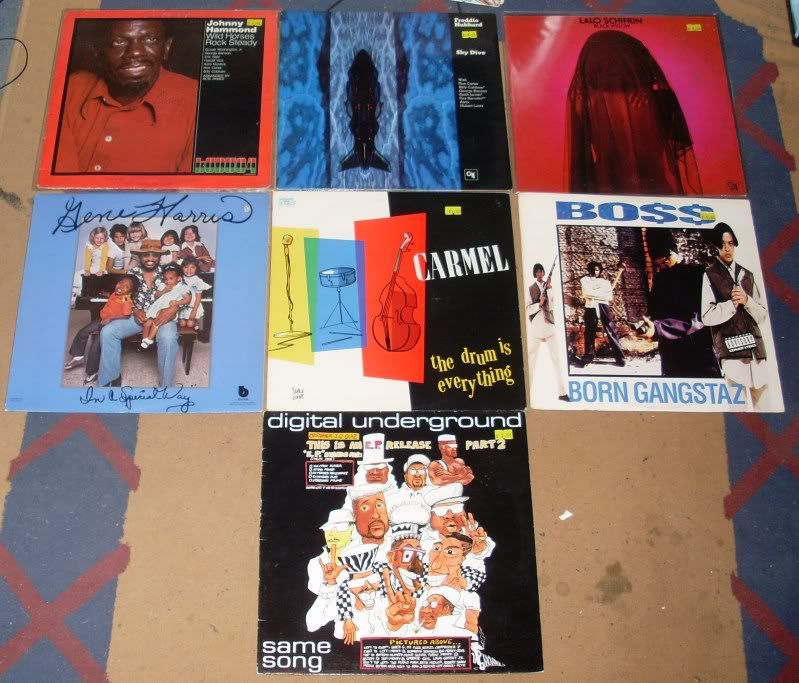 Chorlton part 2 (apologies for the filthy rug
)
Johnny Hammond / Wild Horses Rock Steady - Some nice funky Hammond
Fredde Hubbard / Sky Dive - One of the better more jazz CTI releases, before they got all smooth Jazz and disco. Which leads nicely into:
Lalo Schifrin / Black Widow - Bit of a disco tainted let down..
Gene Harris / In A Special Way - Not too bad....
Carmel / The Drum Is Everything - 80s jazz but tracks of my tears is OK
Bo$$ / Born Gangstaz - This LP showcases everything which was bad about early 90s hip hop. Bit of a gimmick, unnecessary bad language, slick production and spelling things with a "z" instead of a "s". having said that i really like it and it brought back memories of my paper round..
Digital Underground / Same Song - Another blast from the past.
Manchester Record Fair
Ramsey Lewis / Them Changes - Some great live performances (which also appear on his Tobacco Road LP).
Billy Cobham / Life & Times - Not really listened to this yet
The Equinox / Hard Rock - Seemed OK on first listen
Marvin Welsh & Farrar / ST - The shadows trying to get down with the kids, didn't do a lot for me.
Redbone / Beaded Dreams Through Turquoise Eyes - Got an early Redbone LP that i quite like but this is a bit bland.
Nigel Bates / Chappell AV Series - 80s Lib
Dave Anthony / Popsie - Think this is fairly well known and the second one I've had my hands on. Do they all skip at the beginning of the 1st track?
David Fanshawe / African Sanctus - Another well known LP that I've only just got hold of. Nice if a bit scary in places...
Guitar Workshop / Pop go the Classics - Collaboration between Johnny Harris and Tony Hatch doing pop guitar covers of classical music. Couple of nice tracks.
Keith Mansfield / All You Need Is - I must admit i cant see why this LP commands a high price. Yes, the break is nice as is the rest of the song and a few other bits, but it didn't blow me away.
Premier Mundial / 2:001 - A foreign TOTP style LP with a nice version of Also Sprach Zarathustra.
Cepenada coahe.... (i don't have the required letters on my keyboard but it looks Russian) - I had no idea what this would be as i cant read any of it. Turns out its pretty standard swing jazz. Its on green vinyl though.
And Finally...........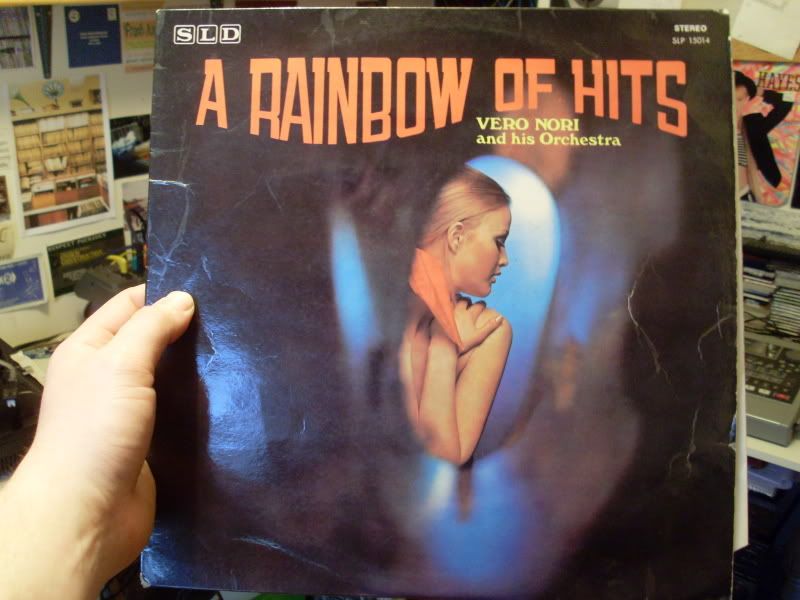 Vero Nori / A Rainbow Of Hits - A £1.00 punt that i nearly put back as the vinyl is pretty trashed but glad i didn't. Some real nice cover versions of "Too Young", "Whats Going On" and "Iron Side" all in that sort of big band/easy/funk style. Pretty much every track is enjoyable and there are even a couple of drum breaks for those of us of that persuasion. I have no idea who Vere Nori is but this sounds a bit like a cross between the best bits of fausto papeti and Max Greiger.. Anyone have this LP, know anything about it? A google search through up a complete blank... So far this is my find of the year..