that SWAY sound pretty great...
here's my lot of late - some trades, charities, BIN's and a couple of bits from Mr Stapelton's shop (although i'm sure i've bought loads more but filed it away somewhere. and thyis is definately only a fraction of the 45's - -but, again, they are lost in the ether!)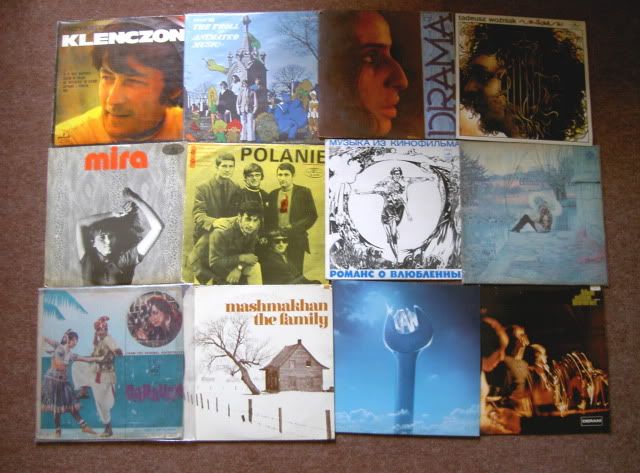 KLENCZON - awesome polish rock/beat LP with some nasty fuzz on. put a track on my latest mix.
TROLL - "animated music" - brilliant pop-psych with a couple of heavy-fuzz tracks that i shall play out soon. pleased t ograb an OG
MARIA BETHANIA - "drama" - Caetano Veloso's sis. he seems to have produced the LP which is why i picked it up. the stand out track on here has been poached by Madlib
TADEUSZ WOZNIAK - as raved about on here by Hugh. really effing great polish folk rock. all over the place. i put one of the funkier tracks on my latest mix
MIRA - bit dissappointed with this. been after a copy for ages, can't think why though. very muddy sound.
POLANIE - great polish heavy r&b stuff
"ROMANCE FOR LOVERS" - say no more. daft to spent this kind of money on a teo-tracker (although it was a cuss-load cheaper then the recent copies auctioned on ebay, i hasten to add!)
AFFINITY - US press of this abslute classic organ-prog
"CARAVAN" - great listen all the way through. good old Burman
MASHMAKHAN - "the family" - lacks the fuzz of their other LP, but still great
CAN - bought for "a spectacle", but pleasantly suprised by the rest odf it. defo on of the better later Can LPs
ALAN BOWN - bought for "the prisoner" - not much else on here to float my boat, though.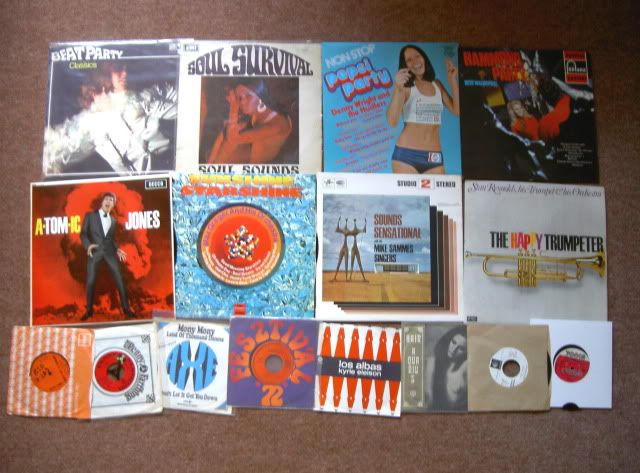 and some great "vinyl vulture" style stuff... "BEAT PARTY IN CLASSICS" is brilliant fun classical reinterpretations.
45's:
JAMES ROYAL = "house of jack" (funky fanfare, innit)
BARRON KNIGHTS - "you're all i need" (great glam groover from these idiots)
AXE - "mony mony / land of a thousand dances" (Glammed-up medley of these two tunes)
KATI KOVACS - "add mar..." (finally, a proper 45 of this monster for a reasonable price)
LOS ALBAS - "kyrie eleison" (Axelrod-moves on one side)
BROADWAY MATADORS - hair (monster version of "aquarius" with break. Again, on my new mix)
MECKI MARK MEN - "sweet movin" (brilliant brain-cleansing tune - nice to have on 45)
ALPAY - "yekte" (Turkish version of the Psychomania tune. other side is great aswell - -cheers Alex)
i also picked up BDP's - "by any means necessary" for 50p, and received a copy of KISS - "kissin time" 45 in the post snapped in half. balls - i was looking forward to playing that out!!