Only went on Saturday, my objective was:
* Try not to burn all my money, so no large expenditure on records
* Try to find things from my want list
* Records in an excellent condition
* Meet some board members
Today after enjoying the records from my listening chair I look back on a great day. Good finds, nice chat, drinks and listening to records back in the hotel with some very friendly board members.
Went to one flea market this morning which added two records so total this weekend is 24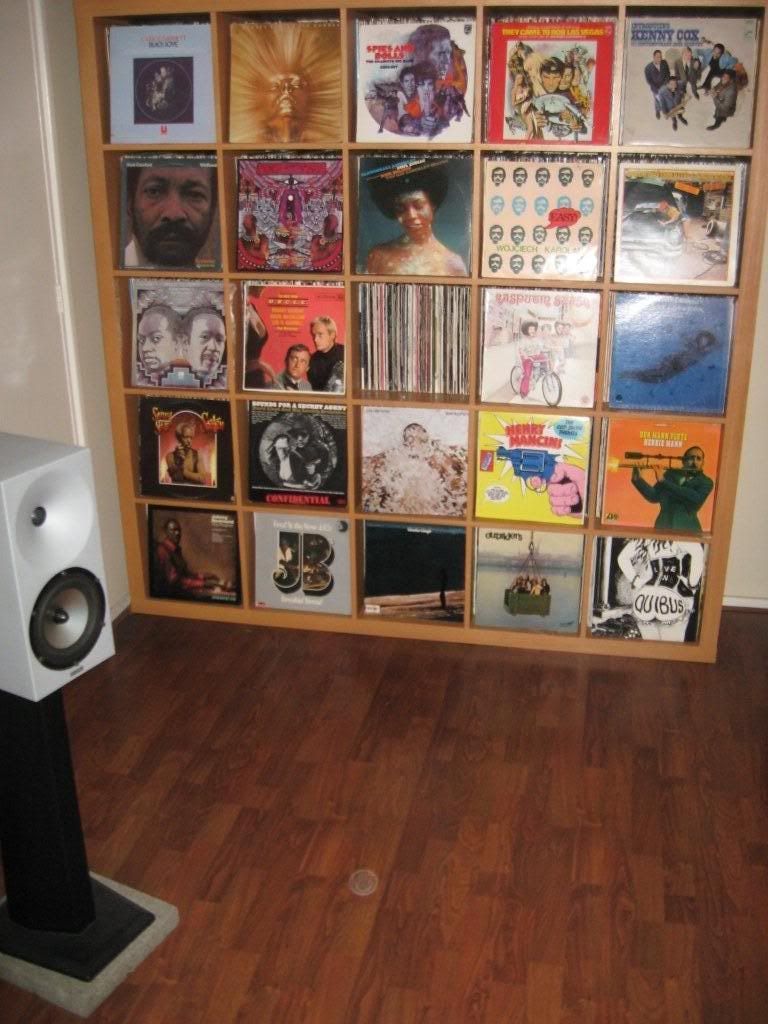 Close up!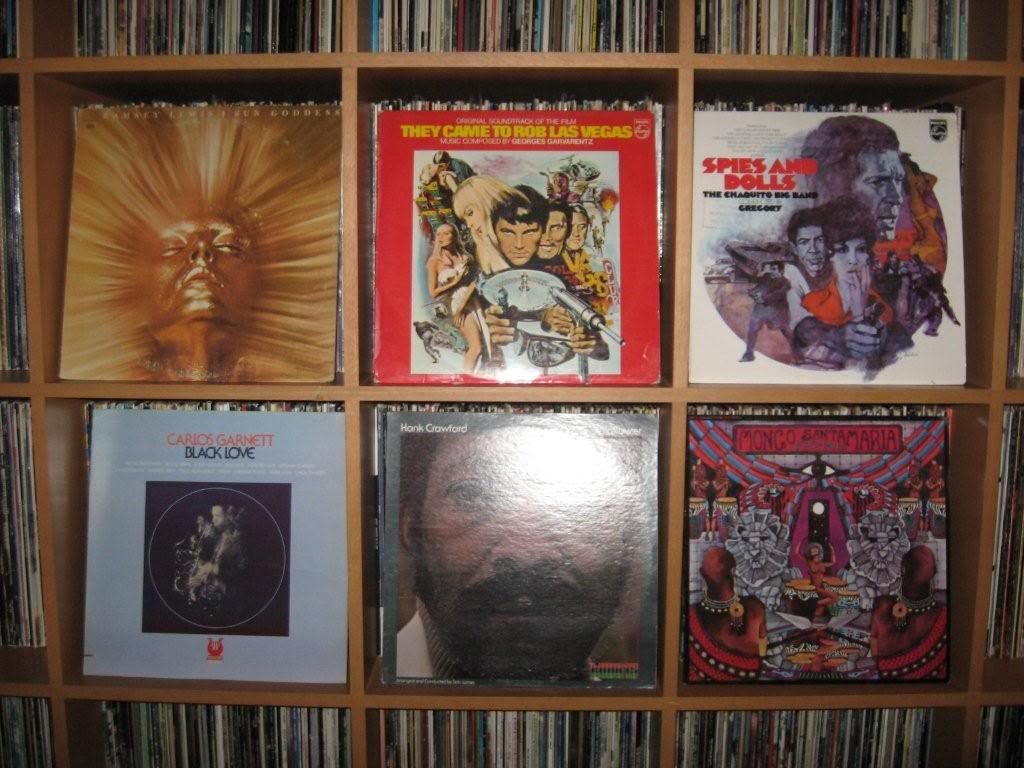 Ramsey Lewis
Sun Goddess ...
Common record, but a great one! Beautiful set of funky electric piano tracks with tight rhythm grooves
Soundtrack
They Came to Rob Las Vegas ...
Blaring horns, big band jazz, electric guitar, groovy beats and orchestral moods to make this a fantastic 60's soundtrack to the cult crime-thriller and was a gift from a friend to me
The Chaquito Big Band
Spies and dolls ...
Follow up to "TV Thrillers", great exploitation record of 60's crime OST's
Carlos Garnett
Black Love ...
Soul jazz classic -not commonly know- a super-session, with a lineup that includes Buster Williams, Norman Connors, Charles Sullivan, Mauricio Smith, Reggie Lucas, Billy Hart, Mtume, and Dee Dee Bridgewater. A blend of soul, funk, and jazz! Incredible vibe, spiritual jazz dance
Hank Crawford
Wildflower ...
Took me a while to find a clean copy of this one, thought it was a common one, hard to find for me
Mongo Santamaria
Afro Indio ...
Minted up my copy, great one, very happy with this clean copy
http://www.youtube.com/watch?v=IFcTizUdb-U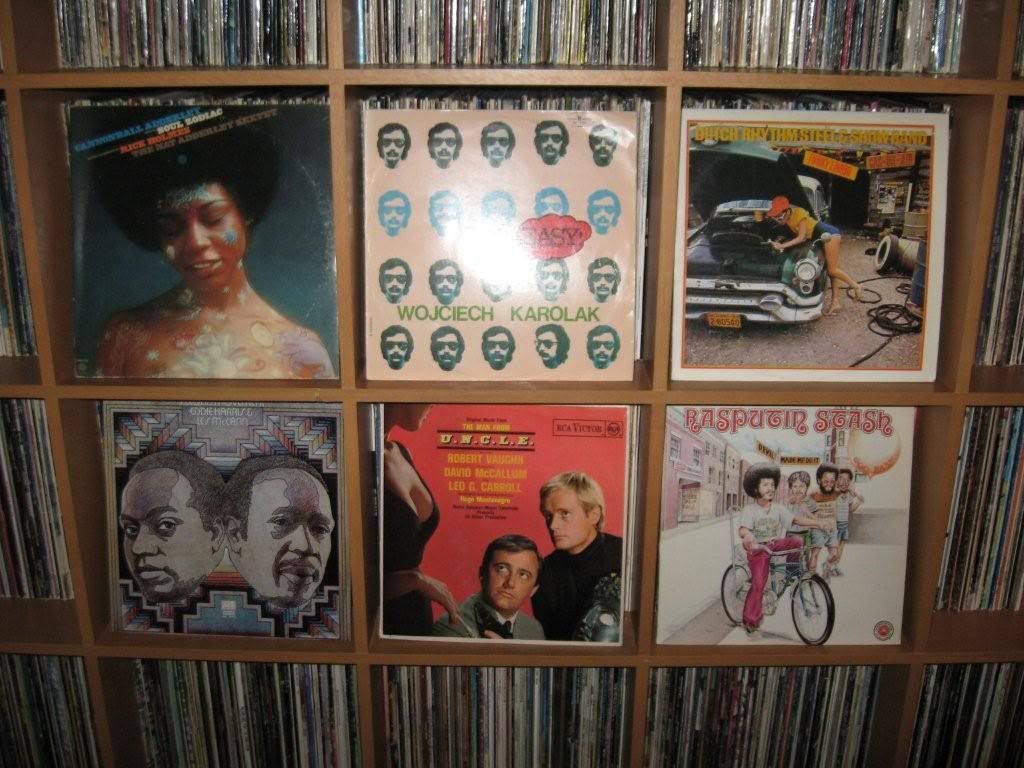 Cannonball Adderley
Soul Zodiac ...
One of the funkiest albums by Cannonball Adderley produced by David Axelrod, and featuring spacey trumpet lines and George Duke's excellent keyboards!
Wojciech Karolak
Easy ...
One of the best known Polish Jazz records, great funky vibe on this one
Dutch Rhythm Steel & Show Band
Funky Limbo ...
Almost impossible to find Dutch rare record, two great tracks "Funky Limbo" and "Disco Fever"
http://www.dutchraregroove.nl/mp3/20...FunkyLimbo.htm
Eddie Harris & Les McCann
Second Movement ...
Do I have to tell? Classic one
Sountrack
The Man from U.N.C.L.E ...
Original UK Mono for ten euro, couldn't leave it behind
Rasputin Stash
Devil Made Me Do It ...
A stone cold killer from the 70's. Rasputin Stash made other records that had more of a rock feel, but this one is funky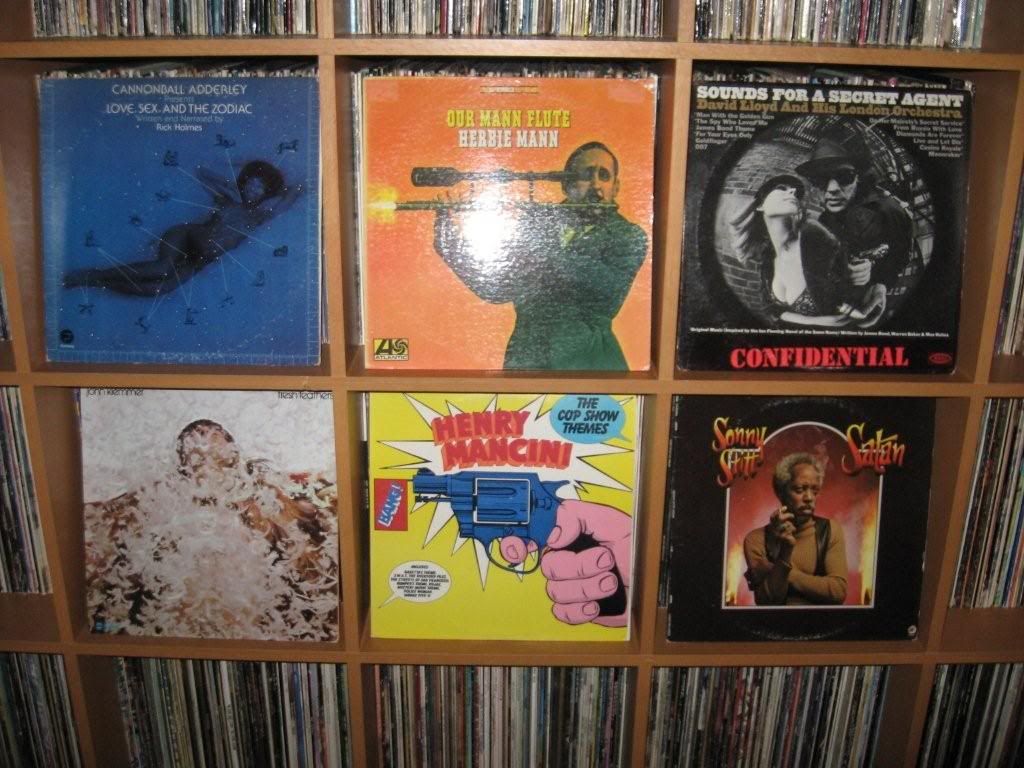 Cannonball Adderley
Love, Sex and the Zodiac ...
Again great stuff! The formula is similar to the 2 LP Zodiac set Cannonball did for Capitol. This one is also with David Axelrod producing
Herbie Mann
Our Mann Flute ...
Some nice funky flute tunes on this one, was cheap, meanly took it for the cover
David Lloyd
Sounds for a Secret Agent ...
One to add to the Bond collection
Jon Klemmer
Fresh Feathers ...
Funky set of tracks in which Klemmer plays mainly electric
Henry Mancini
The Cop Show Themes ...
Long, long, long time want. Funkiest album ever from Henry Mancini. Great reworks of 70s cop show themes, jazzy groove!
Sonny Stitt
Satan ...
Cheap one, and it sounds like that, great cover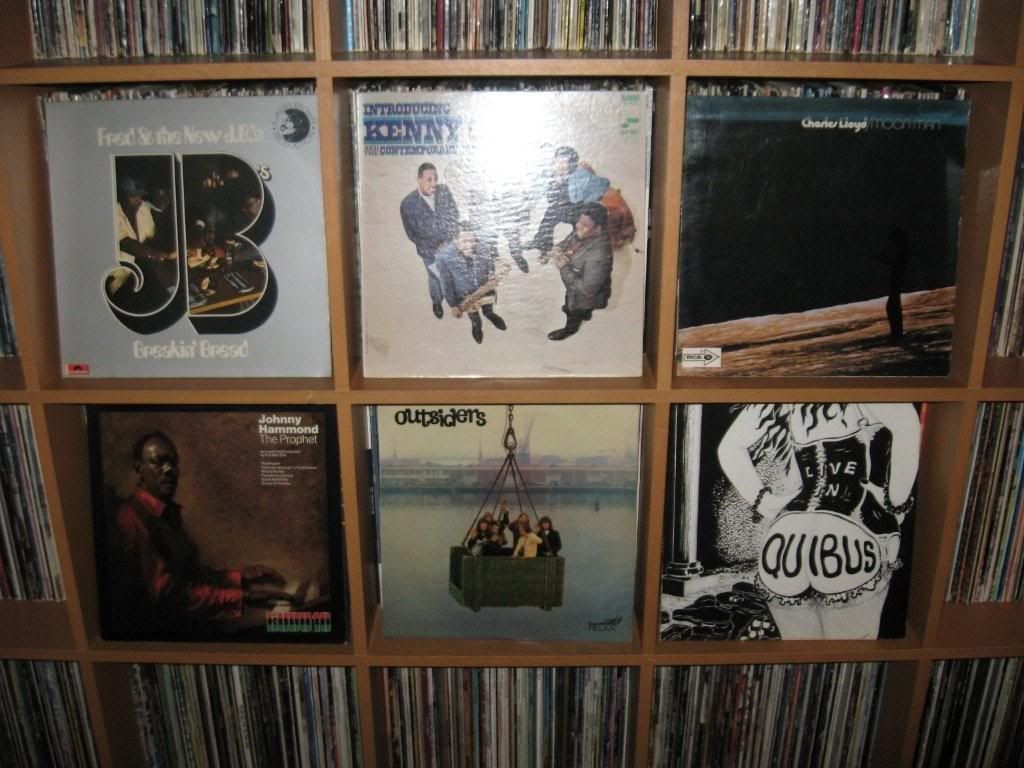 Fred & the New J.B.'s
Breaking Bread ...
Super clean UK copy of this classic
Kenny Cox
Introducing ...
IMO overlooked late 60s Jazzgroup on Blue Note, they made two albums, found them both last month
Charles Lloyd
Moon Man ...
Not what I expected, not a typical jazz album but a set of space jazz, folk and Psych
Johnny Hammond
The Prophet ...
Very clean copy of a common record but funky to the bone
The two Flea Finds
Outsiders
ST ...
Rare Dutch Freakbeat / Garageband, the vinyl looks unscratched, has a typical blur, but sounds excellent
Private Jazz Compilation
Live in Quibus ...
Outstanding vocal version of "Summertime"
So with this 125 pieces stack of records I found/kept in the last 3 months, I will probably not be seen in the new finds section until next year.