I keep trying to find time to do some proper sleeve pics to go with this post, but I haven't so far and it's nearly February, so here it is with a sub-standard photo. Sorry!
Right, here goes.
Me and the ladyfriend got back from South India earlier this month and I thought it only polite that I should offer up something to the board, seeing as I mined VG+ for information regarding Indian records and Mumbai digging beforehand. In particular I found Sie's Mumbai finds thread and his digger's thread knowledge handy, so cheers Sie. Also, thanks to Pencilface who made me an ace shopping list with geeky links sleeve photos.
So anyway, we'd thought it was a good idea to get a flight from Heathrow at 10pm to Mumbai via Bahrain then, rather than stay in Mumbai overnight, get an overnight train straight down to Goa. This would have been fine if I was able to sleep on planes or trains at all. I'm not, so I ended up not getting any sleep till I passed out on the floor outside our hut at about 3pm on the 29th. We stayed on Palolem beach, which is pretty touristy, but luckily had found a place tucked out of the way where, if the tide was up, you had to wade to get to. No records, as expected, but lots of sun and warm sea to swim in. The missus got some tat to offload on friends as presents and I got a lighter with a palm tree on it and some genuine 'Rey-Ben' sunglasses, which just about lasted until sunset before falling apart. Also we saw monkeys, eagles, kingfishers, lizards, dolphins and loads of cows.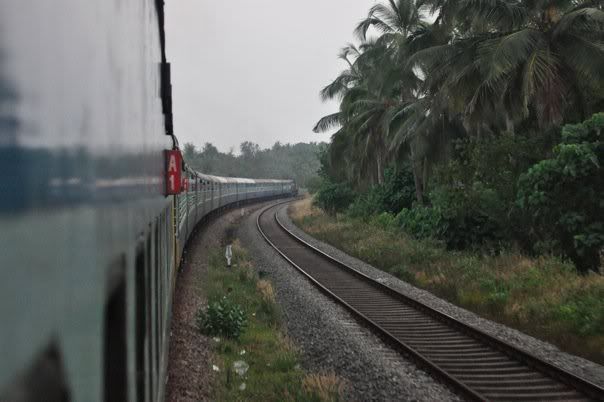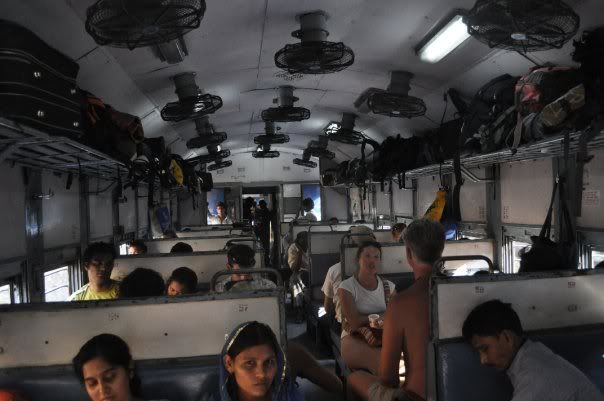 After a relaxing stay at the beach, we commenced our journey down to Cochin in Kerala via Gokarna, Murdeshwar and Mangalore. Murdeshwar is notable for having a rather large statue of Shiva, which was pretty much within spitting distance of our hotel room (no, I didn't spit on any statues of religious significance. My atheism is of the non-aggressive kind). I managed to score a nice genuine 'Gasio' watch in Mangalore for the equivalent of about a quid and a half.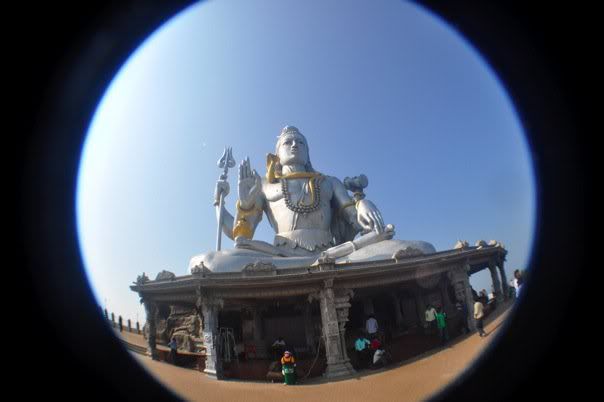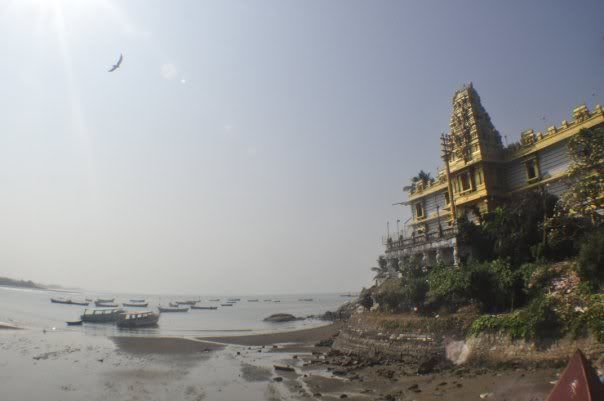 I wasn't really expecting to find any records in Cochin, but I noticed a chap with a bric-a-brac stall fixing a record player and my girlfriend suggested I ask him if he had any. He did, as it happens, so I relieved him of a few. Nothing amazing and they were pretty much all trashed. Some of the even had full on, 3-dimensional fungus on them.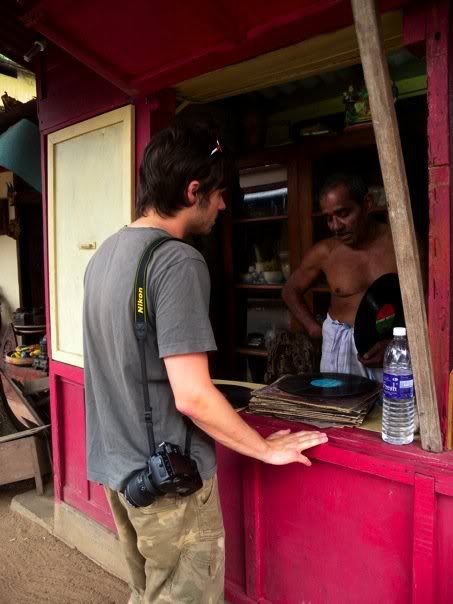 We only had one-and-a-bit days in Mumbai, so I wasn't expecting to find much. I had a nose in Rhythm House which seemed great, although it's lack of vinyl and our lack of time meant I didn't really give it a proper look. We wandered round the crawford market area, which is near where we were staying, which was crazily busy. On our way to find a decent restaurant, we happened to stumble upon a stall where a lovely chap by the name of Abdul was selling his record collection off. He had a fair bit of stuff of varying condition so I did my best to cherrypick without really knowing much about what I was looking at! He had a lot of R and S D Burman, including a Hare Krishna Hare Rama in ok condition, which was about the only thing there that I had on my list. Funnily enough, we watched a bit of telly in the hotel that evening and there was a 'retro' channel showing dance scene clips from old movies including a brilliant scene from Caravan.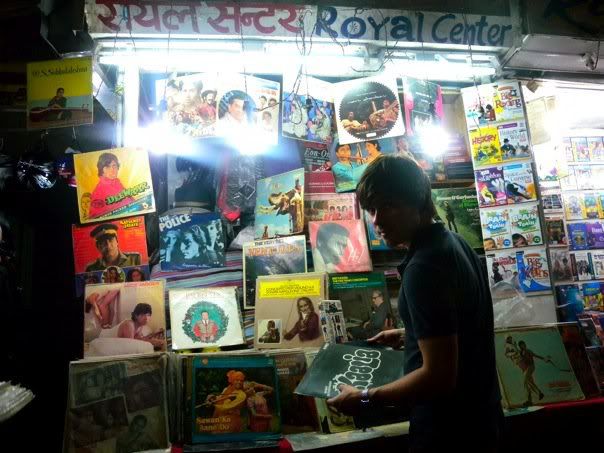 Anyway, enough waffle. Here is most of what I picked up (i left out the 7s) I don't really know what I payed for each record as I haggled a bit and got him to give me a price for the whole lot. Probably didn't pay more than R100 a record. One of the conditions of him knocking a bit off the price was that I tell everyone about him, so here's a picture of his card, too.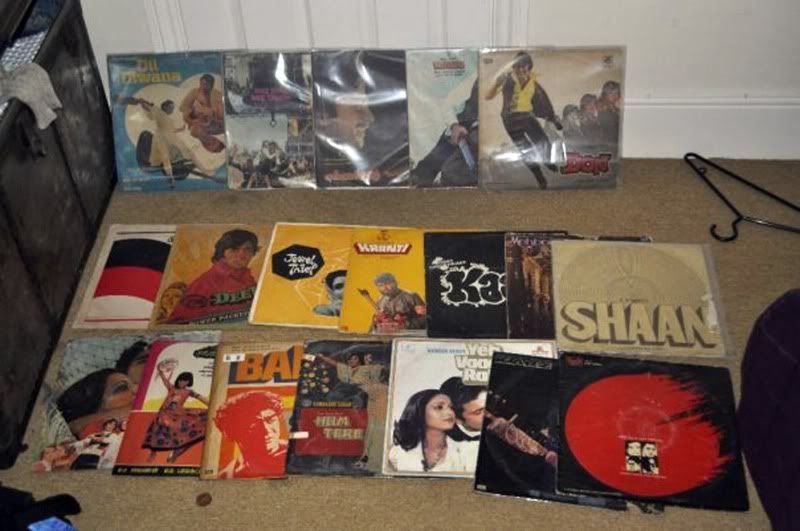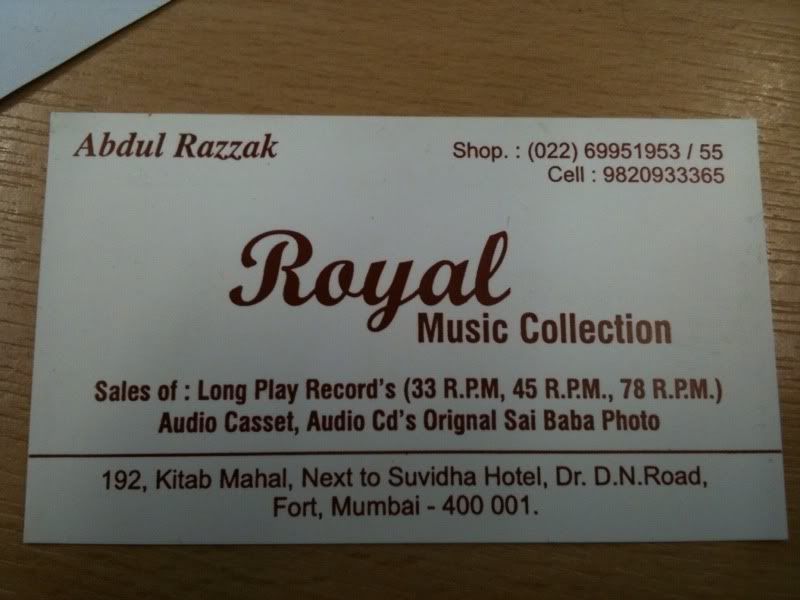 Hope this post wasn't too tiresome!