It all looked very bad on Friday. Fire on the Utrecht train station. So I tough that would ruin my plans for the weekend. Got a call on Saturday from a friend at 5 o'clock telling me trains will ride and the track was partly taken over by buses. So I went to the train station at 7 o'clock and arrived at 9 o'clock in Utrecht. I can tell there where not much people at opening.
Just as last year, I was only after records that are on my want list. I hate to go trough all the euro bins on Utrecht to come home and find out you have bought a lot of rubbish records. Had a few good records which I sold at the fair to some Japanese sellers that made life a bit easier at the fair
...
Met some nice board members and left early not knowing how late I would be home again.
No recent reissues where harmed by only buying OG's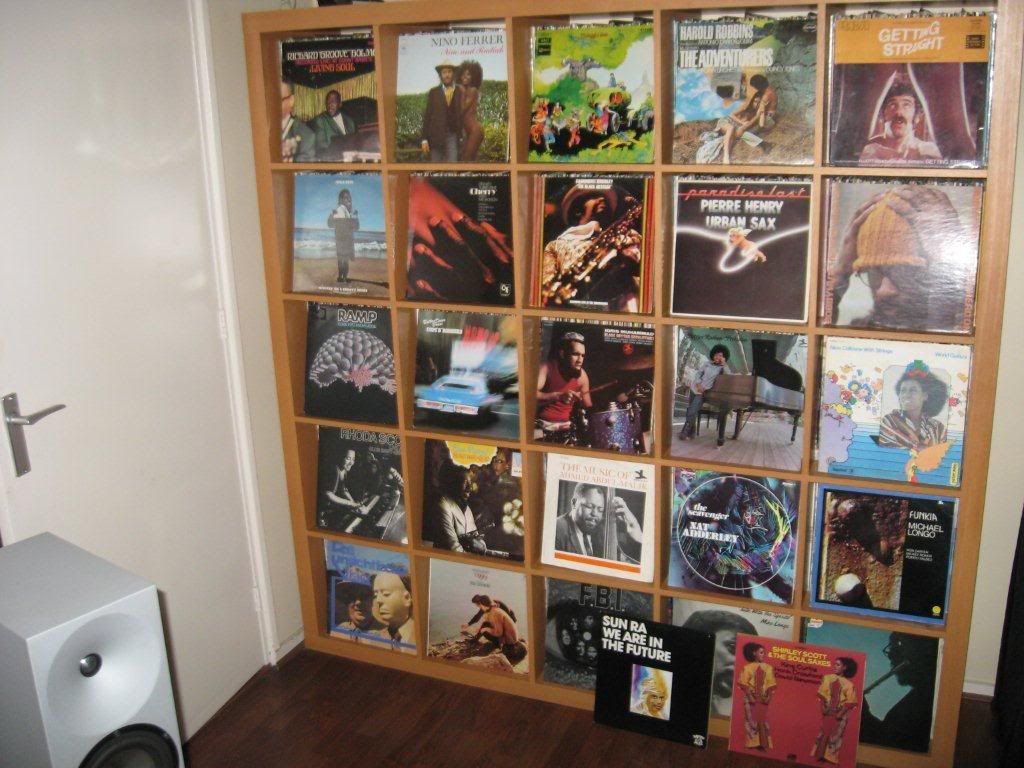 Stanley Turrentine
Cherry ...
To complete my CTI record collection
Cannonball Adderley
The Black Messiah ...
David Axelrod production, George Duke on keys, one of the heaviest records he made, a hard spiritual funk record
Pierre Henry
Paradise Lost ...
Only euro bin find, saw it somewhere else for 40€ in a crate, experimental electronic jazz album, French only from 1982
Button Down Brass
Cops 'n' Robbers ...
Introduction needed?? Mint copy for a nice price, Ebay + shipping would be more expensive
Idris Muhammad
Black Rhythm Revolution! ...
I have been looking for ages for a copy of this, finally have one
Patrice Rushen
Prelusion ...
All about "Haw-Right Now"
Richard "Groove" Holmes
Living Soul ...
This one was two euro, not the best record I found yesterday
Nino Ferrer
Nino and Radiah ...
Great French vocal funk album
Soundtrack
The Adventurers ...
Found a sealed copy of this amazing album 2 minutes after the VG+ meeting, long, long time want
, and the price was so good on this
RAMP
come into knowledge ...
The best find on Utrecht comparing price and popsike price, classic
Alice Coltrane
World Galaxy ...
Here version of "a love supreme" is so great, great spiritual album
Bobby Hutcherson
Head on ...
This one is totally different from all his other work funky vibes, mixed with classical arrangements with a avantgarde feel
Midnight Sun
ST ...
Danish Prog Jazz, fantastic record, nice fender rhodes and vocals
Soundtrack
Getting Straight ...
All about the break
Bola Sete
Workin' on a Groovy Thing ...
The title says it all, a groovy set of songs by this Brazilian guitarist
Rhoda Scott
Live at the Club Saint-Germain ...
Here best record, small funky combo, playing songs from WAR, Stevie Wonder
Blue Mitchell
The Last Tango Blues ...
Really love his version of "the Message"
Ahmed Abdul-Malik
The Music of Ahmed Abdul-Malik ...
Great artist, great arabic style song called "La Ibkey"
Sun Ra
We are in the Future ...
First Sun Ra I have bought, dealer told me if I'm not going to like this, I will never like Sun Ra, going to listen to it tonight with a good glass of wine
Shirley Scott & The Soul Saxes
ST ...
Classic Soul Jazz record on Atlantic, so funky!
Nat Adderley
The Scavenger ...
Great Electric Jazz on Milestone, great stuff
Michael Longo
Funkia ...
To complete my M. Longo collection
Soundtrack
Das Unsichtbare Visier ...
One word fantastic !!!
Ravi Shankar
Charly ...
Sitar Soundtrack off course
F.B.I.
ST ...
Classic, introduction needed ??
Mike Longo
Talk With The Spirits ...
Completed my M Longo collection
Yuseef Lateef
Live at Pep's ...
Fantastic live set