Bigguns
Dick Bogart - Disco Rock
Elephants Memory - Midnight Cowboy
Ennio Morricone - Le Professionnel
Bobby Pickett & the Crypt Kickers - The Original Monster Mash
Jorge Ben * 2 (one obviously a spare)
Michel Polnareff - Superstars Tele
Charlie Palmieri Electro Duo
Littlens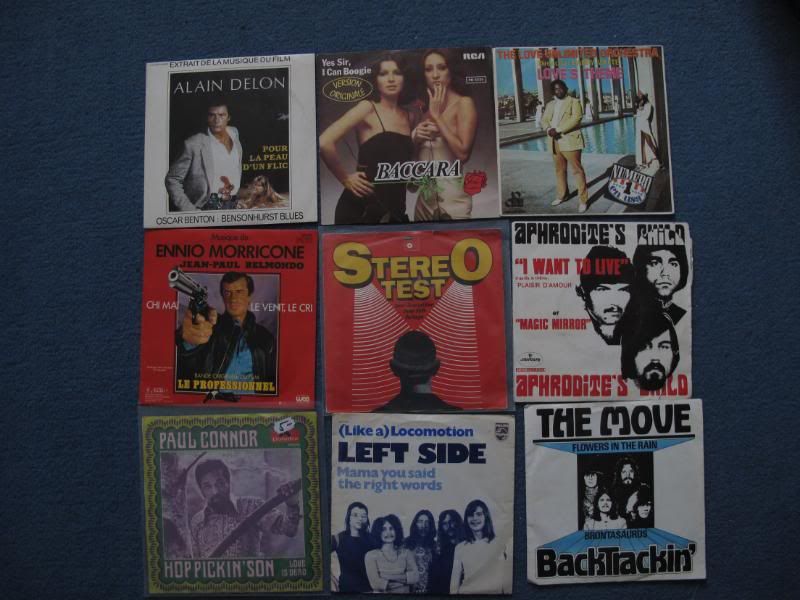 Oscar Benton -Took Me A long Time (b side is better)
Baccara - Yes Sir I can Boogie (notable only for the nice picture sleeve).
Love Unlimited orchestra - Love's Theme(as above for the cover)
Ennio Morricone - Le Professionnel
BASF Stereo Test - notable for some really groovy interlude stuff on it.
Aphrodite's Child - I want to Live (so glad to find this in the wild)
Paul connor - Hop Pickin's Son
Left side - Like a Locomotion
The Moove - Flowers in the rain
Hugo Montenegro - Good bad ugly
Shirley and Company - Shame Shame Shame
Aphrodite's Child - Rain and Tears (great stuff)
france Gall - Musique
I have been so tired from my drive back tothe uk i havnt listened to most of these. The Monster mash lp is great as is the Memory lp.