A year is going fast, again the November fair and a VG+ meeting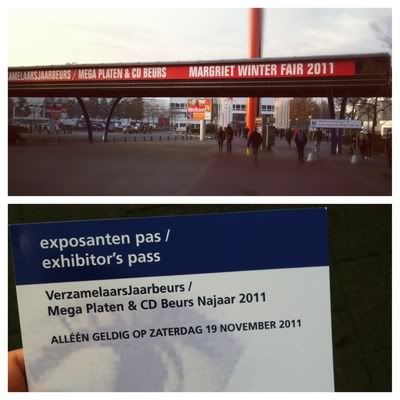 VG+ meeting at twelve, the
usual suspects
, like every year they turn up. It was nice to see and talk to y'll again.
Quote of the weekend: You never find another copy in this condition ( you know who you're
).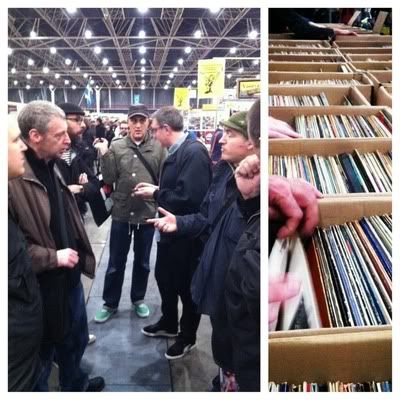 The finds
... didn't spend much money, didn't felt to, crisis?!?, no, had so many good finds this year, big ones too. Mostly cheap under 15€, except two records 20€ & 35€. Smuggled a few in from this mornings flea-market.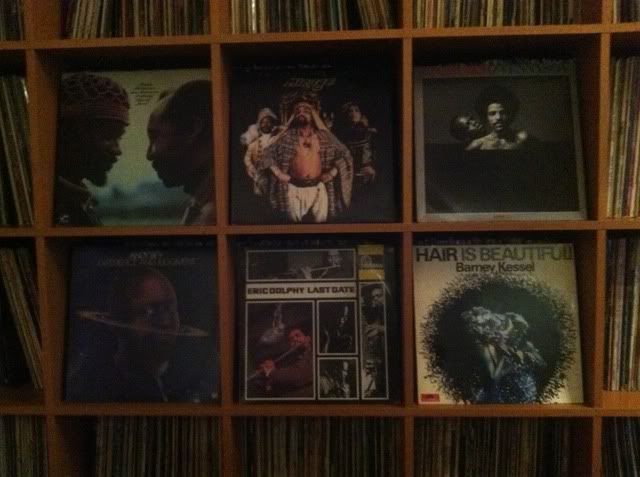 Bobby Hutcherson
San Francisco featuring Harold Land ...
Great, electric piano, slightly funky, but also a bit modal, incredibly strong as a whole.
http://youtu.be/rxC2flkywxE
Mirage
Princes of Love ...
harmony soul from the US, from the late 70s
http://youtu.be/33eJ3DNzcXo
Upchurch/Tennyson
ST ...
KUDU classic I never bought before, love it
http://youtu.be/nbU9jllIQhY
Andy Bey
Experience and Judgement ...
Nice and jazzy, some funky stuff, love Andy's weird voice which is very hard to describe, but haunting! For me all about "Celestial Blues". Long time want from the list
http://youtu.be/nHQOHF3pZmk
Eric Dolphy
Last date ...
Classic "very expensive" jazz record recorded in the Netherlands, happy with the I think 70s repress
Barney Kessell
Hair is Beautiful ...
VG+ day without Hair can't be good, well known around these parts I think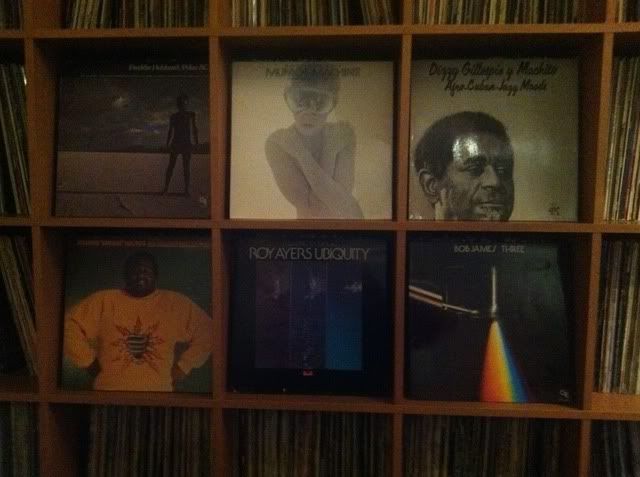 Freddie Hubbard
Polar AC ...
Upgraded to a nice USA press with a gate-fold sleeve
Munich Machine
a Whiter Shade of Pale ...
Bought this for the cover, bit too much cheesy disco here, Moroder production, one good track
http://youtu.be/s4Ckw6ZabUw
Dizzy Gillespie y Machito
Afro-Cuban Jazz Moods ...
One of the few good Pablo releases
Richard `Groove´ Holmes
Six Million Dollar man ...
Played this back at the hotel, could be possible a few others will also post a copy, great sweater too
http://youtu.be/gEXkjl2xSMc
Roy Ayers
Mystic Voyage ...
Classic!!
Bob James
Three ...
Yes, it´s true, never bothered to buy a copy, mint 1€ made me change my mind
Leon Thomas
Blues and the Soulful Truth ...
, do I need to introduce?!?
http://youtu.be/9WLmYPfV0AE
Splash Band
The Music of John Carpeter ...
Synthy remake´s with a groove
Soundtrack
Colors ...
´88 classic Hip Hop
Melba Moore
This is it ...
Cymande
ST ...
Another gap filled in the long long time want list, German copy in a great condition, already played ´Dove´ a few times
http://youtu.be/0kzJ3aXSo48
Hadley Caliman
Iapetus ...
One of my fav labels, spiritual and funky at times
Tangerine Dream
Rubycon ...
Soundtrack
Bladerunner ...
Wanted the Vangelis one, bought this
Stan Kenton
Cuban Fire ...
Another record I bought for the cover, this one turned out to be very good
100 Proof Aged in Soul
Somebody´s Been Sleeping in my Bed ...
Great Sweet Soul record on Hot Wax
http://youtu.be/bfReqec6Tzc
Can
Future Days ...
My future project, collecting all interesting Can records
John Carpenter
Die Klapper-Schlange ...
Unfortunately not in a perfect condition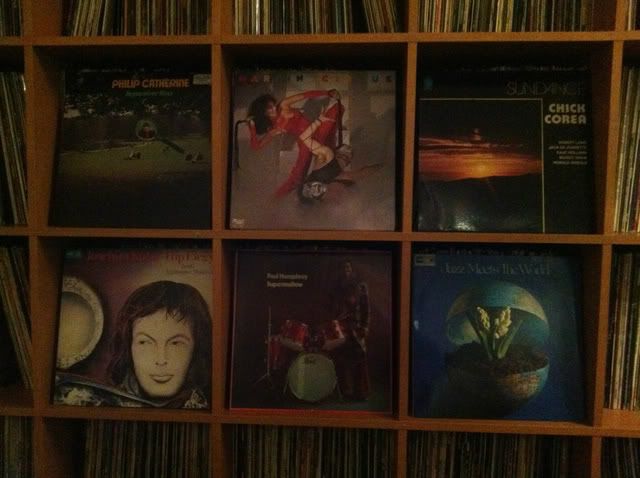 Philip Catherine
September Man ...
Great fusion record produced by Marc Moulin, dig the track ´1974´, couldn´t find a soundclip
Martin Circus
Disco Circus ...
Prelude Disco Classic
Chick Corea
Sundance ...
Heavy stuff for a Groove Merchant release
Joachin Kuhn
Hip Elegy ...
Thought this would be to much Fusion for me because it´s a 1976 release, it´s great though
http://youtu.be/Qt_p4whLgKM
Paul Humphrey
Supermellow ...
Good Blue Thumb record, not outstanding, remembered there was a killer track on this, can´t find it now
Various Artist MPS
Jazz Meets The World ...
Comp of hard to find MPS records
The aftermath listening to piles of records and 45s ... good luck to all ... take some time to post