I'll kick this off then.
I didn't buy many LPs this year but I did spuff on a couple of long time want biggies
Great Chappell DMM for a very reasonable sum.
Swegas was a prearranged buy of Thomas at French Attack. Prog funk business.
Art - long time want but settled for this cheap German second press.
Doris - very good price for a very good LP.
Osmium - decent price for a near perfect copy....and from a very nice UK dealer!!!
Bonnie St Claire- nabbed on the half price Sunday sale - got it for
'I Surrender'
as I've not had a sniff of the 45
Madeline Bell from a Euro bin - love
'Soul Time'
on here.
I was mainly concentrating on the 45s (as usual( and two particular ones in mind I wanted to come home with me....and I found them both!!!I had to over pay a bit on one but swings and roundabouts and all that! Mr Sayers put me on to a lot of these so I'm just going to say a huge 'ta mate' at the top here to him - if you want Euro knowledge dropped - he's your man!!
Pic sleeves first
Found a run of super cheap Ronnie Bird eps - so I picked up the one's I liked and I think this is the pick of the bunch. Great version of
'I Can Only GIve You Everything'
on it along with 2 other corkers.
The Grabbletons - great fuzzy dancer (as you can see from the sleeve
) - they did 2 45s and this is the cheaper and easier to find one.
Burt Blanca - a bit of googling tells me he's a rockabilly chap who went on to do this -
Wryly Smile
is the side (link is to Jens copy - hope you don't mind Sir?)
Los Salvajes - they live up to their name - this was me minting up on this cracking ep.
The Renegades - well known garage punker -
thirteen women
Master Apprentice - four f*ucking killer tracks on this ep! I've wanted a proper copy of
'undecided'
for a long time now so to get 3 other top tunes in a oner was a total bonus.
Choc - 2 45s to their name - I got both and this is one of them - Sayers spin!
The Scorpions - all about the B side - more snotty garage! Craig you were right they were the UK band.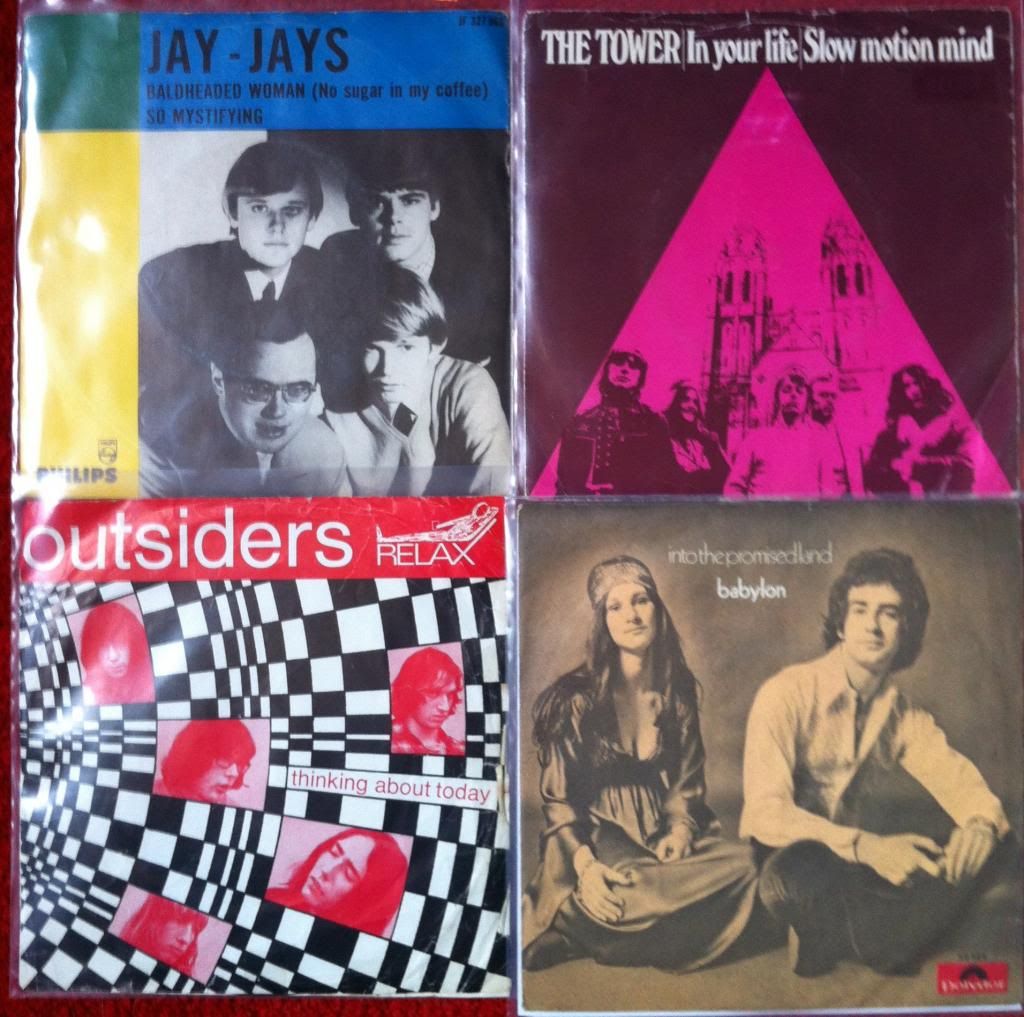 The Jay Jays - Dutch beat -
Bald Headed Woman
Tower -
Slow Motion Mind
- comes on a bit like a psychier version of Brian Auger Trinity.
Outsiders - Cheapy Dutch beat classic
Babylon - coming your way Sie.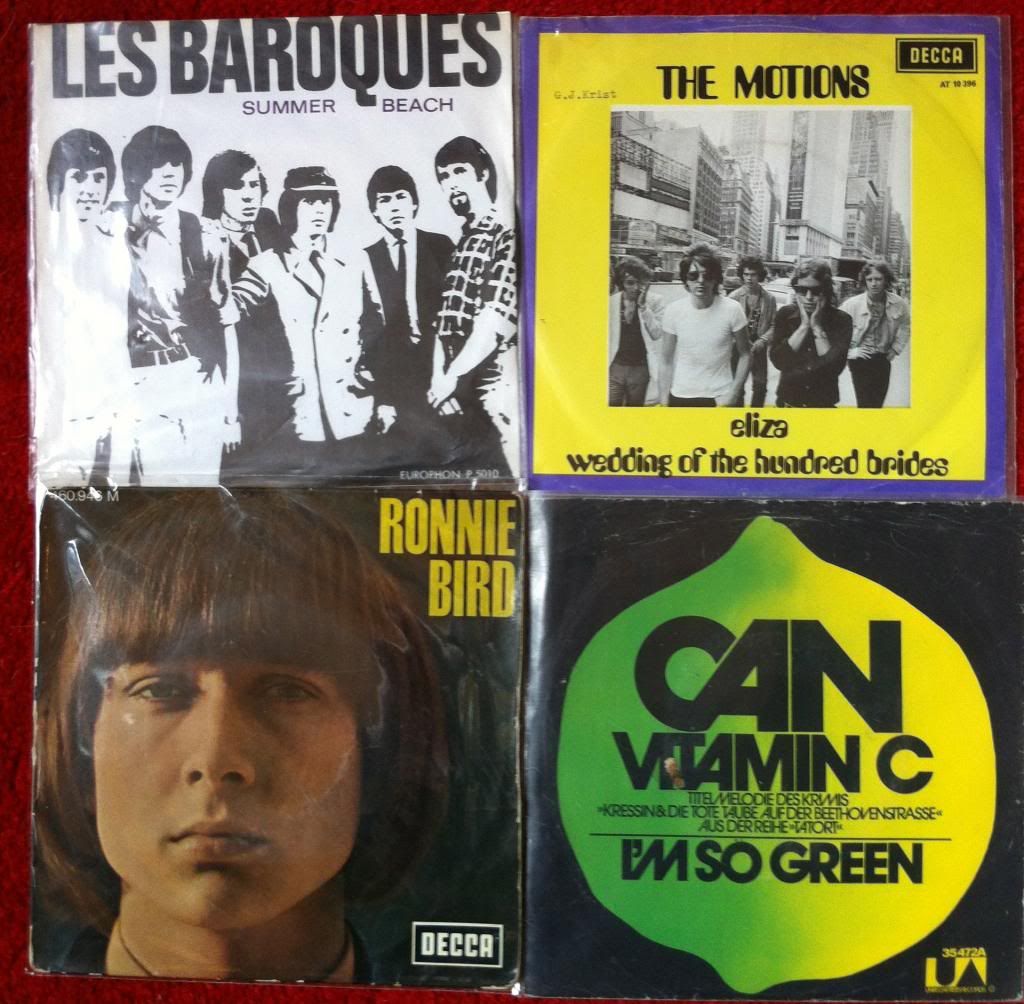 Les Baroques - great poppy garage - it the other side you want, 'Such a Cad'.
Motions -
Wedding of the Hundred Brides
is a later effort by the Dutch beat band. Love this.
More cheap Ronnie and more ace covers.
Can - Vitamin C / I'm So Green - 'nuff said!
The Smoke - sort of a rewrite of My Friend Jack but great stuff and very cheap -
Have Some More Tea
- could be mine and Nige's theme tune!
L'Ame Son - Killer track from a killer LP!
Los Salvajes - more rawness and a Stones cover.
Les Problemes -
one superb track on here
- pulled out of the same cheapy pile as the Ronnie Bird stuff.
Yet more Ronnie
V cheap copy of the Classic French Garage ep also featuring Les Problemes - going to get rid of the LP now I think.
Another Smoke cheapy - later era though.
Group 1850 - great bit of euro psych -
Mother No Head
The other Choc 45
Cheap Q65 - ace but want the one Craig got though!
Theo Schuman - ace instro dancer with fuzz and stuff!
Q65 - their first I think? Brilliant whatever -
You're the Victor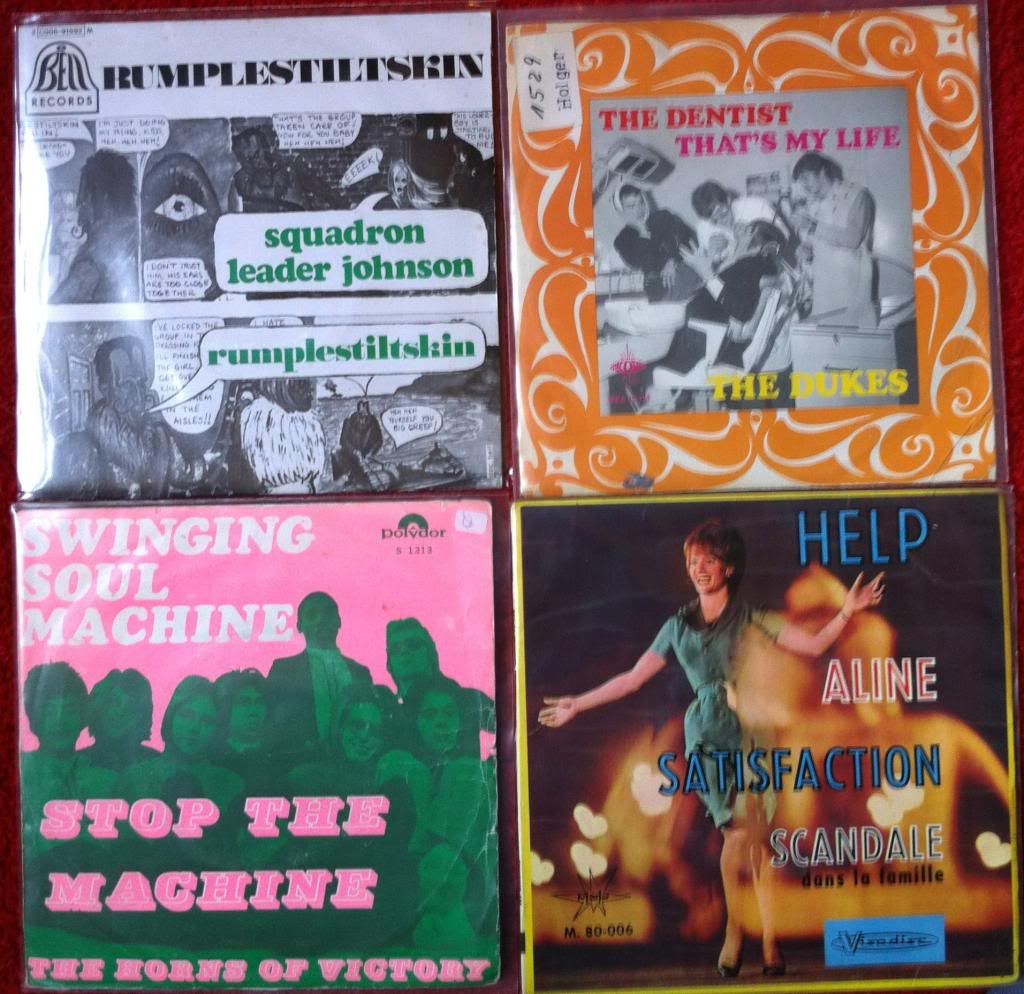 Rumplestiltskin - another LP out the door
Dentists - Fuzzy oral hygene themed dancer -
the Dentist
Swinging Soul Machine - Stop the Machine is great but not as good as the Mec-Op Singers version.
Ye Ye version of Satisfaction.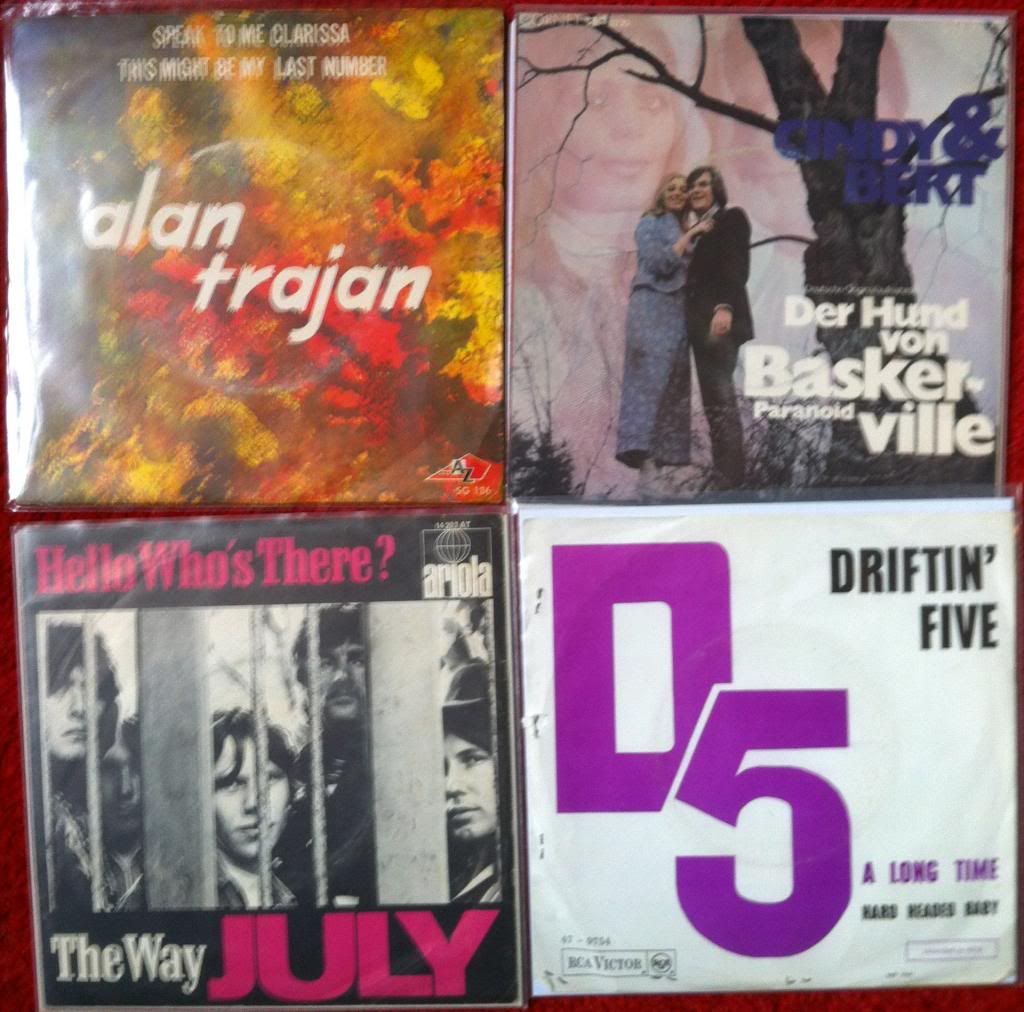 Alan Trajan - want a UK one but this'll do for now -
Speak To Me Clarissa
Cindy and Bert - long time want and first time I've ever come across it at Utrecht - stone minter too.
July -
the Way
- different version from the LP - no sign of a Dandelion Seeds though.
Driftin Five -
Hard Headed Baby
- the first of the two big wants - Utrecht Band! I overpaid for this but when am I going to see it again?
Roubaix OST masterpiece - lovely stuff!
Mickey Finn -
Garden of My Mind
- this cleaned out my wallet on Sunday but it was worth it.
Inner Space -
Kamera Song
- I like Can and I like this funnily enough - the lads were all admiring the sleeve on Saturday night for some reason.
The Zipps -
Kicks and Chicks
- the other big want - I knew I'd find this one though. Got a great copy for a reasonable price. The best Euro garage 45s there is for my money - they played it live on Saturday too!
non pic sleeves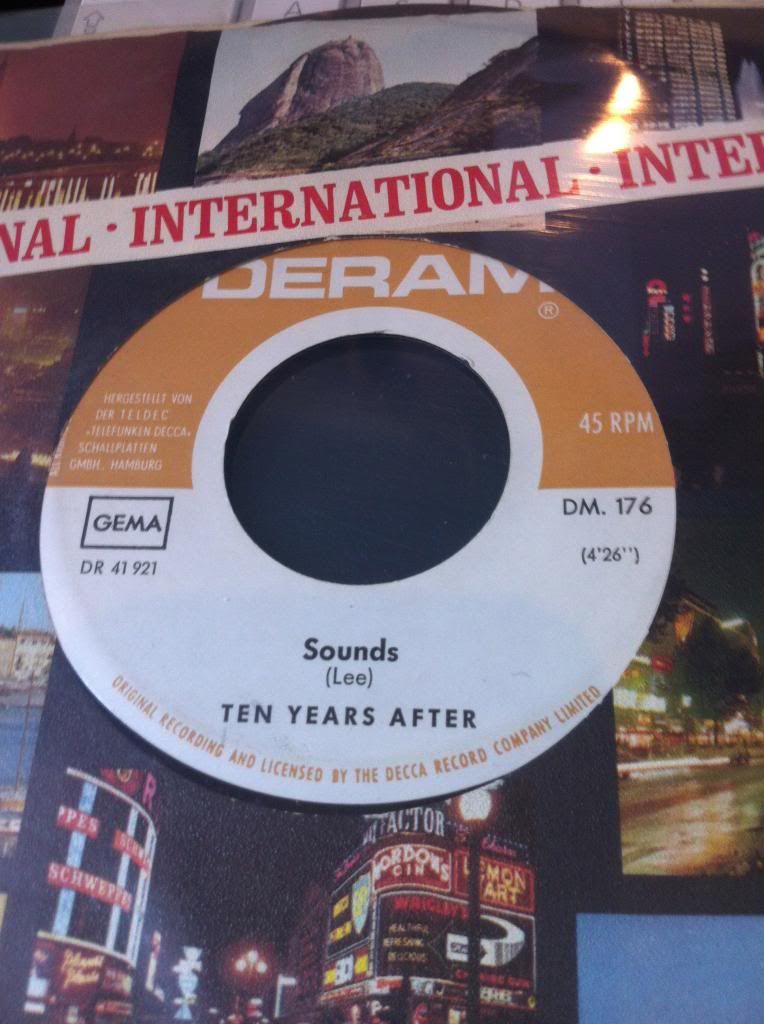 Big Sie-Fly - best thing they ever did to my ears.
VG+ classic which I never had on 45 before.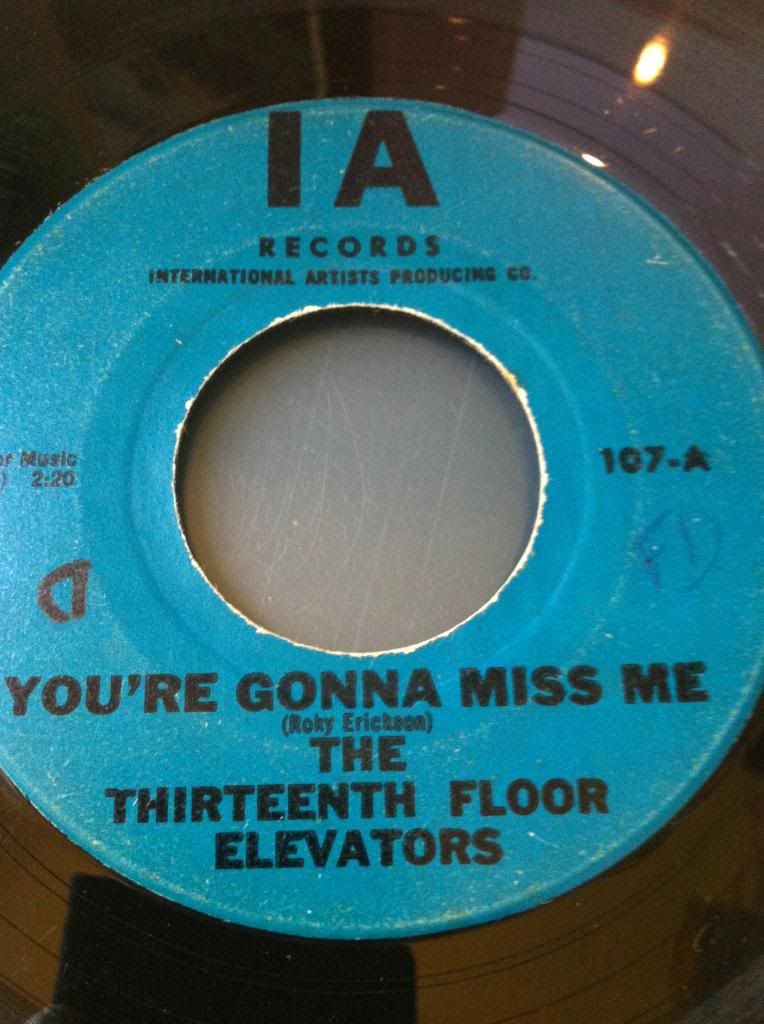 US 60s Punk classic which I never had until now.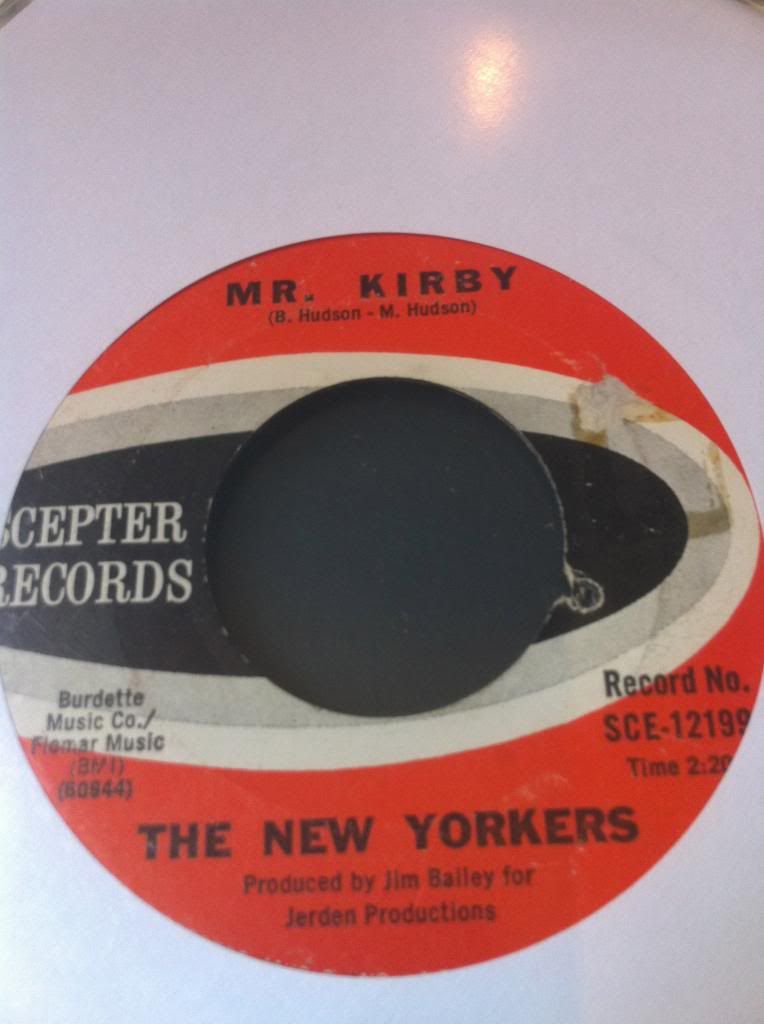 Great US fuzzer -
Mr Kirby
Euro press of UK psych classic - good two sider too!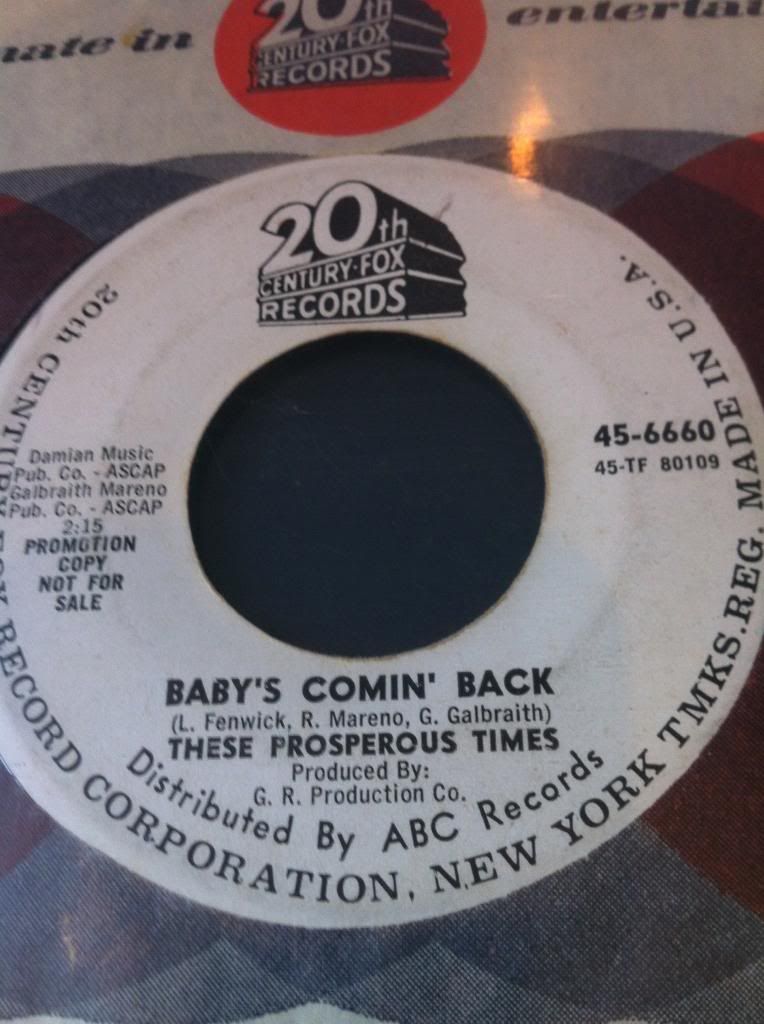 More US fuzz -very stompy!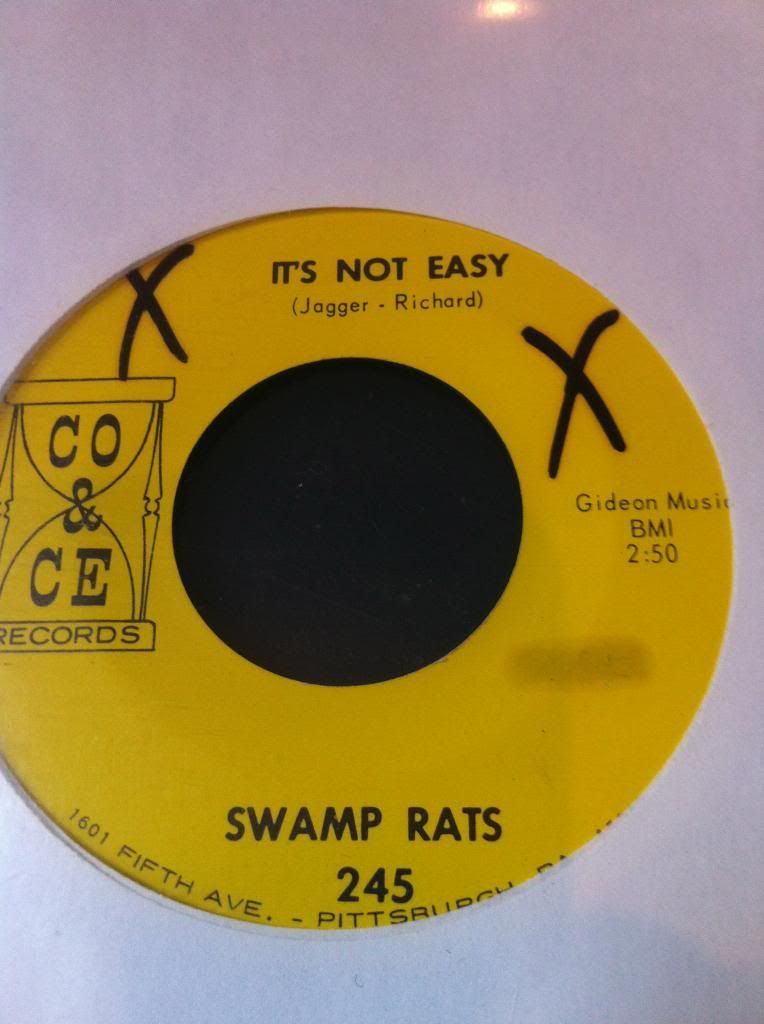 Their version of Louie Louie is what they're know for but this is great too -
It's Not Easy
Surfaris last 45 when they'd embraced the fuzz pedal!
Search.
Can't resist covers of this song. It's decent but I've got better.
Garage version of a VG+ staple. Great version too - not sure if this is the same bad that ended up on Rare Earth?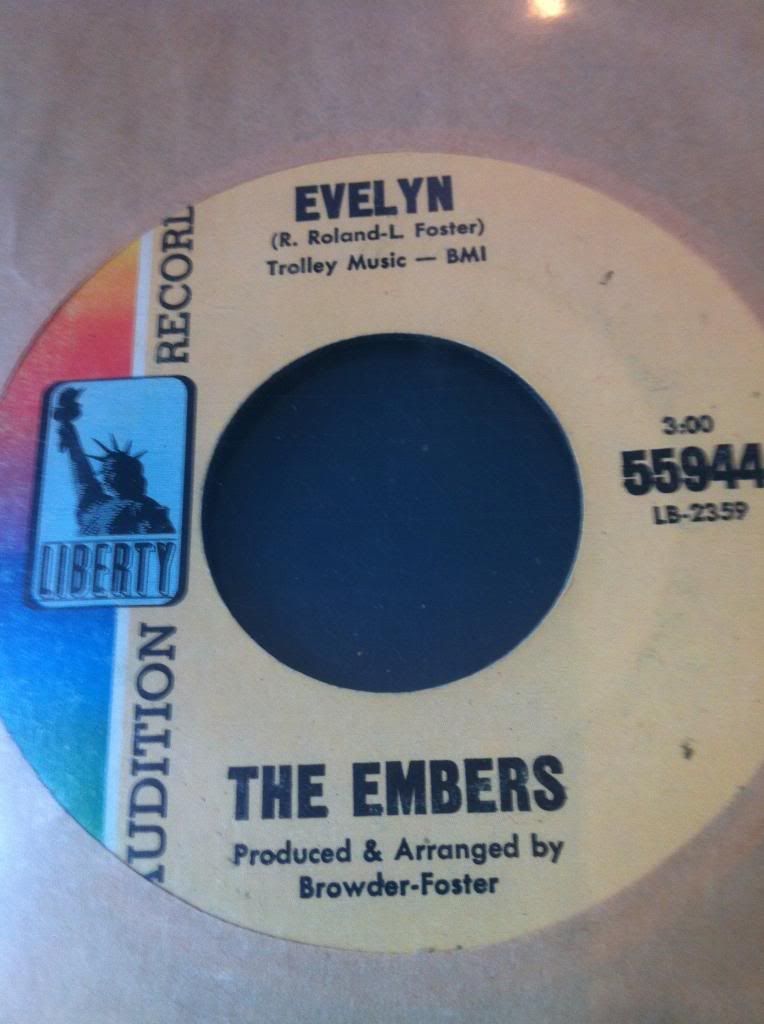 ..and to end on a predictable note - more fuzzy US 60s gear -
Evelyn
Happy with what I got but I was very jealous of Nige's great psych LP haul, some of Mr Sayers superb 45s, Fuz's stash (put that LP to one side for me please) and Mr Divine's far flung and eclectic haul - I need to take more risks
Loved every minute though.