I had a good day. Some unexpected money came my way yesterday, so I spent some of it on todays record fair. Then I listened to the records I bought for the rest of the day.
These first were all from the cheapie bins.
Rune Öfwerman & Funky Strings - My Groovy Friends
Jazz with strings that I wouldn't call very funky - maybe funkyish. Spinning Wheel, Proud Mary, Aquarius, Hush and similar. One original. Not bad, but doesn't stand out much. Sleeve is way better than the record:
http://www.discogs.com/viewimages?release=4463988
Clea Bradford - ...Now
Vocal big band jazz. A bit like a female crooner. Nice I guess, but there's nothing like My Love's A Monster on it...
Ennio Morricone - The Red Tent
Orchestral soundtrack, nothing groovy here. Pretty nice - b-side has one long more avantgarde piece that's pretty good.
Jiri Stivin & Rudolf Dasek - System Tandem
Jazz duo with guitar and flute/sax. Quite good for being what it is – at one time they get as funky as I think you can get with just an electric guitar
and a flute.
Jimmy McHugh and Pete Rugolo - Jack the Ripper
Orchestral and not as interesting as I had hoped. Dramatic and suspenseful...
Armand Migiani / Couroyer - Sex o Rama
Overall too easy - but has a few very nice groovy/funky tracks, especially Venus and JP Massieras Carmen.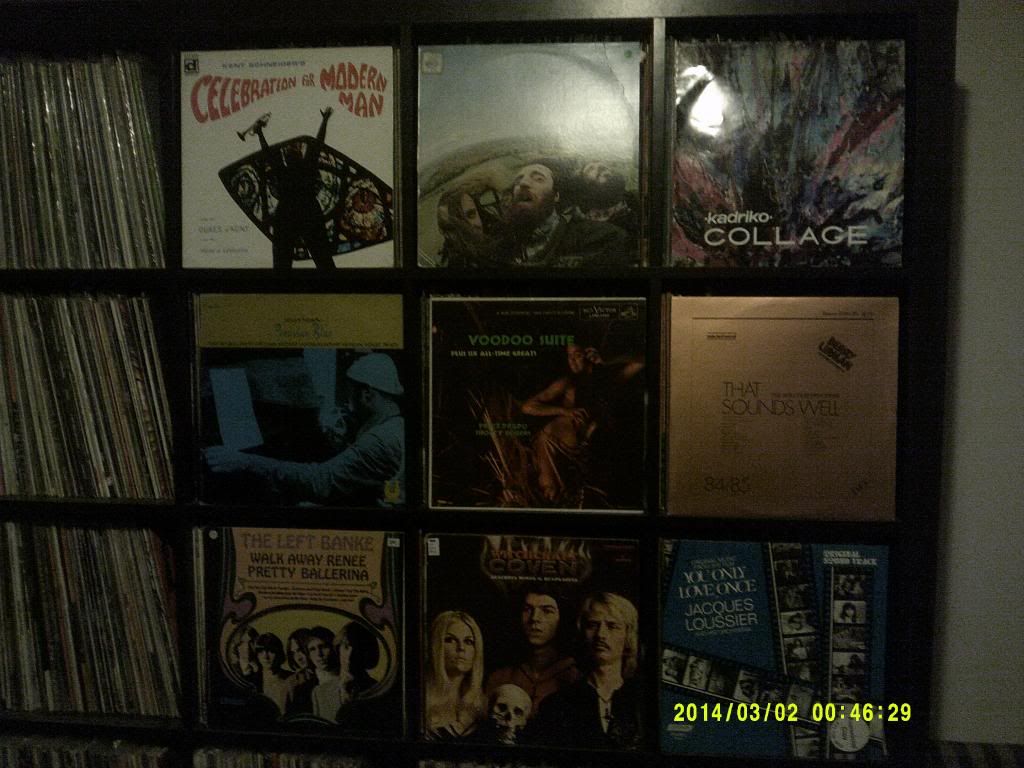 Dukes of Kent and the Voices of Celebration - Kent Schneider's Celebration of Man
Upgrade copy of this jazz mass type thingie. Love it.
Madura - II
Pretty good hotpotch of folk, jazz, prog, soul, funk and rock occassionally sprinkled with a bit of moog. Not all good but has some good moments especially two tracks with jazzy electric piano and some funkier moments.
Collage - Kadriko
Estonian folksongs in loungey vocal jazz versions. A bit of a mixed bag but overall decent and several tracks are just beautiful.
Kenny Barron - Peruvian Blue
Has some groovy and good jazz tunes but also some boring ones with just piano or piano and guitar. I'm not totally convinced the good bits outweigh the bad – even though they are quite nice.
Perez Prado & Shorty Rogers - Voodoo Suite Plus Six All-Time Greats
The Voodoo suite on the first side is an excellent blend of big band Prado style mambo, jazz and dramatic exotica. The tracks on the second side are for the most part much more forgettable.
Berry Lipman - That Sounds Well
Best of... 2LP compilation - not that exciting imo. Some good bits but much of it is very easy and some of it's cheesy. Lots of samba and shuffle.
The Left Banke - Walk Away Renée / Pretty Ballerina
Fuzz and harpsichord – quite nice popsike with a slight baroque touch.
Coven Witchcraft Destroys Minds & Reaps Souls
Occult rock with female vocals. Groovy and occassionally eerie. Excellent. Long time want.
Jacques Loussier - You Only Love Once
Another long time want. A couple of insane tracks that gives Pierre Henrys Mass for Today a run for its money when it comes to psyched out groove with bells and electronics. Plus some nice loungey jazzy bits.