Some great stuff for quidsies at this week's booter:
Lotti Golden - Motor-Cycle
. This is great, Bob Crewe produced elaborate arrangements of a song cycle (motor-cycle) about life, love, death, excessive partying and existential wotsit in New York circa late 60s. Musically top notch, and emotionally fraught. There were moments where my hair stood up on end - 'Gonna Fay's', where the partying is only briefly interrupted by the death of Fay is brutal. Just great.
Mongo Santamaria - Soul Bag
. Up, Up And Away might be a step too far, but a slew of ace cover versions otherwise.
Ken Jones - Big Beat Boogie
. Only my 2nd Ken Jones album in 20 years of dredging, gotta say it is as good as the other one I have (which is versions of early Galt MacDermot tunes). This is all boogie woogie piano, some classic tunes (Meade Lux Lewis, Pine Top Smith, etc.), and some originals, piano plus biggish band arrangements that really work well.
Manfred Mann's Earth Band - Somewhere In Afrika.
Looks kind of interesting this, I got a bit put off by the cover of "Eyes Of Nostradamus" so will have to revisit.
Mahavishnu Orchestra - Between Nothingness and Eternity
. Never really got into this before, although I like Birds Of Fire, time to give it another go.
Di Meola / McLaughlin / De Lucia - Friday Night In San Francisco
. I really wanted a copy of this when I was about 16, never picked it up somehow. Listening to it now - it's pretty damn good! Triple threat guitar wibbling, but it all seems to fall together perfectly without being too self-indulgent. Except for the Al Di Meola piece on Side 2.
Deep Purple albums, mebbe worth a shot. Guess my eye skips over them normally, can't recall having seen the bottom left one before, or really noticed how nasty looking that Burn cover is.
Couple of Salsoul 12" from the boot as well:
Apparently
Gaz - Sing Sing
is quite well known, but the B side disco cover of 'The Good The Bad And The Ugly' is a vulture's delight. Also nice to have
Candido - Dancin' And Prancin'
.
On another front, this EP is nicely off the wall / off the leash:
Irvin's 89 Key Marenghi Fair Organ - Plays Lennon and McCartney
. I quote the liner notes: "This is a fine record for collectors, be they Organ lovers or beat-music fans And it will help each convert the other to their particular point of view. The grandeur of the past unites with the vitality of the present and all's right with the world." Semi-tuned and anticipating Mr. Kite, I like it, particularly the little organ discord at the start of 'A Hard Day's Night'.
I went shopping on the internet for some avant-gardey things:
The
Iannis Xenakis
albums really look the piece. I'm not sure I'm getting the full effect of some of this, as the instructions for some pieces are for the orchestra to intermingle with the audience, and then kind of pass the sounds around the performance space. Maybe needs a decent 7.1 speaker system and encoding to bring that to life.
Kazimierz Serocki - Pianophonie
. This is just awesome, late 70s epic composition featuring electronically treated piano. Brilliant and startling throughout, I think. I've helpfully embedded a video of the whole bloomin' thing below.
Arnold Schoenberg - Piano Pieces
. Oxfam, £2, can't be bad.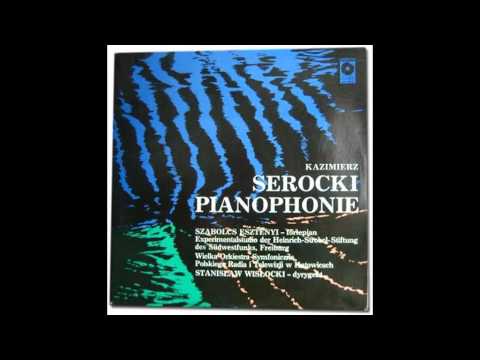 And I also found some mostly jazzy things:
The
Michael Moss / Four Rivers - Cross Currents
is freeish jazzish late 70s stuff, first track 'Coal Sack' sticks soprano sax and electronic blurps together to good effect. Side 2 is one long suite, 'Ain Soph', and again I think the liner notes prove instructive: "Moss juxtaposes Indian and South American rhythms with a British march. The timeless and haunting sound of Tibetian lamas is set against futuristic space sounds you might hear in a Stanley Kubrick movie not yet conceived. Moss plays a flute only slightly more nervous the carefree Peter before the coming of the wolf, and on top of this, this most dissonant bass clarinet in the history of the world, a single ruined wheezing voice dating from some time after the death of all melodies and notes." If you're not sold now, you never will be.
And with
Gerald Wilson - The Golden Sword
I have all the classic bullfighting themed jazz I ever need. I think.
Fin.