Still playing catch-up with my recent finds (plenty more to come) so to get September kick-started, here's a few sundry album acquisitions...
Paid a visit to Sharston Books in South Manchester at the weekend - the vinyl used to be in two sections, the pricier stuff (occasionally a bit of interesting rock and psych hidden amongst much run of the mill dross) upstairs amid all the sci-fi gubbins, and a whole load of chud inna tip-shop stylee in a Portakabin outside the main building - in fact, since the place is not far from my nearest recycling centre, I've often wondered if the owner didn't just trawl the skips! The upstairs section is now gone ('took up too much room') - no great loss really - and the Portakabin stash is greatly diminished, but did yield four of the following;
Maynard Ferguson - 'The World Of Maynard Ferguson'/'MF Horn 2'
- I'd heard of Mr Ferguson before, and was aware he had some kind of jazz pedigree, but didn't let that detract me, especially when I saw the name of Keith Mansfield all over these two and, coupled with the track listings, I figured I'd happened on some vulture style goodness. 'The World Of' got off to a promising start with 'Chala Nata' a nice bit of groovy raga-jazz, with a veena involved. John Cameron's 'If I Thought You'd Ever Change Your Mind' was a bit of a disappointment (perhaps I'll change my mind though..) 'L-Dopa' had looked like the main event and in some ways was, but essentially it's a large wad of padding, 'Powerhouse Pop' played twice with a dull section in the middle. Credit to MF & Co. for trying to straighten out the beat through the boring bits of 'MacArthur Park', but unfortunately failing to capitalise on the groovy allegro section.
'MF Horn 2' looked a more likely contender with a 'Shaft' and a 'Spinning Wheel' on but again, MF & Co. miss these open goals by trying to be too clever with the arrangements. The version of Lennon's 'Mother' is a more inspired choice and better-executed. These albums fail largely due to being groovy easy listening disguised as jazz and ultimately being neither. And there's another problem - the words 'parpmongous/parptastic' are, I feel, overused on this forum, but they would be apt here - and may I add,'squealorrendous'? The brass just gets a bit
too much
....
Kenny Clare & Ronnie Stephenson - 'Drum Spectacular'
- Plenty of familiar Britjazz names in the lineup here; Hayes, Baker, Lusher, Scott, Coe etc....I can enjoy a bit of spectacular big band drumming as much as the next man (saw Clem Burke playing in Nancy Sinatra's band once -
brilliant
) but it has to be part of a show to stand out - a whole album of it on every predictable standard soon wore me down - this can join the Gene Krupa album I recently acquired in the outpile...
Noel Coward - 'The Master Sings'
- A rather classy 1966 MfP effort this one. I'm no expert on Noel Coward and whilst I fully expected to be floored by his towering wit (
and I was
), I wasn't expecting to find that both the melodies and Mr Coward's singing are really rather lovely. Only the limits of the recordings hinder this at all - a very pleasing find, and I'll be on the lookout for more...
...other sundry finds...
John Stewart - 'Bombs Away Dream Babies
' - bought this during a quick look round the door in my local Oxfam - remembered my brother had been after a copy - later remembered I'd already bought him one a few years back, so gave it a listen anyway. This album always gets tagged as a 'Fleetwood Mac by the back door' affair, but I think that's a bit unfair.
Sure, the influence of the Buckingham/Nix axis is all over it, not least on the best known track 'Gold', a fine anthem for the musical fraternity of California. I certainly came away with more respect for Lindsey Buckingham, because he's done a great job of putting the solid and economical songwriting of John Stewart, already something of a veteran at the time, in a frame that both makes it as relevant and modern as it could be without losing the 'soul' of the songs - you can actually hear John being worked hard here, but he comes through fine and the sympathetic production really re-energises that folk-pop sound of the early sixties - better than I thought it might be....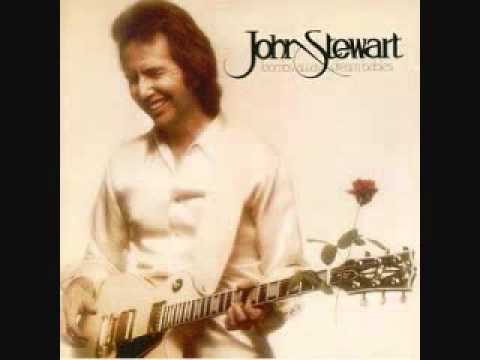 Cabaret Voltaire - 'Live YMCA 27 10 79'
- Many thanks to Shere Khan for offering this up on 'Record Gratis' - took me back instantly to the Sheffield of my youth - the titular YMCA was on Broomhall Road in a shady, slightly scary twilight world that existed between the genteel shops of Ecclesall Road at one end and the crumbling Georgian terraces of Broomhall at the other and the sounds on this album, distinctly dissonant and lo-fi, capture the mood of foment quite wonderfully - oh sure, there's 'Nag Nag Nag' and a cover of 'Here She Comes Now' on here, but the structures of the songs almost break the mood - it's all about the atmospherics for me....
...one more...
Was wandering past a charity shop in Edgeley, Stockport that had never turned up much but had a quick look on the off chance - all rubbish as usual and I was irritated by one battered album bereft of even inner sleeve that was sitting atop the others - took a closer look and wondered if it was salvageable - took it home and gave it the giantchicken 'intensive treatment'...
..came up alright enough to play through without any major dramas...put it on at sunset and enjoyed....
Gabor Szabo - 'Bacchanal'
- the rare UK issue on Fontana - lovely album - all I need now is a sleeve!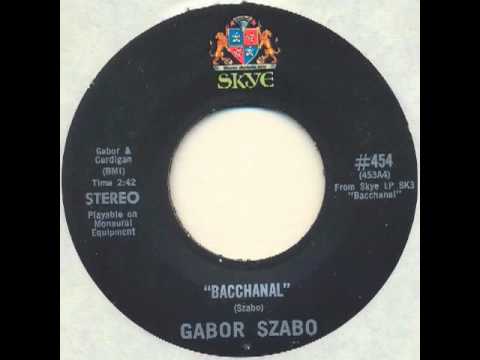 ...more to come...