Mayday is appropriate - The chicken is back and his living room looks like a used hi-fi warehouse as I'm in the business of putting together a second system for myself and one for some friends - now that their chicks are leaving the coop they've got some more space so I thought I'd encourage them to get the vinyl out of the loft and get back in the groove - they're worried about it being space consuming and aesthetically unpleasing so I thought I'd combine taking some photos of possible setups with some piccies for the finds thread, so apologies if stereo stuff gets in the way - the pictures are my usual crappy standard I'm afraid - here's some finds I've managed to listen to...all finds from chazzas unless stated otherwise...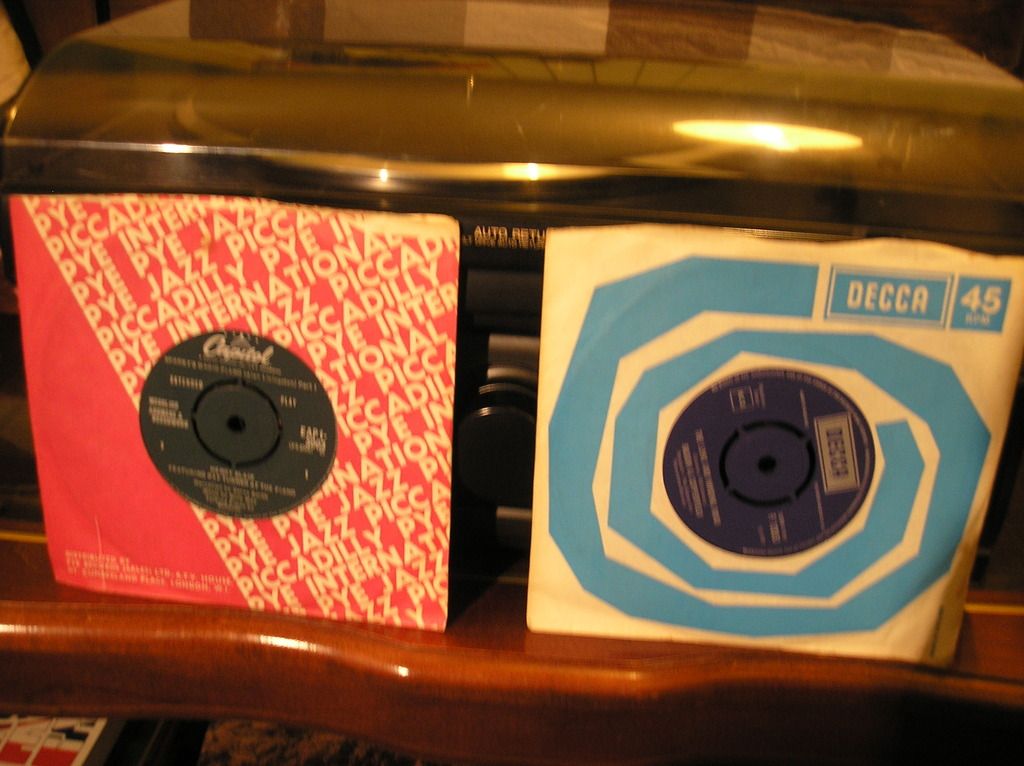 Henry Blair ft. Ray Turner at the Piano - 'Sparky's Magic Piano'
- found sans picture sleeve, this rather naff tale of a boy and his talking piano, the latter played by our very own Sonovox - sticks here and there but may improve with TLC...
Baskin and Copperfield - 'The Long And Winding Road'
- from 1970, a pretty straight cover version of the Beatle song with a little more backbeat. Baskin and Copperfield sounded like they might be the source of a late psyche classic but the b-side 'Beautiful Blue Eyes' is only baroque-psyche-lite at best. Baskin & Copperfield were in fact John Richardson and Alan Williams who would later find fame as Rubettes....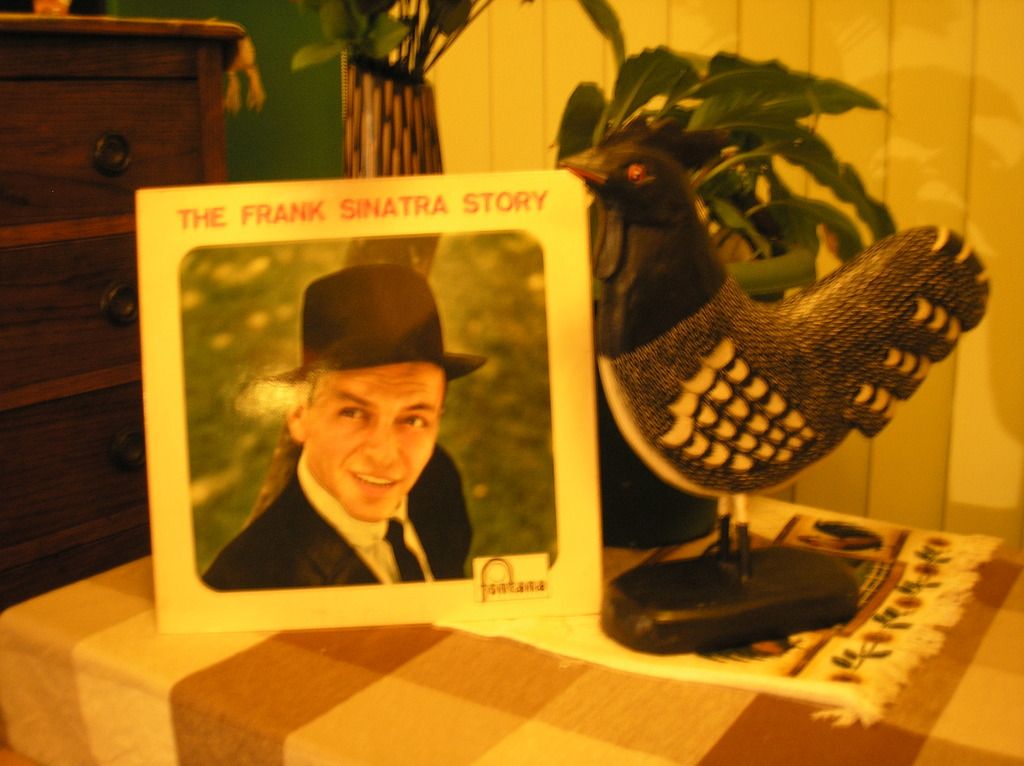 Frank Sinatra - 'The Frank Sinatra Story'
- presumably this collection of earlier Sinatra tracks on Fontana was a cash in on his later success, but worthwhile since I found these examples of his work with the Harry James Band quite edgy and sharp in a way we've forgotten he could be. 'The Birth Of The Blues' captures this lean mean Sinatra well - it's no wonder the girlies were swooning. I mentioned recently that Billy May's instrumental 'You Go To My Head' was crying out for Ol' Blue Eyes - here we have it in the version from his very first album - and he does a fine job too...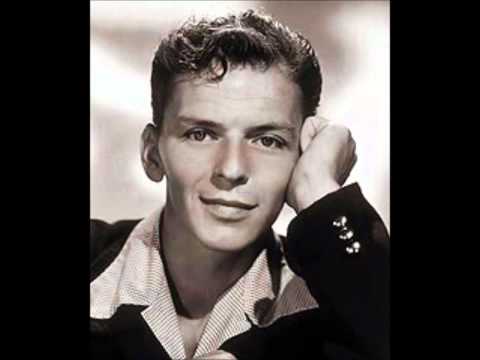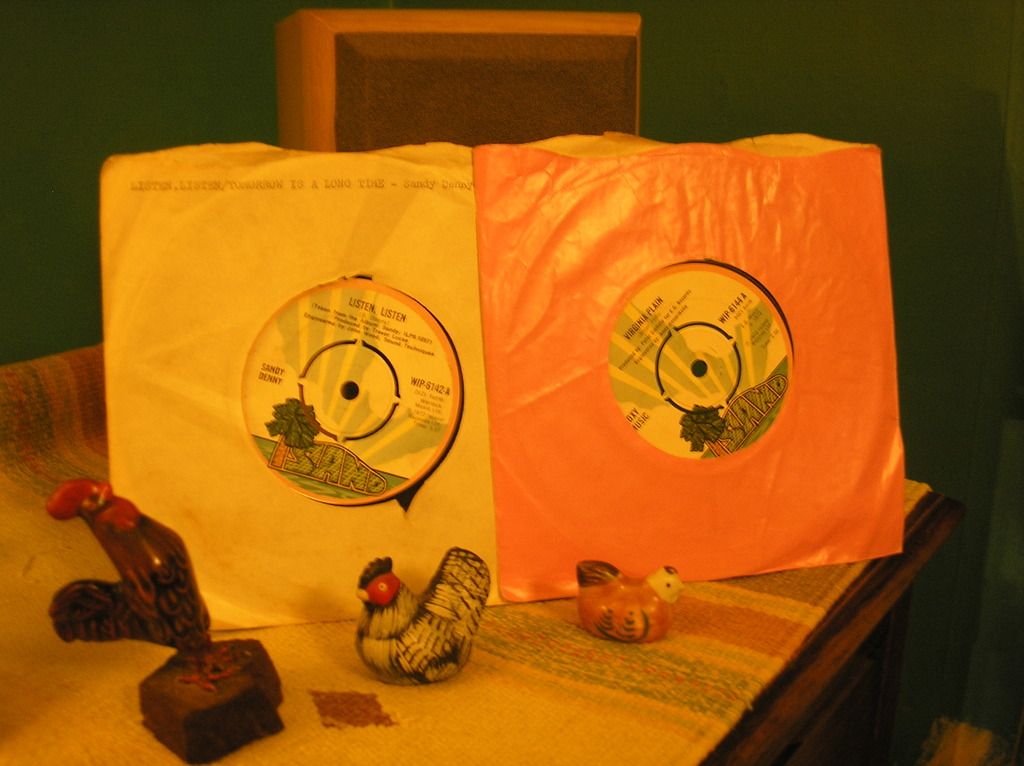 Sandy Denny - 'Listen, Listen'
Roxy Music - 'Virginia Plain'
- these might seem odd bedfellows now, but were in fact only 2 release numbers apart in 1972 - paid a little over the odds for the Sandy Denny in the hope that it might clean up a little, but it's a bit too far gone - shame, as it's a lovely song and that voice still gets to you...the Roxy Music's not a great example either, sadly... and from one set of chicken islands to another....
Waikiki Serenaders - 'Hawaii: Instrumentally Yours'
- The premise of this seemingly typical exploito-album is that tourists use it to soundtrack the movies of their wonderful holiday in Hawaii - it contains lots of useful advice and facts about Hawaii to help you do this on the reverse but is surprisingly respectful in both this and the music contained herein which does actually use tunes by significant local composers like John Almeida and Charles King. Whether or not the 'Waikiki Serenaders' were local or hired US studio hands remains a mystery, but it's a great album for the beachcomber bar whatever. This is the 'enhanced stereo' edition, not listed on Discogs (
Wooo!...ra-er!
) on the coral pink Waikiki Records label with a terrific inner sleeve in 'Hawaiian shirt' pattern (which I foolishly forgot to photograph...)
Coati Mundi - 'Me No Pop I'
Bootsy's Rubber Band - 'Bootzilla'
- found my old cassette of Coati Mundi's 'The Former 12 Year Old Genius' (what a superb album title...) recently, played and enjoyed immensely, jumped on this 12 on sight...the Bootsy has proved a good investment for testing bass responses....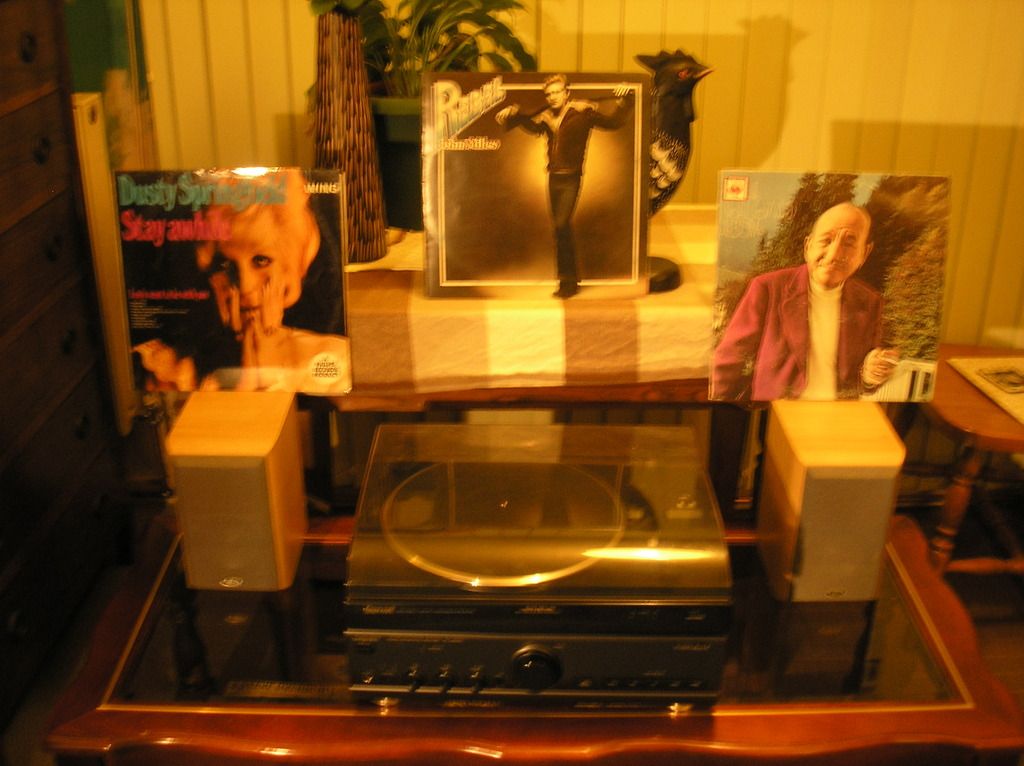 C'mon, you wouldn't turn down a free stereo would you? Especially in the presence of...
Dusty Springfield - 'Stay Awhile'
- at last, a nice minty copy - it's only about 25 years I've been looking....yeah, it's on Wing, but hey...I'm a chicken...
Noel Coward - 'The Noel Coward Album'
- actually a twofer of two Coward albums ('Noel Coward In New York'/ 'Noel Coward At Las Vegas') on US Columbia but mysteriously bedecked with many CBS stickers as if owned by a company type - really loving this, and if you're one of those on here who digs Jake Thackray (and why not?) you really ought to lend an ear to one of the legendary wits who paved the way for him. Erudite, saucy, occasionally very moving and often laugh out loud funny...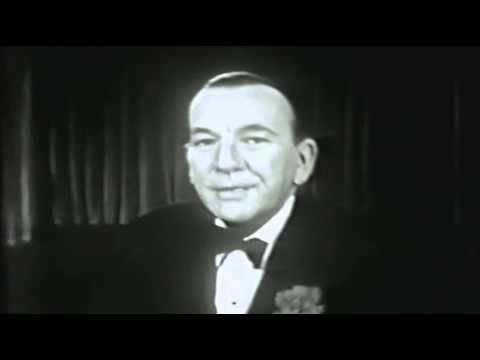 now here was a surprise....
John Miles - 'Rebel'
- Having lost the Stones, by the early 70s Decca were desperate for something that might appeal to 'ver kids' - despite all his James Deanery on the sleeve (continued on the enclosed poster!), John Miles was already no spring chicken and having had a string of worthy and soulful flops on labels like Orange was probably glad to get a chance to throw himself into the big time mincing machine of 70s pop with a bit of decent money behind him. Of course this meant some compromise and the soul bags were reined in as Miles attempted bravely to carve a niche somewhere between glam, 'intelligent' pop of the David Essex school and 'serious' rock like Queen. It wasn't entirely without success either, 'Highfly' and 'Music' ( a kind of British 'MacArthur Park') making considerable dents on the charts.
This is one of those albums I was always curious about but never got round to buying until now and it's frankly rather good - and the big surprise (for me at least) is that I never realised that the perfect slapback on the drums and sweeping orchestral moments that furnished these hits was the work of (gulp,) Producer/Engineer Alan Parsons and Orchestra Arranger Andrew Powell! You couldn't entirely kill of the soulboy in Miles however and he gets to channel his inner Stevie Wonder on 'Lady Of My Life' - I remember subsequent hits like 'Slow Down' and 'Manhattan Skyline', both decent efforts, suggested that a bid to 'crack America' was the aim - so what went wrong? Whatever happened to John Miles? - guess Decca just wasn't the place to be back then....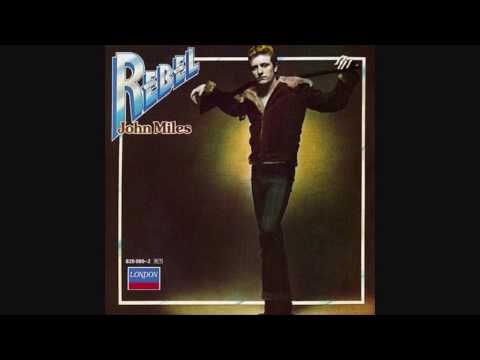 That'll be the parson's nose then...back soon...