Oh, bloody hell.
'Bumpers
'...a source of bad blood in the family...
Bought my copy for a then very expensive
from Violet May's in Sheffield some time in the 70s...my first taste of Nick Drake also ('Hazey Jane' remains a favourite) but most significant of all for me an
alternative mix
of Mott The Hoople's 'Thunderbuck Ram', unavailable elsewhere on vinyl and one reason the album held it's value over the years. Loaned my copy to my brother about 25 years ago....and after a good while asked for it back...
'Oh sorry...forgot'
....this excuse went on for a few years until it became... '
are you sure you loaned it to me?
' and eventually this morphed into '
I've never borrowed any records off you - ever!...
'
My brother's pretty immovable once he's decided he's right and after about 20 years I gave up on it, although I've never found another copy in the right condition at the right price. Then just recently, when the thorny topic rose again, he admitted that he '
might
' have it.....still haven't seen it though and I'm not holding my breath....
family, eh?
Nice John Miles, HG...I did get the poster with mine...I'd like to hear VGplussers' favourite John Miles moments for future reference...OK, might as well drop a few more finds while I'm here....starting with another evergreen various artists compy....
Various - 'The World Of Hits Vol 2'
- I remember my grandma (a fairly groovy gran) inheriting my auntie's old 'Elizabethan' stereo (with drop down turntable and built in guitar amplifier - whatever happened to that?) around Christmas 1973 and when I went round to stay found she'd bought a pile of records including Slade's 'Merry Xmas Everybody', Mud's 'Tiger Feet' and this compilation of Decca oldies including The Attack's 'Hi Ho Silver Lining' - well impressive -about the third copy I've owned, and like a few of this lot, a spare. Still fairly ubiquitous and I can't even remember Vol 1 now....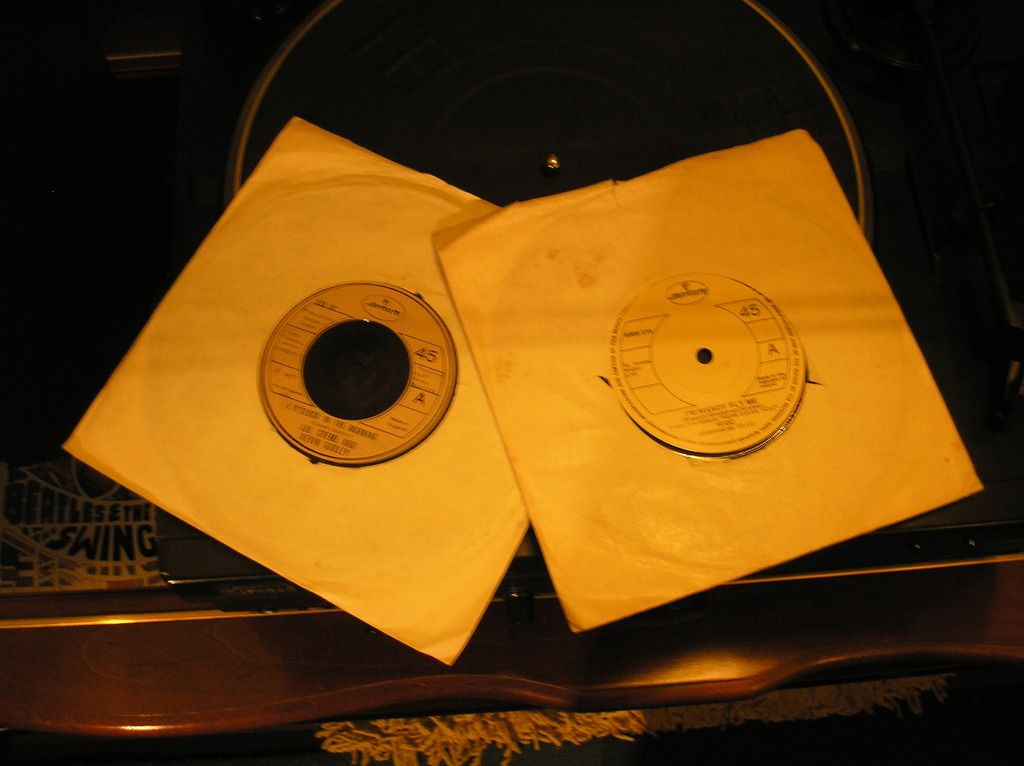 Godley & Creme - 'Five O'Clock In The Morning'
10cc - 'I'm Mandy, Fly Me'
The first single from Lol & Kev's ill-fated 'Consequences' debacle which I've still never listened to in it's entirety, possibly out of respect for the dead. It's a pleasant enough little ditty which covers much the same ground as their earlier 'Brand New Morning' with 10cc. 'I'm Mandy' was never my favourite 10cc number but I'd never realised it has the 'How Dare You?' instrumental on the flip (at least, this 'not on Discogs' Irish copy does) - I play this out sometimes and always have to fade it before it segues into the next track on the album - I'd hoped this version might differ slightly, but the ending sounds exactly like...well, someone fading it before it segues etc...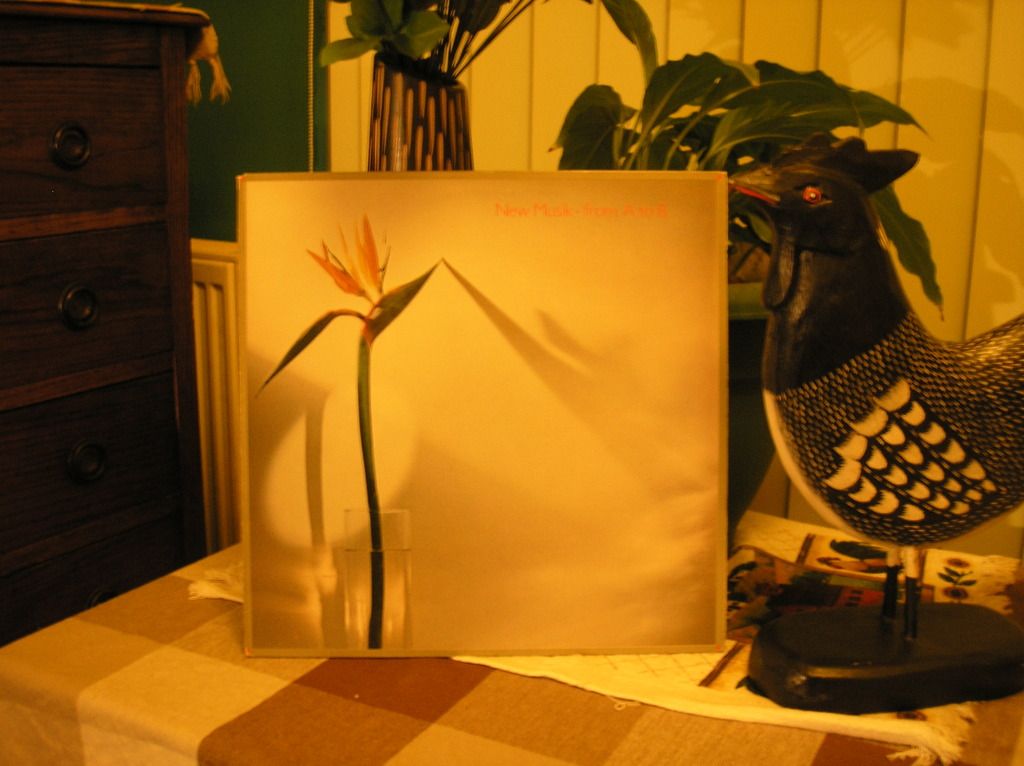 New Musik - 'From A to B'
- seem to remember someone on here bigging this up recently so picked up a decent spare of this superior turn of the 80s electro pop-ish effort, largely the work of the much underrated Tony Mansfield, who was also responsible for much of Mari Wilson's output, including the ace 'Showpeople' album.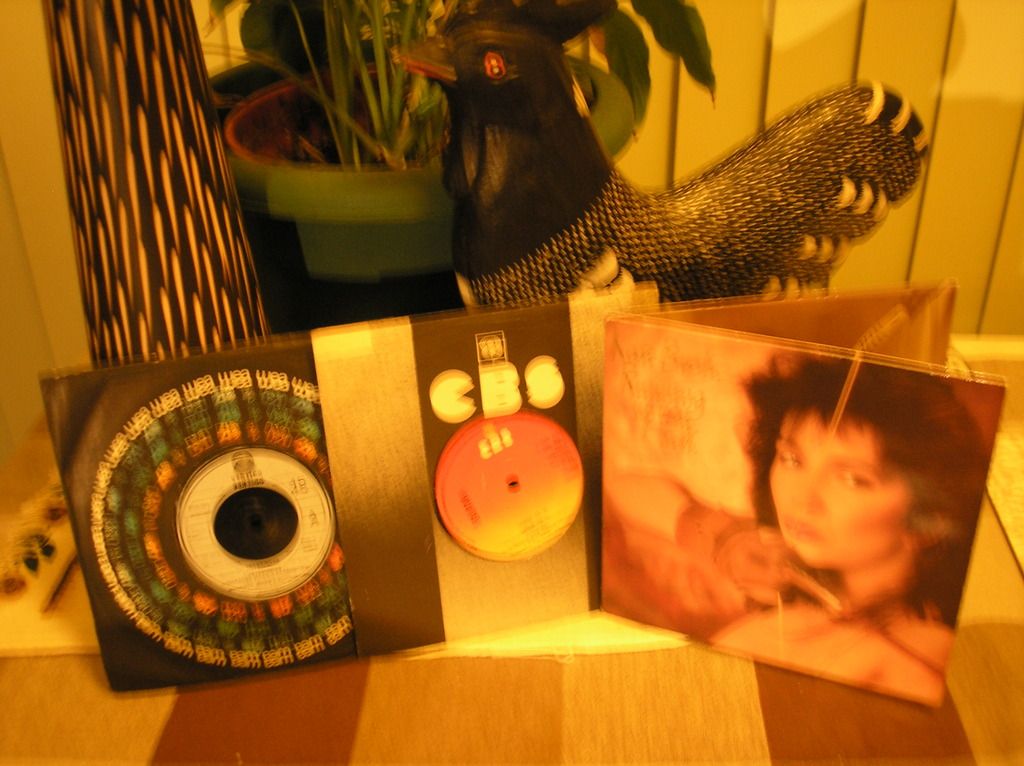 More lousy photography....
Manfred Mann's Earthband - 'Joybringer'
- you all know the Holst based hit, but I was after a better copy of the excellent 'Can't Eat Meat' on the flip another longtime favourite chicken-spin...
Santana - 'Samba Pa Ti'
- this seven is new on me, nice to have 'Incident At Neshabur' on a 45 - not as minty as it appeared, mind...
Kate Bush - 'Running Up That Hill'
- posted this a few months back, but this is the gatefold version...
Ron Goodwin & His Orchestra - 'Play Burt Bacharach'
- I don't usually bother with anybody playing instrumental Bacharach that isn't His Burtness himself, but seeing this was produced by Sir George Martin and I was still hurting, thought I'd give it a go. It's a very British take on the works, with a few adventurous arrangements but overall a bit slick. I imagined it to be the sort of thing Jerry from 'The Good Life' would put on the eight track in the Rover when Margot wasn't around and feel a bit rebellious about it. Nice, but not really a keeper...
Michal David + Kroky Františka Janečka - 'S/T'
- It's from 1982, it's Eastern European, it's got older blokes with long hair and moustaches on the sleeve - this has got to be some crazy Polish jazz skronkfest, right? No chicken,
wrong
. It's not Polish, it's Czech (the Panton label should have been a clue) and it's an exercise in showing that in the early 80s, the era of Phil Collins, musicians behind the Iron Curtain could make music that was just as anodyne as anything in the west. The most exciting moments are when it sounds a little bit like 'Buggles' period Yes, but really that's about it....
Sabicas - 'Flamenco Fantasy With The Fabulous Sabicas'
- My lucky streak with flamenco records continues. I was well chuffed recently to find a Spanish Carmen Amayas EP where she stamps and shuffles all over the superb playing of the flamenco guitar great and so it was something of a surprise to discover this nice minty copy of a collection of 1960 recordings on our very own 'Music For Pleasure' - used it to test a pair of speakers that had been lying dormant for sometime and was not in any way disappointed as the dust flew - more brit-flamenco connections to follow in forthcoming posts....
...
more good living soon
...