In reality February related, but March is here anyway, so let's get a new thread going
Spent a weekend house/dogsitting at my wife's sister's house in the hinterlands of south Sweden. I had the idea to do a CSC, but it failed on account of:
- lack of charity shops. Most are for the sole charity of the proprietor.
- lack of fry-up food. My wife's sister is petite and barely eats anything but yoghurt and musli so we arrived to an almost empty fridge.
- me being to eager to dig to actually take photos of shops interiors or exteriors
I'll try to do a proper CSC later in the spring/summer.
So, no lavish breakfast, just coffee and some bread with cheese.
First stop was the outlet shop of a Tradera dealer in Billesholm. He puts a lot of items up with low starting price (1£) and compensates with having a ridiculously high shipping rate (3£ for a 45 which generally is 1.20£ in stamps.)
This means a lot of the cheaper items never sell, and they end up in his outlet shop, or actually the back room of a workshop open on Sundays. 45s are 45p and LP are £1.80 so there are nice finds to be made, no super bargains as they would be picked up on Tradera.
I bought 12 45s, so you do the math, here are a few of the better ones: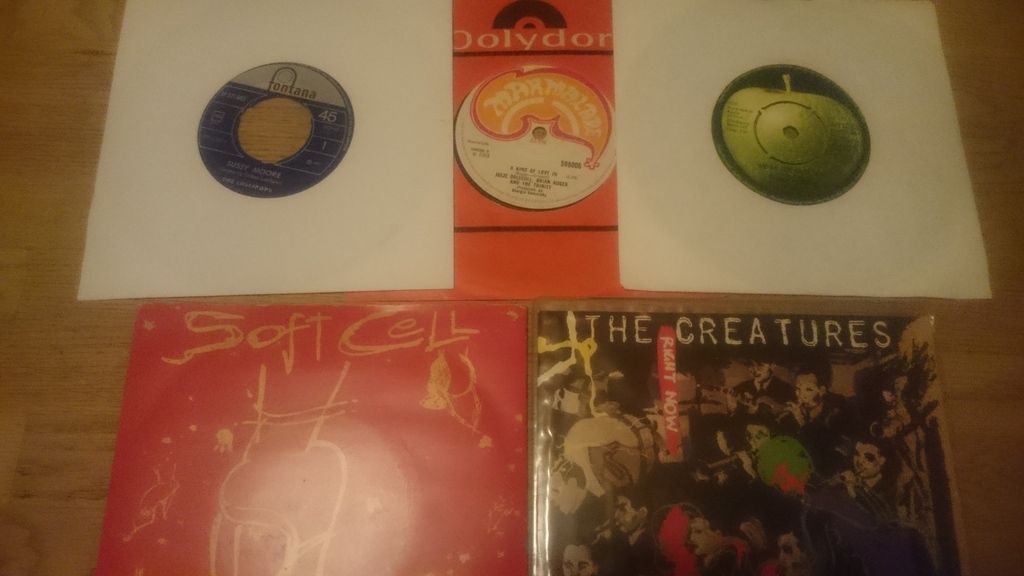 Lollipops - Sussy Moore is a curious Danish rip-off. The title hints at Tim Hardin, then you find the Lundgreen brothers simply lifted the verse from Lady Came From Baltimore, have a listen...
Jools-Auger-Trinity on Marmalade can't be passed up
Chris Hodge - We're on our way/Supersoul Pretty sure I saw he had this for auction and thinking about putting in a start bid, but didn't bother on account of his shipping rate
Soft Cell - Down in the subway
Creatures - Right now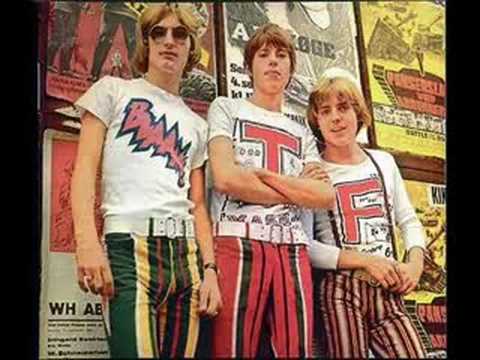 Next stop was Åstorps Varuförmedling. Not a charity, just a junk accumulation from estates and similar manned by a strange and not that friendly man. The place was smelly and just a mess. Best part was the records room was just inside the door meaning I didn't have to go further into this place. I looked at some promising records that were simply trashed, but in the end I just came up with a single 45, not in the best condition as it was in a pile of sleeveless records.
But that's proper digging for you. Records were 90p, regardless of 7"/LP.
Troublemakers - A Layabout's lament/Sally. Great band from my hometown Malmö, and you rarely see their records. With a picture sleeve and in better condition this would be a big ticket item, still chuffed to get it in playable condition after wash. A-side is a bit silly wrong-end-of-Kinks-music-hall, you know what I mean, but it has a strange fuzz/chaos break in the middle that just sounds out of place. B-side Sally is the winner here...
After checking out what should have been a proper charity in Åstorp, but which did not exist anymore we pressed on to Kvidinge. Proper countryside charity here, supporting the local football club Kvidinge IF, in a barn by the church, noone but us under the age of 70. Just a single box of LPs here. I picked up two old jazz records as they looked to be in OK condition but they actually played worse than they looked. I suspect they will return to a charity crate.
Now, just a short drive back to Klippan where my wife's sister lives. I had managed to scout a charity shop I hadn't been to on previous visits, Klippans Stadsmission. I had low expectations, as Klippan has a musical heritage, with a lot of bands active in the late 70s/80s, like Kriminella Gitarrer. I was positve the place would be digged to pieces. But I was pleasantly surprised after a while, records were 15 kr (£1.35).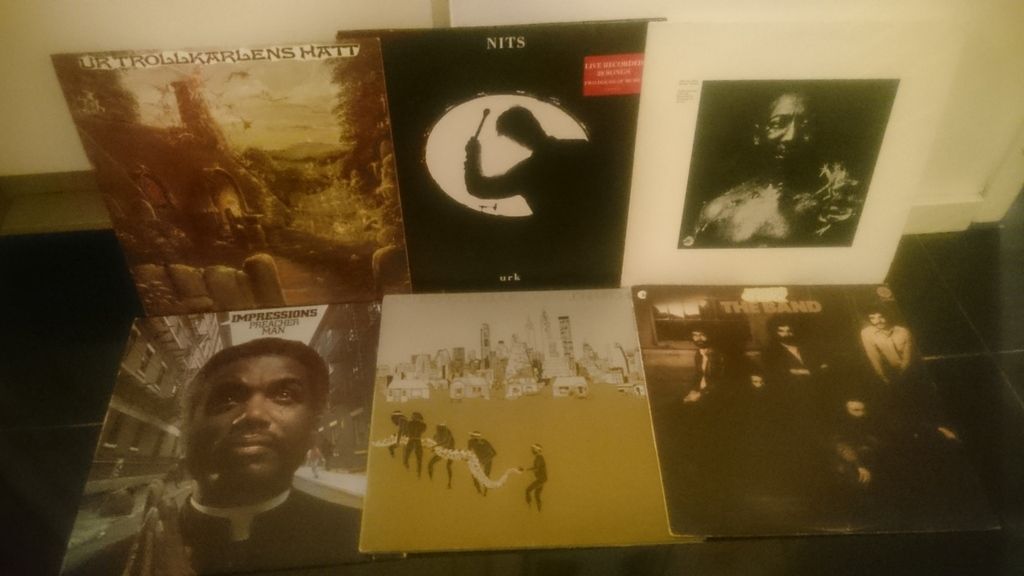 A minty Bo Hansson - Ur Trollkarlens Hatt! This is my favorite of his records. I already have a copy, but this is an upgrade.
The Nits - Urk. Triple live, with a band I've probably heard three songs by before? I've given it a listen but it fails to excite me, so it will probably go to the outpile.
Muddy Waters - After the rain. I tend to be bored by blues records, but this one was actually pretty good, and not all about 12 bars.
Impressions - Preacher man. No Curtis, but he produced and there are some good grooves here
Joni Mitchell - Hissing of summer lawns
The Band - Masters of rock, decent comp I picked up for a friend who's building a small but good collection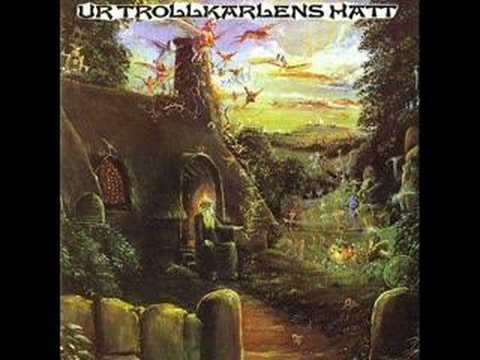 After this feast, we returned to the dogs and consumed the seasonal Swedish bake, the Semla with coffee. Proper fika!
It's a sweet bun, with a marcipan filling, some cream and powder sugar on top. Supposedly only eaten on the Tuesday before Lent starts, but they start selling them after Xmas now.