After same stuff as always (i.e: fun stuff i haven't got). Please don't bother getting in touch if you're not going to follow it up +++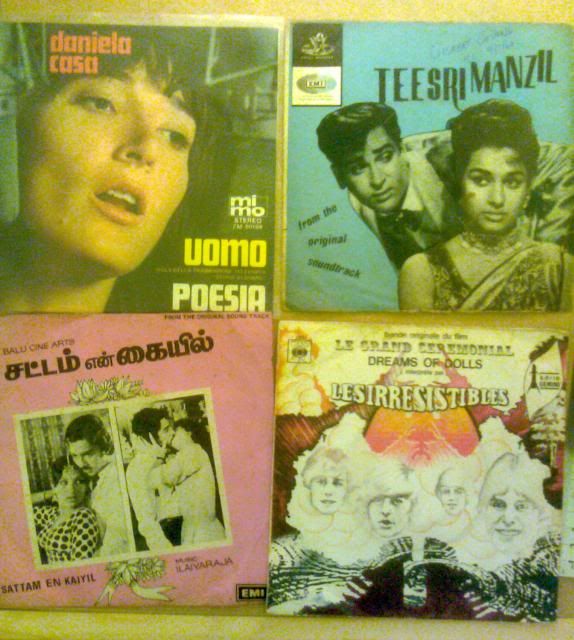 DANIELLA CASA - uomo
(rare and boss moody Italian library sounding gear - i put it on my recent WNYU mix)
RD BURMAN - teesri manzil EP
(scruffy but plays well. Includes
this bolly rock n roll classic <<<
)
ILAIYARAAJA - sattam en kaiyal EP
(has some fun tunes, from 1978)
LES IRRESISTIBLES - dream of dolls OST EP
(includes cool fuzzy instro "the fire" )
ALAN HAVEN - rice paper mountain
(mad funky moog instro. weird to release on single?)
DOMENICO MODUGNO - come stai
(
INSANELY GOOD B-SIDE <<<
)
LAURENT ROSSI EP
(Excellent fuzzy yeye. Scruffy copy, fine for playing out etc..
Love this tune <<<
)
THE MESSENGERS - louie louie / the letter
(lesser spotted single)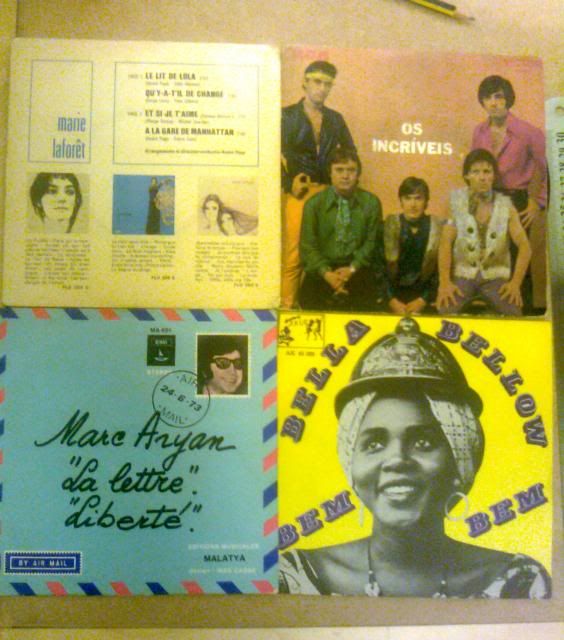 MARIE LAFORET - EP
(includes the amazing folk-funk version of
"sunday morning"
- gatefold cover torn in half - see pic)
OS INCRIVEIS EP
(lesser-spotted Portugese EP. includes boss Jorge Ben cover
"vended or de bananas"
. Bit scruffy, fine play-out copy)
MARC ARYAN - la lettre/ liberté
(
classic wonky euro grooves <<<
)
BELLA BELLOW - bem bem
(lovely afro gear -
i bloody love the B-side <<<
)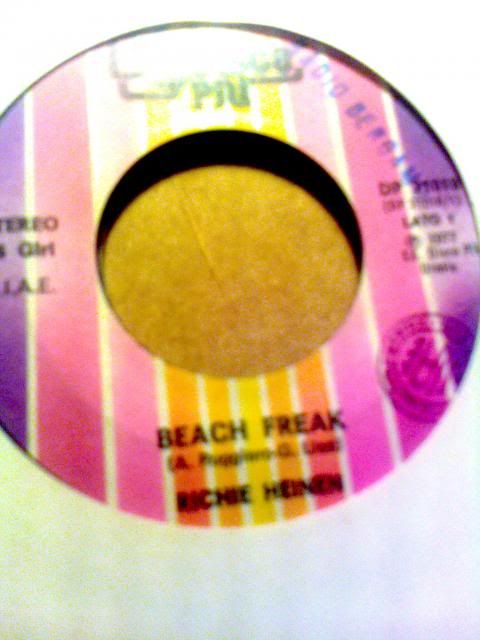 RICHIE HEINEN -
beach freak
/
funky dj
(amazing and stupid killer euro two-sider. As hyped on that brilliant Charles Bals mix of the same name.)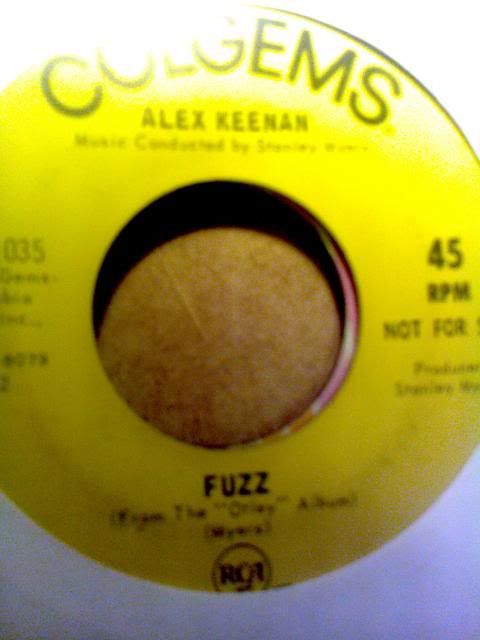 ALEX KEENAN - fuzz
(great to have on 5. Votel mixed.
Starts at 02:50 on this clip <<<
)
THE FREE SPIRITS - cosmic daddy dancer
(Early Lary Carlton group? Great.
Listen <<<
)
PIERRE VASSILIU - foire aux boudins EP
(no cover unfortunately.
Amazing tune <<<
)
MESSENGERS - in the jungle
(ace tribal fuzz stomper. Sounds like a Cherrystones tune.
Listen <<<
)

Still got loads left here too <<<<