Drop me a PM if anything takes your fancy - after all sorts: Synthesizer-based records, OSTs (especially strange or horror ones), fun 45s to play out, prog, synthesiser-based records etc.. also synthesiser-based records.
LPs:
SOPWITH CAMEL (Kama Sutra)
- their first LP.
TERENCE - an eye for an ear (Decca)
- Fun album, includes the boss
"fool and the traffic"
PHLUPH (Verve)
- organ-lead psych.
"Doctor Mind"
etc… lots of good tracks. Sleeve is a bit tatty.
BOBBY BROWN - the enlightening beam of axonda (Destiny Records).
GONE
CHRISTINE McVIE - the legendary… (Sire) - folk-funk galore.
"That's saying a lot"
etc
HOLD
INSECT TRUST - hoboken saturday night (Atco)
- second LP. Frantic psych-y sounds.
"Ducks"
is a frigging monster! Listen to that breakdown!
JIMMY ROYAL - stone cold soul (Nashville International)
- obscure James royal LP - includes a few VG+ friendly bangers. "marmaduke", "move like a tiger" etc
BOB SEGER - smokin OPs (Reprise)
- pretty monster mama-jam of an album. "Heavy music",
"Bo Diddley"
etc…
V/A - how pink are those elephants over there (Pink Elephant)
- fun comp that includes a few desirable cuts:
"Speakin my mind"
,
"Harley Davidson"
GRAHAM GOULDMAN - animalympics (Mercury)
- odd OST from this 10cc dude.
"Bionic Boar"
is where it's at
FRANCIS MONKMAN - energism (Bruton)
- for the synth-lovers. "The doctrine of materialism that right action is the efficient exercise of normal capacity" (!)
JACQUES ZWART - abwarts OST (Rigo)
- highly moody and menacing German 80s soundtrack with some great cuts
45s:
BARRY RYAN - do that (Ariola)
- love this tune so much! sort-of-balearic-synth-glam-soul-singalong!!
And quite surprised i still have this… no one want this mega OST 45?: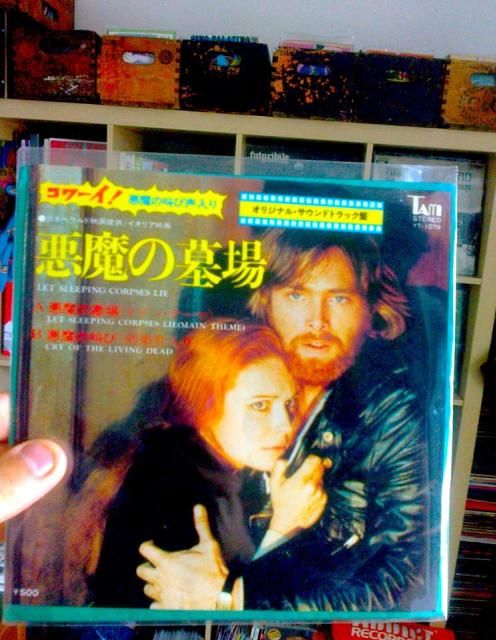 GUILIANO SORGINI - Let sleeping corpses lie (Tam) -Rare and awesome JPN 45 of the exceptionally ace play-out tune from the scarce "Living Dead At Manchester Morgue" OST.
LISTEN<<<<
HOLD
MORE 45's
HERE <<<<<<
Cheers!