Having a clear out of my doubles pile - nothing super rare but lots of fun gear for the playout bag. All VG+ or better unless mentioned.
Drop me a PM if anything is of interest...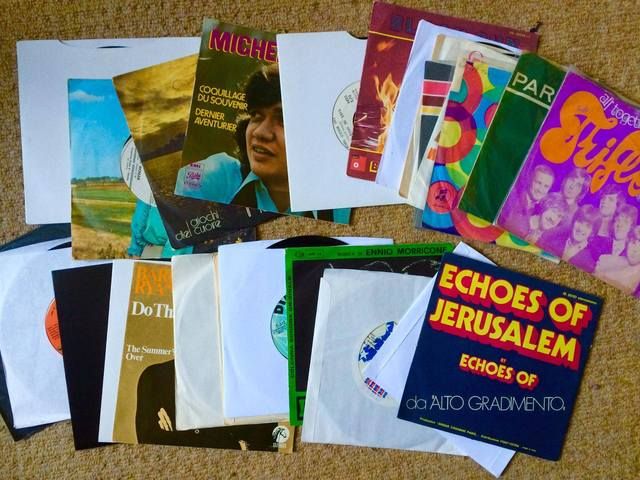 TRIFLE - got my thing (UA)
Doesn't get mentioned as much as their other singles, great funky B-side. Pic sleeve is creased, but disc is VG+
MAYFIELDS MULE - double dealing woman (Parlophone) GONE
ENNIO MORRICONE - my name is nobody (Ariola)
German pressing with pic sleeve. Brilliantly eccentric spaghetti sounds. Hairlines on disc, plays great.
https://www.youtube.com/watch?v=iGZDKuDl3jc
KEITH - the problem (RCA promo)
Pop-psych mover with big orchestration
https://www.youtube.com/watch?v=jNAiQtDQ2Uo
DECEMBERS CHILDREN - sweet talking woman (Mainstream promo) GONE
BUNKY & JAKE - uncle henry's basement (Mercury promo) folk-funk/free-soul gear
WOMB - my baby cares about the good things (DOT promo)
Speedy and ragged US psych banger. Could also fit in a revved-up folk funk set! My fave tune on their LP +++
MESSENGERS - in the jungle (Rare Earth) GONE
SCORPION - can't get blood from a stone (American Recording)
Comped by Light Sounds Dark guys. Ace double-sider, hard-psych-funkish gear.
BLACK SUN - flash/ back to bombay (Basf) GONE
WARM DUST - worm dance/ it's a beautiful day (Trend)
Fun UK jazzy prog on Trend
https://www.youtube.com/watch?v=K3xZSVR4vQ0
THE ROGUE SHOW - make me over again (Paula)
Bloody lovely garage-y free soul gear
https://www.youtube.com/watch?v=XA4amcJ1CWA

MICHEL JASMIN - dernier aventurier (Pathe) GONE
MAURIZIO - un uomo (Polydor)
With pic sleeve. Italian funk rock with breakzz
https://www.youtube.com/watch?v=VkA6kgwExgA
RAMASANDIRAN - skinny woman (Magma juke box) GONE
IVY PEEBLES - since you've ben gone (Paula)
Great double-sider of jazzy, garagey free-soul
ALEX KEENAN - fuzz (Colgems)
Sneakily it's actually the Stanley Myers instrumental from "Otley OST!!! Great to have on 45!
https://www.youtube.com/watch?v=6qxwJXOEBw4
(starts at 2:50 )

NEW TROLLS - corro de te (Cetra) GONE
ENNIO MORRICONE - il clan dei siciliani/ tema per le goff (Cam) Italian pic sleeve issue of this classic Morricone slice
https://www.youtube.com/watch?v=L848TFFHI5E
THE FIFTH ORDER - walking away (Diamond)
Great garage
https://www.youtube.com/watch?v=Ds2qZIO0No8
STIX AND STONES - rogue plant blues (Odeon) GONE
BOBBIE GRAHAM - zoom, widge and wag (Fontana) GONE